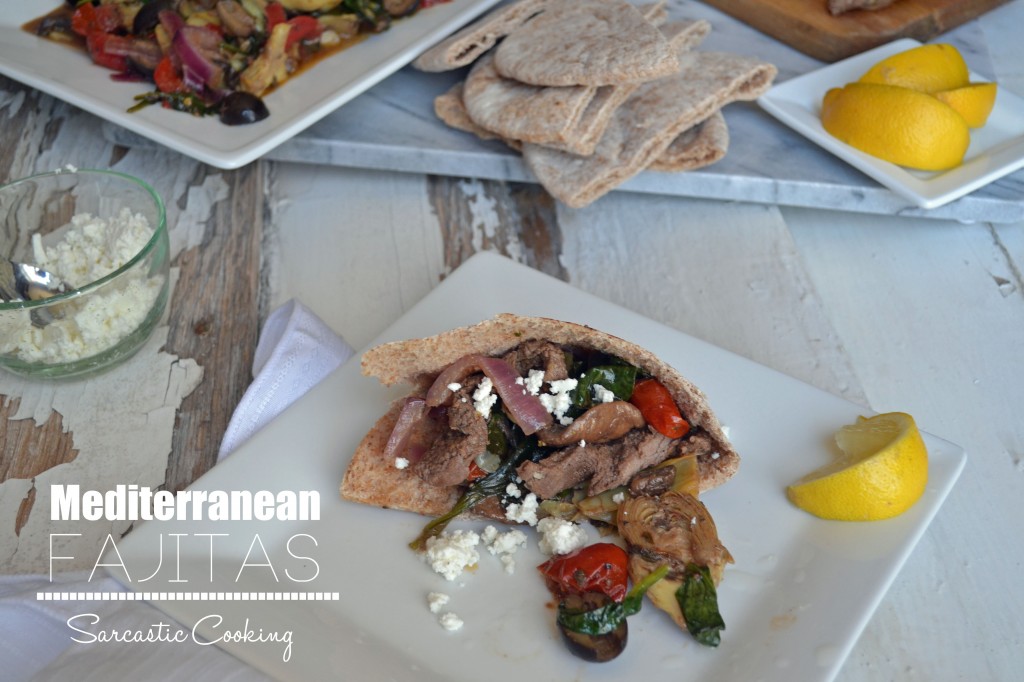 When my siblings and I were younger, our family used to go to dinner every other Sunday with my Grandma. My Grandma, as I have told you before, only has a few favorite restaurants. I've spoken about her love of Bennigan's. She also loved to go to any buffet, Bohemian restaurants, or Chili's.
At Chili's she would always order a margarita and the fajitas. She chose the fajita's because she always had a lot of leftovers to take home in a "doggy bag." That is actually her main reason for going to most of the restaurants she likes to this day.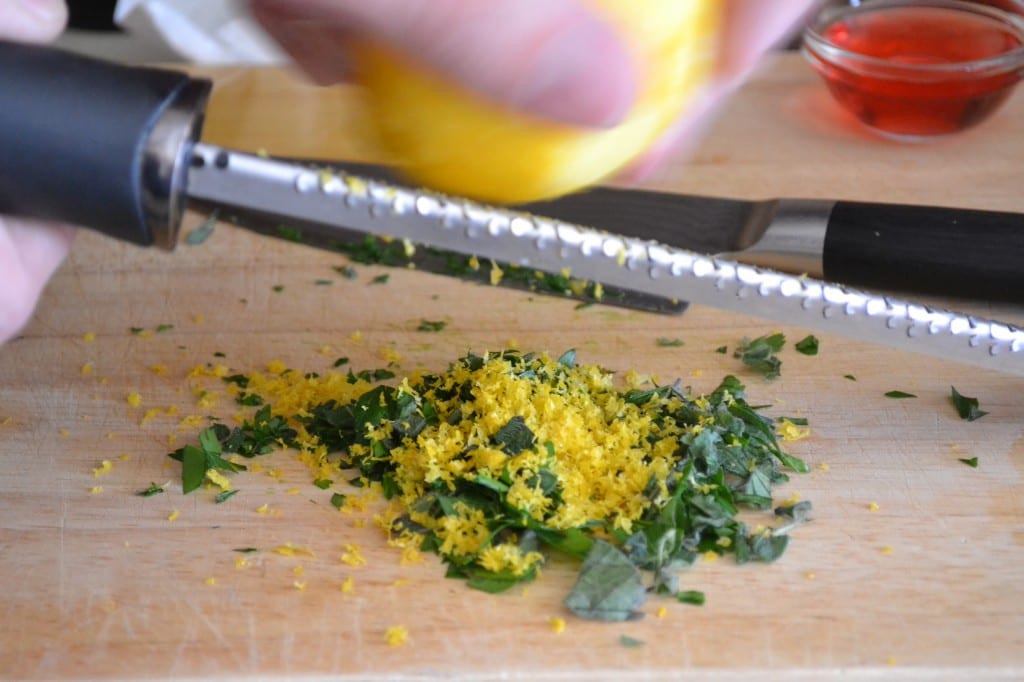 Now, while out to dinner, we had to accommodate certain needs of other family members as well. My Mom never wanted to sit by a vent because she was always cold. My brothers and Dad always wanted to be within range of a TV with a sporting event on it. My mother also always requested a booth. She has a thing for booths. I think I have inherited this gene from her as well.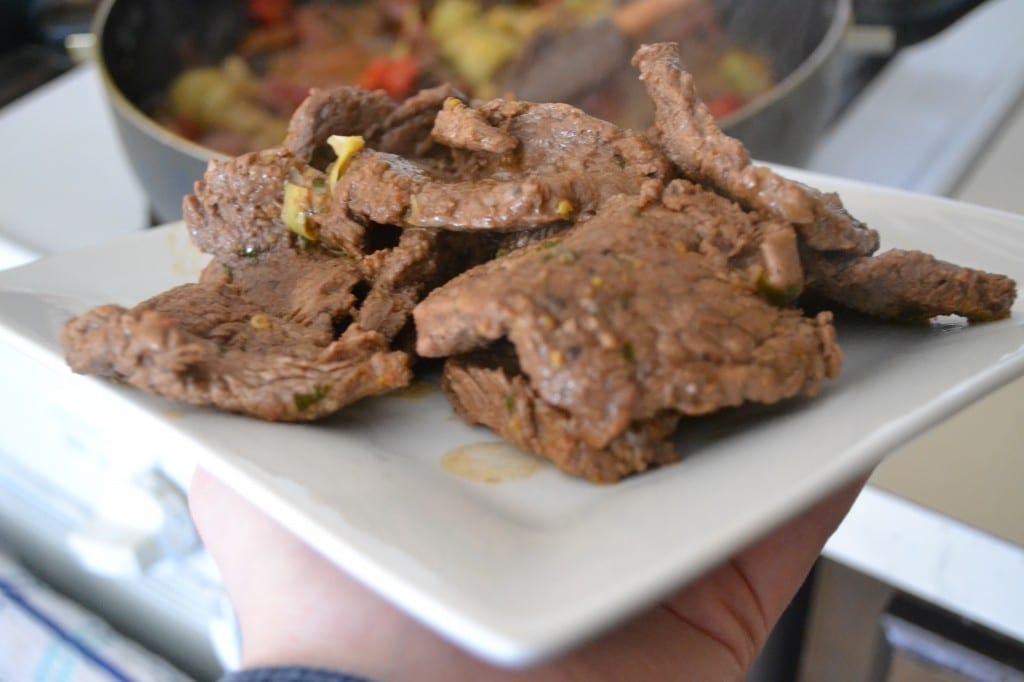 So, imagine three adults and three kids jammed into a booth at Chili's. We barely had enough room for my elbows and my plate of Chicken Crispers let alone the room for my Grandma's fajita smorgasbord. (Yes, I had to look up how to spell that). My poor Mom and I were jammed into half the booth while my Grandma and her four plates plus her margarita that she couldn't even lift were comfortably sitting on the other half.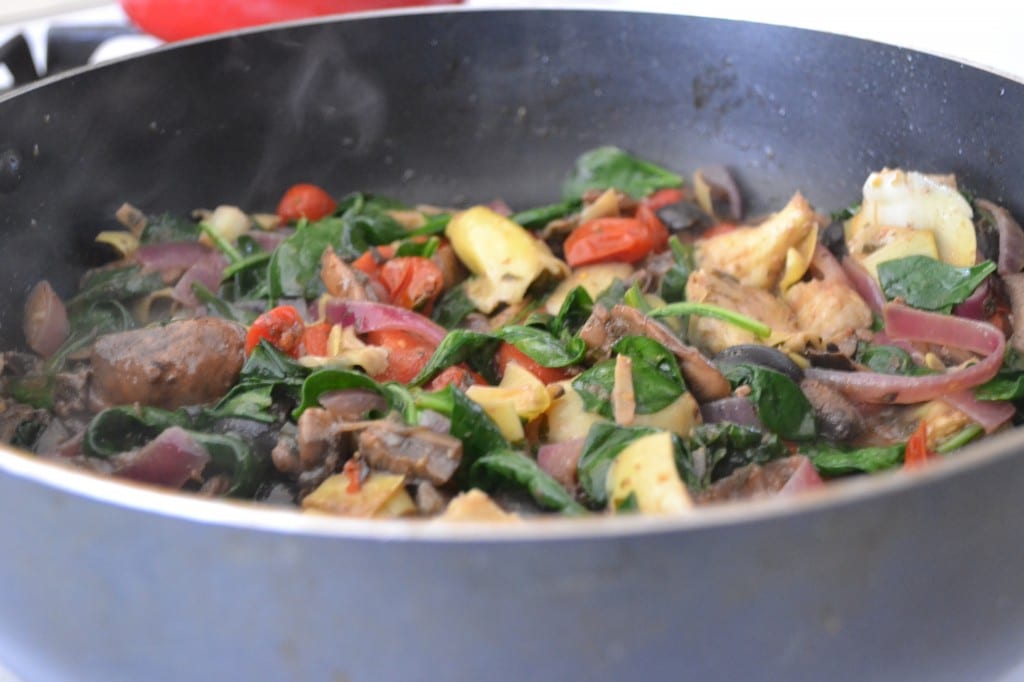 Every time I think of fajita's this is what I remember. I also remember my brothers and myself annoyingly parroting the word fuh-gee-tah or fuh-ji-tah while my parents ask us nicely to be quiet and eat our meals. Sigh…such good memories of what well behaved children we were.
We grew tired with always going to Chili's, so we don't go there with my Grandma anymore. Thank God! I can't imagine a booth big enough there for all of us.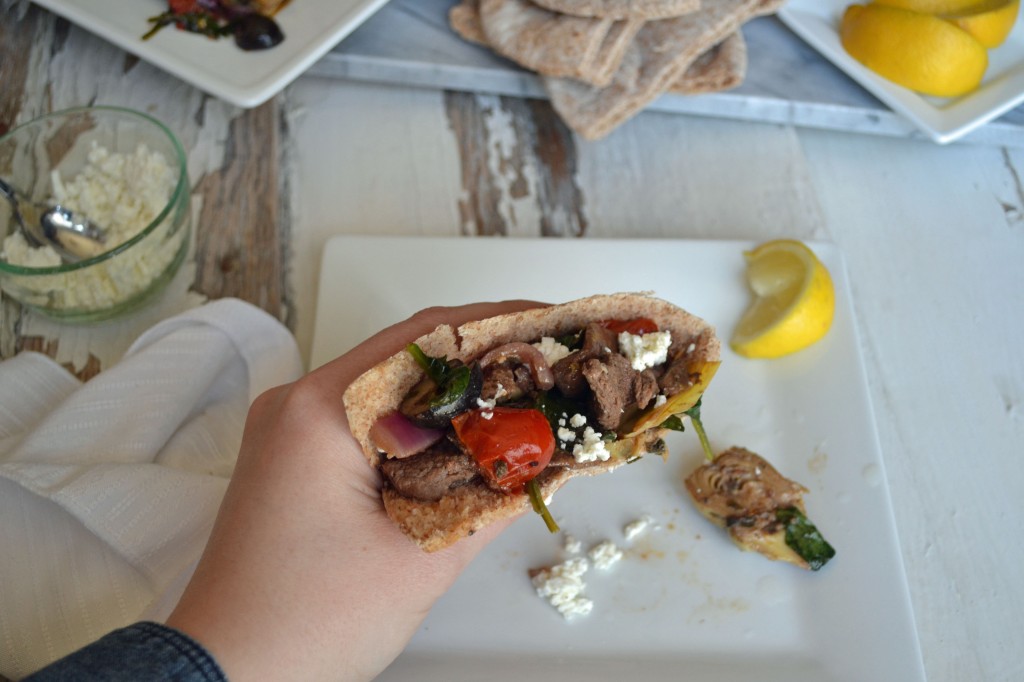 Today, I give you my ode to the traditional fajita… Mediterranean-ized! Throw anything in a pita pocket these days and I am good to go with it. Plus, these aren't served on a piping hot skillet, so you will have enough space for all your guests at the table.
Mediterranean Fajitas
Author:
Prep time:
Cook time:
Total time:
Ingredients
[b]For the Marinade:[/b]
Juice and Zest of 1 Lemon
½ Cup Olive Oil
¼ Cup Red Wine Vinegar
1 Teaspoon Salt
½ Teaspoon Pepper
¼ Teaspoon Crushed Red Pepper Flakes
1 Clove Garlic, grated
1 Teaspoon Smoked Paprika
1 Tablespoon Fresh Chopped Oregano
1 Tablespoon Fresh Chopped Parsley
[br]
[b]For the Fajitas:[/b]
1 ½ Pound Beef Tenderloin, cut into ¼ inch thick slices
5 Cremini Mushrooms, sliced
1, 12-Ounce Can Halved Artichoke Hearts, drained
¾ Cup Canned Black Olives, halved
1 Jarred Roasted Red Pepper, sliced into thin strips
¼ Red Onion, thinly sliced
1 Cup Grape/Cherry Tomatoes, halved
2 Cups Fresh Spinach
Pita Pockets
Feta/Goat Cheese
Instructions
The night before cooking and serving, add the marinade ingredients to a large sealable plastic food storage bag. Seal and shake to combine. Add the meat, mushrooms, artichokes, olives, roasted red pepper, onions, and tomatoes to the bag. Seal and shake to combine. Let the bag sit in the refrigerator for at least an hour and up to a day before cooking.
Heat a large skillet over high heat for a few minutes.
Add the contents of the bag to a large, deep baking dish. Remove the beef and add it to the hot pan. Cook for a minute or two on each side and then remove from the pan. Place on a plate off to the side to rest while you cook the vegetables.
Add the vegetables along with the marinade to the hot pan. Cook for ten to fifteen minutes, stirring occasionally.
Add the spinach and cook another two to three minutes until just wilted. Stir to incorporate.
Add the beef back to the pan, shut the heat off, and give the dish one final stir to incorporate everything. Serve the fajita mixture in pita pocket halves with a bit of crumbled feta or goat cheese on top.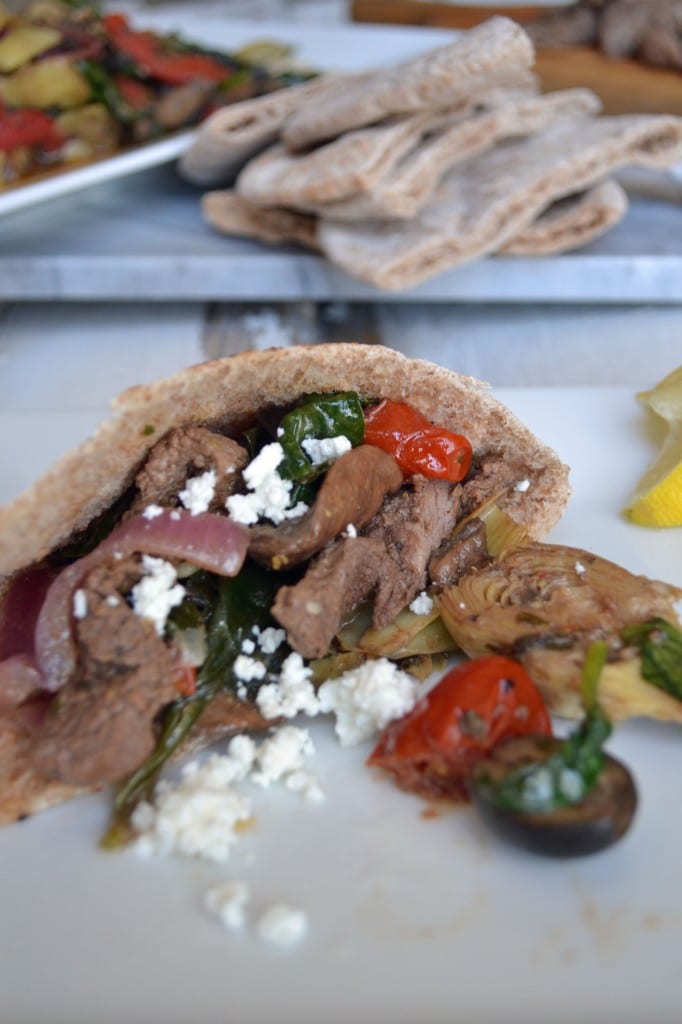 Related posts: