Friendsgiving classic lasagna is a staple at my Friendsgiving table. It is a classic lasagna with meat sauce, noodles, ricotta, mozzarella, and parmesan cheese. It is an easy dish that feeds a crowd.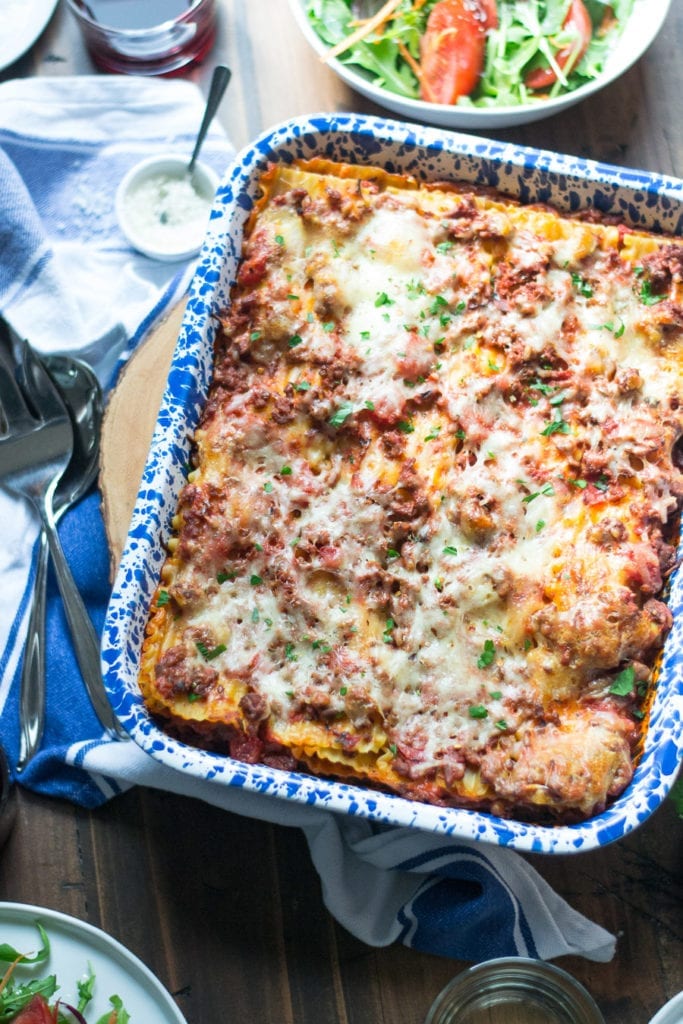 Do you guys do a Friendsgiving? We usually do. Some years though, with friends moving away and the scheduling during the holidays, we had to skip a few. Our Friendsgivings are big and epic, from the amount of people gathered to the lasagna. They have become the stories of folklore, legendary if you will.
One year I made my first attempt at sourdough bread. To this day I am still not sure if it was actually sour oooor baked all the way through. My friends ate the bread and smiled along anyway because that's what friends do. Another year we had an epic diaper raffle because three of us were pregnant at the same time.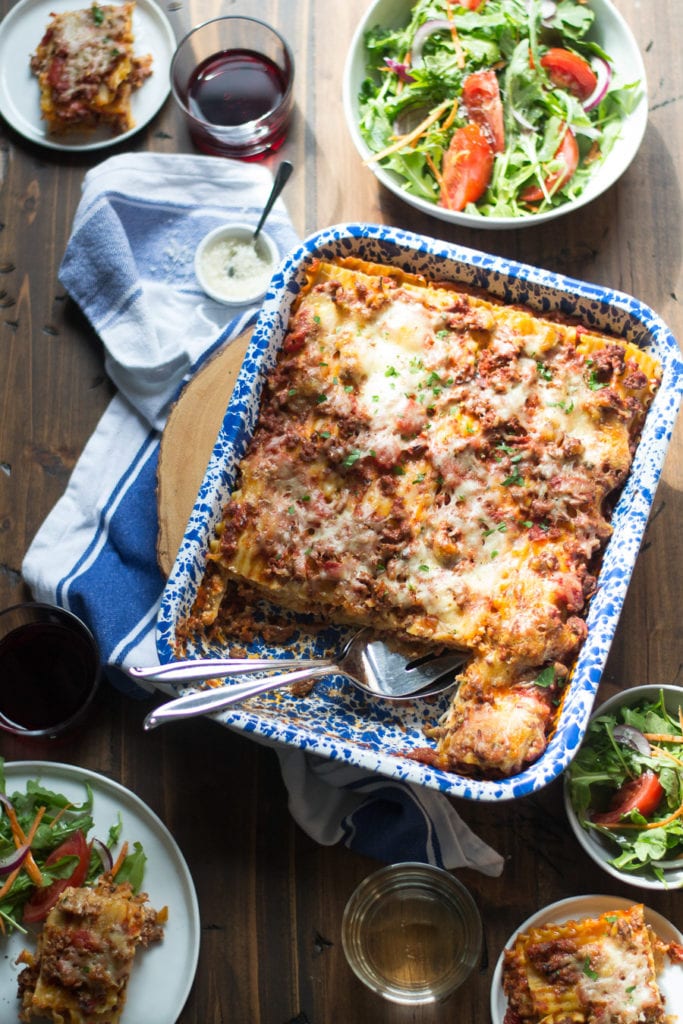 Friends don't let friends leave Friendsgiving empty-handed.
The next year my friend made a lasagna we nicknamed the USS Lasagna because it was made in a roasting dish and literally weighed 15 pounds. This lasagna was layers of homemade bolognese, homemade béchamel sauce, and all the cheeses. It was no wonder this thing weighed as much as it did.
The lasagna I made as an homage to the USS Lasagna is more of a classic Friendsgiving lasagna. It uses a quick meat sauce recipe layered between noodles and ricotta and shredded mozzarella cheese. It is easy enough to throw together, bake, and serve to a large crowd the day of an event.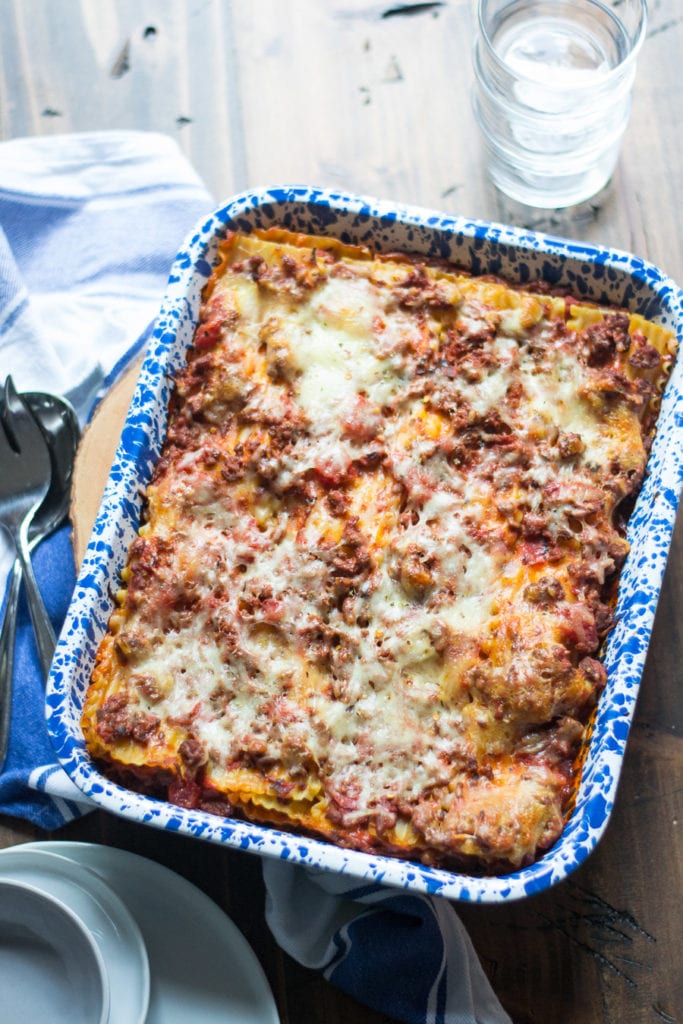 You can still totally make this lasagna as a side for regular old Thanksgiving or even for a weeknight dinner. I tried to keep it simple and still tasty. Stuffed shells would also be a great side dish option for your holiday table. Lasagna has the ability to be totally customized, so if you per chance have a vegetarian at the table, use a marinara sauce instead and a bit of spinach between the layers.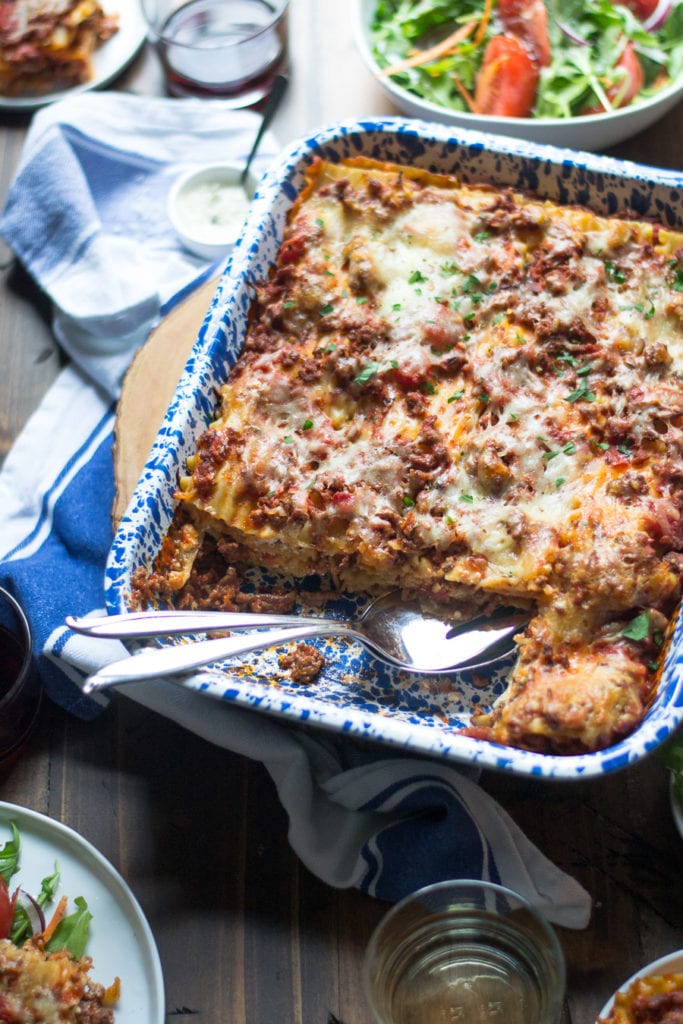 No matter how you slice this Friendsgiving classic lasagna it will still be a classic.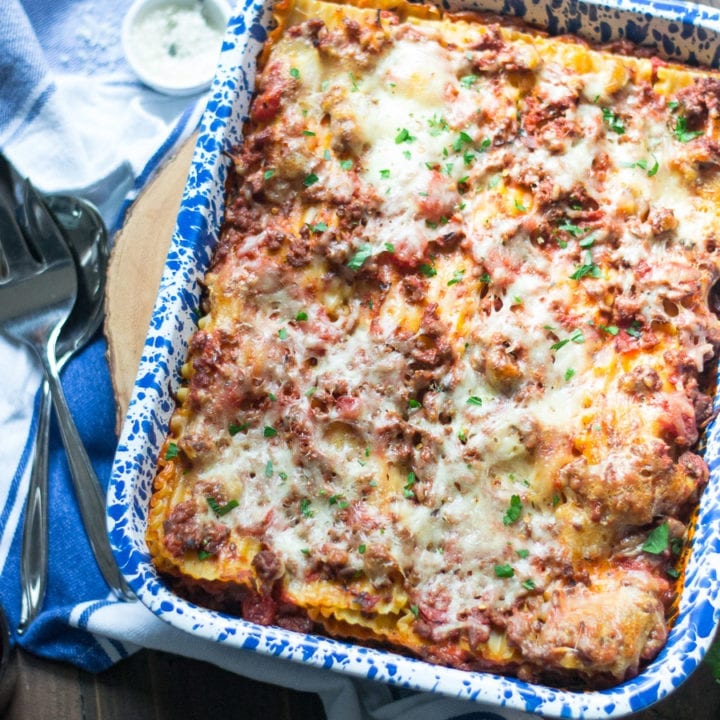 Friendsgiving Classic Lasagna
Cook Time:
1 hour
5 minutes
Total Time:
1 hour
20 minutes
Classic meat lasagna made with layers of homemade meat sauce, ricotta cheese, mozzarella cheese, and parmesan cheese.
Ingredients
SAUCE:
1 tbsp extra-virgin olive oil
2 lbs lean ground beef
1/2 yellow onion, diced
5 garlic cloves, minced
1 tbsp salt
1/4 tsp crushed red pepper flakes
1 tsp dried thyme
1 tsp dried oregano
2 heaping tbsp tomato paste
1/2 cup red wine, like a cabernet
1, 14.5 oz can fire-roasted diced tomatoes
1, 28 oz can crushed tomatoes
3/4 cup water
LASAGNA:
12 oz oven-ready lasagna noodles
20 oz whole milk ricotta cheese
1/4 cup grated parmesan cheese
2 cups shredded mozzarella cheese
Instructions
Heat a large pot or Dutch oven over a medium flame. Add the olive oil and swirl to coat.
Add the onions and cook for 3-5 minutes until slightly translucent. Add the beef and use a wooden spoon to break it into smaller pieces. Cook until browned, about 10 minutes.
Add the garlic, salt, crushed red pepper, thyme, oregano and mix to combine. Add the tomato paste and cook for 5 minutes while stirring. the tomato paste will start to caramelize. Deglaze the pan with the wine. Mix to combine, scraping up any bits and pieces off the bottom of the pot.
Mix the tomatoes, crushed tomatoes, and water into the pot. Bring to a simmer. Simmer sauce for 20 minutes.
Preheat the oven to 375 degrees F.
To make the lasagna start by layering a good ladle-full of the sauce on the bottom of a 9x13" pan. Place three noodles on top of the sauce. Add another ladle of sauce. Use a spoon to spread the sauce as evenly as you can over the noodles. Add about 6-9 spoonfuls of ricotta to the sauce layer, spreading them out evenly. Sprinkle a little mozzarella over the ricotta layer. Press another layer of noodles on top of the ricotta. Continue to layer for about 3 more times. The top layer should only be two ladles of sauce and the remaining mozzarella cheese along with the parmesan cheese.
Bake the lasagna covered with foil for 50 minutes. Remove the foil and bake for 15-20 more minutes until the top is golden and melted.
Let the lasagna cool for 10-20 minutes before slicing and serving.
Notes
This sauce recipe will make extra, so be sure to either store the remainder in the fridge or freeze.
Recommended Products
As an Amazon Associate and member of other affiliate programs, I earn from qualifying purchases.