Vegetarian squash and mushroom stuffing is a buttery, decadent, yet veggies-loaded side dish. Crusty brioche bread baked together with squash, Brussels sprouts, celery, onion, zucchini, and mushrooms. It has all the flavors of fall in one baking dish.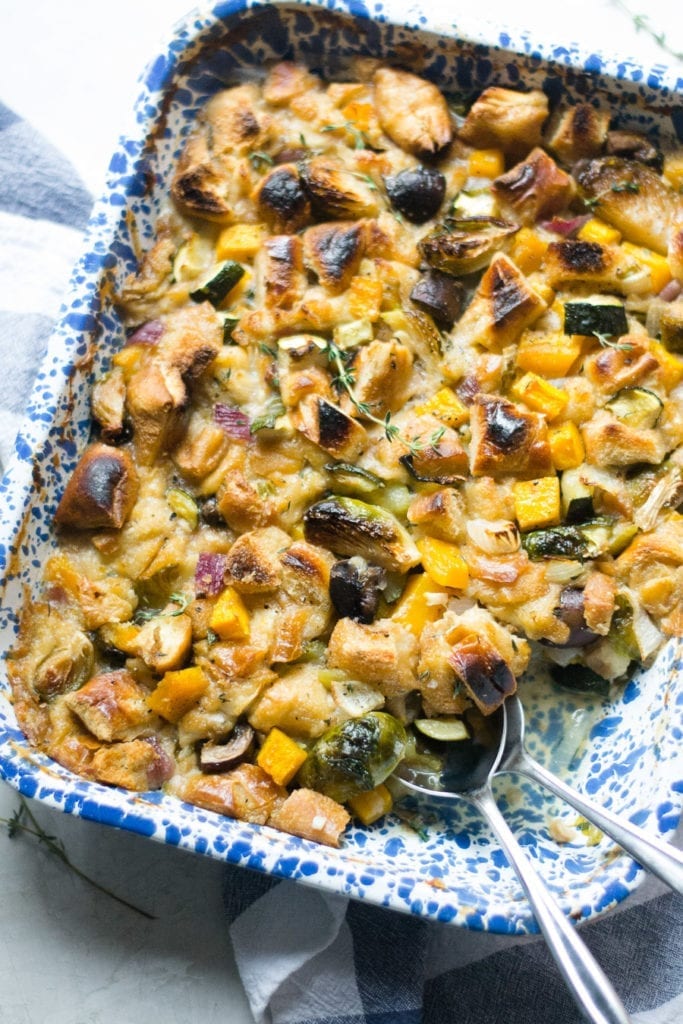 The age old question of stuffing or dressing has baffled me for years. I think it might be generational. My grandma and dad call it dressing. Sorry I am lumping you into the grandma age group, dad, but if the comfortable-arch-supportive shoe fits…
I can get it though. Dressing is like an outfit for your turkey. It compliments it just like a great salad dressing compliments a simple salad.
Stuffing always gave me the heebee jeebies because raw turkey and cooking things in the cavity of a dead bird just sounds wrong. I always give the stuffing the side eye at the Thanksgiving table.
Squash and mushroom stuffing is cooked in a casserole dish with lots of butter and spices and herbs. You don't need the turkey to help make this stuffing stellar.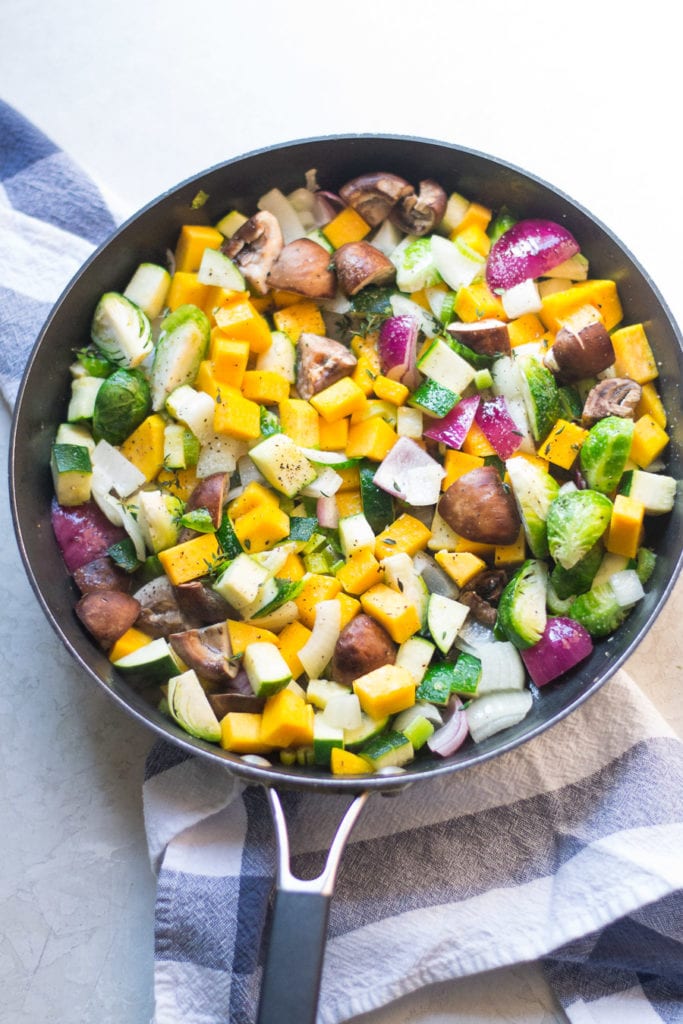 The butter is melted and the squash and mushrooms along with the onions, Brussels sprouts, zucchini, celery, garlic, thyme, salt, and pepper. It looks so pretty, you will want to eat it at this stage.
Just wait!
Once the veggies are par-cooked, mix them with the stale brioche and vegetable stock. Dump it into a casserole dish/ baking dish and let the oven marry the butter, bread, and vegetables until it is golden and perfect!
Mike and I ate squash and mushroom stuffing along with mashed potatoes for a few days in a row. I didn't even miss the turkey or wonder about why this was called stuffing when I didn't stuff it in anything.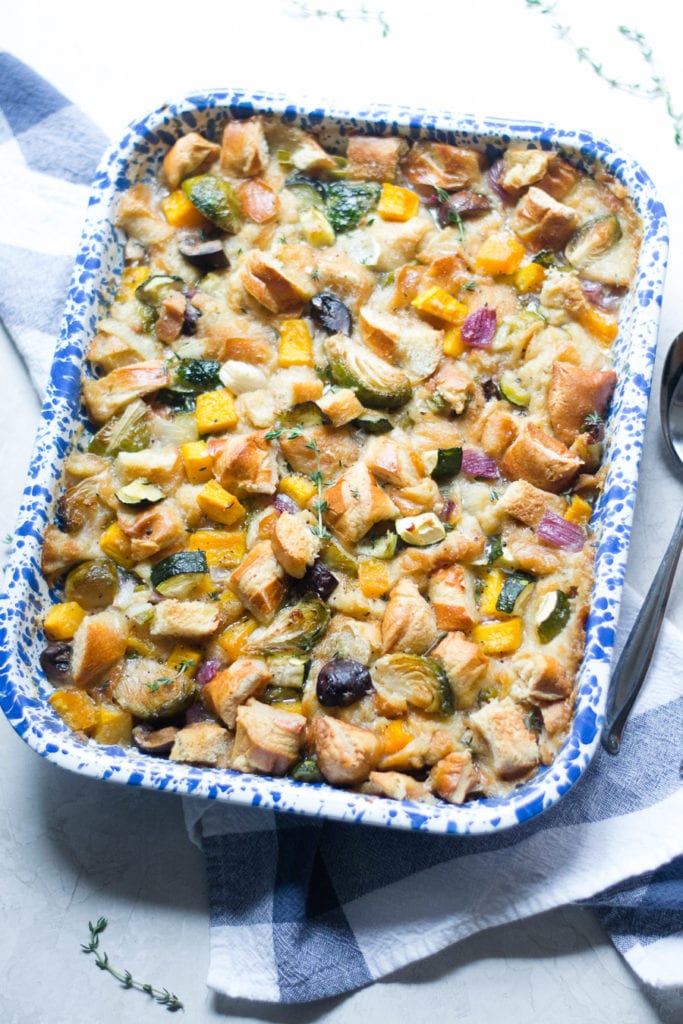 I just ate and enjoyed a week's worth of mini Thanksgiving side based dinners.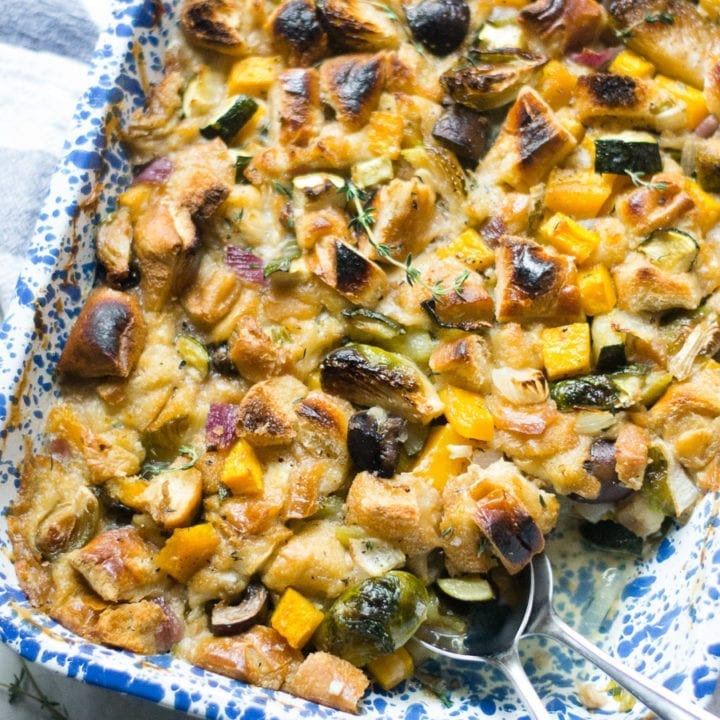 Squash and Mushroom Stuffing
Yield: Serves 6-8

Prep Time: 10 minutes

Cook Time: 1 hour

Total Time: 1 hour 10 minutes

Vegetarian stuffing loaded with squash, mushrooms, Brussels sprouts, onions, celery, and brioche bread.
Ingredients
1/2 cup unsalted butter, plus more for the pan
2 cups diced butternut squash
6 oz Brussels sprouts, cut in 1/4
6 oz baby bella mushrooms, diced
1 small zucchini, diced
1/2 red onion, chopped
1 small yellow onion, chopped
3 celery stalks, chopped
12 oz stale brioche bread, torn into bite-sized pieces
1 1/2 tsp salt
1/4 tsp black pepper
4 garlic cloves, minced
1 tsp fresh thyme leaves
2 1/4 cups vegetable stock
Instructions
Preheat the oven to 350 degrees F. Grease a 12.5" x 9" baking pan with a little bit of unsalted butter and set off to the side.
Heat a large skillet over a medium flame. Add the butter. Once the butter melts, add the vegetables and saute for 10 minutes, stirring a few times.
Season with salt, pepper, garlic, and thyme. Mix to combine and cook for 2 more minutes.
Remove the pan from heat. Let it slightly cool for a minute.
In a large bowl, mix the bread together with the vegetables. Stir in the stock and then quickly transfer to the baking dish.
Bake the stuffing for 40-50 minutes until the top is golden and crispy. Let the stuffing cool and sit for 5-10 minutes before dishing out and serving.
Recommended Products
As an Amazon Associate and member of other affiliate programs, I earn from qualifying purchases.

Looking for an amazing, classic stuffing recipe that isn't all about the veggies and has a little bit of meat in it? Try this best stuffing recipe from The Tipsy Housewife.