Refrigerator garlic dill pickles are the ideal way to use up all those garden cucumbers. No boiling required! Add cucumbers, garlic, dill, vinegar, and a few dry spices to a jar. Wait one week and then all ready to eat!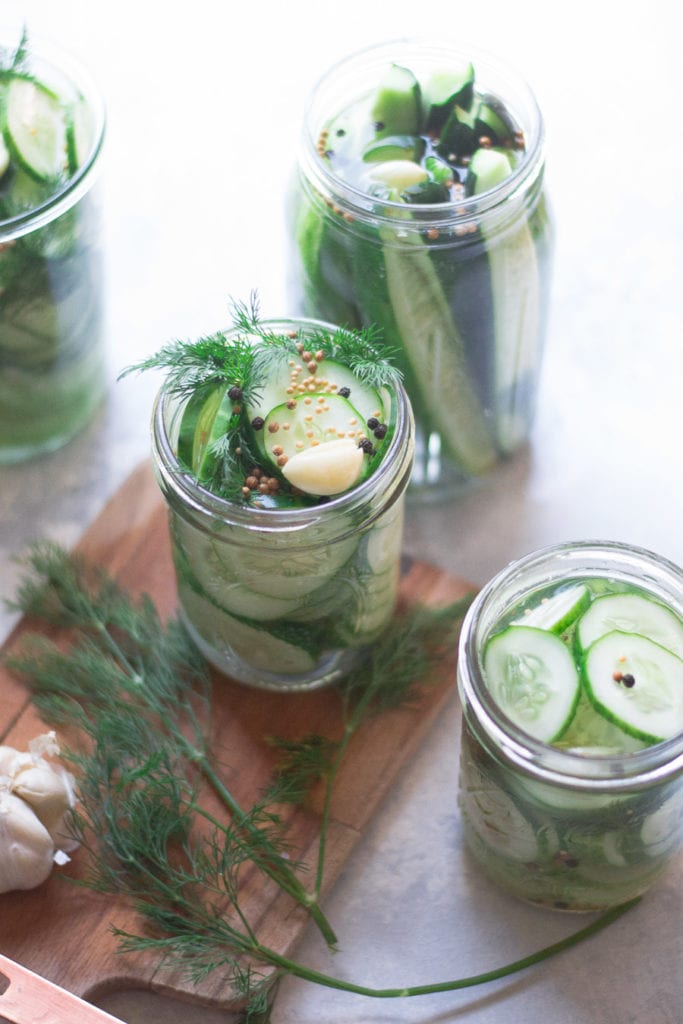 Summer has flown by, hasn't it? The boys have all their school supplies and go to meet their new teachers on Monday. Eek! One kindergartner and another one in preschool. I can't believe it.
They might be in shock when the school year starts too. Andy is in the summer-forever mindset still, that's for sure.
I would say I am ready to let go of summer. However, the piles and piles of cucumbers coming into my house won't let me let it go. A cucumber a day keeps the doctor away or something like that, right?
Last summer I was all about this cucumber salad and this one too. The reason for all the cucumber everything last year was my dad went willy nilly with the cucumber seeds and planted like 100 plants. I used to think last year I had a lot of plants until this year came around.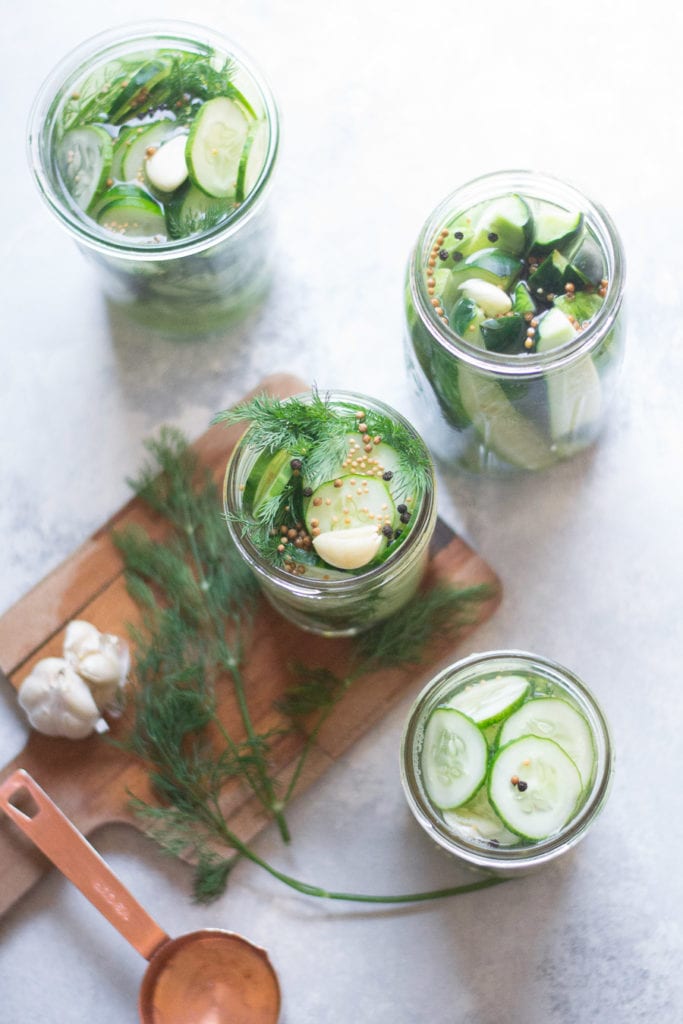 It is as if he walked around like salt bae sprinkling seeds throughout 75% of the yard, or maybe a priest blessing the congregants at mass. You get the gist. So. Many. Cucumbers.
I sit here now with 16 jars of refrigerator garlic dill pickles.
Actually, some of those jars are version 1.0 of this recipe. It took me a lot of trial and error, but I can say without a doubt this is the best version and recipe for refrigerator garlic dill pickles. My guinea pigs, I mean my family, all agree with that statement too.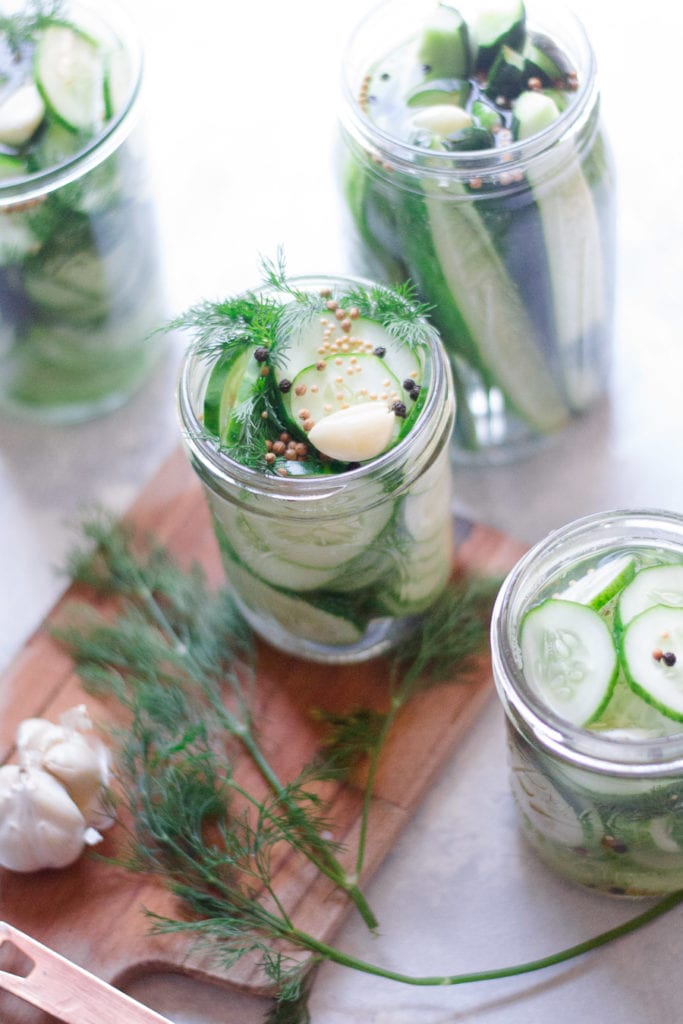 Refrigerator pickles require no boiling. You do have to wait a week or so for the vinegar and water and salt to do their magic on the cukes though. A few shakes here and there throughout the week is all it takes. Other than that, it is totally easy and manageable to make these pickles.
Any time I have a plethora of cucumbers this is the recipe I usually make. I will be putting operation on hold until I get rid of some of the jars currently in my fridge.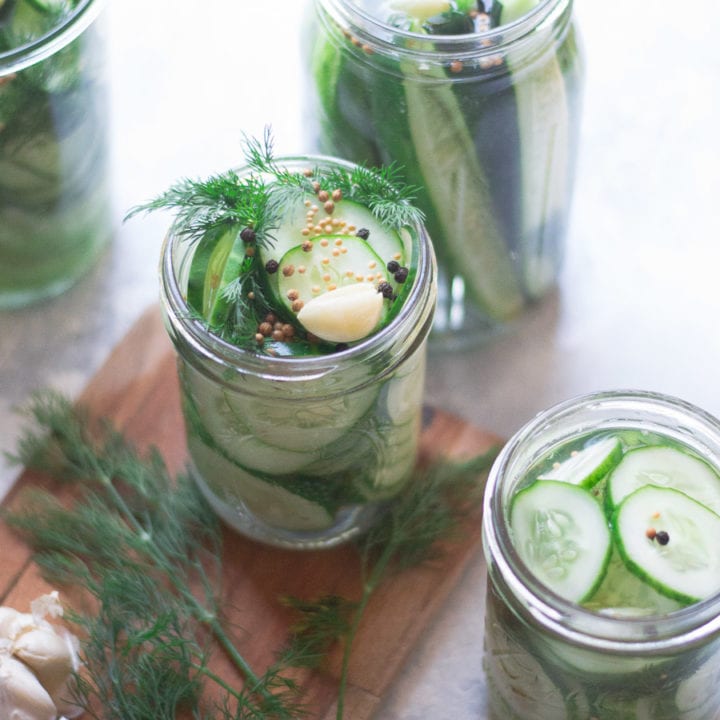 Refrigerator Garlic Dill Pickles
Total Time:
7 days
5 minutes
Easy refrigerator garlic dill pickles are made with vinegar, salt, fresh dill, cucumbers and spices. Chill in the fridge for a week and then they are good to go. No boiling needed.
Ingredients
3-4 pickling cucumbers
1 garlic clove, smashed and peeled
1/3 cup white vinegar
4 peppercorns
pinch of coriander seeds
pinch of mustard seeds
1 tbsp kosher salt
water
2-3 sprigs of fresh dill
Instructions
Add cucumbers, garlic, dill, peppercorns, salt, mustard seeds, coriander seeds to a 24oz mason jar.
Pour in the vinegar. Fill the remaining space in the jar with cold water. Seal with lid.
Chill the jar int he fridge for 5-7 days until perfectly pickled. Shake the jar every few days to make sure the pickles get evenly pickled.
Notes
This recipe also works with 16oz mason jars.
Recommended Products
As an Amazon Associate and member of other affiliate programs, I earn from qualifying purchases.