In a pinch for a quick and easy summer side? This quick cucumber salad only has five ingredients. Cool, refreshing, and with a little bite, quick cucumber salad will be your new go-to for all picnics and summer BBQ's.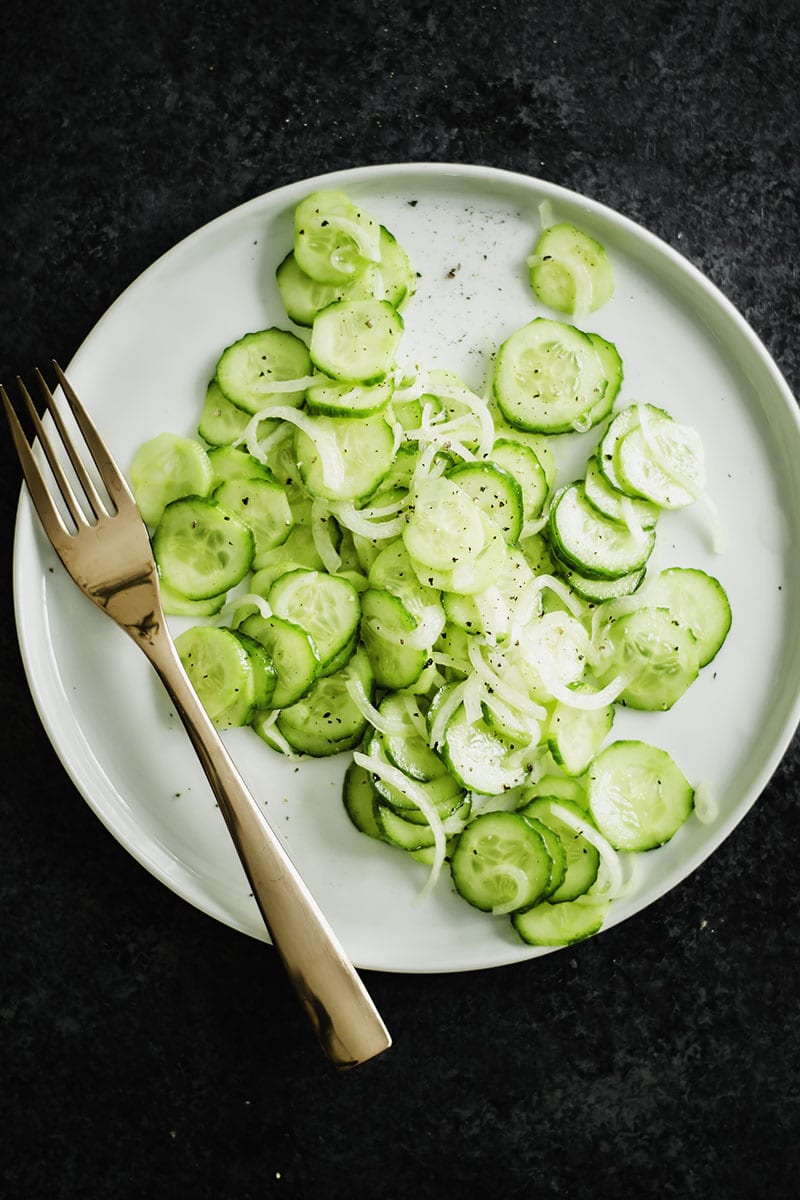 A few weeks ago I went on vacation with my in-laws to visit their time share in Marco Island, Florida. It was absolutely stunning—beautiful, shelly beaches and breathtaking sunsets over the ocean. The best part was, I had zero kiddos with me.
Love you, Jack and Andy, but mama had seriously been reading the same dang book for over three months and I really just needed that quiet time to finish it up. Smooches!
Anywho, while I was there I ate all the fresh caught seafood, because why not?
Now, you have to know that not only do Mike's parents love Marco, but my sister-in-law and my brother are also regulars to the beaches there. Needless to say, I had a long list of recommended places to eat and drink from both sets of people.
High on the top of the list for what place to eat and drink at first was Snook Inn. I was only given one menu item I had to get. It was unanimous from both my parents-in-law and my brother and my sister-in-law.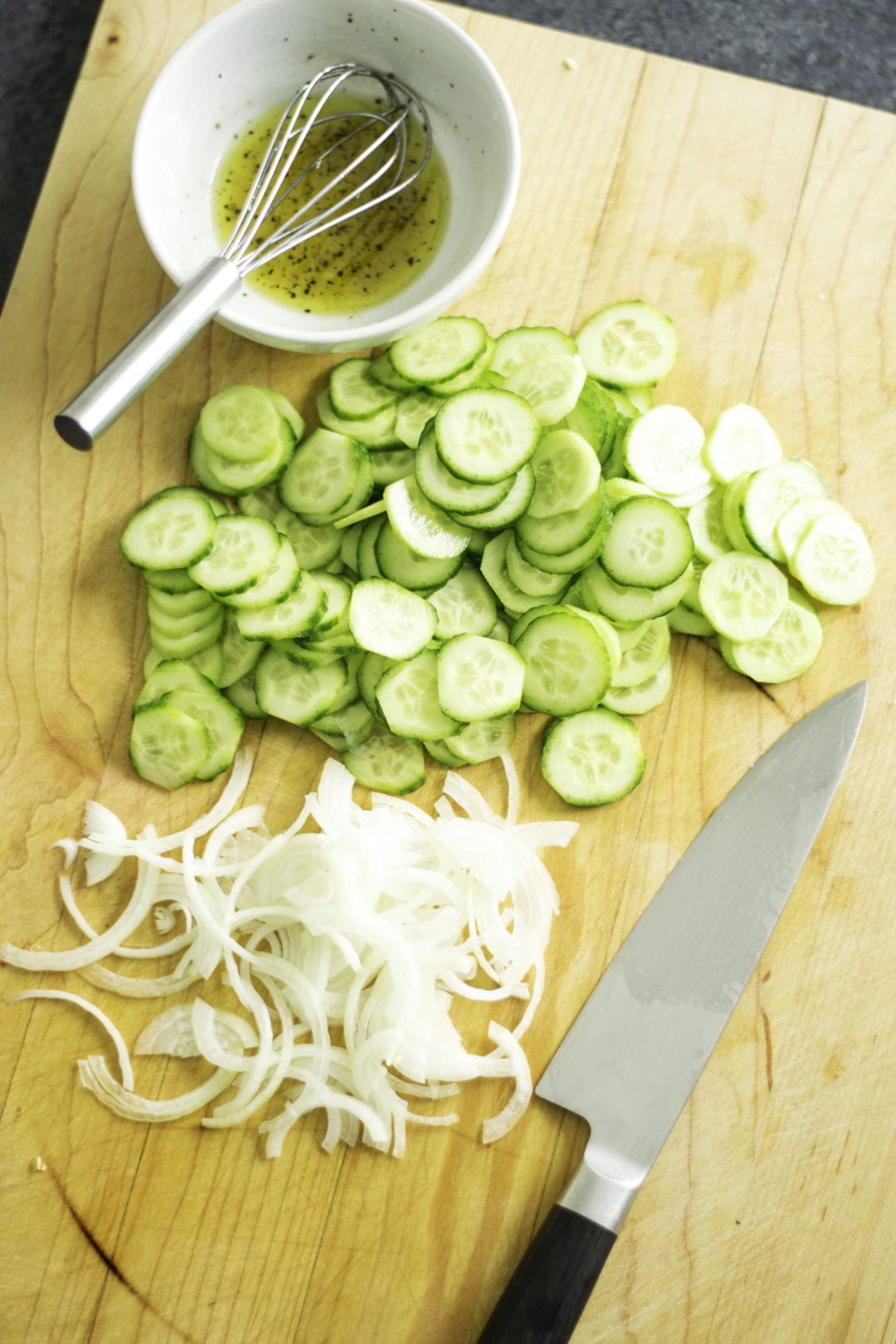 I had to get the blackened grouper sandwich.
You guys know and already share my love of all things blackened. My blackened chicken recipe is still one of your most favorite recipes. (Patting myself on the back).
I got the sandwich and it was amazing!!! The ambience of that joint makes you want to never leave that vacation life. We even went back a second time over the four days I was in Marco.
Aside from the sandwich, they have a killer salad bar. Their house made pickles are better than Jimmy John's. As a pickle connoisseur, that really says something. They also had this light and delicious cucumber salad.
Nothing fancy, just thinly sliced cucumbers and onion. I could not get enough of it.
Quick cucumber salad is light and refreshing with just enough zap from the onion. I think it compliments something spicy. If you're down for grilling, whip up a batch of this salad for the perfect, light side.
I came home and wanted to make my own version. I couldn't nail down the exact vinaigrette, but I got pretty close. It just gives me another reason to go back to Marco.
Gotta nail that recipe down, guys. See ya Mike, Jack, Andy, and Weeze!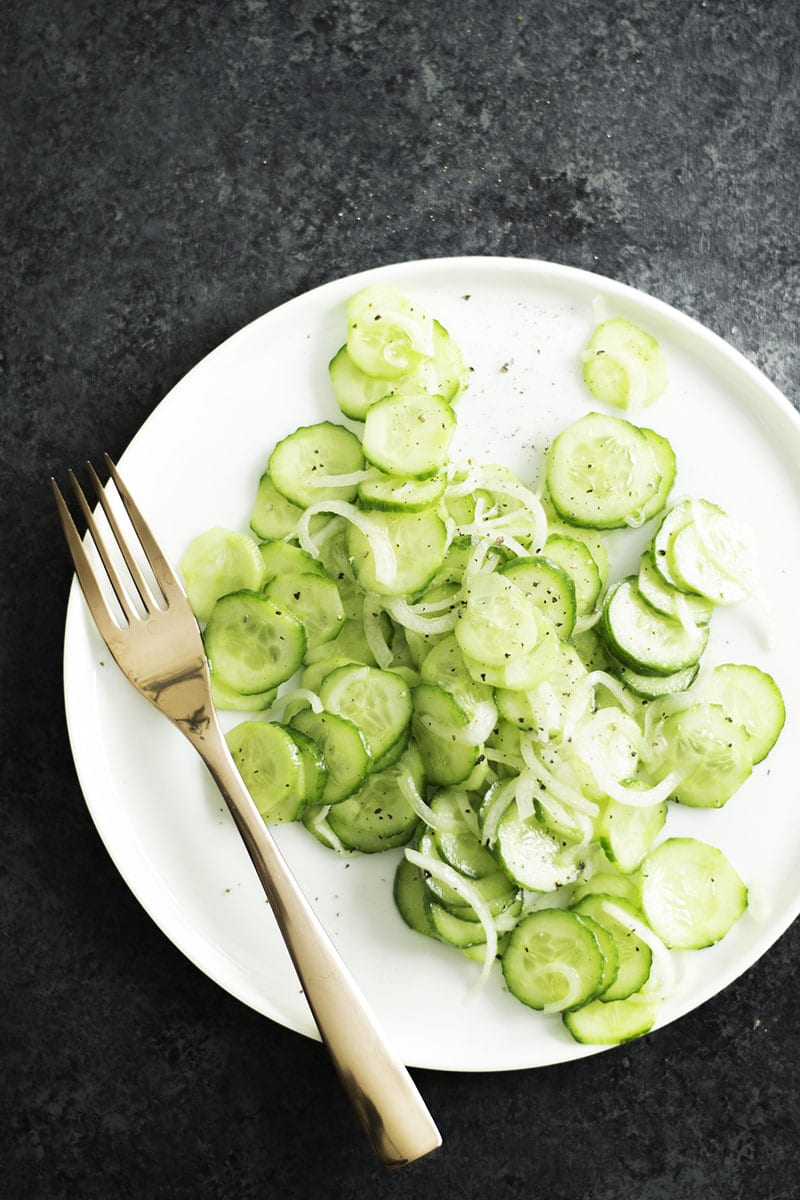 Quick Cucumber Salad
Five ingredients make this cucumber and onion salad an easy and refreshing summer salad.
Ingredients
6

Persian Cucumbers

peeled and thinly sliced

1/4

cup

Thinly Sliced Yellow Onion

1

tbsp

olive oil

2

tsp

apple cider vinegar

1/2

tsp

honey

salt

to taste

freshly cracked black pepper

to taste
Instructions
In the bottom of a medium salad bowl, whisk together the olive oil, vinegar, and honey.

Add the cucumbers and a big pinch of salt. Mix together until evenly combined.

Taste and then add a few cracks of black pepper and add more salt if needed.
Recipe Notes
Recipe is best served slightly cooler than room temperature.