Blackened chicken and cilantro lime quinoa is the most popular recipe on my site. It is because the blackened chicken and cilantro lime quinoa are both packed with flavor and take little time to make from scratch. It is a gluten free easy weeknight meal. Leftover blackened chicken and cilantro lime quinoa also taste great tossed with a little salad the next day.

While eating dinner the other night, and basking in the beautiful sunlight and warm breeze coming in through the back door, my husband decided to go all Debbie Downer on me.
I was gushing about how beautiful it is and how hard it is to work at home when all I want to do is be outside.
He then says to me, "You know, this won't last. People always get like this in March. But remember when baseball season starts and how cold some of those opening games are?
Yeah. It isn't going to last."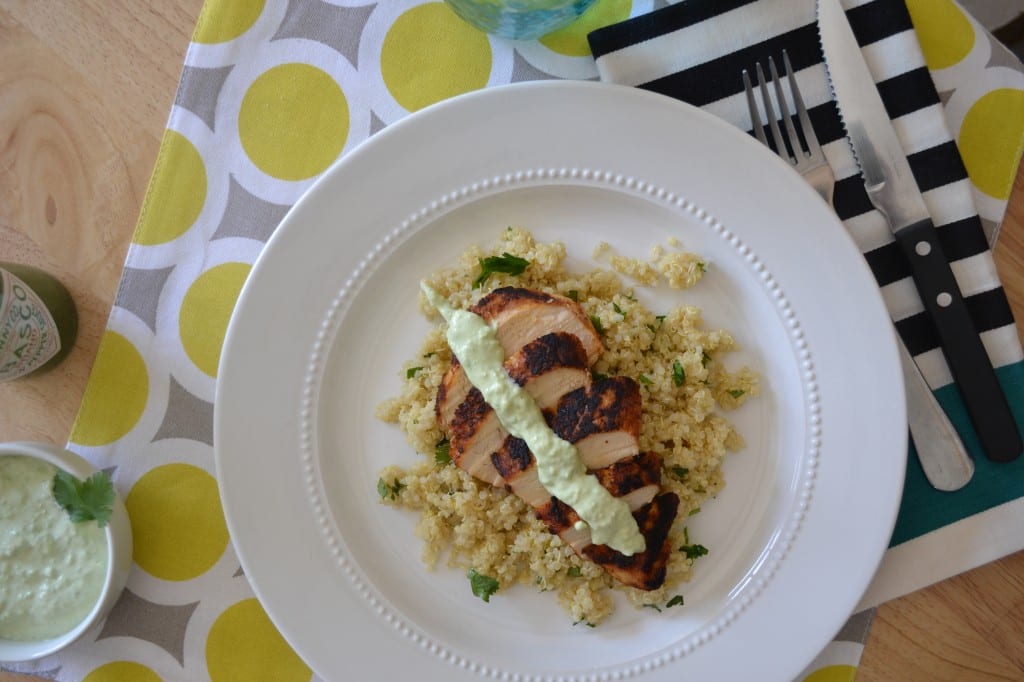 Mwwwaaaahhhh, mwwwaaahh!!!
Gee thanks honey. Just let the rest of us live in a non-snowy and warm moment. Maybe his lack of vegetables and Vitamin D are what is making him so gloomy.
Note to self: Serve a big salad for dinner tomorrow.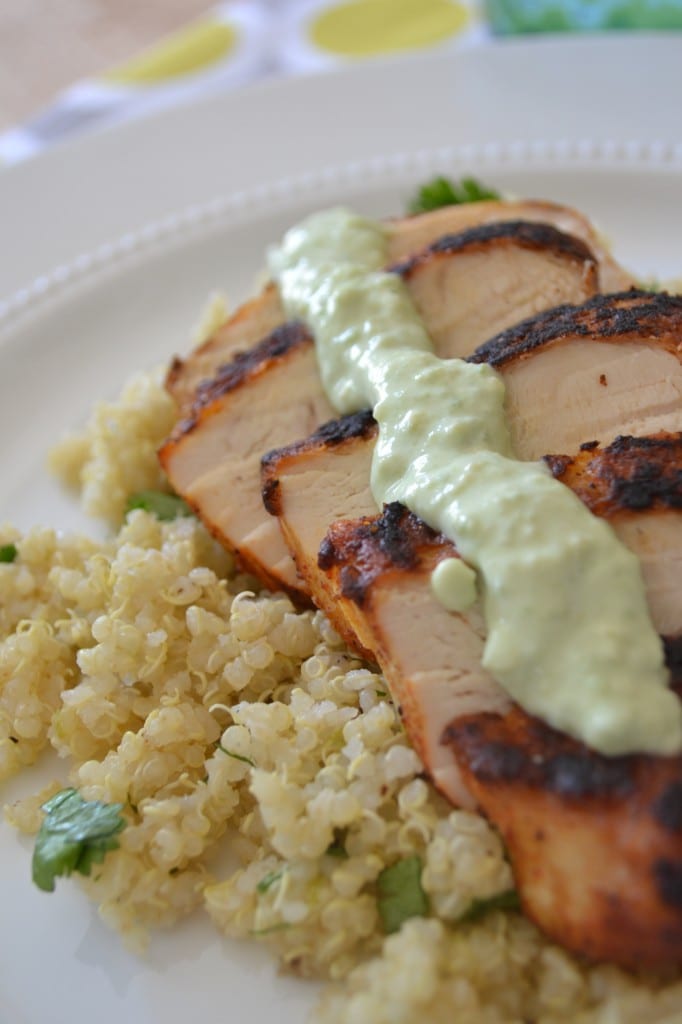 Well, unlike my husband, I am excited for getting back into the swing of eating healthy to get my pale and winterized* body ready for summer—starting today with this awesome flavorful, low calorie, and gluten-free meal! Blackened chicken and cilantro lime quinoa to the rescue.
Get ready spring and summer here I come! (Please don't let it snow right after I post this!)
*Winterized, Verb: My loving term to describe what happens to most people during the holiday and wintery layered clothing season.
You all know what I'm talking about.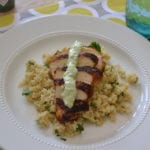 blackened chicken with cilantro lime quinoa
Chicken seared with a nice and mild spice served alongside cilantro lime quinoa.
Ingredients
2

Tbsp

Canola oil

1/4

Tsp

Onion powder

1/4

Tsp

Garlic powder

1/2

Tsp

Smoked paprika

1/4

Tsp

Cayenne Pepper

Salt

Pepper

2

Chicken breasts

1 1/2

Cups

Water

1

Cup

Quinoa

Juice and zest of 1/2 lime

1

Tbsp

Fresh chopped cilantro

1

Avocado

1/4

Cup

plain non fat Greek yogurt

1

Tsp

Lime juice
Instructions
Comine all dry seasonings in a small mixing bowl. Season each side of the chicken breast liberally with the seasoning mix.

Heat the oil in a medium pan over medium high heat. Add chicken to the hot pan. Seat for 5-7 minutes on each side.

Add the water to a small pot. Bring to a boil. Add quinoa and cover with lid. Cook according to the packaging instructions.

Add lime juice and zest to the quinoa along with cilantro and salt and pepper. Mix and fluff to combine.

Let the chicken rest in the pan while the quinoa cooks and while you make the avocado crema.

Add the avocado, Greek yogurt, and lime juice to a food processor along with some salt and pepper. Purée until smooth.

Serve chicken on top of quinoa with some of the avocado crema.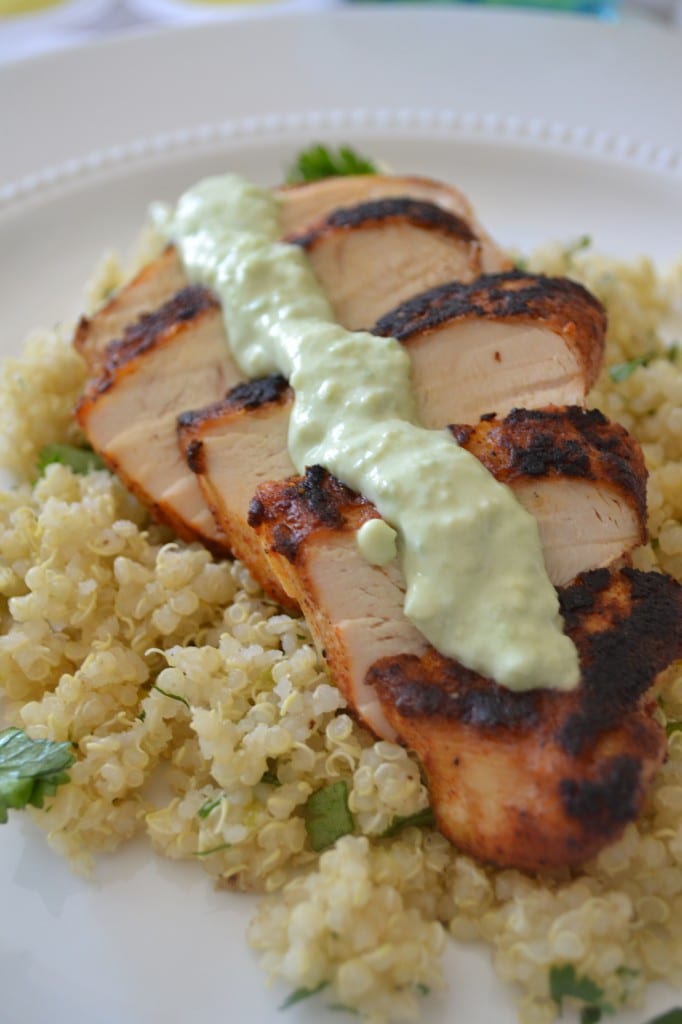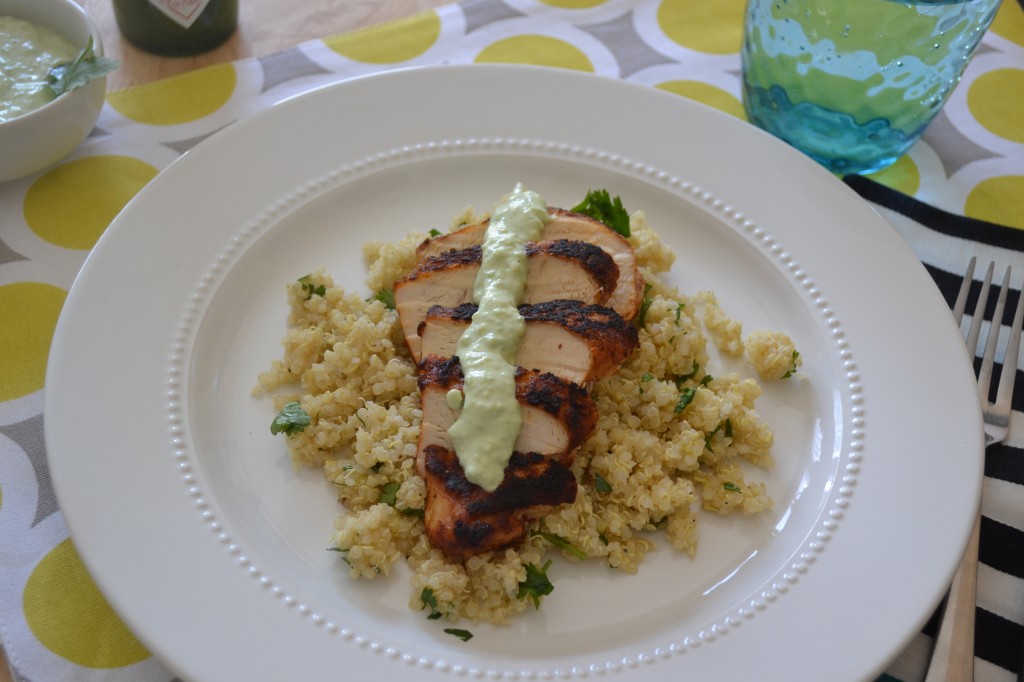 Things to love about this meal: low sodium, chicken breast is a lean protein, it is gluten-free, and if you keep eating meals like this you will be ready for beach season in no time!!! If you love this recipe, try these easy balsamic lemon chicken quinoa bowls or roasted pepper pesto.