Classic skillet breakfast potatoes are my favorite breakfast or brunch side. Crispy potatoes and caramelized bell peppers all in one skillet. Serve with your favorite egg, bacon, sausage, or all of the above.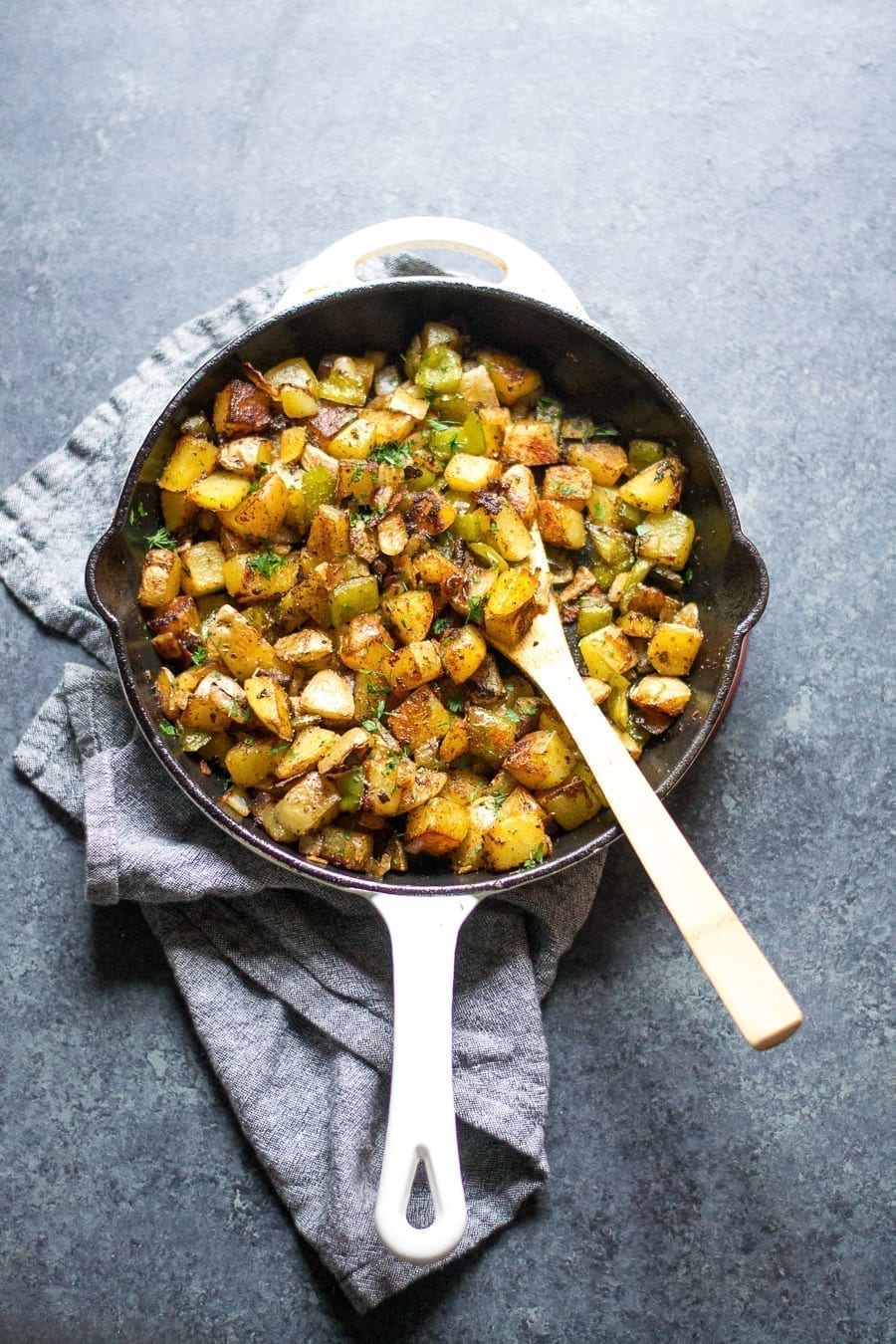 Remember staying in hotels?
My family used to vacation to Arizona in August. My Mom loves the heat. It is a dry heat, after all.
My Dad would always decide on what hotel to stay in based up the breakfast services. He, much like myself, is a breakfast person.
We differ in the fact that my Dad's breakfast is at like 5am. I eat mine after the kids and husband have been fed.
#MomLife
We always ended up staying at the same hotel because traveling and meals for a family of five on vacation can be expensive. The hotel saving us with one meal included was a huge bonus.
I always ordered the same thing.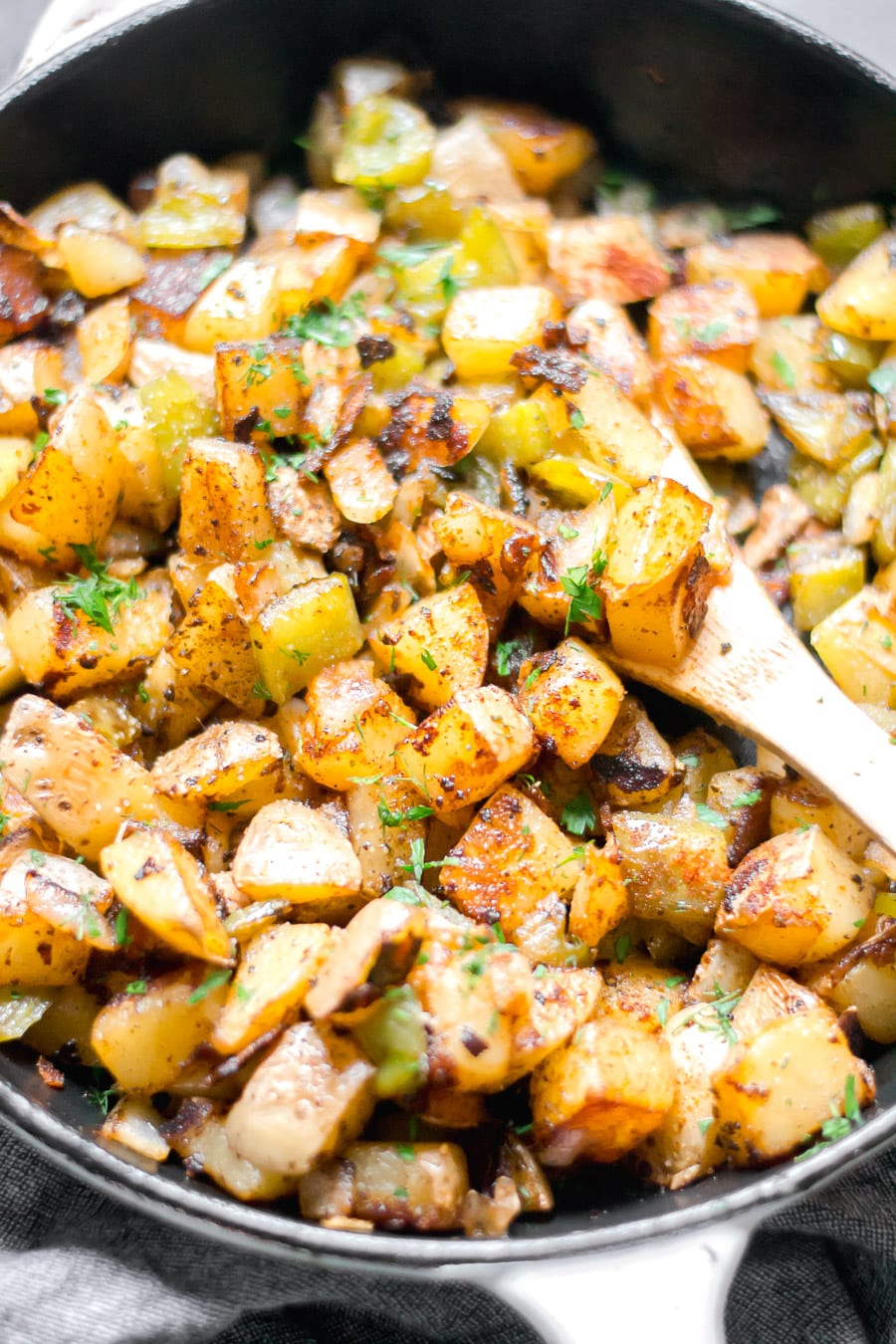 I would get two poached eggs, an English muffin (toasted), and a big old scoop of the classic skillet breakfast potatoes.
Breakfast potatoes are crisp diced potatoes, bell pepper, and onion cooked in one skillet and seasoned with a mix of onion powder, smoked paprika, garlic, salt, and pepper.
It is an easy dish that is always a crowd pleaser.
Use whatever type of potato you have on hand. The recipe is forgiving.
I love using a cast iron skillet to get the ultimate caramelization, but a non-stick is cool too. You could also add in some cayenne pepper or a jalapeño instead of a bell pepper for an extra kick.
Make sure you use an oil that has a high smoking point like a canola, vegetable, grape seed, or avocado oil for this recipe.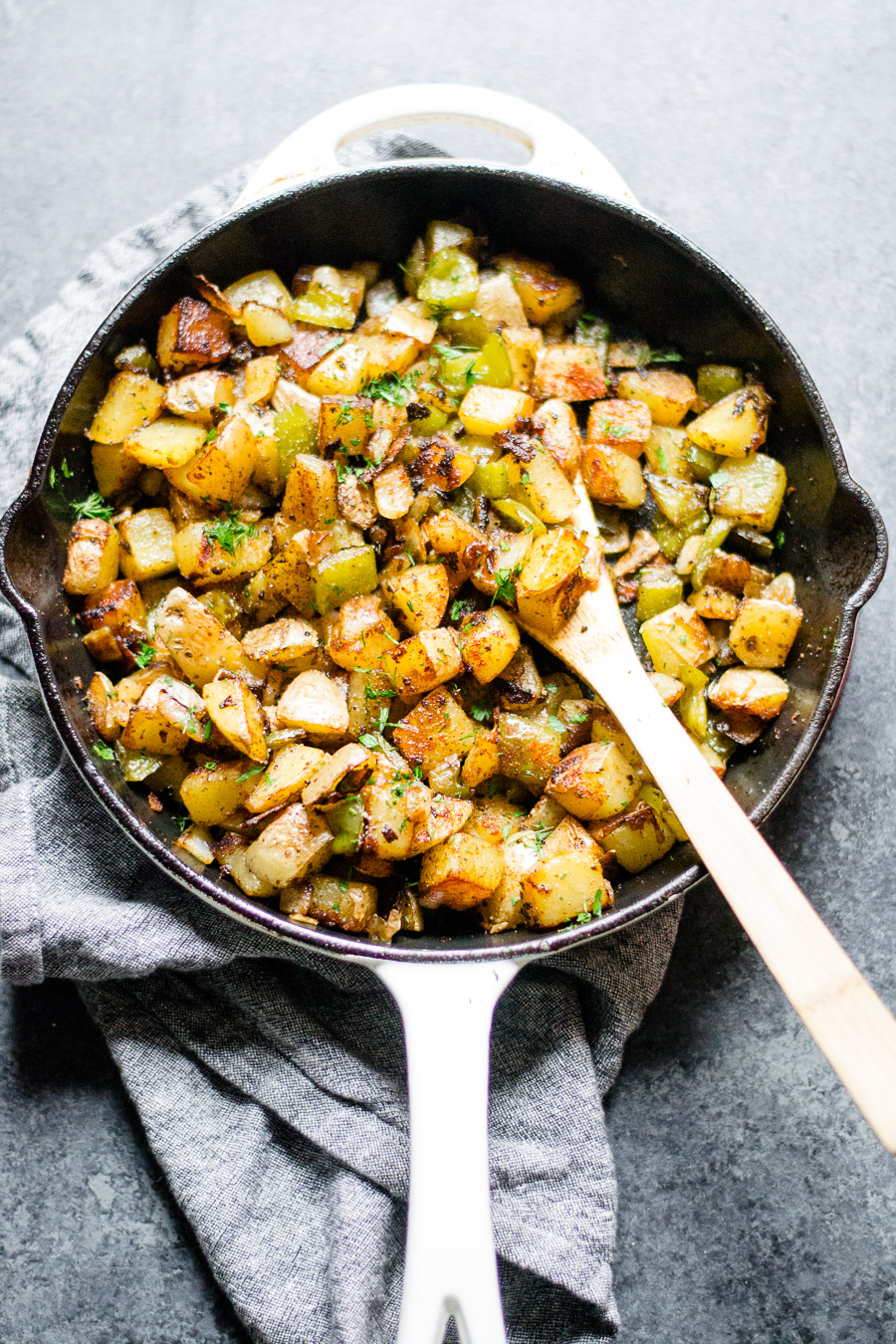 The last thing you need is a smoke alarm going off when you are trying to make breakfast/brunch for the family.
Or maybe while you're cooking up a little at home Mother's Day brunch for your favorite lady.
Let those mom's eat first for once!
Classic Skillet Breakfast Potatoes
Crispy skillet fried, lightly seasoned potatoes, bell pepper, and onion.
Ingredients
2 tbsp canola/avocado/grape seed oil
4 yellow potatoes, diced into 1/2" pieces
1 bell pepper, diced
1/2 yellow onion, diced
1/2 tsp smoked paprika
1/4 tsp onion powder
1/4 tsp garlic powder or minced garlic
1/2 tsp salt
1/4 tsp black pepper
2 tbsp unsalted butter
Instructions
Heat a large cast iron skillet over medium/high heat. Add the oil and allow it to heat until it is shimmering.
Add the potatoes to the skillet. Stir to coat evenly in all the oil. Allow the potatoes to cook and fry up until slightly golden for about 10 minutes. Stir and scrape up and stuck bits with a wooden spatula.
After 10-12 minutes of cooking the potatoes, add the onion and pepper. Stir to combine. Cook for 5 minutes.
Add in the seasonings and the butter. Mix to evenly coat. Cook for another 5 minutes until the potatoes are cooked through and tender in the middle.
add more salt and pepper to taste before serving.
Recommended Products
As an Amazon Associate and member of other affiliate programs, I earn from qualifying purchases.