Brown butter lemon asparagus is made with toasty, nutty brown butter, lemon zest, lemon juice, salt, and pepper. It is a super simple side dish that goes perfect with any meal.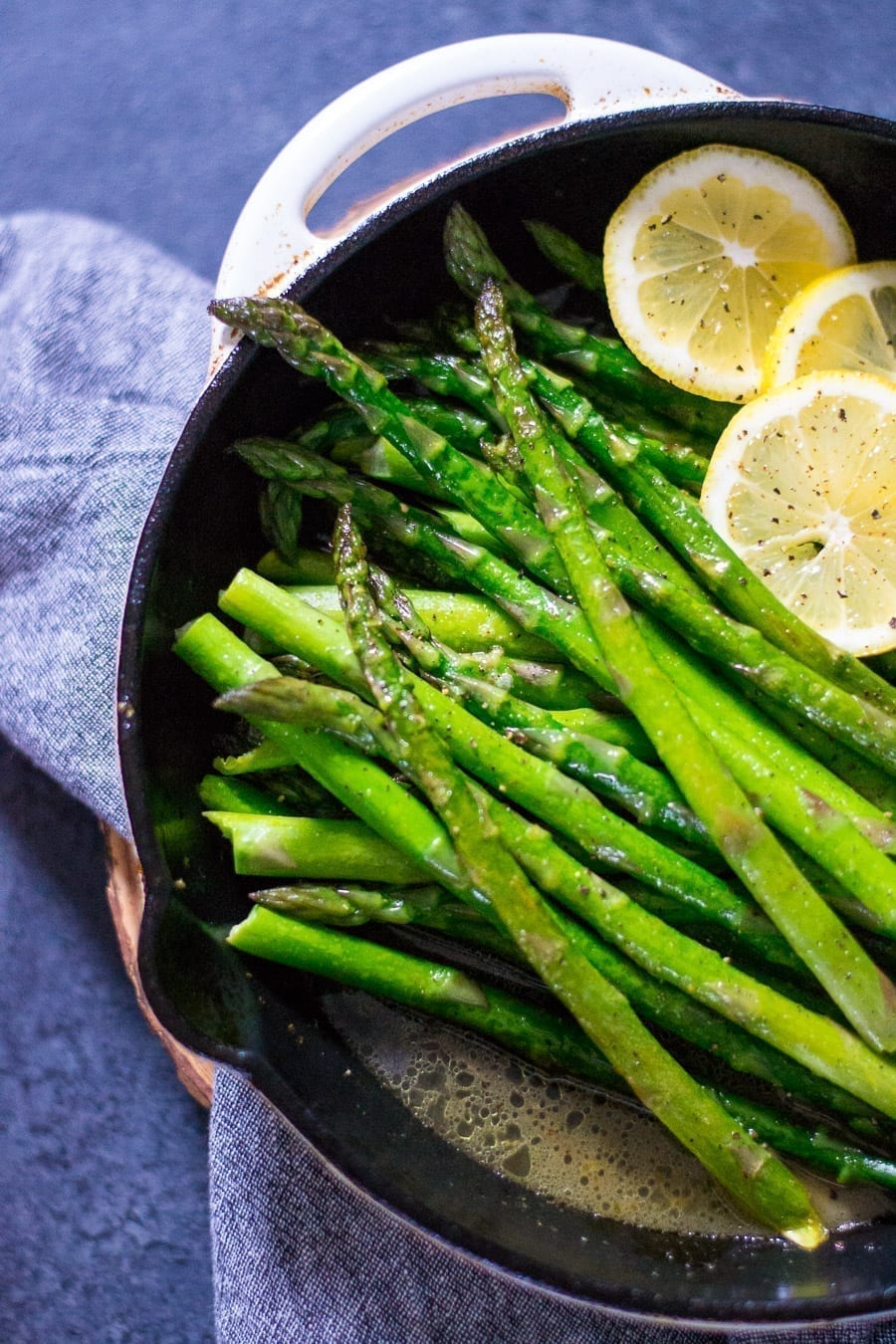 Thanks to all you social distancers over on Instagram that voted between this dish and the vegetable stew. I was happy to share a fresh side dish option.
Something about a bright green veggie and a bright yellow lemon bring a little happiness to my plate.
We are currently in a state of Groundhog Day. Everyday we wake up and spend the day with our loved ones indoors. Get the kids schoolwork completed. Make breakfast, lunch, and dinner.
Repeat.
The way we can express ourselves and change things up is through home cooking. We have been given the gift of time. There isn't any schedule or activities to attend.
Get into the kitchen, friends!
Did I do a good job putting a positive spin on things?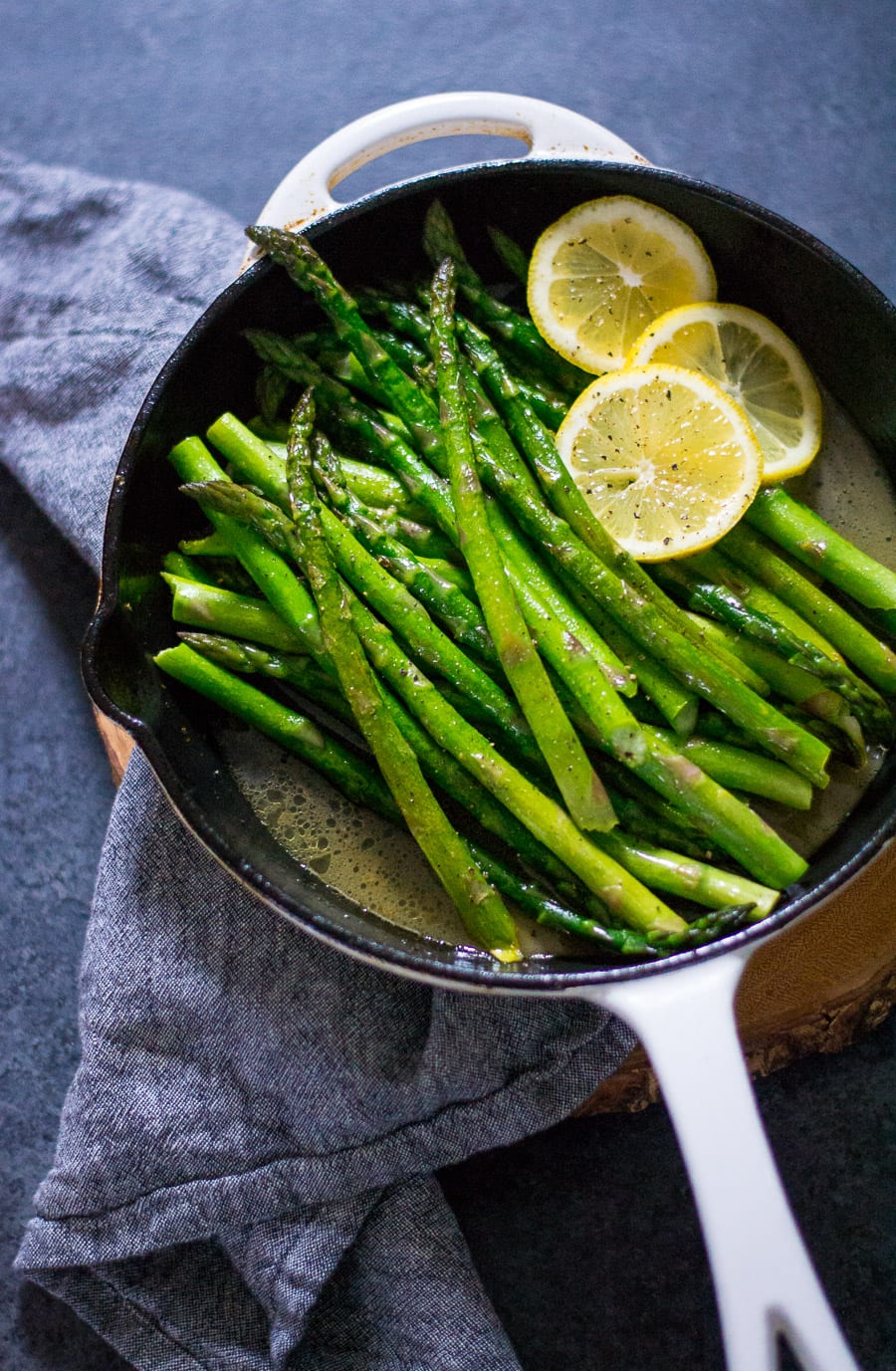 That's the way I am looking at it at least.
For now.
Talk to me in a week or two when all I want is a giant take out or fast food burger served with a side of personal space and silence.
Brown butter lemon asparagus is a pretty basic dish. It does require a little patience to wait for the butter to brown. Aside from that, totally easy and straightforward.
I love asparagus paired with some simple salmon. My seafood round up has a lot of tasty options.
Grilled cedar smoked lemon-rosemary chicken is another great main option. It also allows you to grill outdoors and get some fresh air.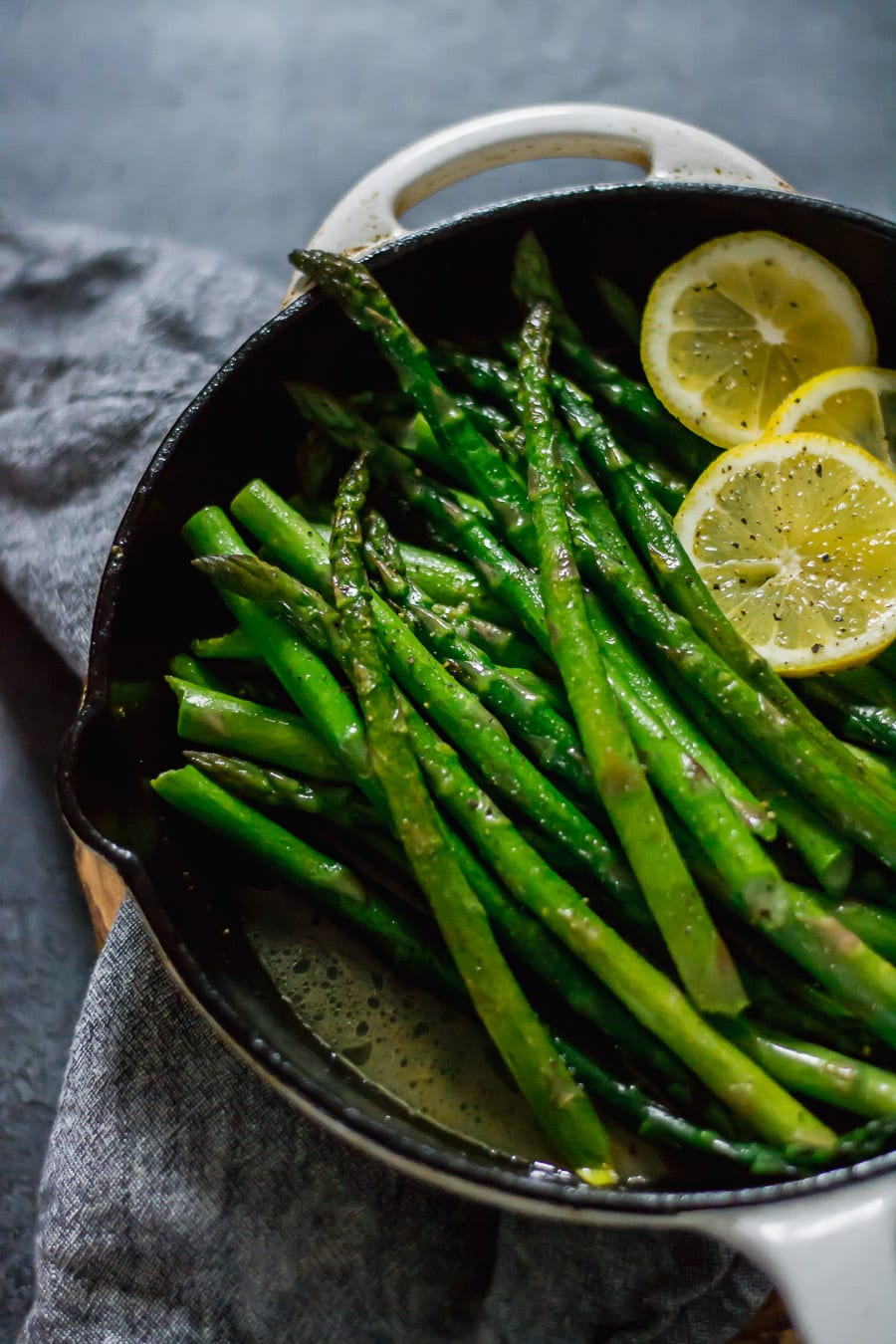 Give yourself some grace during this time. Wash your hands and eat some dang veggies.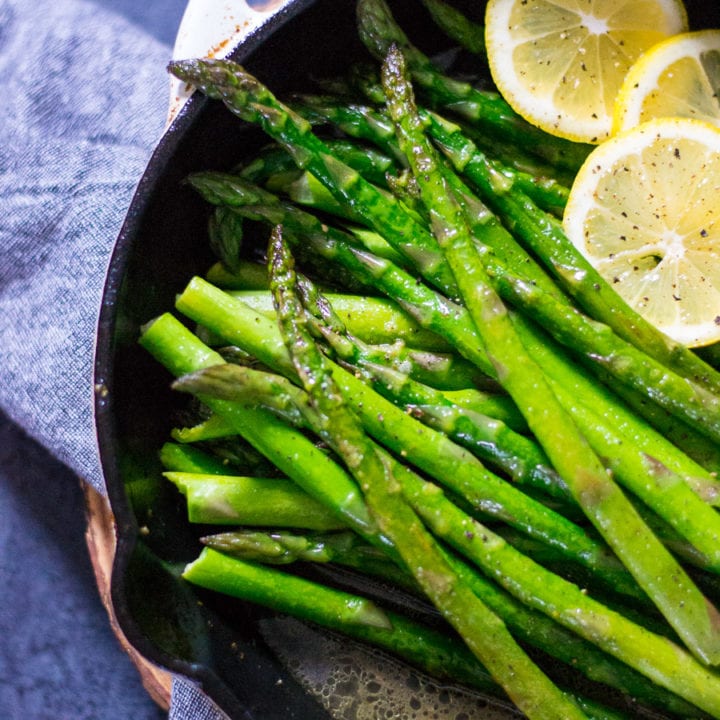 Brown Butter Lemon Asparagus
Simply cooked skillet asparagus in a brown butter and lemon sauce.
Ingredients
1 tsp avocado oil
1 lb trimmed asparagus
salt and pepper, to taste
2 tbsp unsalted butter
zest of 1 lemon
juice of 1/2 lemon
Instructions
Add the oil to a cast iron skillet or nonstick skillet over medium heat.
Once hot and shimmering, add the asparagus. Cook for 7 minutes, tossing every now and then.
Add salt, pepper, and butter. Cook for 7 more minutes. You will hear the butter crackle and pop. Once it becomes quiet the butter is browning and toasting. Allow the butter to toast for 1 more minute.
Add the zest and lemon juice. Adjust the salt and pepper to taste.
Serve the asparagus with the pan sauce drizzled on top.
Notes
This method also works well with fresh green beans.
Recommended Products
As an Amazon Associate and member of other affiliate programs, I earn from qualifying purchases.