Skillet Spanakopita Crostata is basically the lazier version of this traditional Greek spinach pie. Layers of phyllo dough are offset inside a cast iron skillet and filled with sautéed fresh spinach, onions, herbs, and of course feta cheese. It starts on the stovetop and finishes in the oven.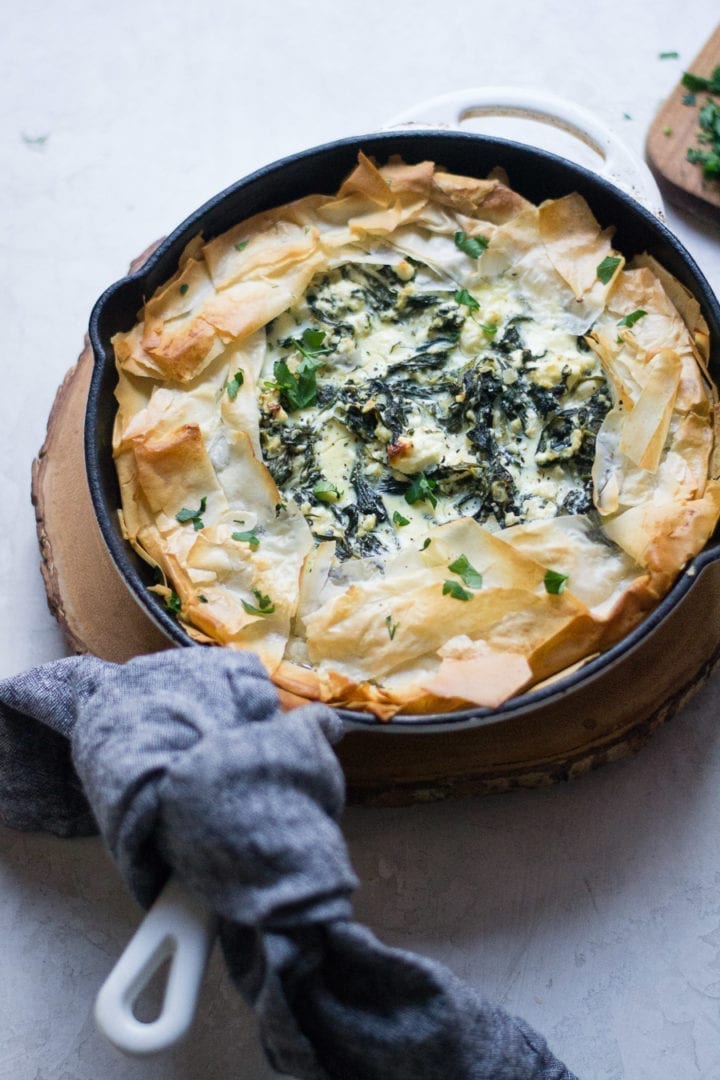 I am trying to get my act together and start whipping out some new Thanksgiving recipes.
If you are looking for Thanksgiving side dishes, check out this ultimate list.
This year I am starting with this mash up of a Greek classic.
Now, normally, my ultimate lazy version of spinach pie is the recipe from my Grandma.
That recipe involves zero phyllo dough.
I love a classic Spanakopita recipe. My mother in law is the one that has the patience to do all the layers and the buttery phyllo dough.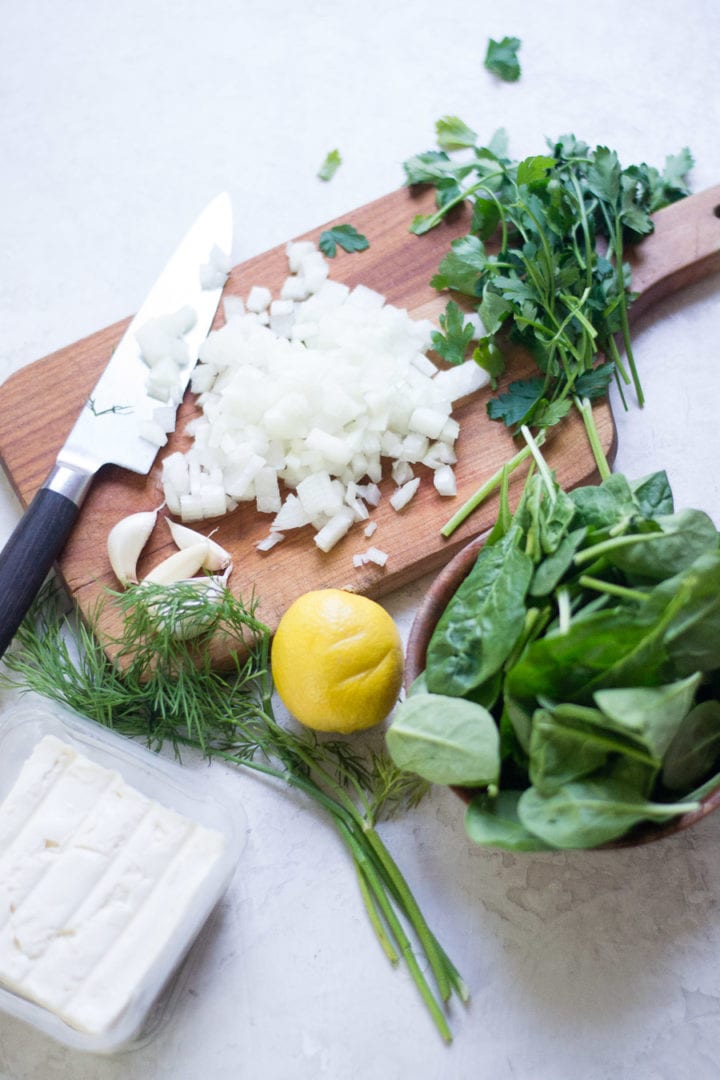 I always let some of the layers accidentally dry out or crack.
My bad.
This recipe uses only 8 sheets of phyllo dough and fresh spinach.
The center of the skillet spanakopita crostata is left open to get a little crunch on top.
Don't worry though it does not dry out.
Save time of you want by using frozen and thawed spinach.
Either way, be sure to squeeze all the liquid out of it before adding the eggs and feta cheese.
The edges of phyllo dough are folded over like in a crostata.
They get nice and flaky like a pie crust as opposed to dense and doughy in the usual version.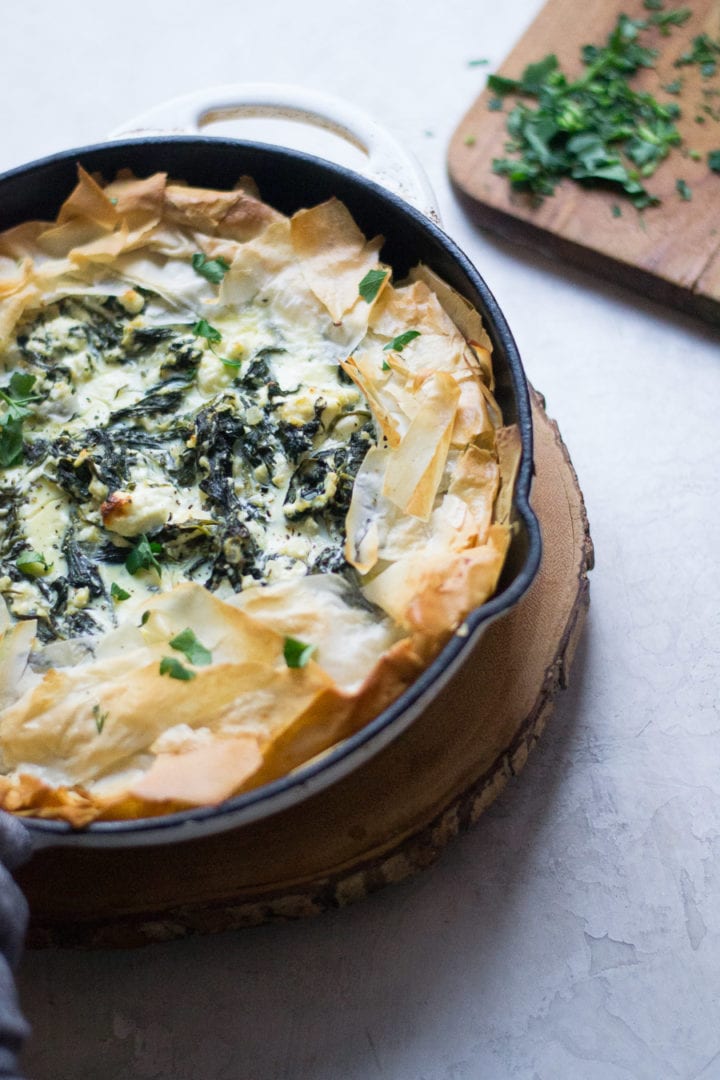 Another added bonus about this recipe is that it dirties two dishes; a mixing bowl and a skillet.
When this baby comes hot out of the oven, top with more fresh herbs, and then serve.
Leftovers are also a really delicious breakfast the next day.
Don't judge.
Recipe originally from New York Times Cooking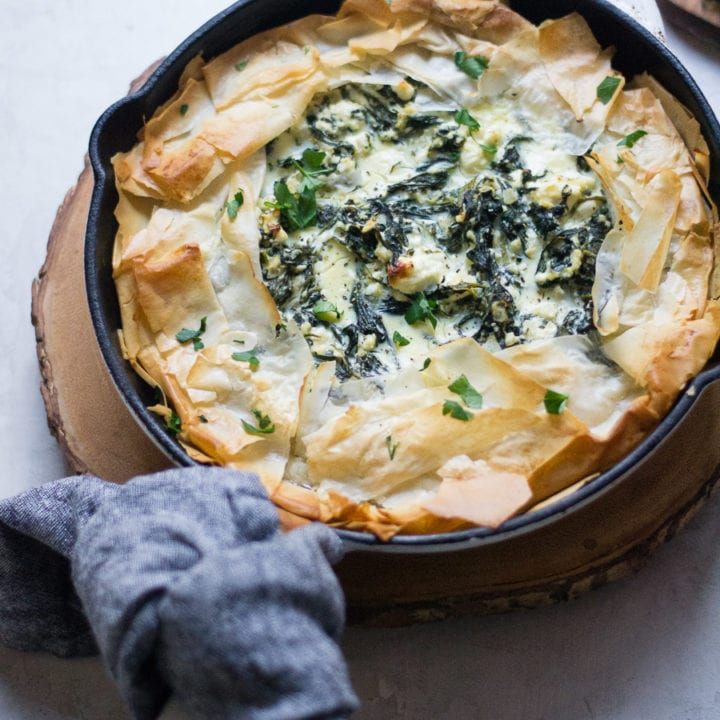 Skillet Spanakopita Crostata
Yield: Serves 6-8

Prep Time: 10 minutes

Cook Time: 35 minutes

Total Time: 45 minutes

A lazy version of a traditional Greek Spanakopita with flaky edges, fresh spinach, and less phyllo dough made all in one cast iron skillet.
Ingredients
3 tbsp extra virgin olive oil
1 small yellow onion, diced
5 garlic cloves, minced
1 1/2 lbs fresh baby spinach
1/4 cup fresh chopped parsley
2 tbsp fresh chopped dill
1/2 cup grated Parmesan cheese
zest from 1 lemon
juice from 1/2 lemon
2 large eggs, beaten
6 oz feta in brine, drained and crumbled
8 sheets of phyllo dough, thawed and at room temperature between damp paper towels
4 tbsp unsalted butter, melted
Instructions
Heat the olive oil in a 10-12 inch cast iron skillet over a medium flame. Once shimmering, add onion. Cook for about 4 minutes, stirring regularly.
Add in the garlic. Reduce heat to low. Mix to combine and cook for 2 minutes.
Add one handful of the spinach into the pan at a time. Mix and cook down. Continue until all the spinach is wilted down, about 12 minutes. Season lightly with a pinch of salt and pepper.
Add the cooked spinach, garlic, and onion to a fine mesh strainer. Press using the back of a spoon until all the liquid is drained out of the spinach. It won't look like a lot but when mixed with the other ingredients it will be ok.
Preheat the oven to 400 degrees F. Wipe out the cast iron skillet with a paper towel.
Combine the lemon juice, lemon zest, Parmesan cheese, and eggs. Mix to combine. Stir in the slightly cooled spinach mixture. Fold in the crumbled feta.
Uncover the phyllo dough. Use a pastry brush to coat each top sheet with butter. Add the sheet to the skillet, buttered side up. Make sure the sheet overhangs the edges. Gently press it in to eliminate any large air bubbles between the phyllo and the pan. Repeat with the remaining phyllo sheets, rotating each sheet in a different direction as you add it.
Add the spinach feta mixture to the skillet on top of the phyllo layers. Spread into an even layer.
Crinkle and fold the edges inward as you would with a crostata, leaving the center exposed. Brush the tops of the phyllo with any remaining butter.
Bake in the oven for 20-25 minutes until cooked through and the edges are golden brown.
Let cool for 5 minutes before cutting and serving.
Notes
Feta is a very salty cheese so I recommend lightly salting throughout and tasting as you go. Less is more.
Recommended Products
As an Amazon Associate and member of other affiliate programs, I earn from qualifying purchases.