Asian avocado and cucumber salad is an easy salad made with sesame oil, soy sauce, and apple cider vinegar. It is a great addition to any fried rice or as a stand along salad for lunch.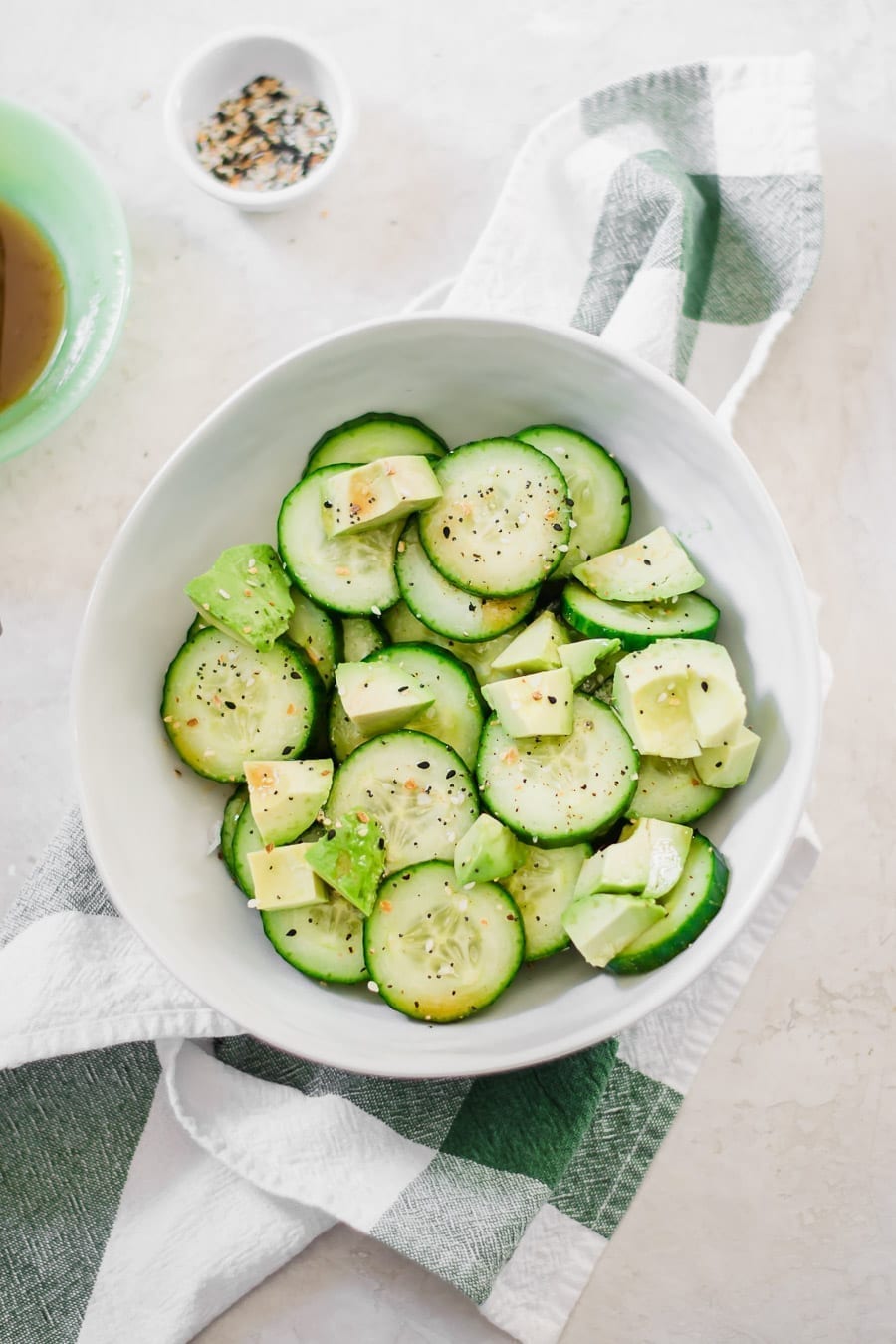 Lately I have been making lots and lots of stir fry recipes and fried rice recipes. I find them to be easy, versatile, and quick weeknight dinners.
You guys know that due to some bad experiences during my stint as a health inspector, I don't eat or order out Asian take out a lot.
I am slowly getting rid of this stigma. Don't send me all the hate messages.
My favorite chicken and broccoli stir fry gets taken to the next level with a side of this cold and crunchy salad on top.
Don't doubt me. I would not lead you astray.
The creamy avocado and the crisp cucumber is mixed with sesame oil apple cider vinegar, honey, and soy sauce. Asian avocado and cucumber salad is my fave!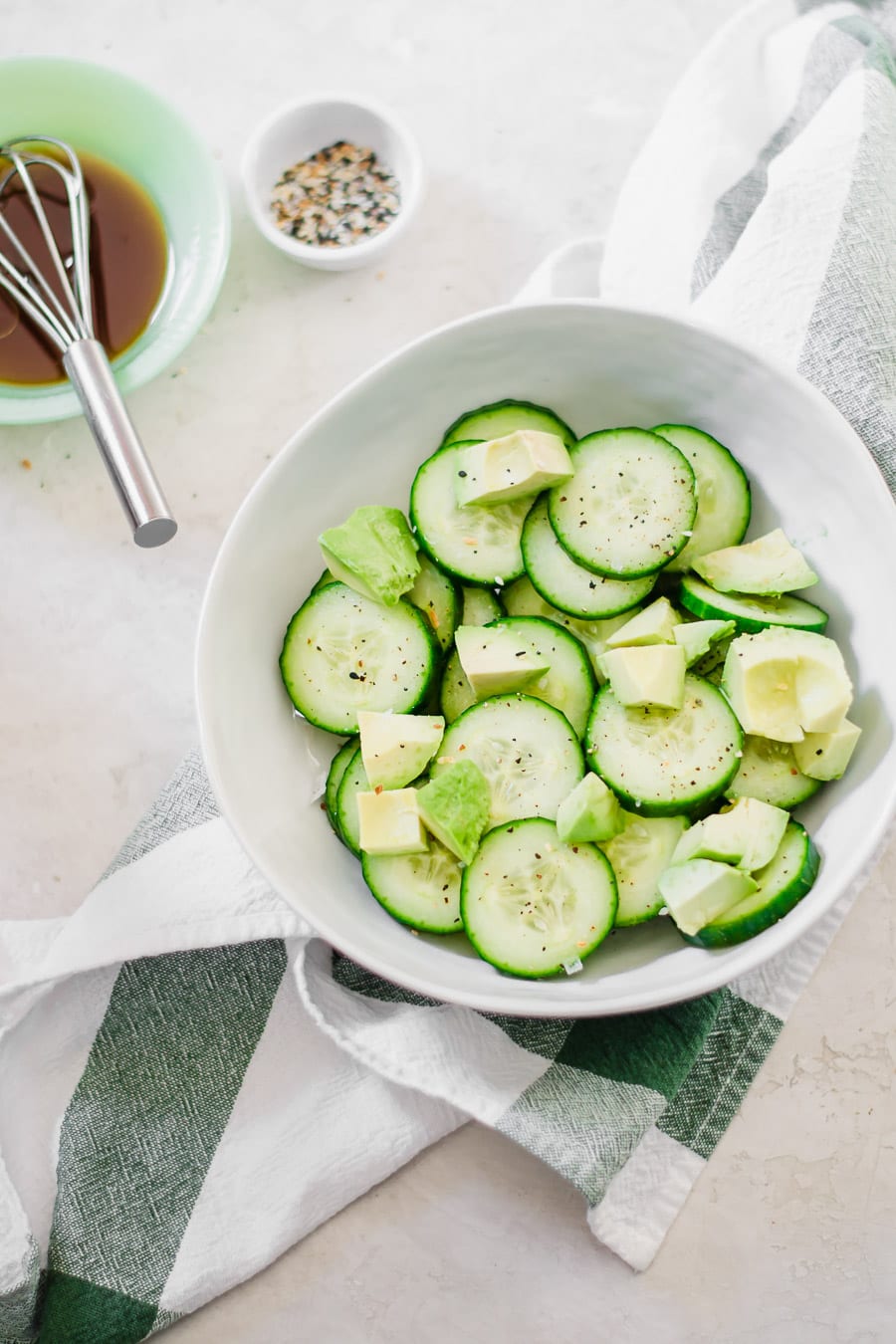 All you need is a little everything bagel seasoning on top or furikake seasoning.
You may also be shocked to know that I love Asian leftovers more than any other (yes, over pizza and pasta too).
They hold up the best, in my opinion.
One of my fave fried rice recipes is from Domesticate Me. It calls for cauliflower rice. Some of you Whole30-Paleo-Keto people may like it. It works well with regular rice as well.
I said earlier that a little seasoning blend, either furikake or everything bagel, on top are so good.
Another way to jazz up leftovers (aside from this salad, obviously) is chop up some roasted cashews and load them up on top.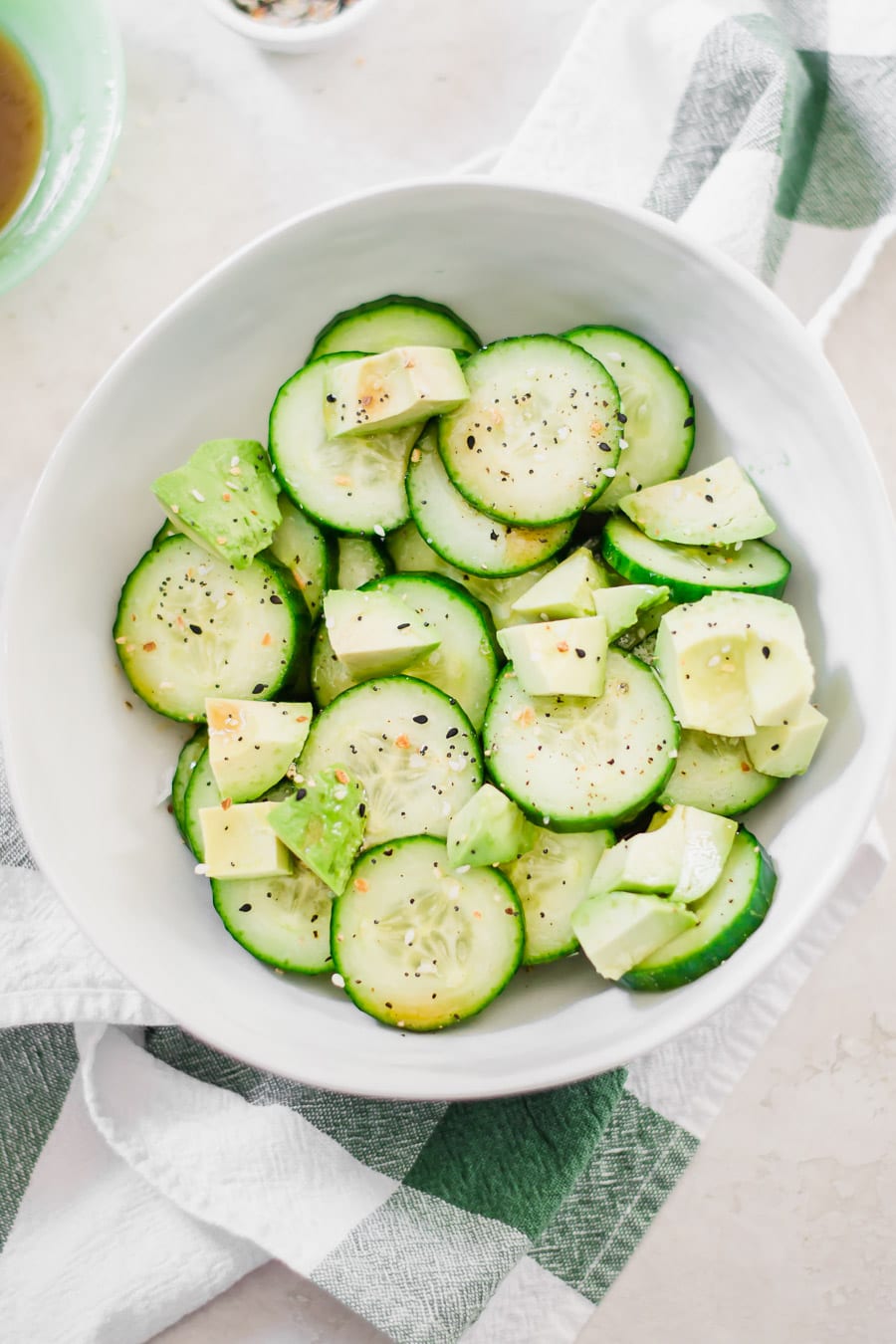 Basically this is a recipe and a how-to on the best ways to jazz up any sort of Asian leftover so it just keeps evolving and getting better.
You're welcome.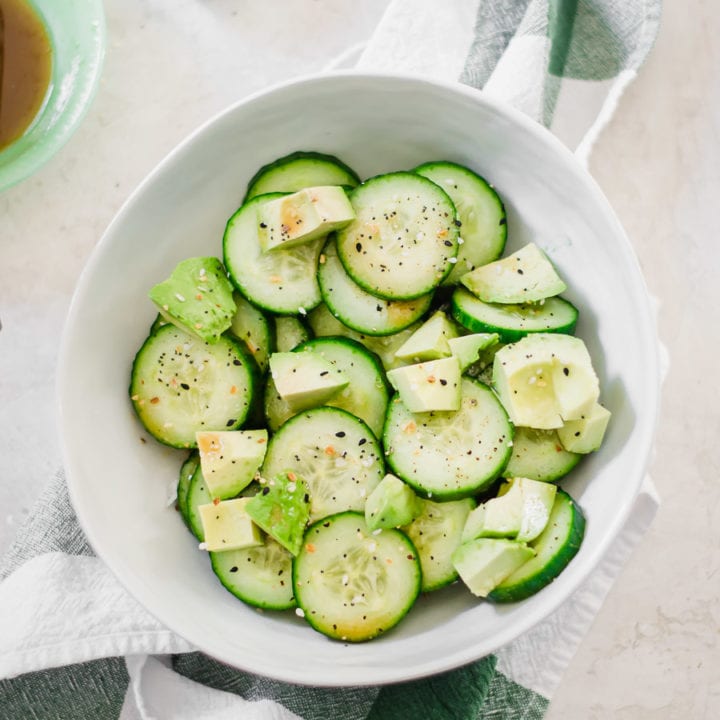 Asian Avocado and Cucumber Salad
Easy Asian avocado and cucumber salad with a soy sauce, sesame oil, and apple cider vinaigrette.
Ingredients
1 English cucumber, thinly sliced
1 Avocado, cubed
2 tbsp low-sodium soy sauce
1 tbsp apple cider vinegar
1 tbsp sesame oil
1/2 tsp honey
1/2 tsp salt
1/4 tsp black pepper
sesame seeds, everything bagel seasoning, or furikake seasoning blend for topping
Instructions
Add the soy sauce, apple cider vinegar, sesame oil, honey, salt, and pepper to a small mixing bowl. Whisk to combine.
Place the cucumber and avocado in a medium salad bowl. Add a little of the vinaigrette and toss gently to combine.
Let the salad sit for a few minutes.
Top with a few spoonfuls more of the vinaigrette along with either sesame seeds, everything bagel seasoning, or furikake seasoning and then serve.
Recommended Products
As an Amazon Associate and member of other affiliate programs, I earn from qualifying purchases.