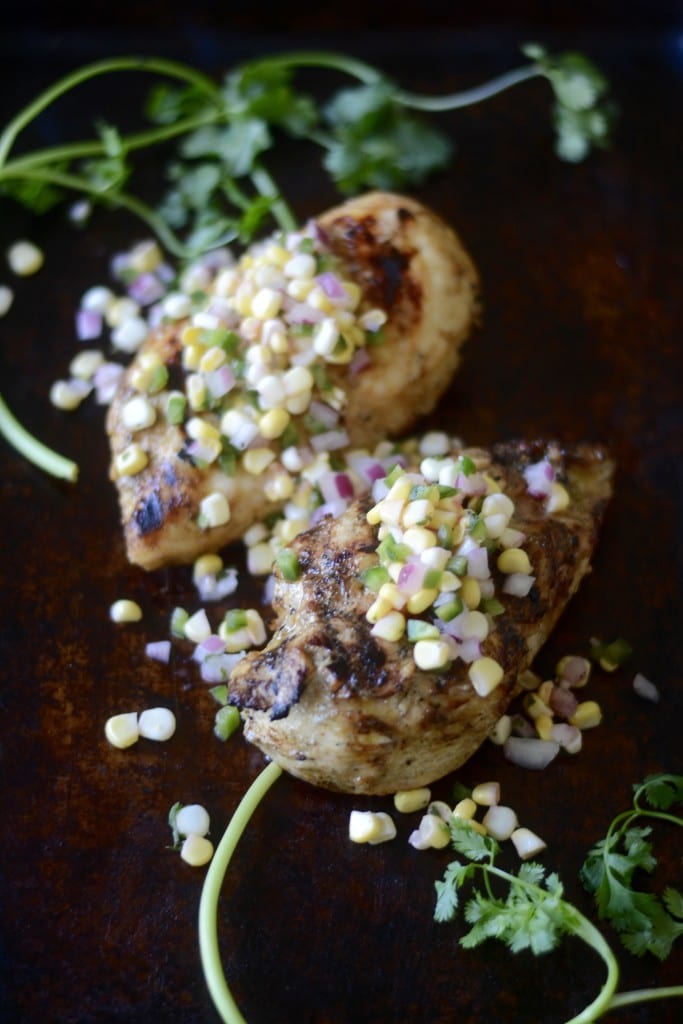 It's about that time in the post pregnancy phase of life in which I come to realize that all the benefits that come from carrying a baby, i.e. beautiful thick hair, clear skin (and for me, weight loss), have sadly come to an end. The move into the new house kept me preoccupied for a while. But we have many mirrors in this house so I can no longer avoid my own reflection. Big old chin zit. Great. Oh boy, is that the start of a bald spot or receding hairline on the right side of my head? I am 100% sure I am not carrying a baby currently, but that looks like the start of a food baby/beer belly. Ugh!
I have to admit, I did notice this a few weeks ago. It was like I didn't want to admit it was happening though. I then started to do this weird kind of reasoning with myself. Tell me if you have said some of these things to yourself recently.
"I think I will order the cheeseburger without ketchup this time. That will save calories. I think I read that most dietitians would order rather order a burger than a chicken product from McDonald's."
"I will have a salad for dinner to make up for this meal."
"If you don't eat lunch today you can totally have four glasses of wine after dinner. The calories balance out!"
"Calories from stress eating don't count."
"I want to stay up and finish this movie! The only way I will be able to do that is if I snack."
"It's just one cookie."
"Standing and rocking a 14lb child back and forth for 2 hours out of the day HAS to count as cardio, right?"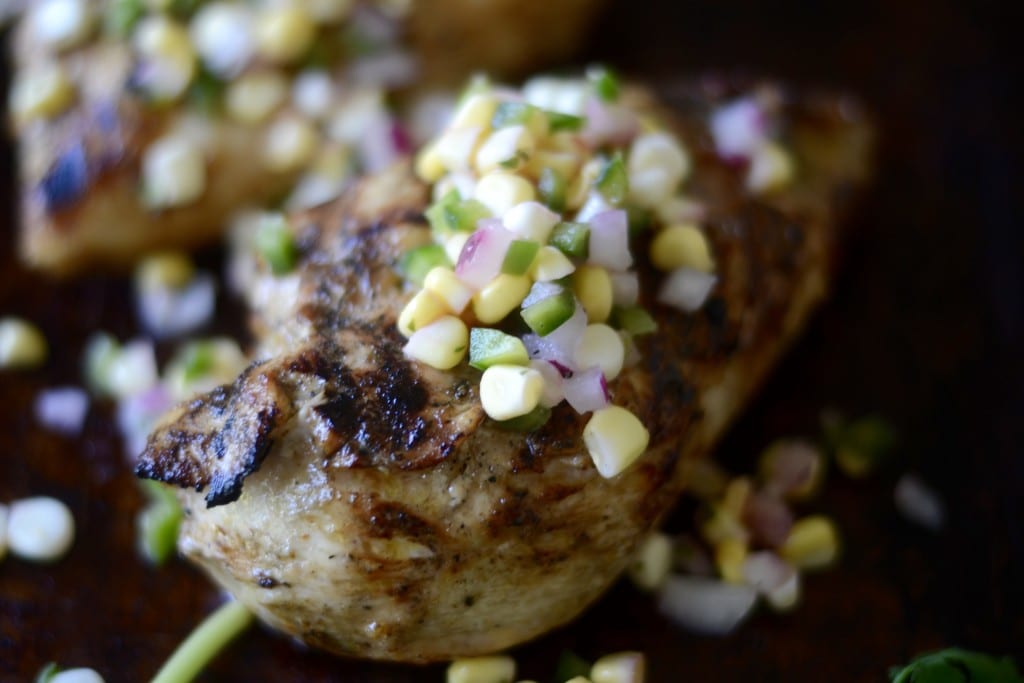 And so on and so on.
Now that we are officially settled into the house, I can start focusing on other things aside from, "What is new at HomeGoods this week?" Priority number one is getting my eating back in check. More vegetables, less take out. Fewer cheeseburgers. That was the worst pregnancy craving to curb, even after Jack was born. I started off by swapping the burgers and brats for lean chicken instead. Then instead of fries or potatoes, boom, raw corn salsa. It is so sweet and refreshing. Why has it taken me so long to get on the raw corn bandwagon?
Ok, so here it is: the start of turning things around and the end to trying to rationalize every extra and unnecessary calorie.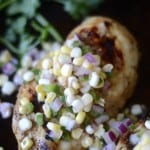 Grilled Chili Lime Chicken with Fresh Corn Salsa
An easy grilling recipe that combines all the bright and fresh corn flavors with the sweet and smokiness of a perfectly charred chicken.
Total Time
1
hour
20
minutes
Ingredients
For the Chicken:
Juice and Zest from 1 Lime

1/2

Teaspoon

Chili Powder

1/4

Teaspoon

Freshly Cracked Black Pepper

1/4

Teaspoon

Sea Salt

1/2

Teaspoon

Honey

1/2

Cup

Olive Oil

2

Large Boneless Skinless Chicken Breasts
For the Salsa:
Fresh Corn cut directly off the cob

1

Jalapeño

seeded and diced

1

Tablespoon

Finely Diced Red Onion

1

Teaspoon

Fresh Chopped Cilantro

Juice from 1/2 Lime

Salt and Pepper to taste
Instructions
Add the lime juice, lime zest, chili powder, salt, pepper, honey, and olive oil to a medium mixing bowl. Whisk to combine. Add the chicken to the bowl with the marinade. Press the chicken down into the marinade. Cover the bowl with plastic wrap and refrigerate for at least an hour and no longer than 4 hours.

Remove the husk from the ear of corn. Hold the cob by one end and place the other end in the center of a large plate, so it is standing up on its end. Using a sharp knife, cut the kernels off the cob in a downward direction. Once you cut all the way down one side, rotate the cob and cut the kernels off the other sides until all the kernels are removed. Be sure to remove any stray ieces of leftover husk material.

Add the corn along with the jalapeño, onion, cilantro, lime juice, salt, and pepper to a small bowl. Mix to combine. Add more salt or pepper if needed.

Once the chicken has marinated for at least an hour, heat the grill up over a medium flame.

When the grill is nice and hot, add the chicken, smooth side down first, to the grill.

Use a brush to apply more marinade to the top of the chicken. Close the grill lid and cook the chicken for 7-10 minutes per side. Applying more marinade a few times in between. The chicken cooking time may vary. I had rather large chicken breasts for this recipe.

Once the internal temperature of the chicken reaches 165 degrees F, it is cooked. Remove from the grill and place on a plate to rest for at least five minutes before serving and slicing.

Before serving, top each breast with some of the corn salsa and maybe a pinch more of fresh cilantro and a squeeze of lime juice.