Cheesy kielbasa and spaetzle casserole is a combination of Polish kielbasa sausage, a blend of cheeses, and German spaetzle noodles. It is a merging of German and Polish comfort foods in one casserole dish.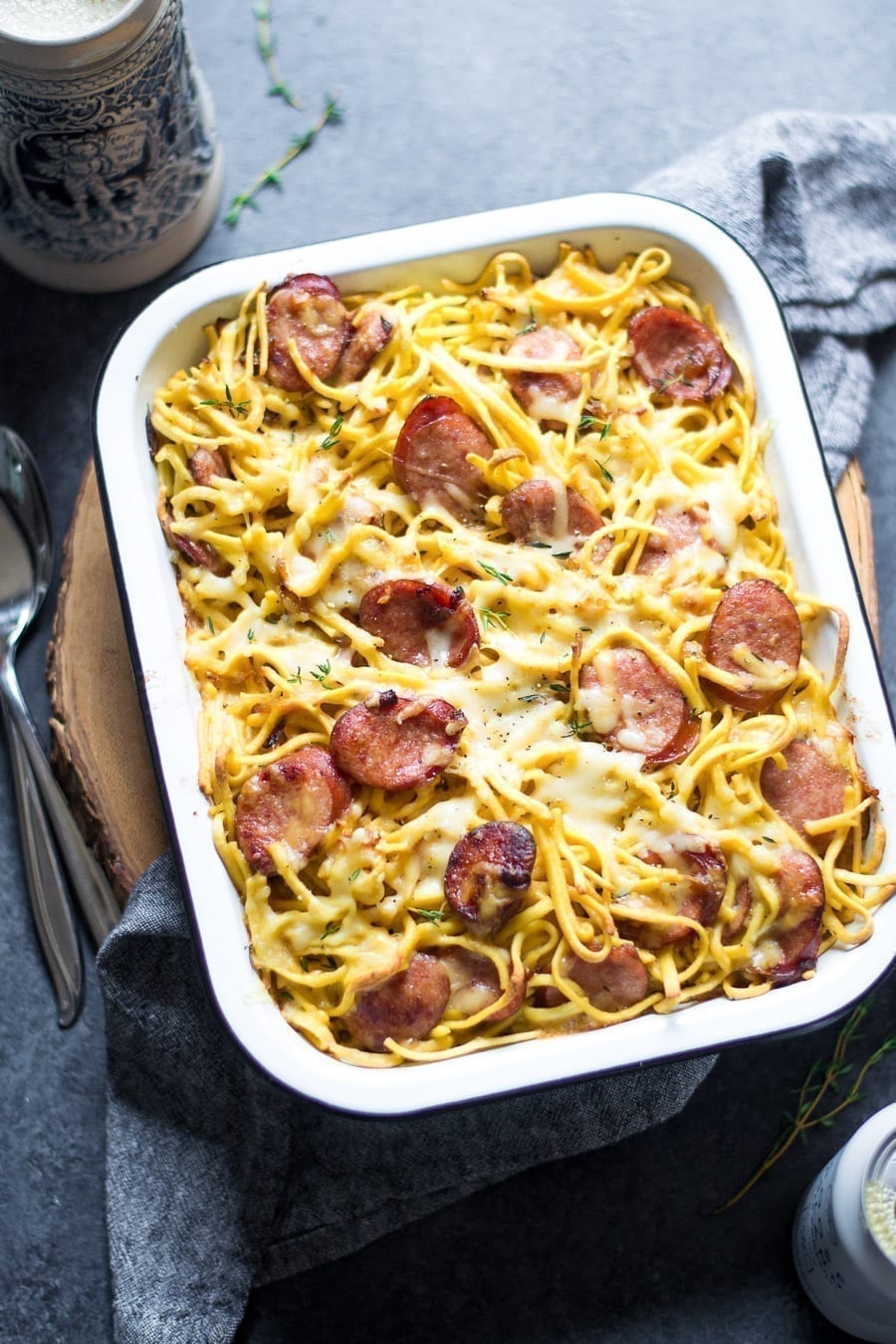 This is it folks! This is my last winter casserole dish of the season.
The groundhog saw or didn't see his shadow and spring is on the way. This is my way of willing the next season to just show up already.
No more winter comfort foods.
After this casserole, it is time to shed the winter sweaters and bust out a sensible spring jacket. You can catch me outside basking in the glorious 50-degree weather after I finish my last serving of this last winter casserole.
I seriously wish it was that easy to make it be, and stay, Spring here in the midwest.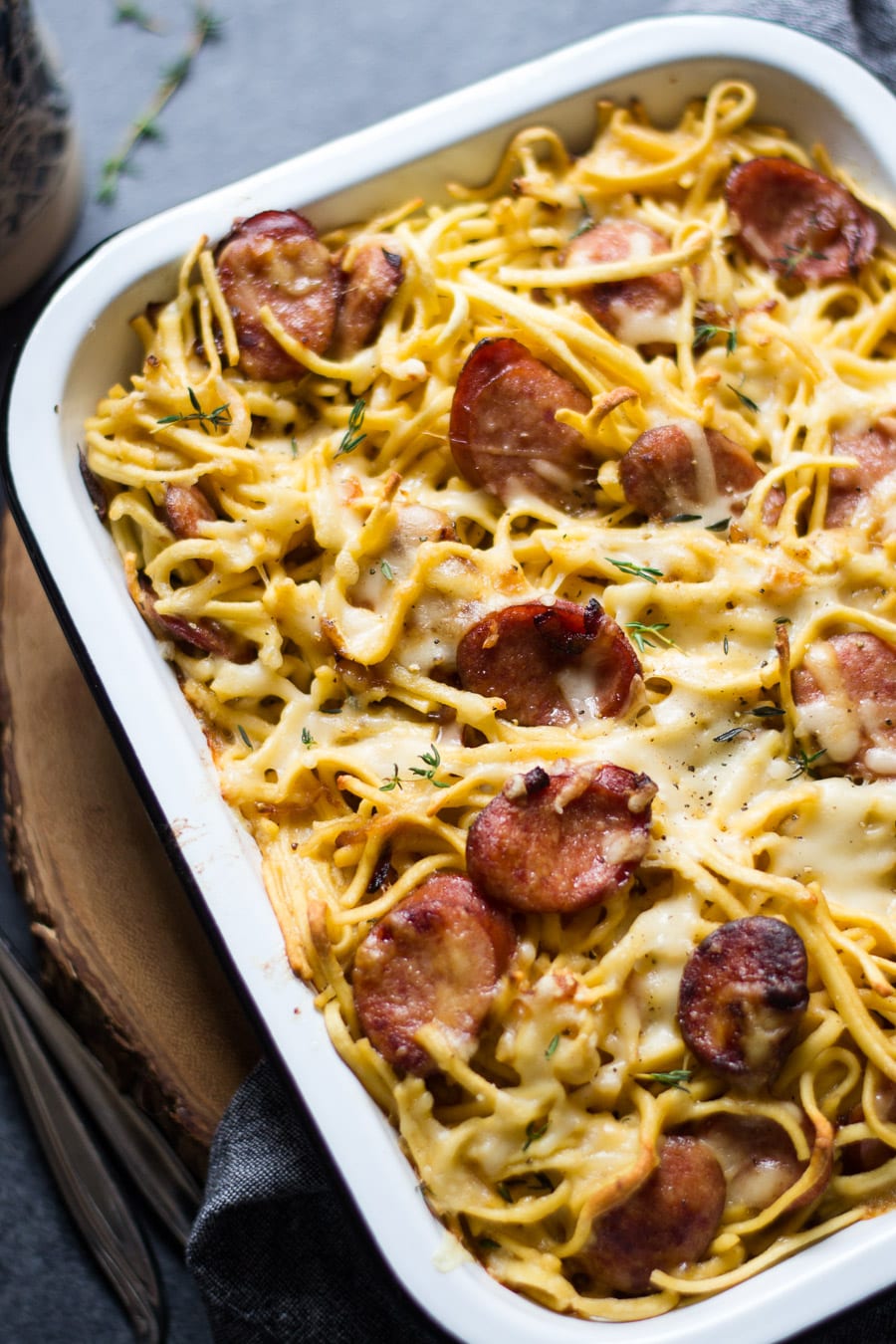 Until then, cheesy kielbasa and spaetzle casserole for all!
This casserole isn't as cheesy as a mac and cheese. I wanted it to be a little cheesy, just enough to make those crispy baked noodles that everybody fights over.
I merged my two favorite Polish and German foods into one dish, added cheese, and called it a casserole. You can't beat it.
I used store bought, dried spaetzle. You can also use any sort of egg noodle in its place if you cannot locate spaetzle at the grocery store. If you are feeling ambitious, you can make your own spaetzle by hand at home.
My Mom normally hates cheese and any dish I make with a lot of cheese. She is sorta lactose intolerant so I cut her a break. Despite the lactose issues, she was interested in this recipe.
I passed along some leftovers of this casserole to her.
When it comes to recipes of Polish influence, like my cabbage roll recipe or sauerkraut, I usually try to get her stamp of approval.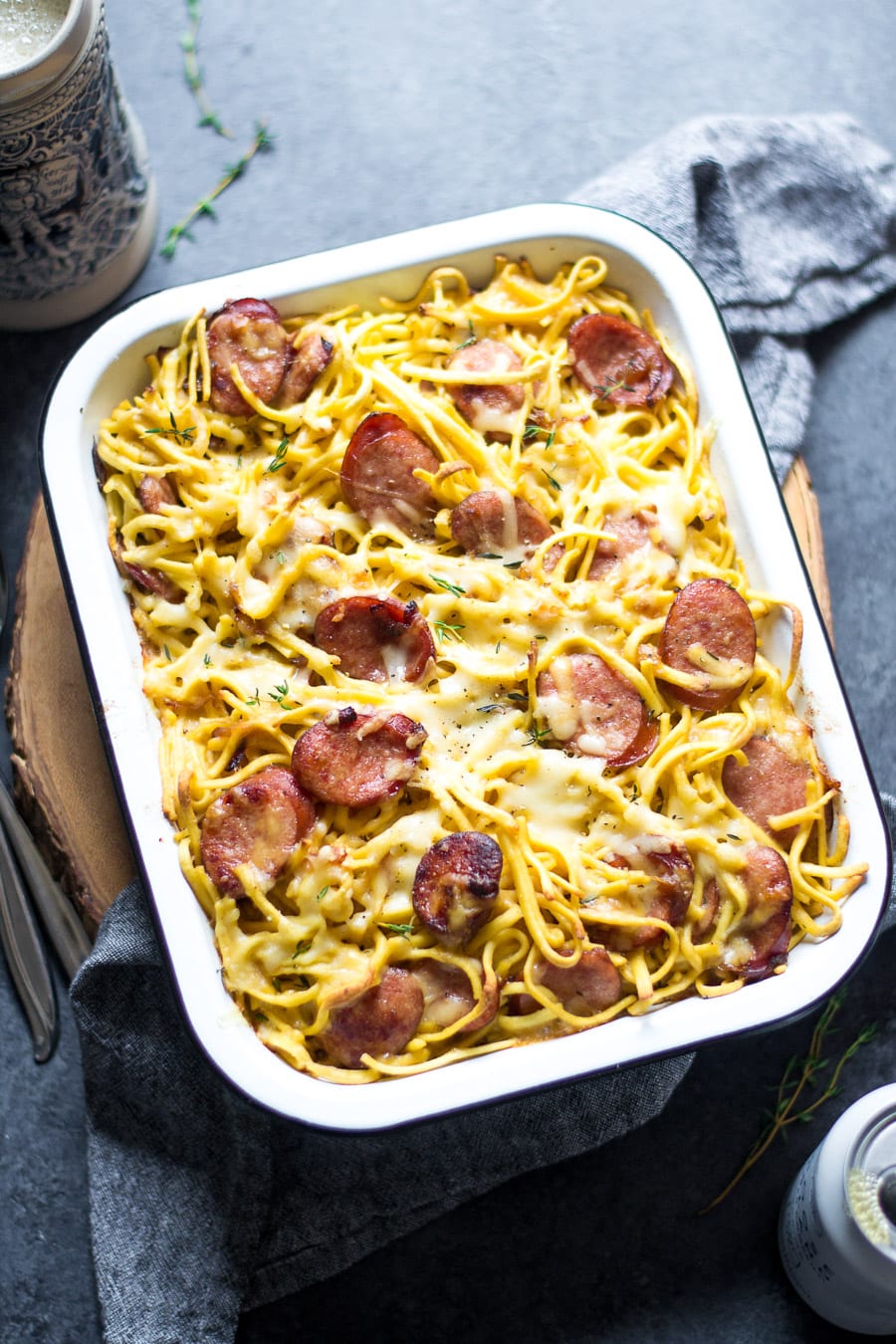 You know what she did, that kind, self-less woman? She gave it to my Dad and he wolfed it all down and didn't even save her a bite!
Rude.
Maybe for that reason alone, I need to make one more winter casserole day.
Just one more, ok? Then it is 100% ok for spring to arrive.
Deal?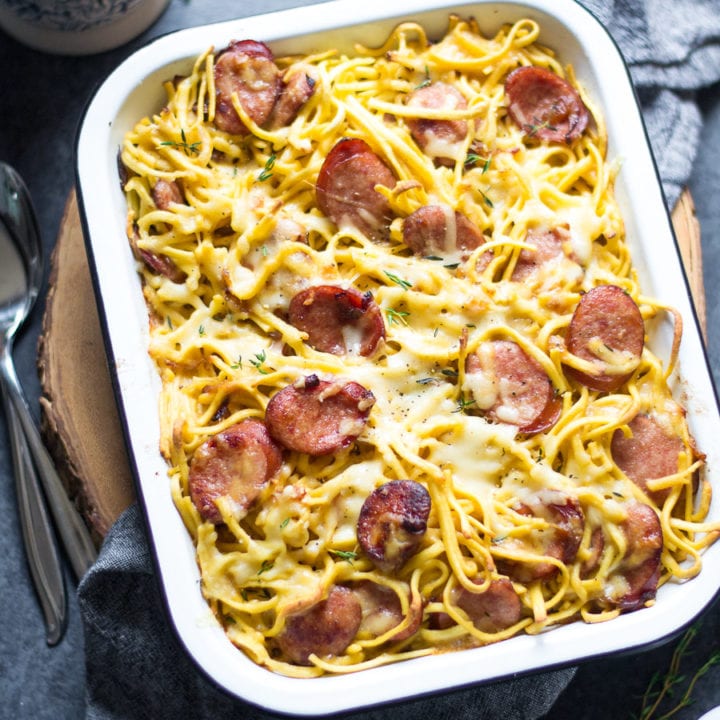 Cheesy Kielbasa and Spaetzle Casserole
Spaetzle, Polish Kielbasa, onions, and cheese baked up until crispy and golden.
Ingredients
1 tbsp unsalted butter, plus more for greasing
1 tbsp extra-virgin olive oil
1 yellow onion, thinly sliced
1 lb Polish Kielbasa, sliced
salt and pepper, to taste
2 sprigs fresh thyme
1 tbsp Apple Cider Vinegar
1/2 tsp Worcestershire Sauce
1 tsp Dijon Mustard
1/2 Cup reserved pasta water
1 lb Dried Spaetzle
1/2 cup shredded Gouda cheese
1 1/2 cups shredded Swiss and Gruyere Cheese
Instructions
preheat the oven to 375 degrees F. Butter a medium rectangular baking dish and set off to the side for later.
Add butter and olive oil to a medium skillet over medium heat. Once the butter is melted add the kielbasa and onion. Cook until the kielbasa is starting to caramelize. Season with salt and pepper.
Bring a large pot of salted water to a boil. Once boiling, add dried spaetzle to the water. Cook for about 10-12 minutes until just about cooked through. Be sure to reserve a half cup of the cooking liquid for the sauce.
Drain the spaetzle. Set off to the side.
Add the thyme leaves, vinegar, Worcestershire, Dijon, and pasta water to the pan with the kielbasa. Mix while scraping up any burnt bits off the bottom of the pan. Remove from heat.
Add the kielbasa mixture along with the spaetzle to a large mixing bowl. Toss to combine and coat. Mix in 3/4 of all the cheese, reserving some for the topping. Transfer to the prepared dish and top with remaining cheese.
Bake the dish uncovered in the oven for 20-25 minutes until golden and melted.
Let the dish cool and set up for 5-10 minutes before dishing out.
Notes
A little sauerkraut mixed in or mushrooms instead of kielbasa for a Vegetarian twist would also be delicious in this dish.
Recommended Products
As an Amazon Associate and member of other affiliate programs, I earn from qualifying purchases.