One pot green kale pasta is kale greens and garlic cooked along with pasta in boiling water and then blended into a beautiful green, pesto-like sauce. Season with Parmesan cheese and some crushed red pepper flakes and then enjoy!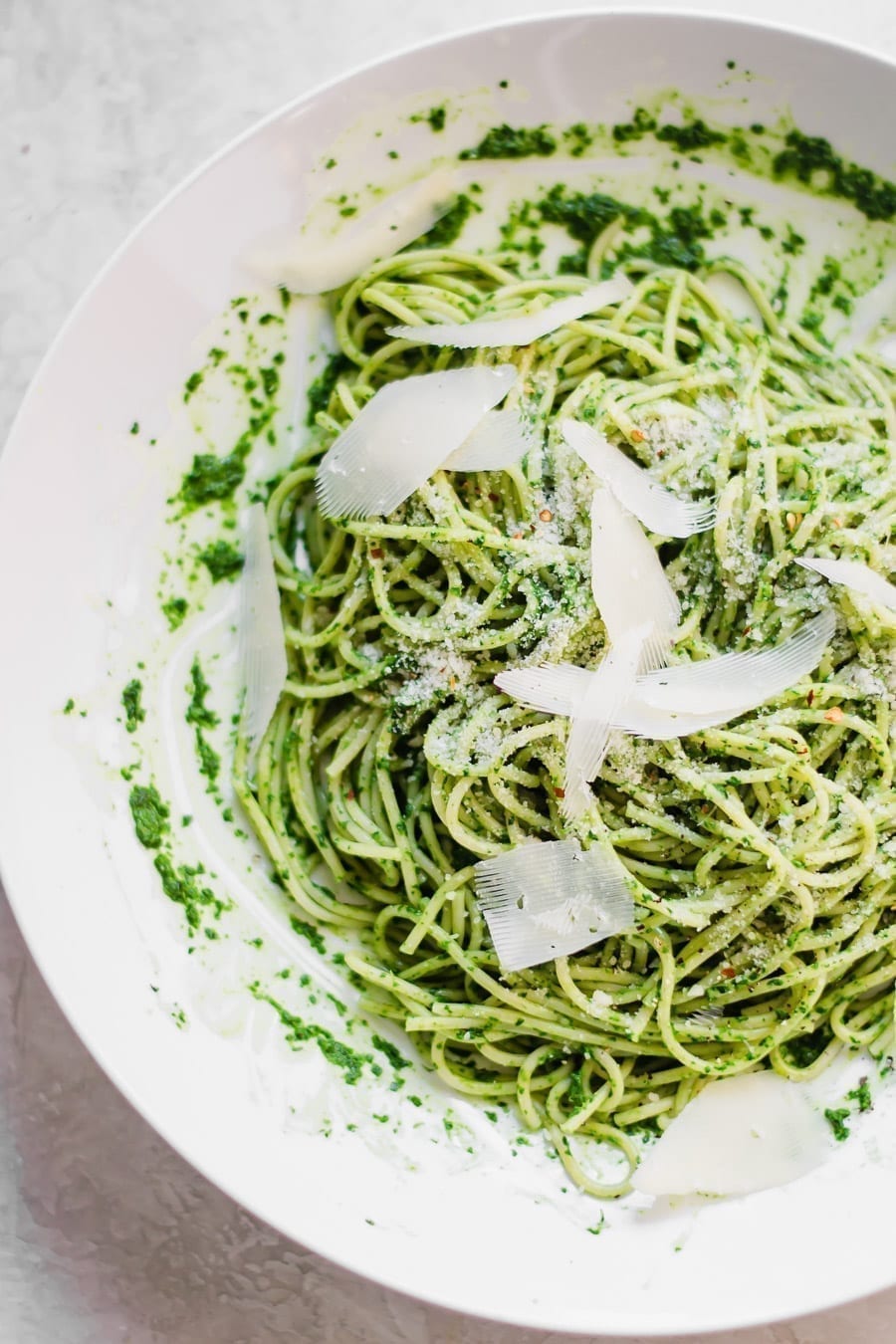 Gimme all the green things! I am ready for Spring.
Anybody else?
A while ago I saw this Jamie Oliver green pasta. I thought it was genius.
How have I never heard of this method and this recipe before?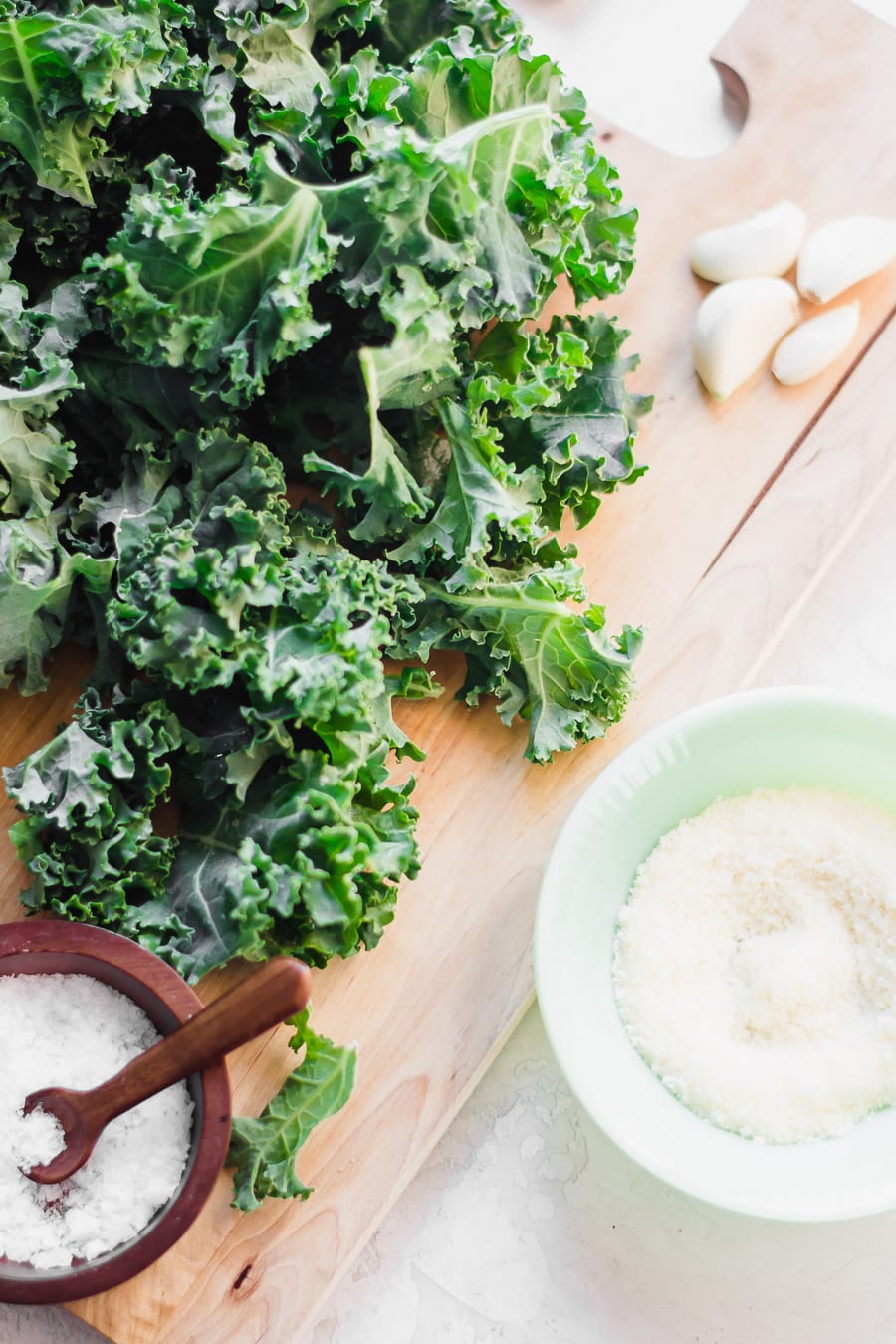 I had to come here and share it with you all of course.
During the winter months, when you want some green pasta, you reach for basil or pesto. Basil in my neck of the woods isn't too reliable these days.
Sometimes I go shopping and they don't even have basil available in my store.
You know what you can always find these days? Kale!
Yes, these trendy greens are still around. I remember when I tried to get on board with kale chips back in 2012. I still can't do it, people.
Massaged kale salad I can do.
Blanched kale and garlic blended with Parmesan cheese and olive oil then tossed with any noodle ya like… Yes! I can definitely do this!
Carbs for life.
That is the entire gist of this recipe.
Bring a large pot of salted water to a boil. Toss in your noodles. Toss in the greens and garlic. Let it all cook for about 7 minutes.
While the noodles continue to cook, remove the greens and garlic, and then puree until smooth with a little bit of olive oil and cheese.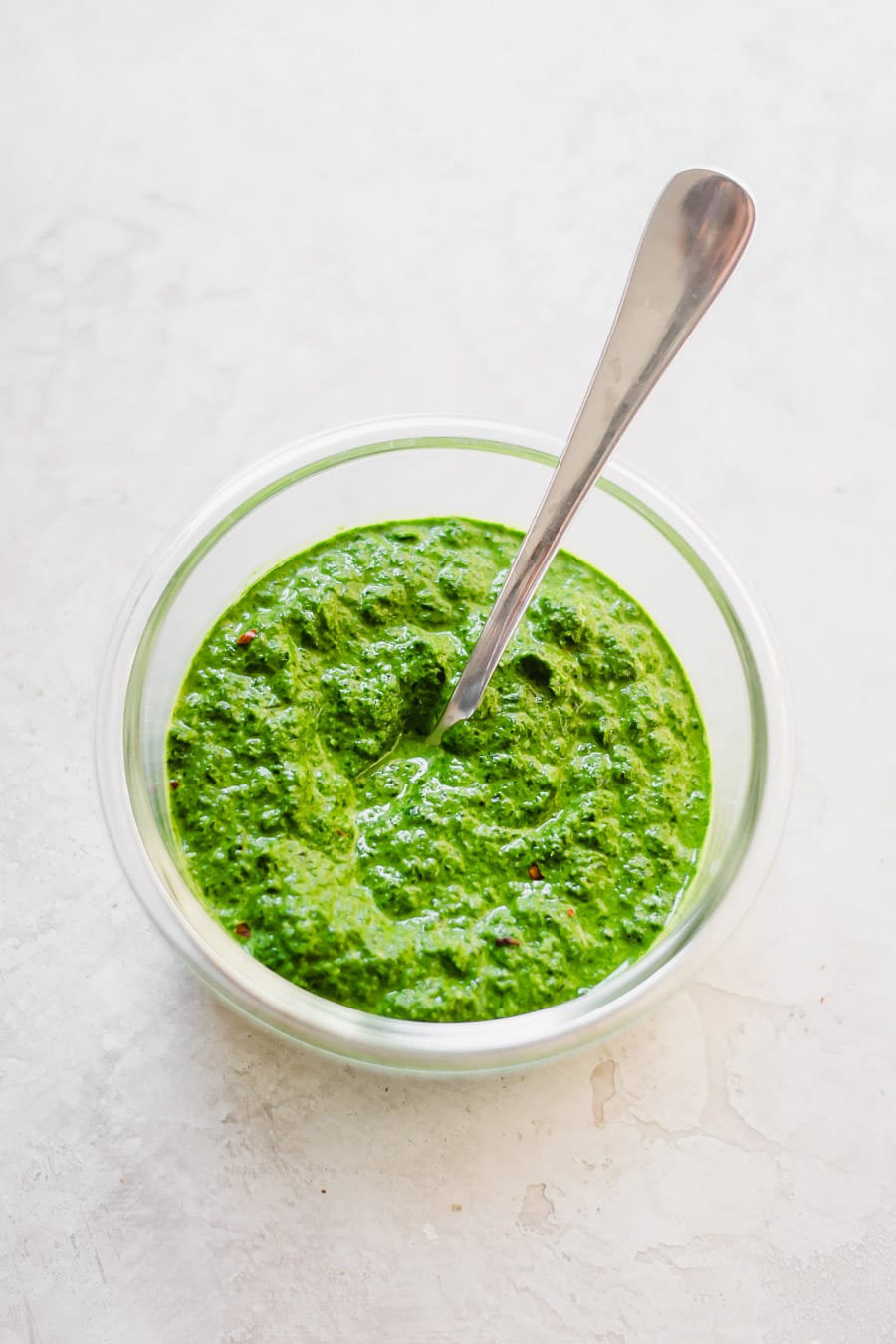 Done!
This recipe also makes a ton of sauce so you can eat the leftover sauce whisked into a salad vinaigrette or served over a little roasted salmon. I also put a big dollop in the middle of some hummus and dipped until my little heart was content.
The original recipe calls for ricotta, but you totally don't need it.
Please, go make this right away. Mike has eaten this pasta sauce twice in one week. It is so good and the blanched kale becomes mild.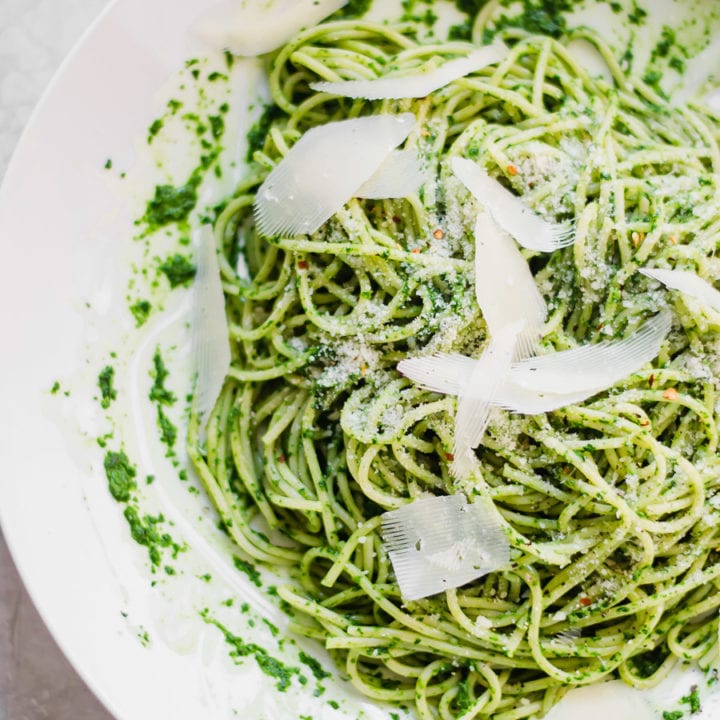 One Pot Green Kale Pasta
Kale and garlic blanched in cooking pasta water with the noodles. The greens and garlic get pureed with olive oil and Parmesan cheese.
Ingredients
16 oz Spaghetti Noodles
4 garlic cloves, peeled
1 bunch (12-16 oz) Kale (Curly or Lacinato), taken off the stem
salt and pepper, to taste
2-3 tbsp Grated Parmesan Cheese
1/4 Extra Virgin olive Oil
Instructions
Bring a large pot of heavily salted water to a boil.
Drop the dry pasta into the boiling water. Once the noodles start to become flexible, add the greens and garlic.
Blanch the greens and garlic for 5-7 minutes until vibrant and wilted.
Use tongs to remove the greens and garlic, then transfer them to a blender along with salt, pepper, Parmesan, and olive oil. Puree until smooth, leaving a slight opening in the lid of the blender to prevent an explosion.
Drain the pasta once cooked to al dente.
Transfer the pasta and a few tbsp of the sauce to a large mixing/serving bowl. Use tongs to toss and combine.
Store excess green kale sauce in an air-tight container in the fridge for 7-10 days.
Recommended Products
As an Amazon Associate and member of other affiliate programs, I earn from qualifying purchases.