Easy Chinese chicken and broccoli is the best take out fake out meal around. Chicken, broccoli, and sugar snap peas cooked in one pan with an Asian ginger, sesame, soy, vinegar sauce is super quick and delicious served over rice or as a stand alone stir fry.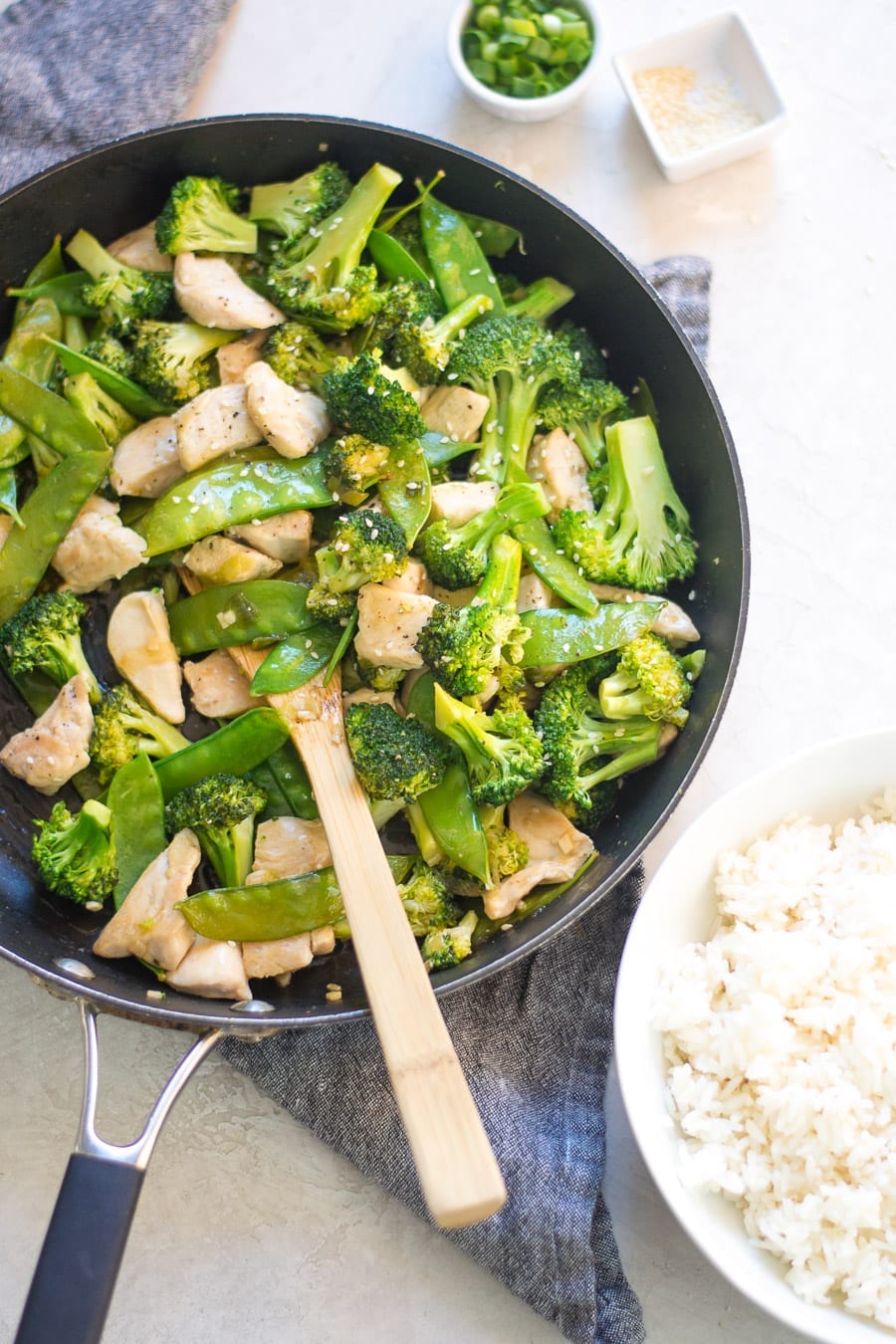 I have told you guys before, about how we rarely order in Chinese food these days. I feel sad about it… until I give in and then feel like a bloated hot mess the next day.
When that happens, all the leftovers go with Mike to work for the next week.
It's his own fault. Not that he really complains much.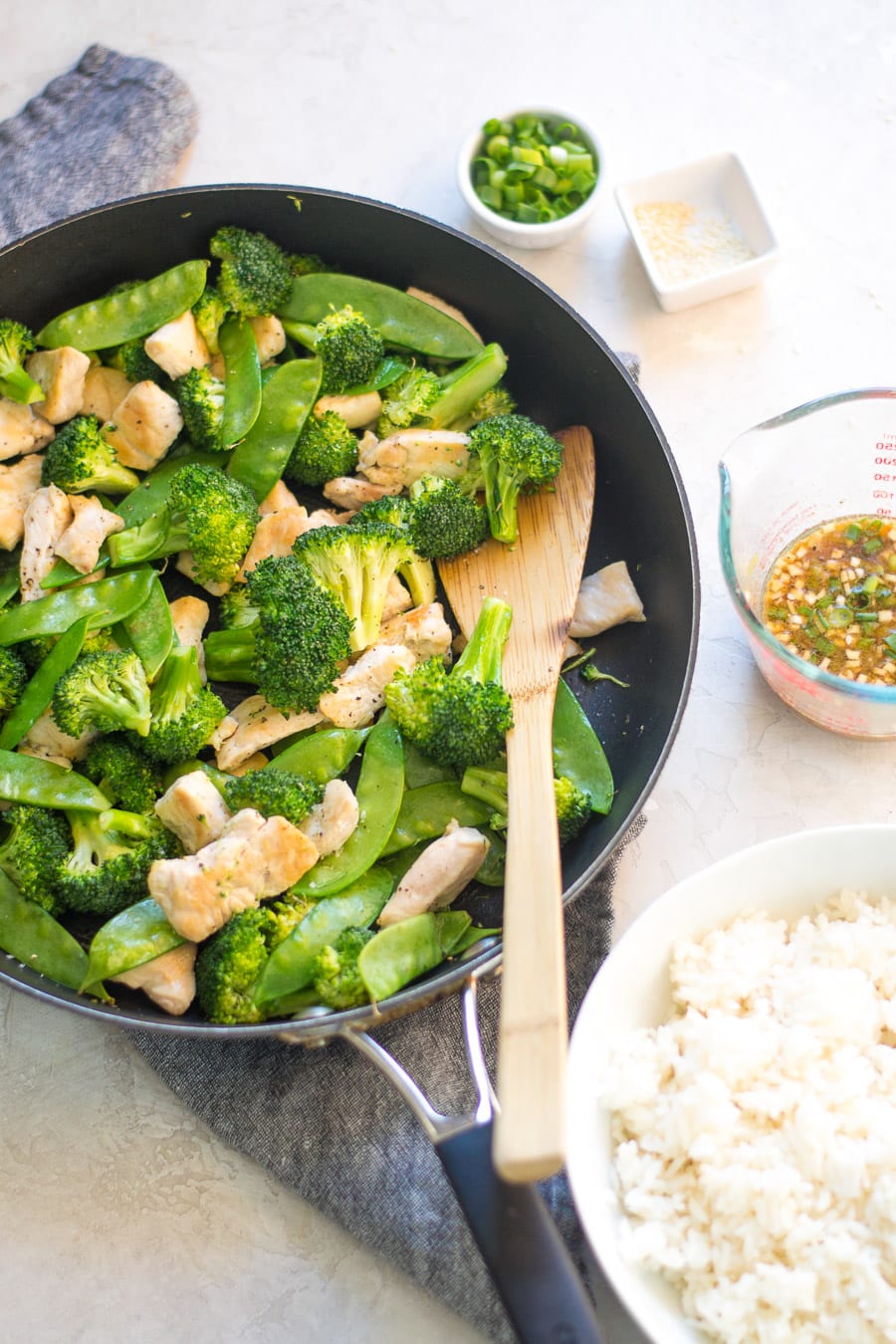 We are two people that order Chinese food. We do not need a large order of anything! My family of five ordered large order TO SHARE when we were growing up.
The dish that hooked me as a child on take-out Chinese food was the basic chicken and broccoli. It was served in a chicken stock and almost cornstarch-like sauce. There wasn't much to it but we all fought over getting our hands on some of that sauce to mix into our rice.
I wanted to make an homage to that dish, except better.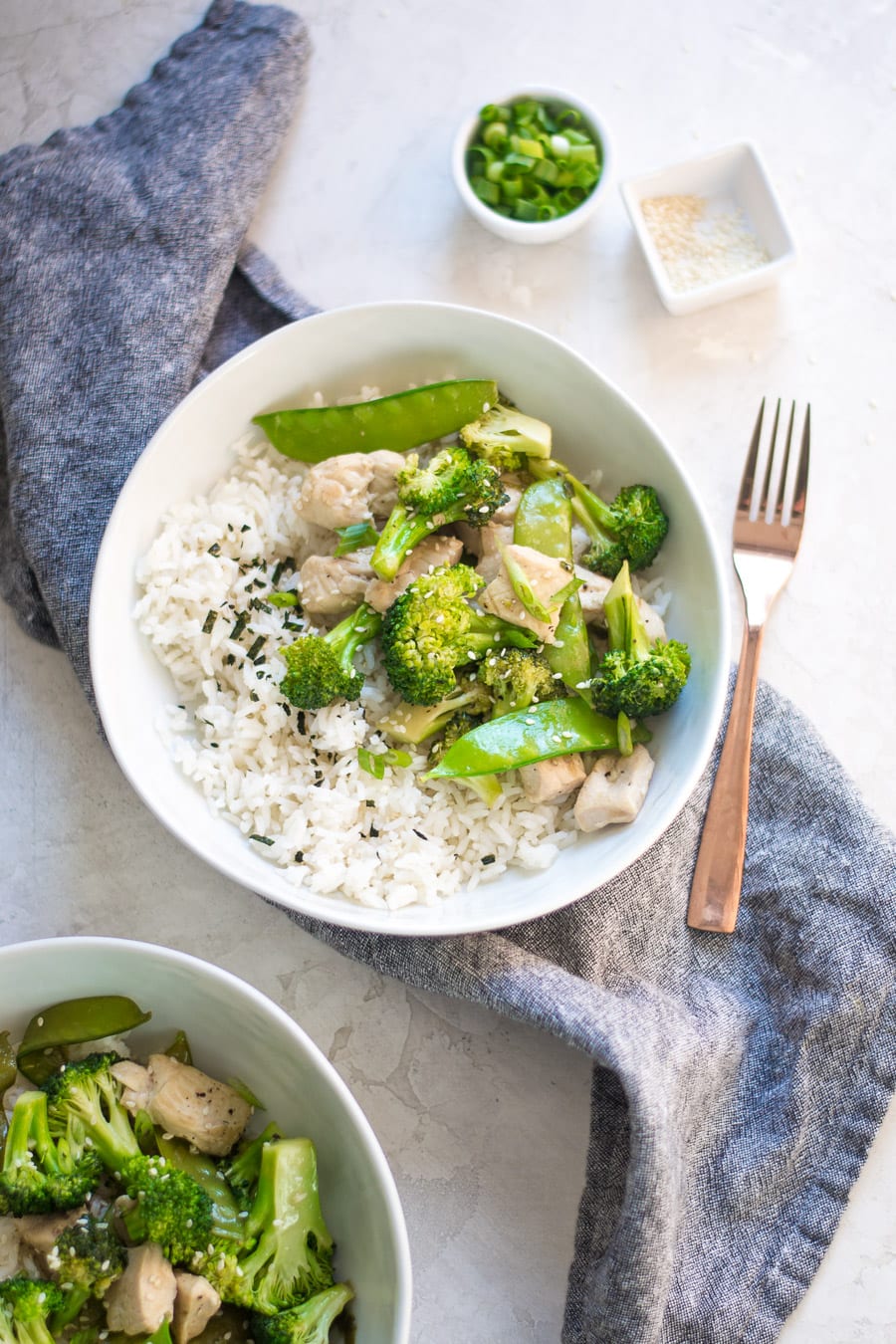 I wanted more flavor in my easy Chinese chicken and broccoli. Broccoli is the perfect vehicle to capture all the ginger, garlic, and spice. I added a lot in flavor wise to the sauce. Let's say you don't like ginger, you can skip it still and get all that great flavor.
The sauce for the stir fry is made of:
Garlic
Ginger
Green Onion
Rice Wine Vinegar
Soy Sauce
Fish Sauce
Sriracha
Sesame Oil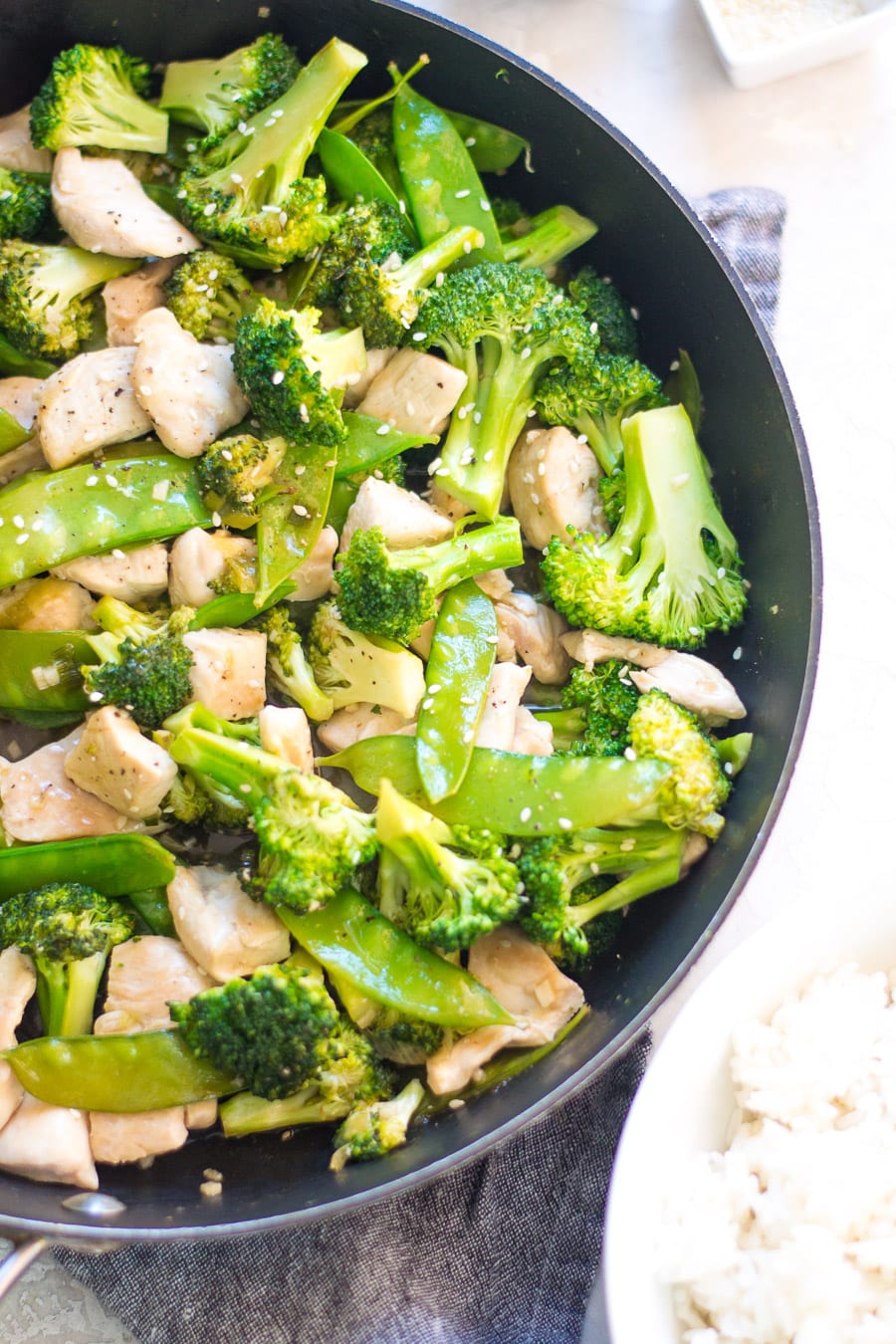 I know it seems like a lot, but they all work together to make a basic, yet flavorfully balanced sauce. Once you stock your pantry with these ingredients, you always have them on hand for when that take-out craving hits.
Making take out food favorites at home is a sure fire way to make sure you are in control of what goes into your food. No offense, but I would take my homemade kimchi and bacon fried rice over any take out joints.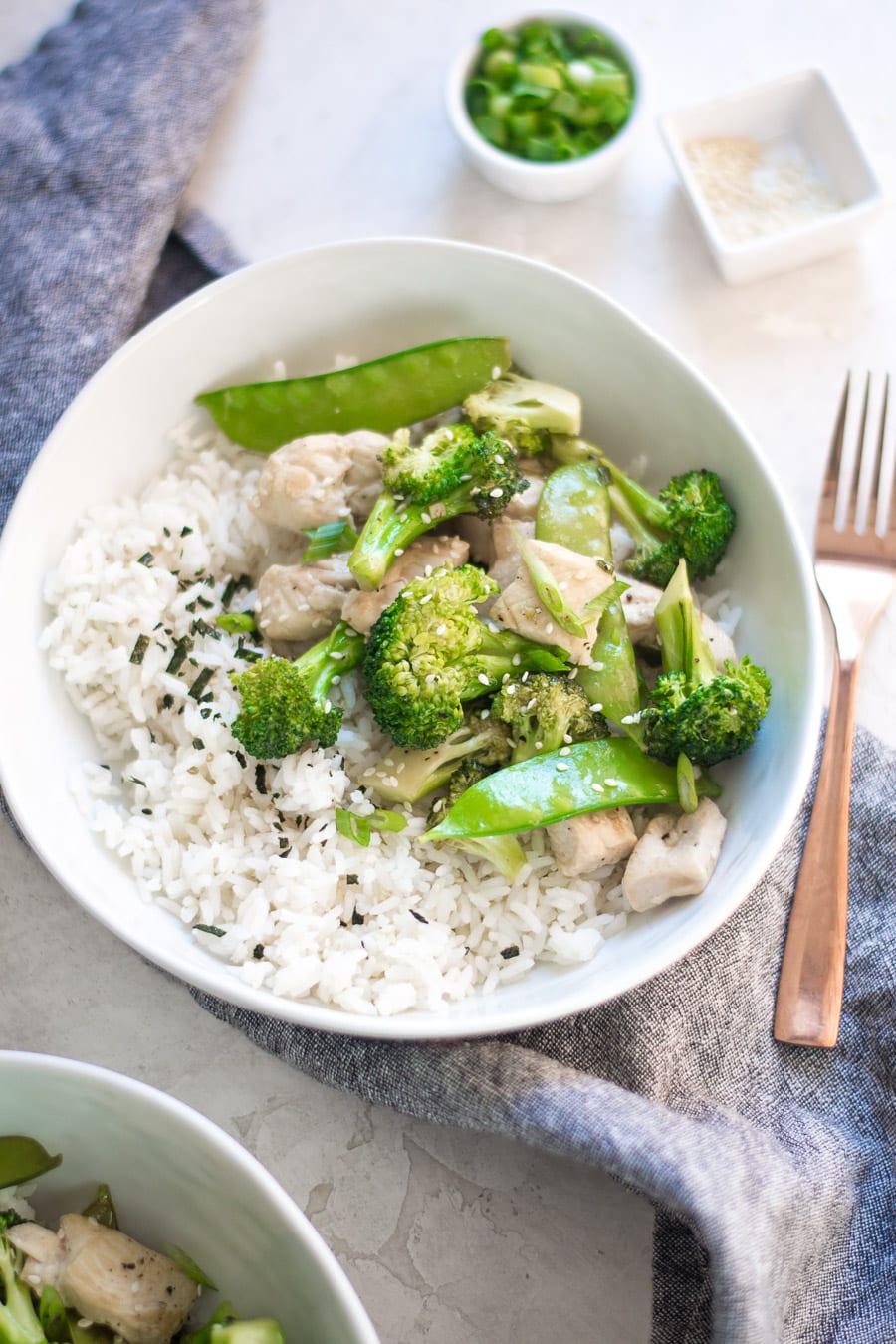 I can add in more hot sauce or garlic and make it to my specifications.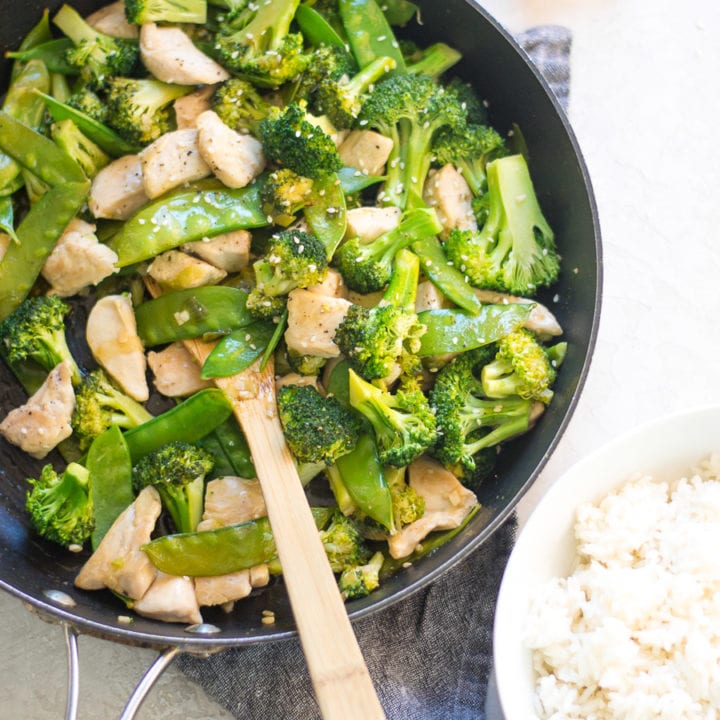 Easy Chinese Chicken and Broccoli
Easy Chinese chicken and broccoli stir fry with snap peas. Perfect on its own or over rice.
Ingredients
1 tbsp sesame oil
1 1/2 lbs thin cut chicken breasts, cut into 1 inch pieces
salt & pepper
2-3 small heads of broccoli, cut into small florets (about 3 cups)
1 1/2 cups sugar snap peas
2 garlci cloves, minced
1 tsp grated ginger
2 green onions, chopped
1 tbsp rice wine vinegar
2 tbsp coconut aminos or low sodium soy sauce
1 tsp fish sauce
1/2 - 1/4 tsp sriracha
1 tsp sesame oil
3/4 cup water or chicken stock
1 tbsp corn starch
Instructions
Heat a large skillet or wok over medium/high heat. Season the chicken with salt and pepper.
Mix together the garlic, ginger, green onion, rice wine vinegar, soy sauce, fish sauce, sriracha, and sesame oil in a measuring cup. Set off to the side.
Add the tbsp sesame oil to the skillet, swirl to coat. Add the chicken and cook for 6-8 minutes until golden and cooked through. once cooked through, remove and transfer to a nearby plate.
Add the broccoli and snap peas. Cook for about 3 minutes. Season with a little salt and pepper.
Add the chicken back to the skillet. Mix to combine. Add the sauce in the measuring cup to the skillet. Mix to evenly coat. Reduce the heat to medium/low.
In the same measuring cup you used for the sauce, whisk together the water/stock and corn starch.
Add the corn starch slurry to the skillet. Mix to combine. Cover with a lid and cook for 5 minutes.
Once the broccoli is tender and the sauce has thickened, remove the pan from the heat.
Serve the stir fry as is or over rice/noodles with extra soy sauce and sriracha.