Spicy apricot brie grilled cheese is my fancy sandwich! Apricot jam/preserves, brie, arugula, and some spicy onion garlic oil on toasty brioche bread. You're only five ingredients away from an epic sandwich.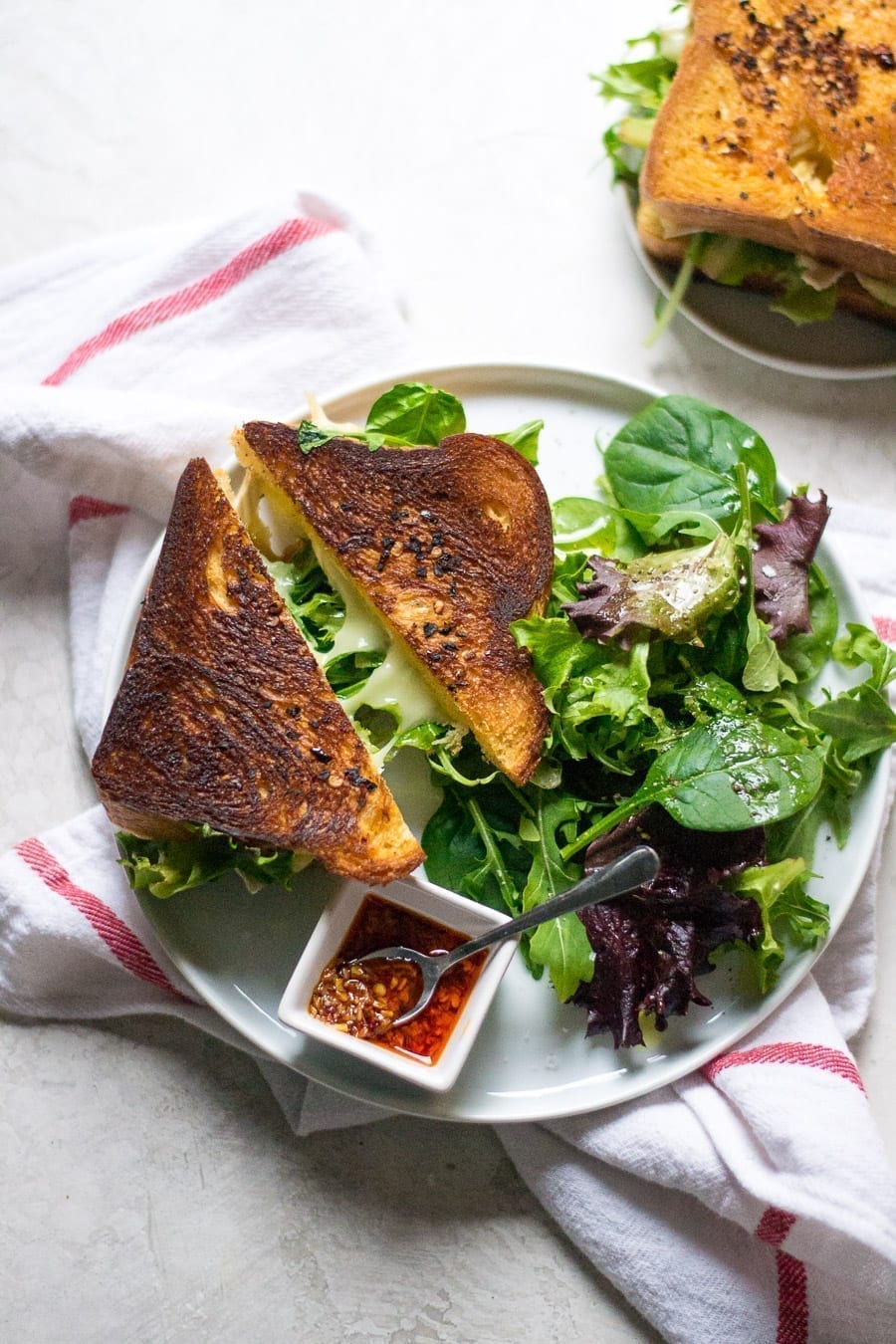 This sandwich is a love letter to Trader Joe's. As much as I despise their parking lot, I still go there for the gems you can find at not that bad of a price. Cheers to you TJ's!
Not everybody has access to Trader Joe's. I know this. That is why every ingredient can be found not only at TJ's but at your local grocery store.
The one exception may be the onion, garlic oil. I have purchased this garlic chili crunch from Amazon. It is so good and lasts for a while! It is also really good on eggs or even drizzled over some hash browns or roasted veggies!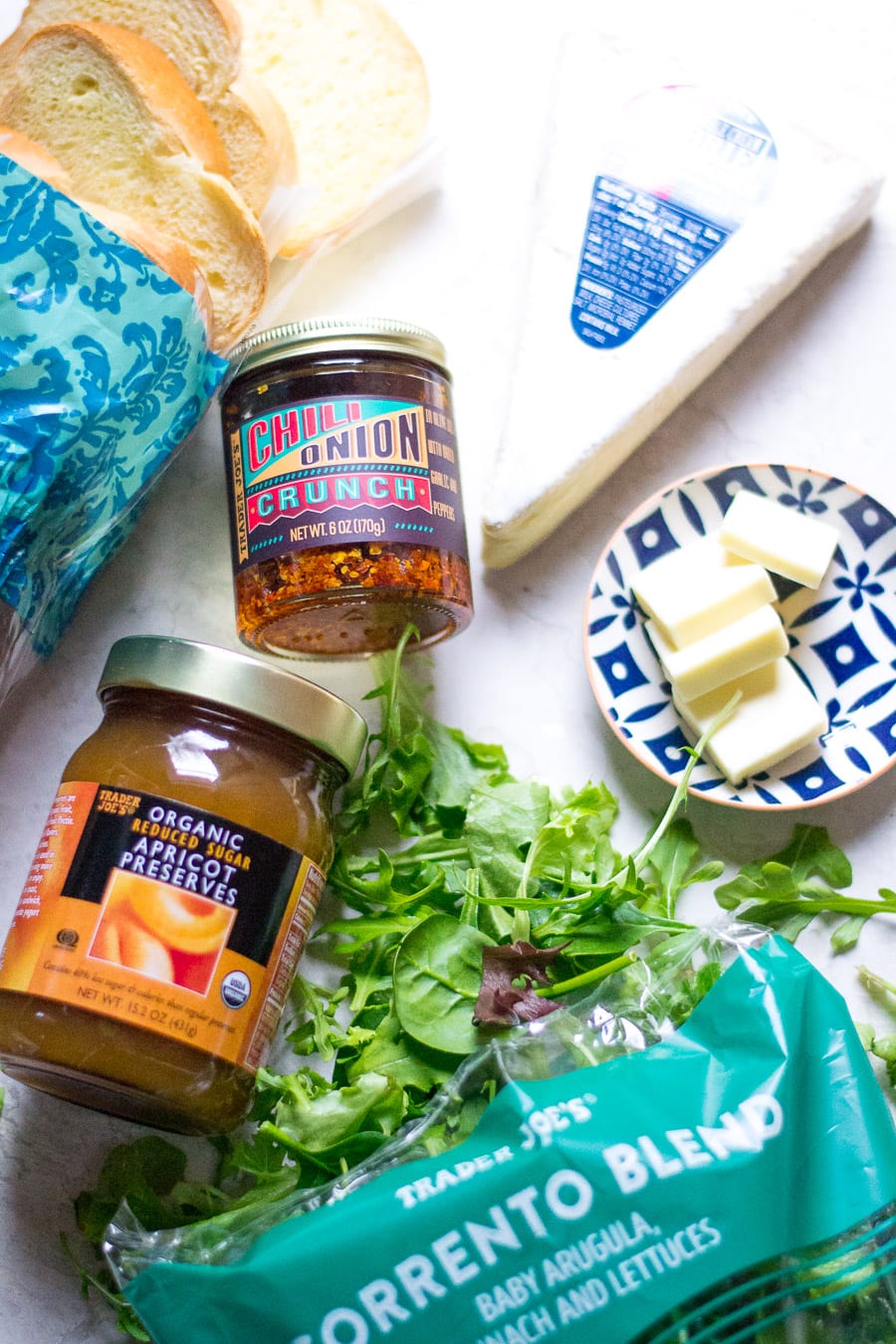 A lot of people complain that going to Whole Foods is a money suck. You go there for one thing and $100 later, you finally leave feeling like you just walked out of a tornado.
That is what a Trader Joe's trip is for me.
I always love leaving with a few new things in my cart. My recent impulse purchase was furikake seasoning blend. It's no Everything But the Bagel Sesame Seasoning Blend, but I will figure out a way to use this! I am thinking some sort of fried rice or pho.
This sandwich is what I like to call my "I only have to cook for myself" fancy lady sandwich.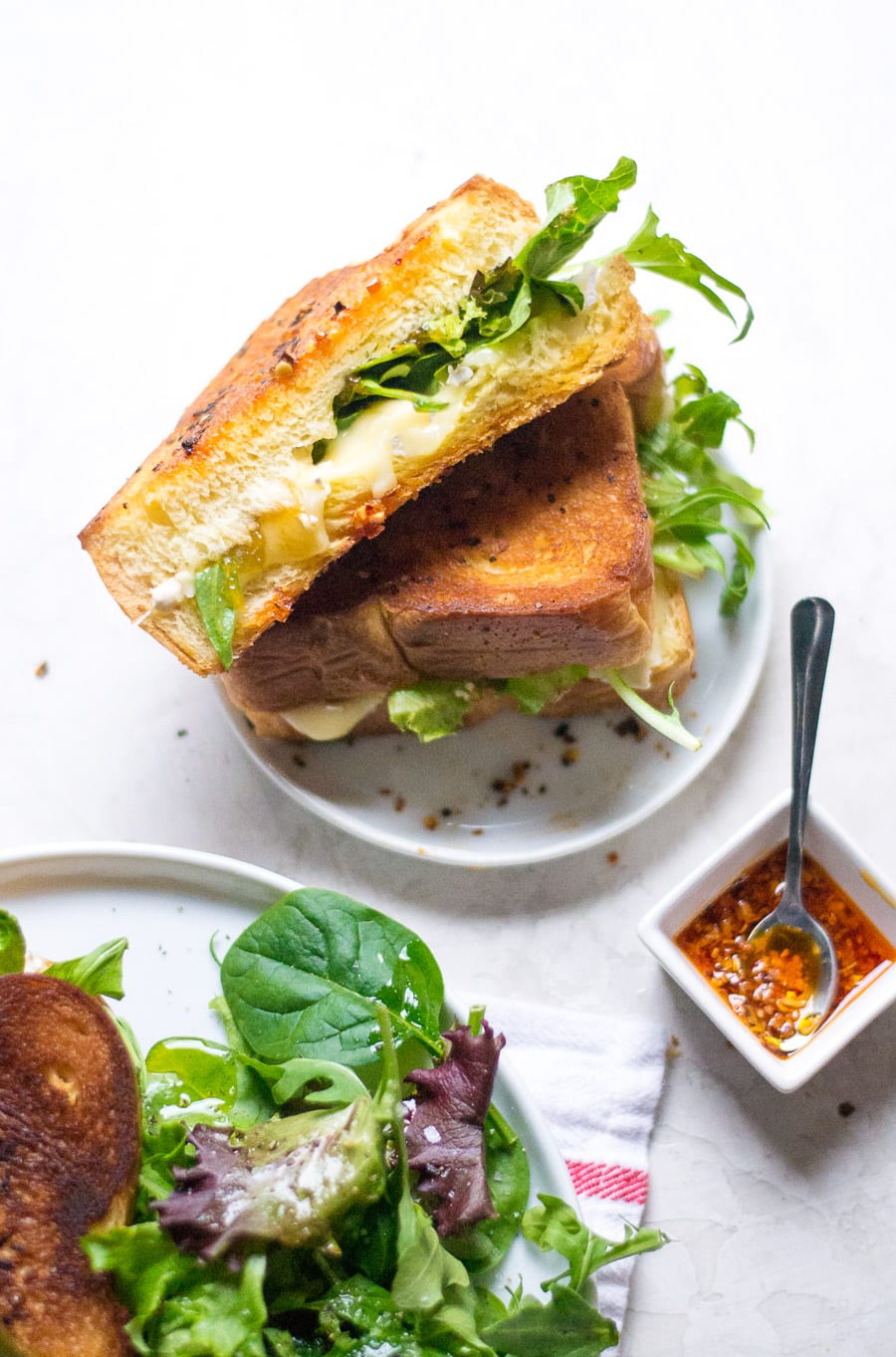 It uses the garlic, chili, onion oil in addition to butter on the bread. This adds an extra layer of flavor. My harissa grilled cheese sandwich sort of inspired this idea. Layered in the sandwich is melty brie cheese, apricot preserves, and fresh arugula.
A little green in the mix is always a good idea, right?!?!
I usually eat this with a side salad or a soup.
Spicy apricot brie grilled cheese doesn't take too long to make, so treat yourself to a fancy lady/man sandwich tonight!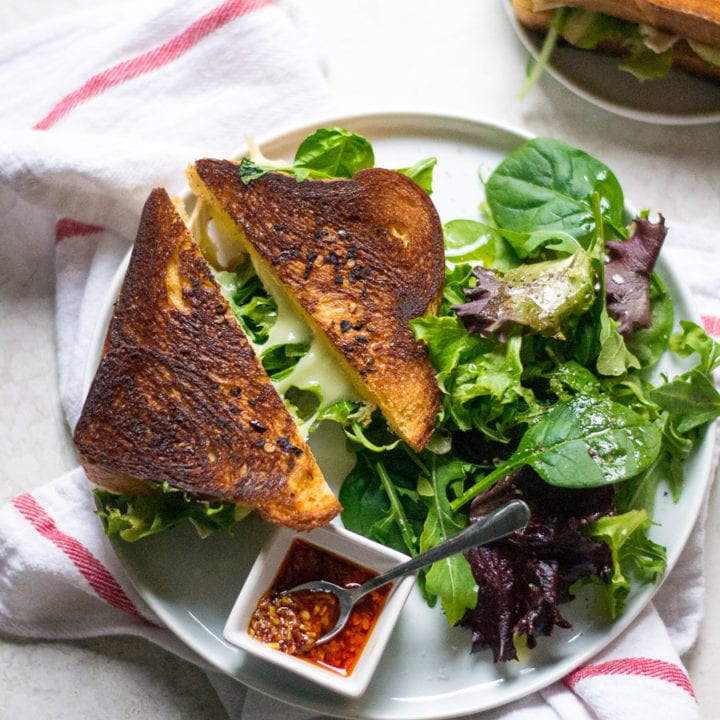 Apricot Brie Grilled Cheese
Melty brie, apricot preserves and arugula inside toasted chili garlic oil coated brioche bread.
Ingredients
2 tbsp unsalted butter, plus more for the pan
1 tbsp chili garlic crunch or chili onion crunch
2 slices thick cut brioche sandwich bread
2 tbsp apricot preserves
6 thin slices of double cream brie cheese
1/2 cup fresh arugula
Instructions
In a small mixing bowl, mix the butter and the chili onion crunch together. Use a butter knife to spread the mixture on one side of two slices of bread.
Heat a large skillet over medium/low. Add about 1 tbsp unsalted butter to a pan. Once it melts, swirl the butter to coat the pan.
Add the bread slices, buttered side of the bread down, to the warm skillet. Top each slice with 1 tbsp apricot preserves. Spread over the bread and then top with 2-3 slices of brie. Cover the pan with a lid.
Once the cheese starts to melt, 3-5 minutes, add the arugula. Flip one slice to cover the arugula topped slice. Cook for 1-2 more minutes. Check the bread that it isn't getting too dark. Once it is golden the sandwich can be taken off the pan.
Let the sandwich rest for 1-2 minutes before slicing and serving. Serve with a little extra chili onion crunch oil on the side for dipping.
Notes
If you eat meat, this sandwich is also amazing with some bacon/turkey bacon in it too!
Recommended Products
As an Amazon Associate and member of other affiliate programs, I earn from qualifying purchases.