Spicy shrimp and broccolini pasta is a quick, flavorful, and balanced meal for any night of the week. Shrimp cooked along with broccolini in a lemony, red pepper, and garlic olive oil-based sauce gets tossed with warm pasta for the ultimate comfort dish.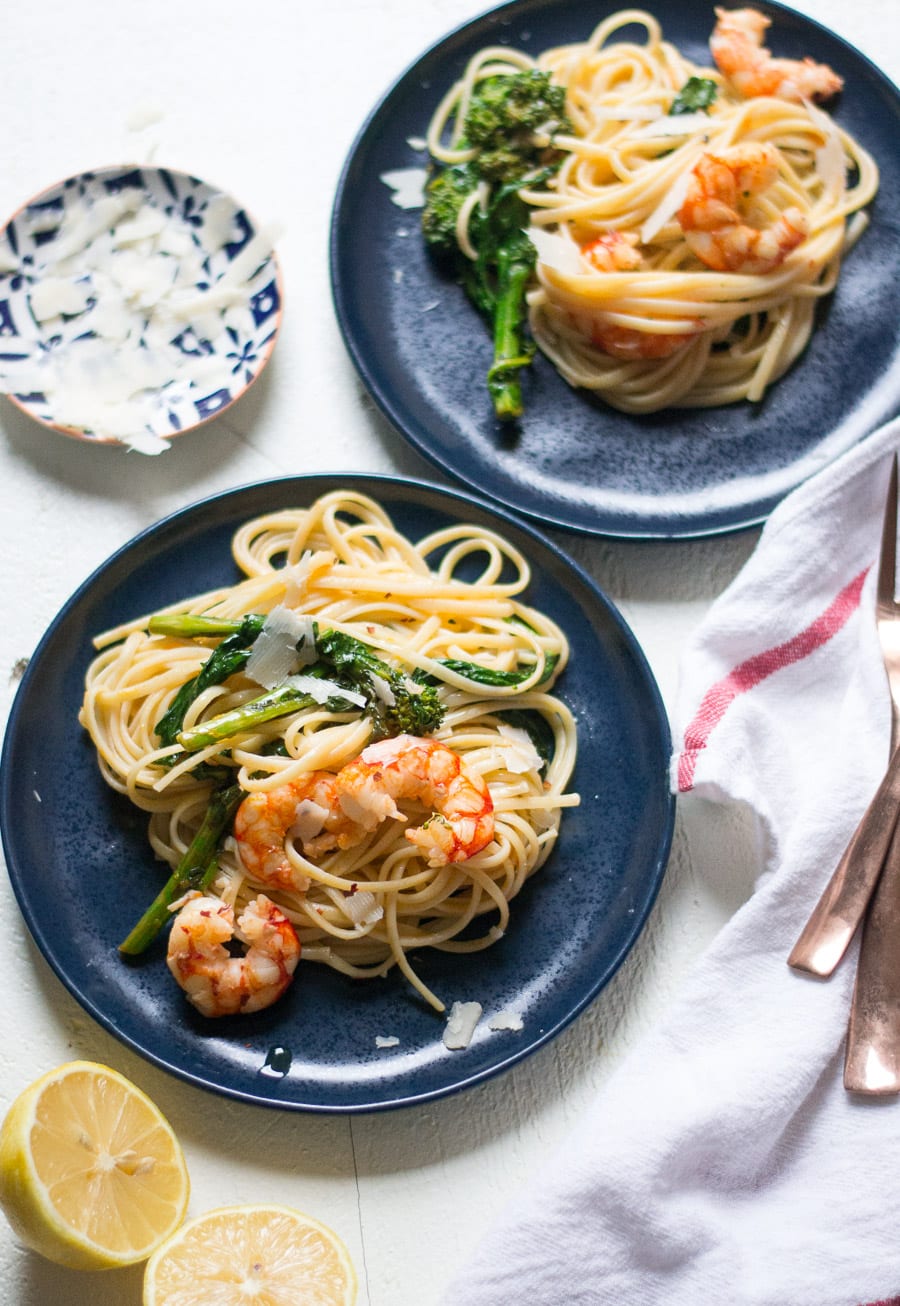 Any time Mike sees big, long green veggies in his food, he is on edge. I have to either add lots of garlic, spice, or cheese to balance out the green.
He has gotten better about allowing the introduction of more green veggies into his diet since I have been with him. He is better about green things than tomatoes for some weird reason.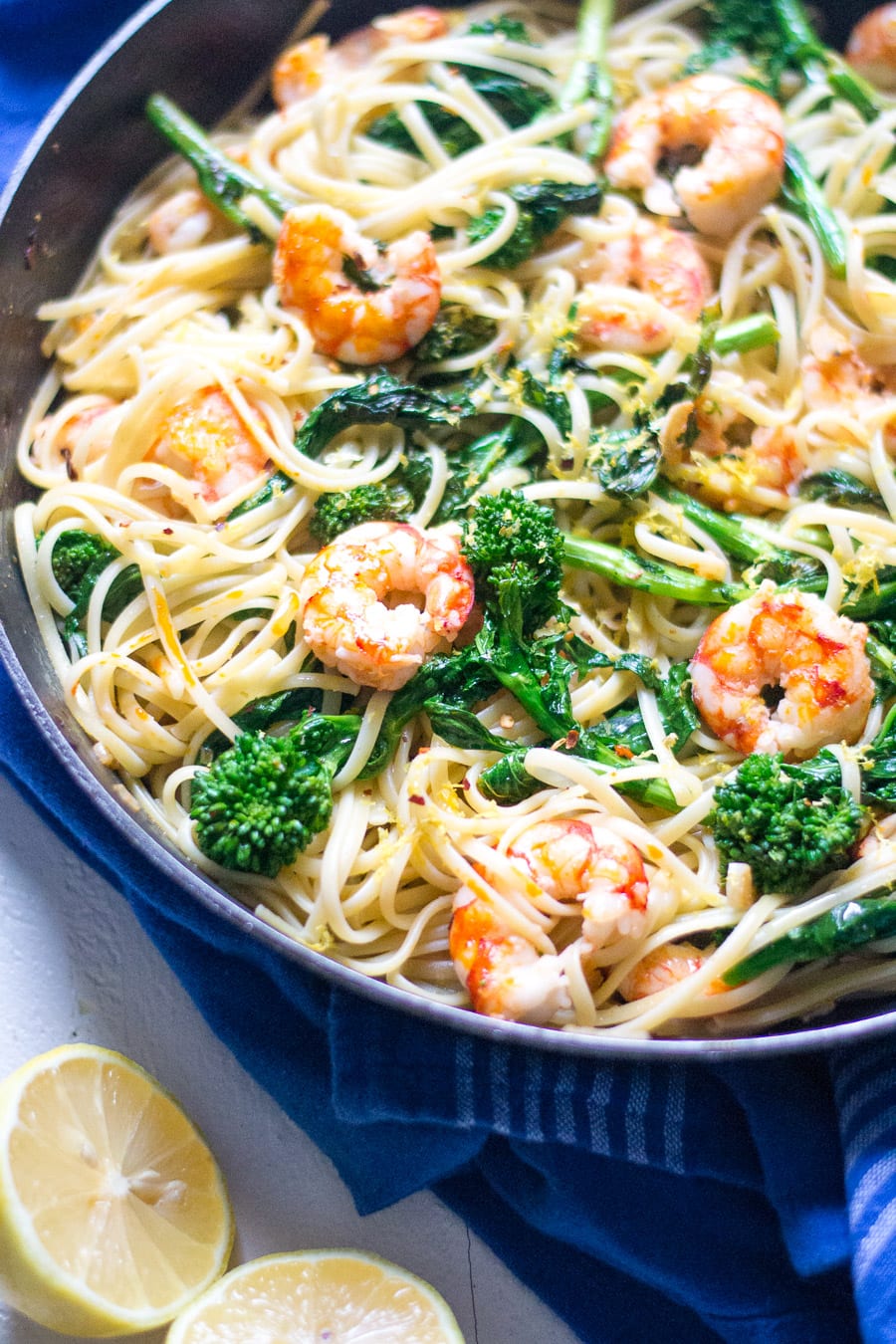 A while ago, I had a meal fail of epic proportions. This pasta dish sorta reminded us of what this dish was most likely supposed to taste like.
I failed horribly making Alison Roman's zucchini, feta, and fried lemon pasta. The reason I failed was because I didn't have a Meyer lemon on hand and the pith of our lemon was sooooo bitter that the dish was seriously inedible.
Mike tried to suffer through a few bites. I watched him and just thought he was being dramatic about being fed zucchini.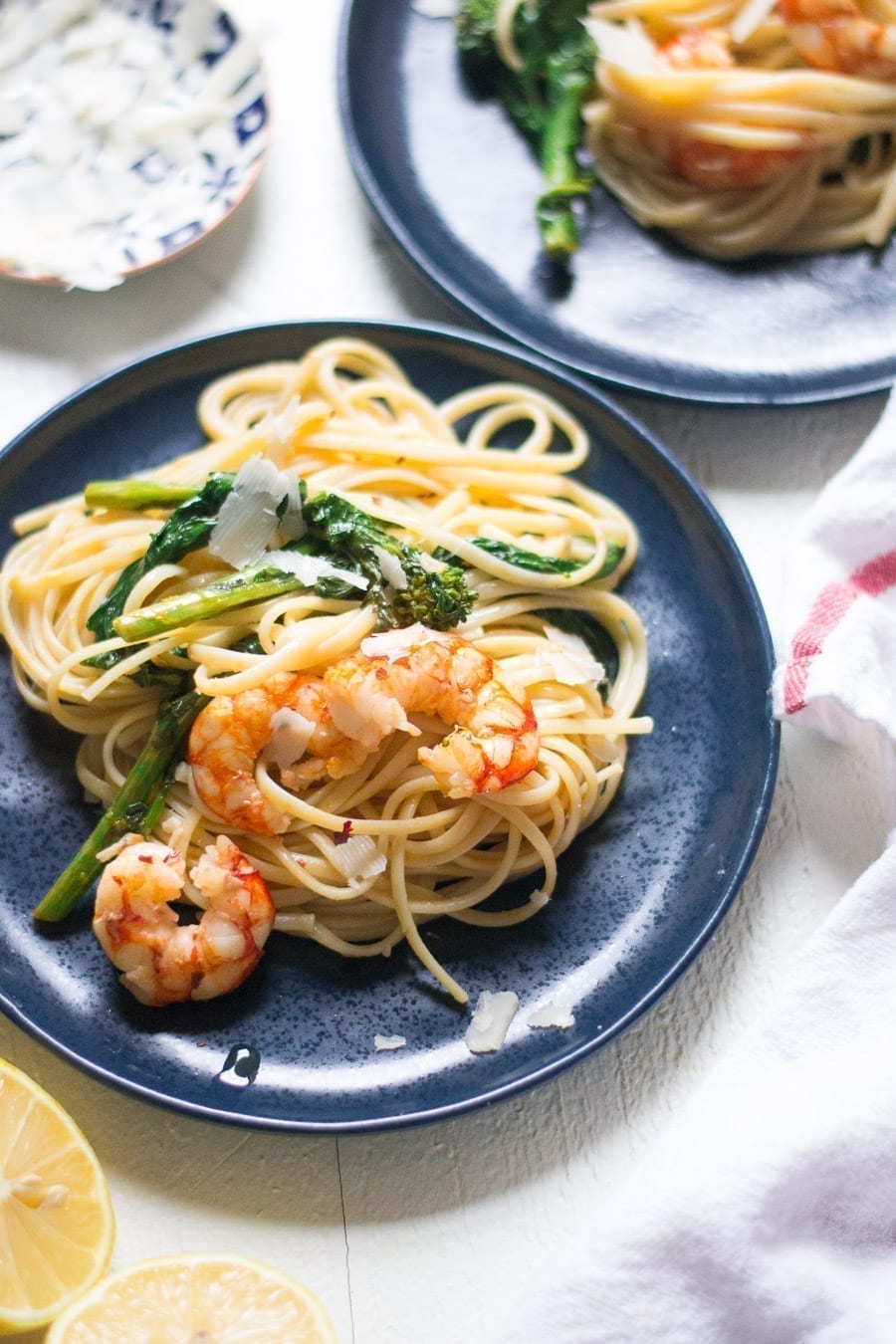 Then I took a bite.
Whole pot into the garbage. I shed a tear or two for the loss of my fave noodles, bucatini. RIP, noods.
The reason that pasta reminded us of this pasta was that broccolini can be a little bitter. When you cook broccolini long enough and bathe it in lemon juice, garlic, red pepper flakes, and olive oil it tastes just fine.
Spicy shrimp and broccolini pasta isn't my first venture into the spicy shrimp pasta world. If you cannot find broccolini, try spicy lemon shrimp pasta instead. It is a recipe my Mom made all the time when I lived at home.
It is a staple!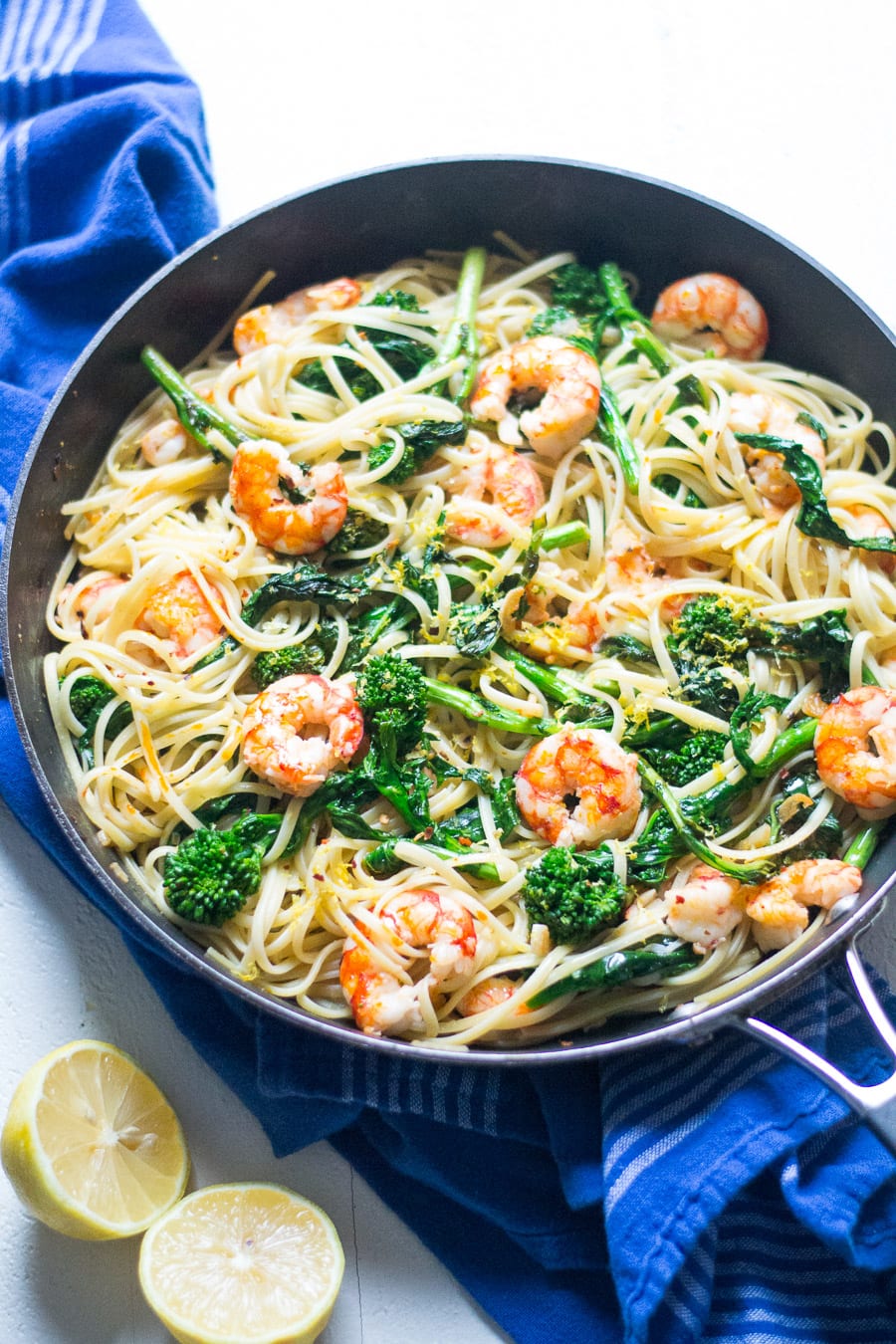 I love my carbs. Noodles are the perfect vehicle for veggies or shrimp or both in this case. Feel free to use whatever noodle you love. I prefer a longer noodle like spaghetti or linguine for this recipe.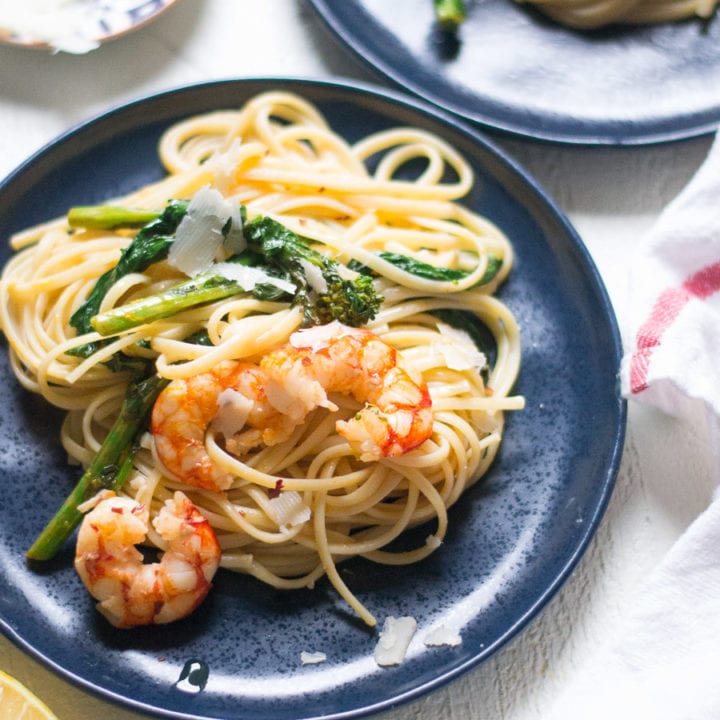 Spicy Shrimp and Broccolini Pasta
Shrimp, broccolini, and pasta coated in a spicy, red pepper flake, garlic, lemon, and olive oil sauce.
Ingredients
1 lb noodles, spaghetti, linguine, or bucatini
1 lb peeled and deveined shrimp
2 cups of trimmed broccolini
1/4 cup extra virgin olive oil
1/2 tsp crushed red pepper flakes
4 garlic cloves
juice and zest of 1 lemon
1/2 cup reserved pasta cooking liquid
salt
Instructions
Bring a large pot of salted water to a boil. Cook your noodles according to the packages instructions. Cook the noodles to just before al dente. We want them to finish cooking in the olive oil sauce. Also son't forget to reserve the pasta water before draining.
Heat the olive oil in a large deep skillet over medium/low. Add the red pepper flakes to the oil. Cook for about 2-3 minutes until toasted and the oil is infused with the spice.
Trim the long stems off the broccolini. Use a vegetable peeler on the stems as well. Drop the broccolini into the oil. Cook for 7 minutes.
Add the shrimp and garlic to the skillet. Cook for about 5-7 minutes, flipping once. Once the shrimp is no longer translucent, reduce the heat to low.
Use tongs to transfer the noodles into the skillet with the shrimp and broccolini. Toss to coat. Add the lemon zest and juice. Cover with a lid and cook for 3-5 more minutes until the pasta is completely cooked through.
Season with salt. Taste. At this point you might want more of a sauce, so add in a splash of the pasta water until you get the sauciness you desire. Add more salt or crushed red pepper flakes to taste.
Notes
Feel free to scale back the crushed red pepper flakes if you don't like a lot of spice.
Recommended Products
As an Amazon Associate and member of other affiliate programs, I earn from qualifying purchases.