Classic grilled chicken Caesar sandwich recipe, except easier! The Caesar-ish dressing you make plays two parts: part marinade and part sauce for the sandwich. Thin cut chicken grilled and served on top of brioche buns with some lettuce and Parmesan.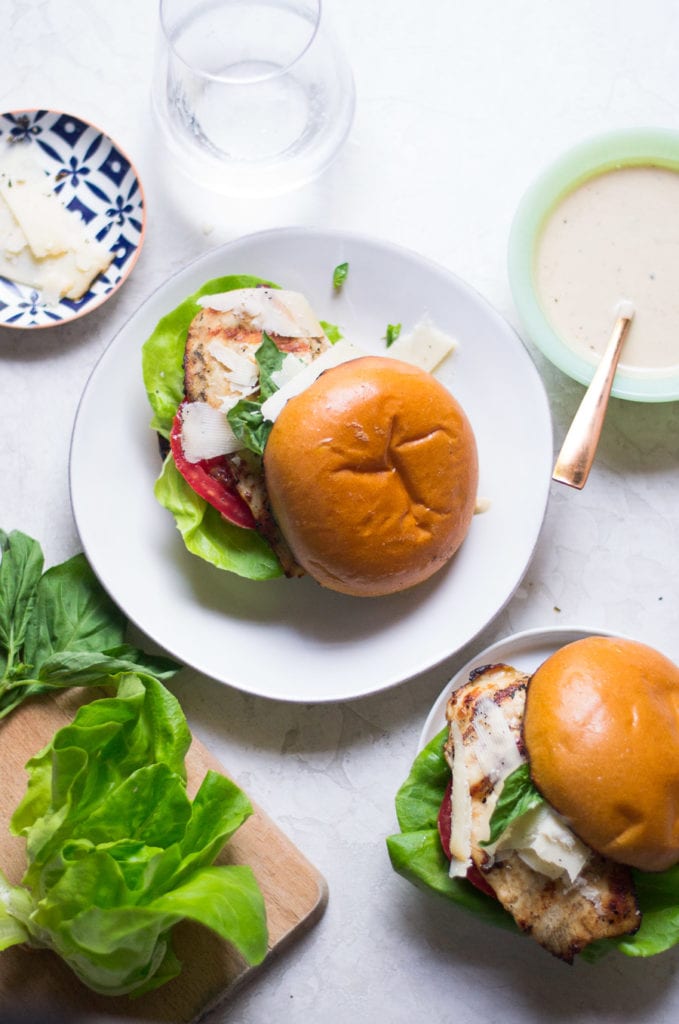 Congratulations are in order to me, my husband, and our kids because we made it through the first few days of school! Yay! The first two days were just a toe in the water compared to the full plunge into the first week of school we are now facing. I am ready (ish) though.
I did shopping for groceries, meal planned, and meal prepped yesterday. Monday's are full of fresh possibilities for the week ahead. That's why I actually kinda like them. By the time we get to Thursday, that outlook shifts a little.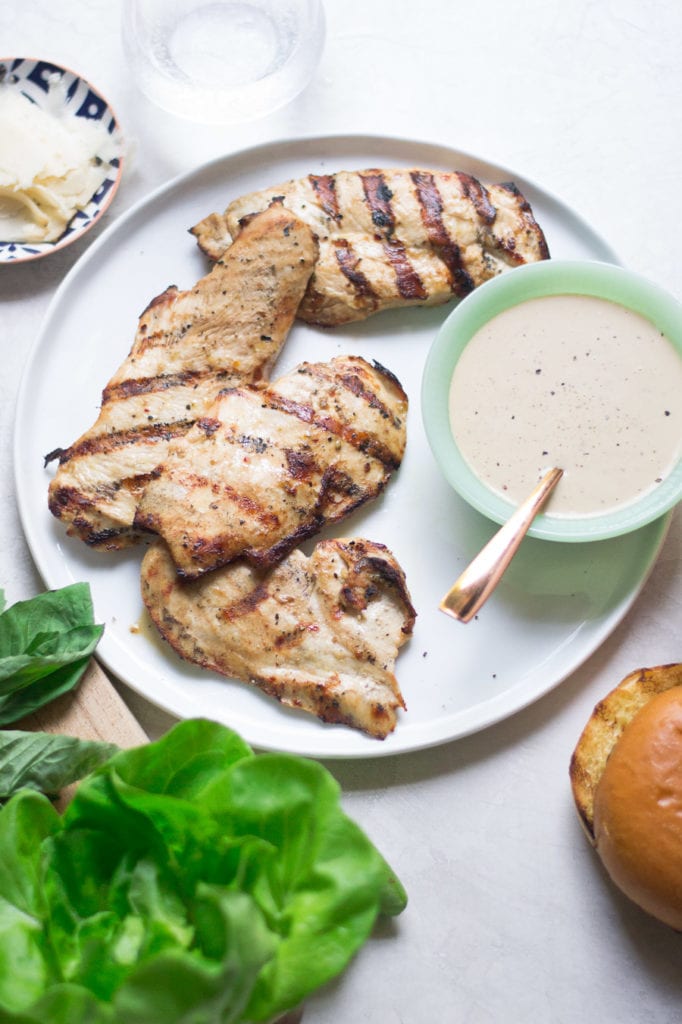 Last week I made Bon Apetit's grilled chicken Caesar-ish sandwiches and I knew it was such a winner I had to share it with you guys.
The glory of this grilled chicken Caesar sandwich recipe is that the Caesar-ish dressing plays the role of marinade and dressing for the sandwiches. Prep the chicken breasts the night before or morning you want to make them. Chicken cutlets grill up in no time at all. The only other things you need are buns, lettuce, and Parmesan cheese. Done and done!
Remember how I was whining about swimming in all the pickles last week?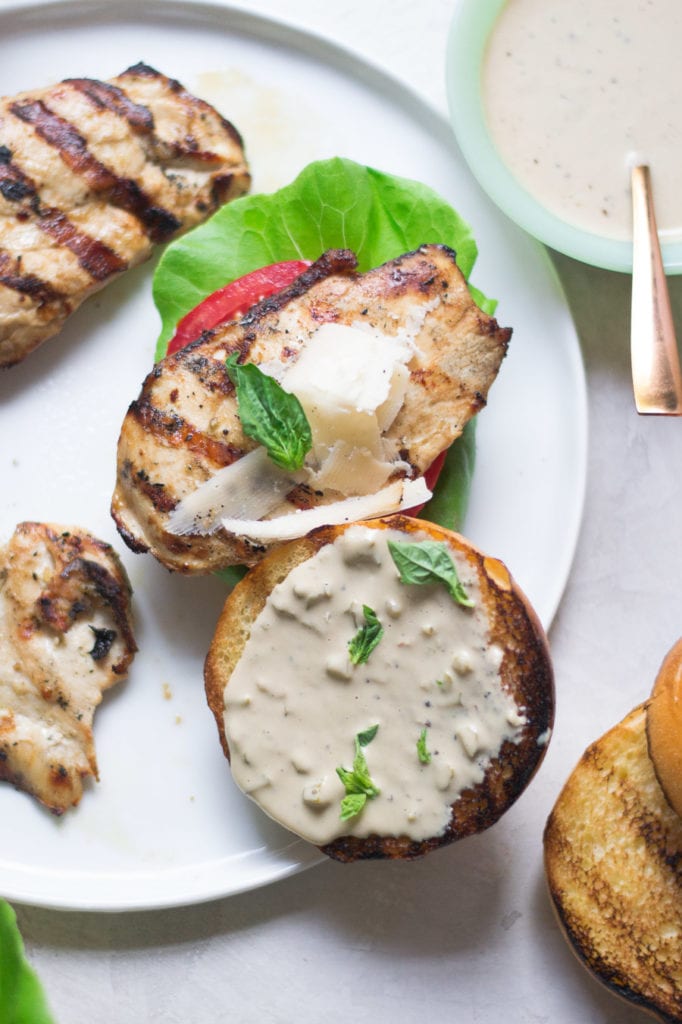 This recipe is a great, sneaky way to use up some of those pickles. The pickle was so teensily (yeah, that's a word) minced that my pickle-hater husband had nothing but rave reviews and didn't even notice the pickles. Another bonus to this grilled chicken Caesar sandwich is no anchovies and no raw egg yolks to mess with.
If you do want to make the classic Caesar dressing recipe though, this is a great recipe.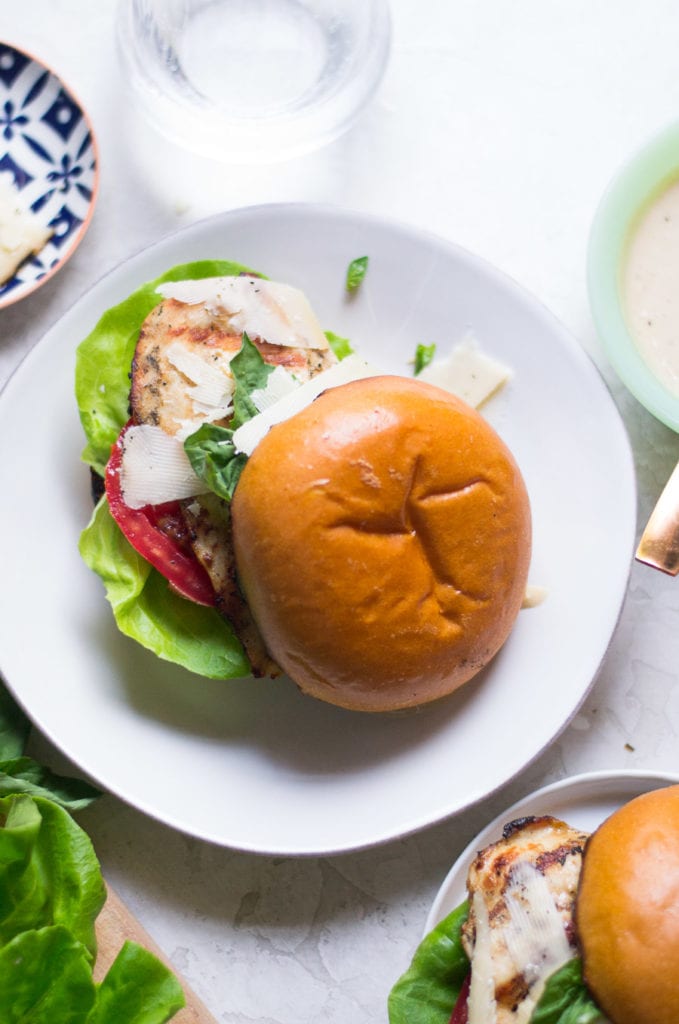 When you grill the chicken, make extra. Save the grilled chicken and have extra sandwiches throughout the week. Or add the chicken to salads. Meal prep galore with this chicken here!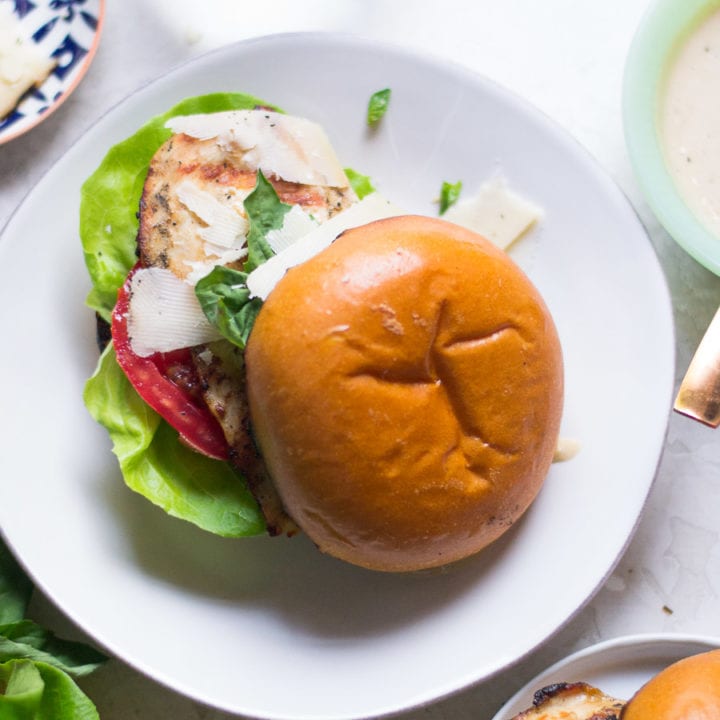 Grilled Chicken Caesar Sandwich
Total Time:
3 hours
12 minutes
Marinated grilled chicken cutlets served on brioche buns and topped with Caesar-ish dressing, lettuce, and Parmesan cheese.
Ingredients
1.5 lbs thin cut chicken breasts/cutlets
1 Tbsp. Dijon mustard
2 tsp. Worcestershire sauce
2 garlic cloves, grated
3 Tbsp. fresh lemon juice
1 tsp. freshly ground black pepper
⅓ cup extra-virgin olive oil, plus more for grill
6 Tbsp. mayonnaise
¼ cup finely minced cornichons/kosher dill pickles
Kosher salt
1/4 tsp crushed red pepper flakes
4 brioche buns
romaine lettuce or butter/gem lettuce
1/2 cup Parmesan Cheese
fresh basil leaves
sliced tomato, optional
Instructions
In a small mixing bowl whisk together the Dijon, Worcestershire, garlic, lemon juice, black pepper, and about 1 tsp salt. While whisking, pour in the olive oil into the marinade. Keep whisking until fully combined.
Add the chicken to a baking dish about 9"x11". Pour half the marinade mixture over the chicken. Season with a pinch more salt and the crushed red pepper flakes. Turn the chicken breasts a few times using tongs to make sure the chicken is evenly coated. Cover with lid or plastic wrap and store int he fridge for at least 3 hours or up to 10 hours.
Add mayo and pickles to the remaining marinade. Whisk to combine. Cover with lid or plastic wrap and store in the fridge until the chicken is grilled and ready.
When you are ready to grill, preheat the grill for at least 10 minutes at high heat/flame. While the grill comes to temperature, let the chicken sit at room temp.
Once the grill is hot, add the chicken breasts. Grill for about 6-7 minutes per side, you want good dark grill marks.
During the last minute of cooking, add the buns split side/cut side down. Grill for less than a minute just to get the bunds nice and toasty.
Spoon a heaping tablespoon or two on to either the grilled side of the top or bottom bun. Add chicken, lettuce, a few shreds of Parmesan cheese, a basil leaf or two, and a slice of tomato. Serve best hot.
Notes
Grilling tip: For best grill marks, make sure to flip the chicken breast on to a spot on the grill that has yet to be grilled on. That way the uncooked side of the chicken makes contact with the hottest part of the grill.
Recommended Products
As an Amazon Associate and member of other affiliate programs, I earn from qualifying purchases.