Grilled cheese + a cup of tomato soup = ultimate comfort food. Seriously, there is nothing simpler in the world that can bring such comfort to so many people.
 When I was a child, the first thing I learned how to make on my own (well, with a little adult supervision to ensure I didn't set myself or the house on fire) was a grilled cheese sandwich.
There isn't much you can do to this sandwich to screw it up. Most often times, the more stuff you add to it, the better it gets!
It's like the super hero of sandwiches. Like Bruce Wayne, grilled cheese is a cool millionaire flyin solo. Give the millionaire a tool belt and tricked out car and it starts to get KA-RAY-ZEE!
For some time I was working as a campus dining intern/manager/line cook (I really never knew my official title, because I kind of did it all). During one of the mad lunch rushes, the head chef shared a little secret technique (it might not be so secret, maybe it was just me that didn't know how to cook grilled cheese this way) to turning out perfectly golden and gooey grilled cheese sandwiches every time. (You didn't think I would reveal this technique so early, did you?)
Trust me, you don't want to keep a hung-over college kid waiting for their grilled cheese sandwich, they get piiiiissed!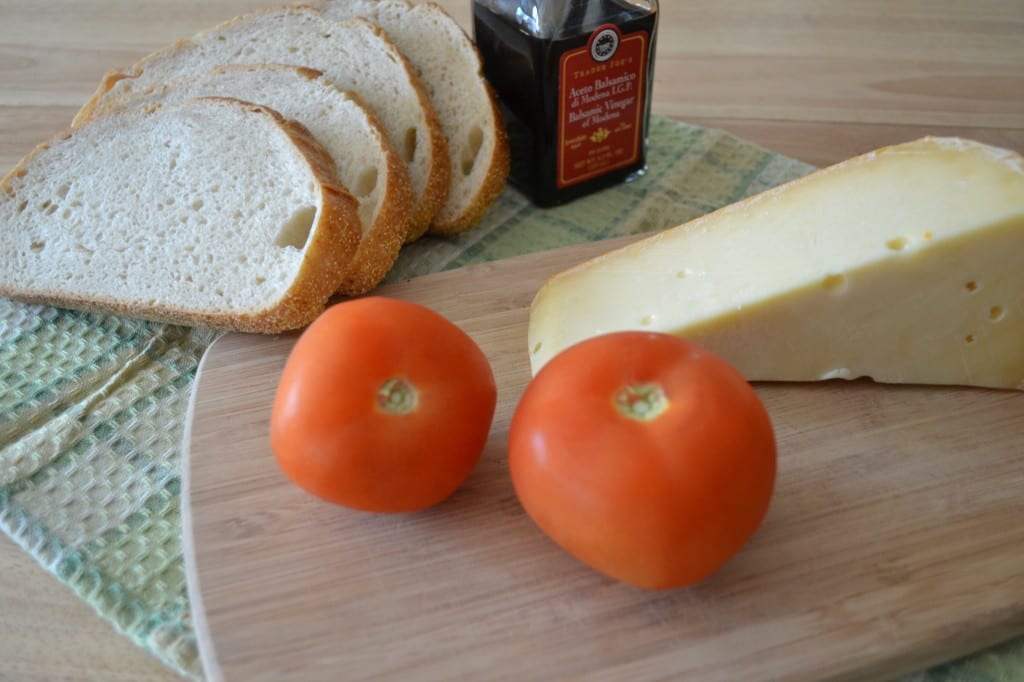 Ingredients (2 Sandwiches)
2 Large Tomatoes, thickly sliced (approx 8 slices)
2 Tablespoons of Balsamic Vinegar
¼ Teaspoon of Salt
¼ Teaspoon of Pepper
4 Slices of Sourdough Bread
2 Tablespoons of Unsalted Butter
Enough Parmesan Gouda Cheese to cover each slice of bread
Preheat the oven to 350 degrees. Place the tomato slices on an oven safe wire rack on top of a baking sheet. Drizzle the balsamic vinegar on top of the tomatoes. Season with salt and pepper. Roast the tomatoes for an hour and a half.
 
Heat a griddle or large skillet over medium heat. Butter one side of each slice of bread, using about ½ tablespoon per slice.
Place each slice buttered side down. Here is his trick. Place the parmesan gouda cheese on top of each slice of bread. Cook each side of the sandwich individually so the cheese on each slice melts quicker than it would if you had cooked the two slices of bread one on top of the other.

When the cheese starts to melt, add the roasted tomatoes to one slice of bread. Cover with the other slice and remove from heat.
Wow, what a secret technique, right? Shut up! I thought it was clever.

Anyway, cooking your grilled cheese this way will always produce crispy golden bread and gooey melty cheese, so…take that!