Veggie loaded grilled cheese sandwich is an easy and tasty way to use up all your garden produce. Tomato, cucumber, avocado, arugula, Muenster, and a spicy giardiniera mayo make for one perfect sandwich.
My countertop and dining room table have been overtaken by produce.
Tomatoes and cucumbers, specifically.
My neighbor dropped off more cucumbers right after I got done making two different types of pickles.
I made spicy bread and butter pickles and a batch of easy refrigerator dill pickles.
Now what?
I also have to tell you that I am the main cucumber consumer in my household.
A girl can only eat so many pickles, ranch and cucumber slices, and cucumber sour cream salad.
I turned to the humble grilled cheese to entice my family to eat more veggies.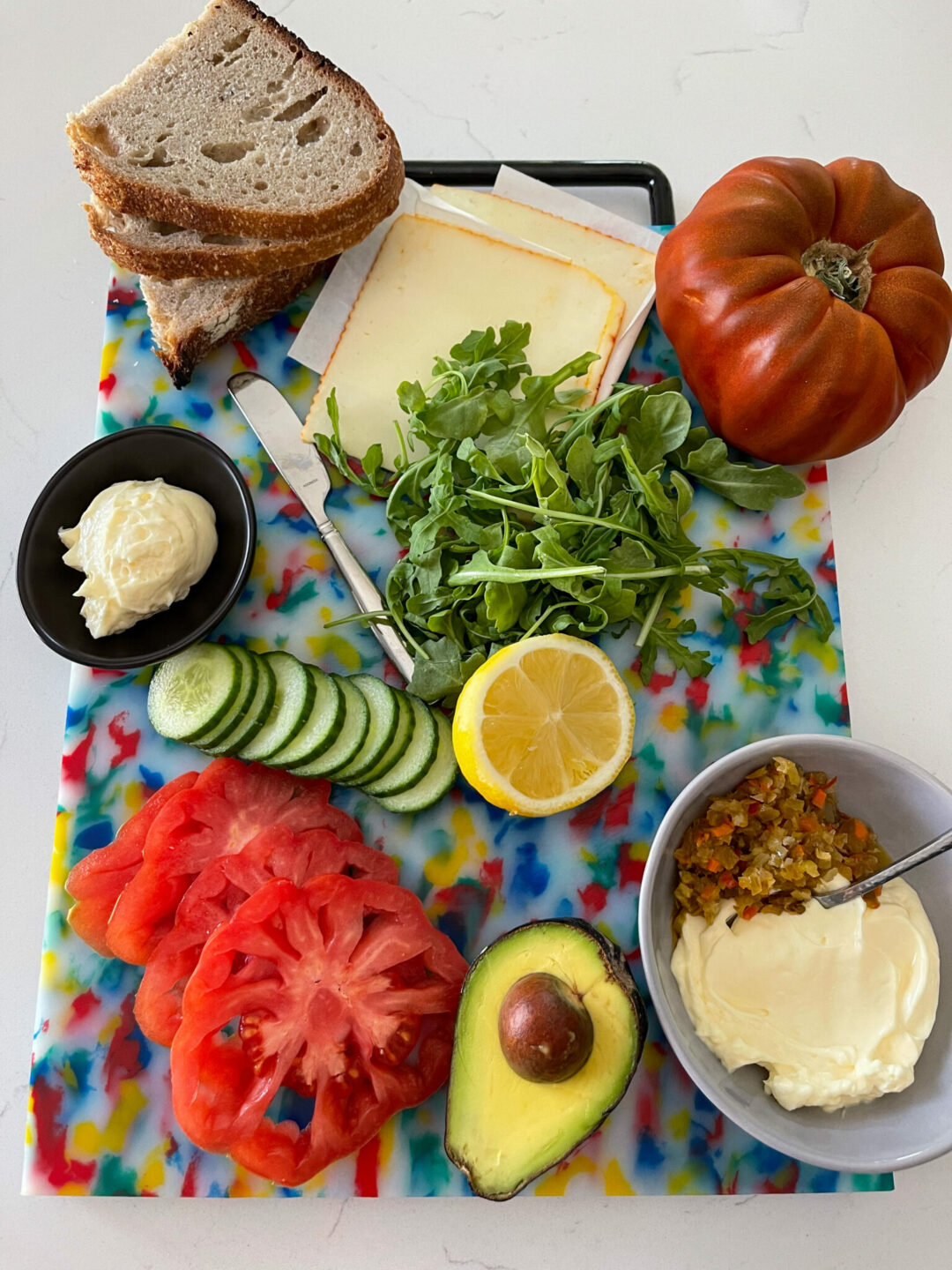 This veggie loaded grilled cheese sandwich has it all:
Avocado
Arugula
Cucumbers
Tomato
Muenster Cheese
Giardiniera Mayo
That's a thick sandwich!
It can be messy to jam that many ingredients on one sandwich.
Thanks to the glue of the melty cheese and the giardiniera mayo all the ingredients stay put for the most part.
First off, if you want to know what giardiniera is, check out my recipe here.
I like to chop it up really fine and mix it into the mayo to give this sandwich a kick.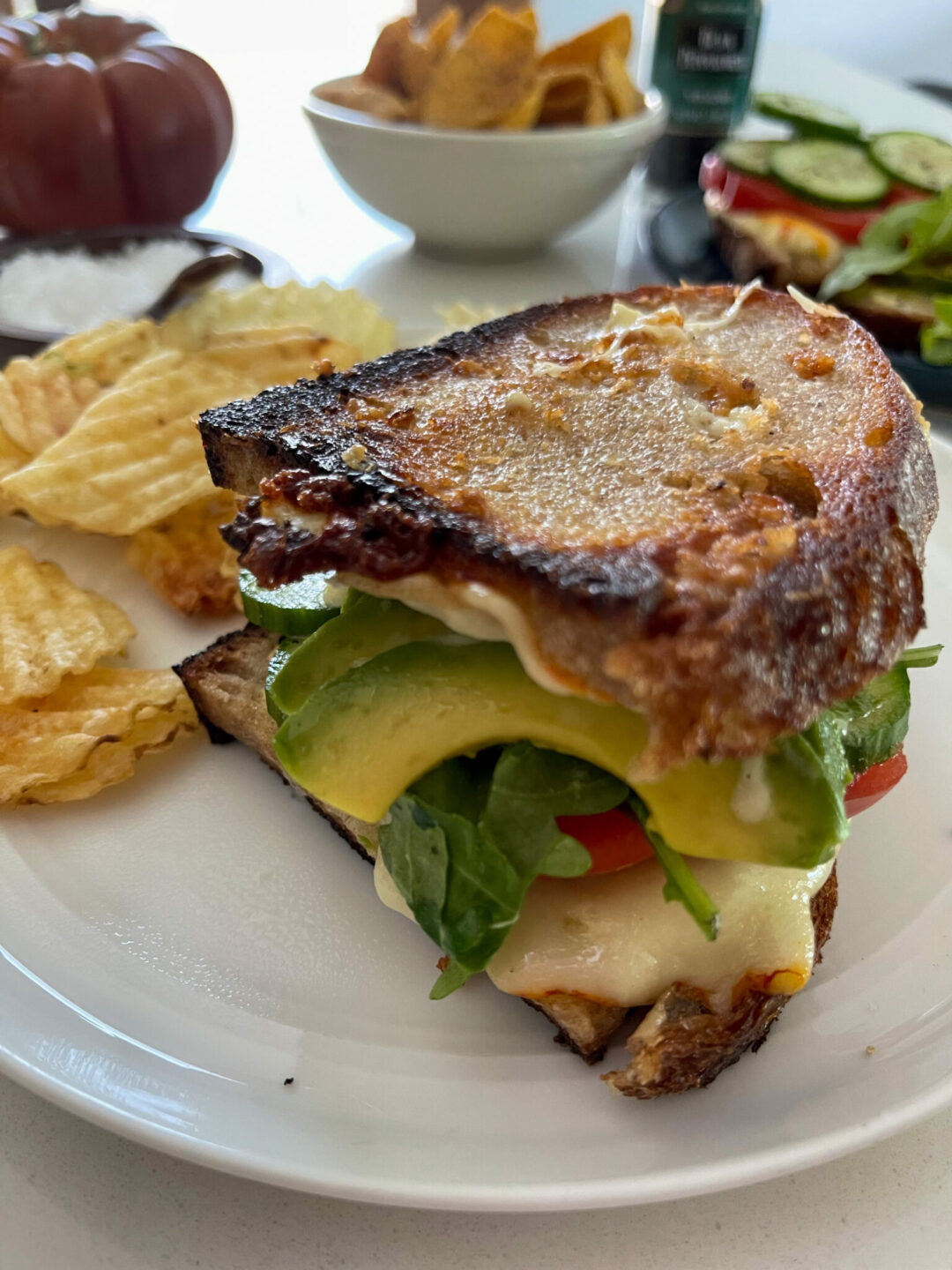 There are a few of mayo haters out there, I know.
You can use a spicy hummus instead of the mayo mixture and butter to make the outer crusty grilled cheese bread.
The next kick in this sandwich comes from tossing the arugula with a pinch of salt, pepper, and a squeeze of fresh lemon juice.
It is important to flavor every layer.
This reminds me!
Sourdough bread offers a lot of flavor along with the sturdy structure to this sandwich.
However, you can use whatever thick sliced bread you like most. Avoid soft white bread though.
It will get too soggy.
Cook the sandwich on a cast iron skillet until the bread is golden.
Spread the mayo giardiniera mixture on each slice and then cover with cheese.
Melt the cheese on to the bread.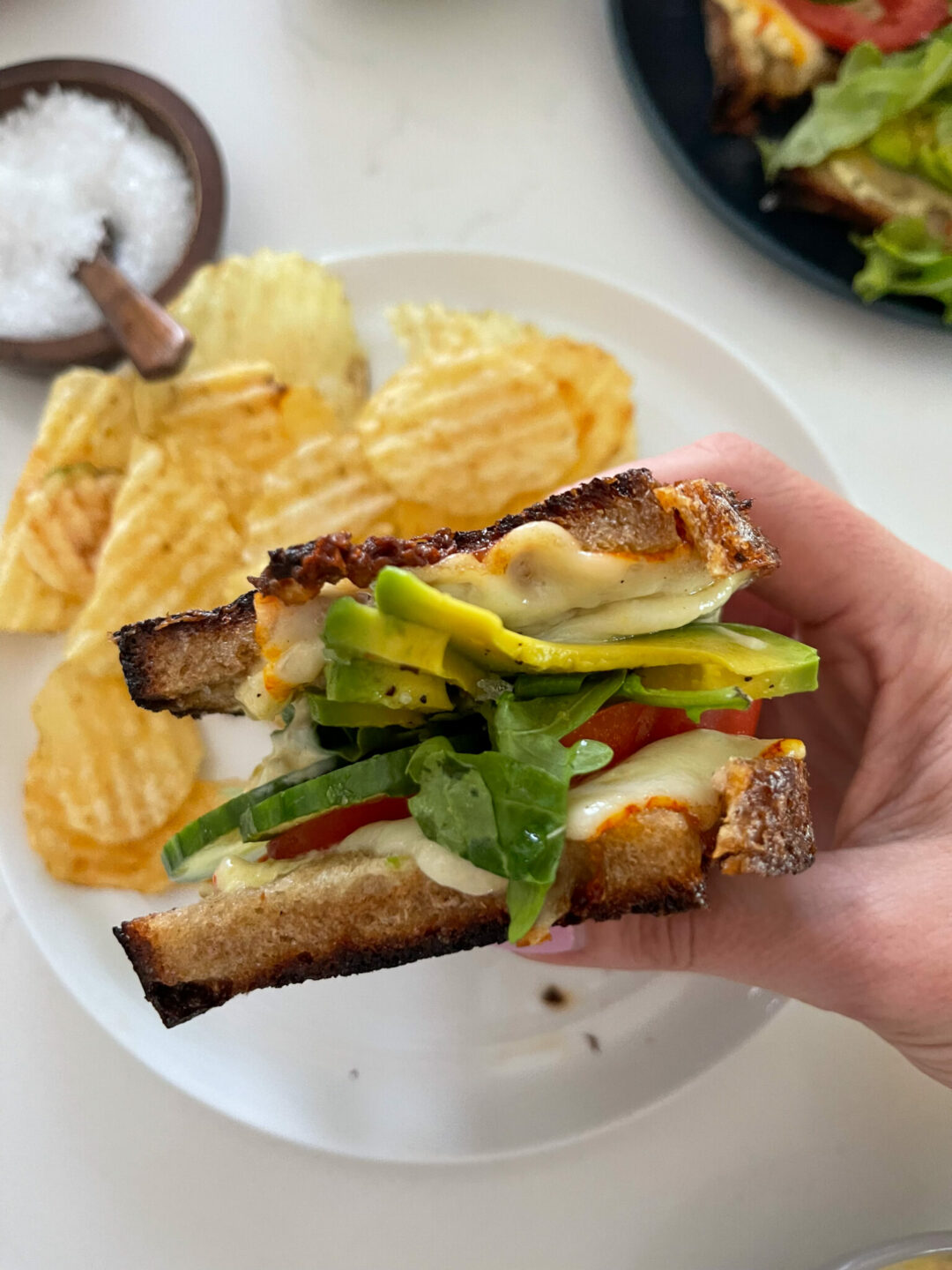 Get to chopping and then top the warm, melty slices with all the veggies.
Serve this sandwich up with your favorite chips on the side.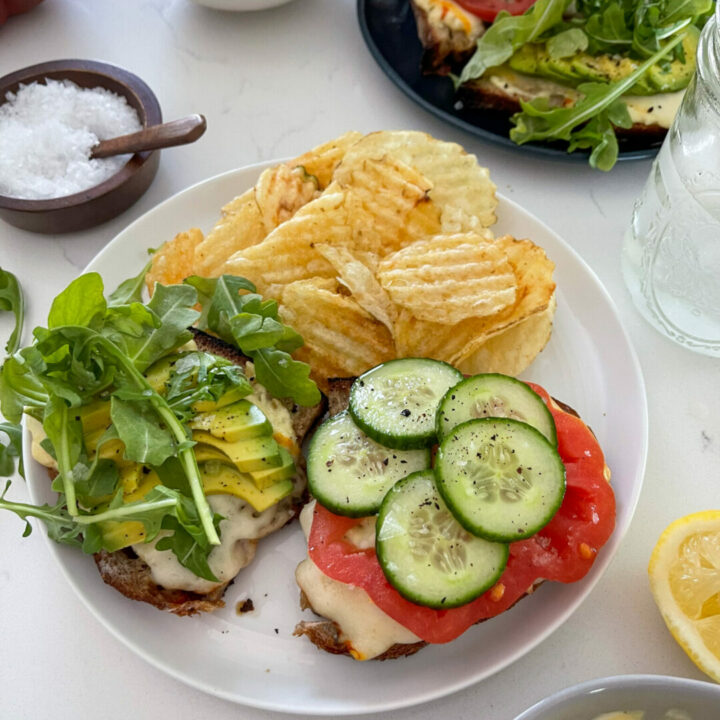 Veggie Loaded Grilled Cheese
Yield: 2 Sandwiches

Prep Time: 10 minutes

Cook Time: 15 minutes

Total Time: 25 minutes

A melty grilled cheese sandwich loaded with arugula, avocado, tomato, cucumber, Muenster cheese, & spicy giardiniera mayo.
Ingredients
4 slices sourdough bread
1/3 cup mayonnaise plus 2 tbsp
1/4 cup minced mild/hot giardiniera
4 slices Muenster cheese
1 large heirloom tomato, thinly sliced
1 small cucumber, thinly sliced
3/4 cup baby arugula
1 avocado, pitted, skin removed, and thinly sliced
salt and pepper
1/2 lemon
Instructions
Heat a large cast iron skillet over medium. While the pan heats, mix the giardiniera with the 1/3 cup mayo. Set off to the side.
Spread the 2 tbsp of mayo on one side of each slice of bread. Break each slice of cheese in half.
Place the slices of bread mayo side down in the hot pan. Use a spoon to liberally add the giardiniera mayo to each slice of bread. Top with the halves of cheese so each slice is covered.
Reduce heat to medium/low and toast the bread until golden and the cheese is melted.
Once the bread is golden and the cheese is melted, remove from the pan and seat each slice on a plate.
Top one half of the sandwich with sliced avocado and arugula. Squeeze the lemon over the arugula and season with salt and pepper. Add the tomato and cucumber sliced to the other half. Carefully flip one half over the other and gently press down to use the cheese to lock the ingredients into place.
Serve with your favorite chips.
Recommended Products
As an Amazon Associate and member of other affiliate programs, I earn from qualifying purchases.