You guys have heard me gush about my Dziadzia (Polish for Grandpa, pronounced jah-jah) a lot on this blog. Aside from what an amazing person he was, he was a pretty stellar cook too. But none of this is new to you, my loyal readers.
The reason he was such an amazing cook, and what I have always marveled at, is that his food was always simple. That is something I, as a cook, struggle with.
Sometimes the hardest thing to do is to make something simple. I find myself always adding in a pinch of this or a dash of that, roasting and frying, and coming up with long ass names for recipes until I make things so complicated that the everyday cook takes one look at the list of ingredients and thinks, "Meh."
Today, I am not giving in to the urge to make something new or trendy. I am taking a clue from my Dziadzia and making his easiest and tastiest recipe.
In all reality, his simplest recipe for cucumber and sour cream salad is by far the best summertime, actually any time recipe that I and my family have ever had.
It is so basic; cucumbers, tomatoes, sour cream, green onion, salt, and pepper. The perfect combination! I don't know how he made this salad, but for some reason his version always tastes better than anything me, my mom, or my brothers have come up with.
Ingredients (Serves 2)
1 Medium/Large Cucumber, peeled and thinly sliced
5-10 Grape Tomatoes, halved length-wise
1 Teaspoon Salt
½ Teaspoon Pepper
1 Green Onion, chopped
1 Tablespoon Sour Cream*
*Note: Ok, ok all you Greek yogurt lovers out there. You can sub in Greek yogurt if you truly desire, to "be healthy" and all. But I have to warn you, it will not taste as awesome as plain old sour cream!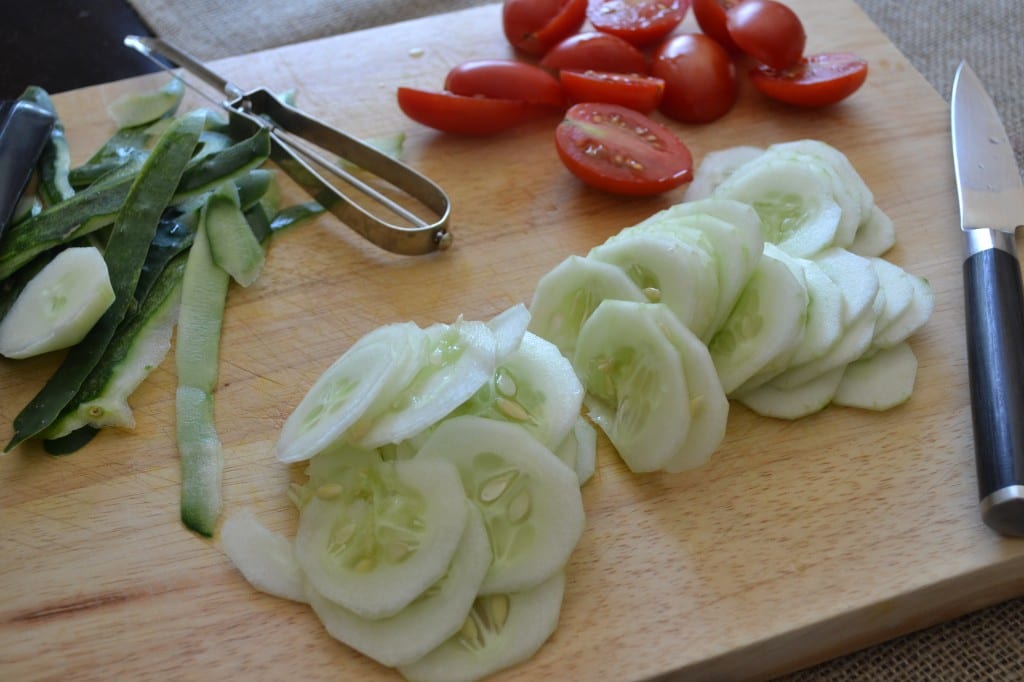 Combine the cucumber slices and halved grape tomatoes in a medium bowl. Season with salt and pepper.

Here is the trick to this recipe: you need to let the cucumbers and tomatoes sit at room temperature for at least twenty minutes before adding the sour cream. The salt will draw out all the natural liquid from the vegetables and add so much flavor to the salad.

After twenty minutes, add the tablespoon of sour cream and chopped green onion, mix. Serve right away. This salad will last for a day in an air tight container in the refrigerator although you will need to drain some of the excess liquid out of it before serving it again.
Related posts: