Greek pasta salad is basically a classic Greek salad with the addition of bowtie pasta. A mix of pasta, roasted red pepper, cucumber, red onion, feta, and a easy red wine vinaigrette. The perfect summer bbq side dish.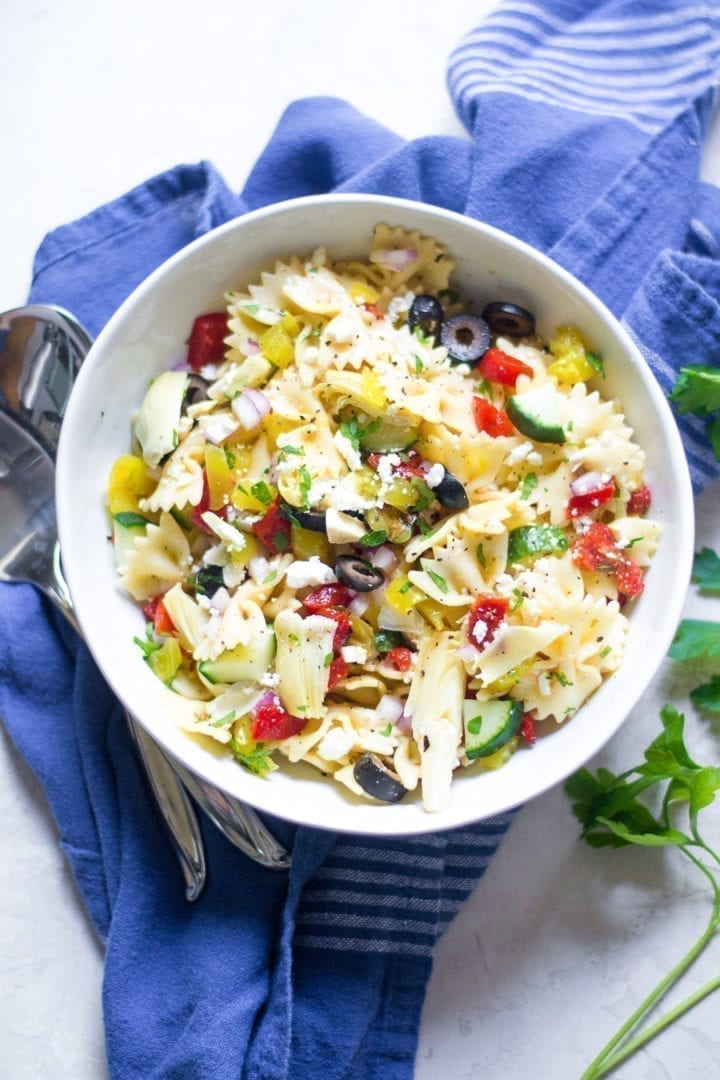 We grilled everyday this past week. Highs in the nineties means no oven or stove for Stefanie.
I will do some cooking on the range first thing in the morning before it gets too hot.
In addition to some avocado toast and jammy eggs, I will prep anything for dinner. That's the best time to boil your noodles for pasta salad. Every backyard bbq needs a cold and zingy pasta salad.
I can get my husband and kids to pick through a noodle based salad more so than a bowl of leafy greens.
Take the wins when you get them, right?!?!
We made really easy frozen burgers and I tossed this pasta salad together in a matter of minutes. Then I had the salad for lunch over the next three days. It is that good!
First we need to make a simple Greek vinaigrette. It starts with red wine vinegar and lemon juice. Mix it with salt, pepper, oregano, and extra-virgin olive oil. This vinaigrette is also perfect on regular old green leaf lettuce based salads.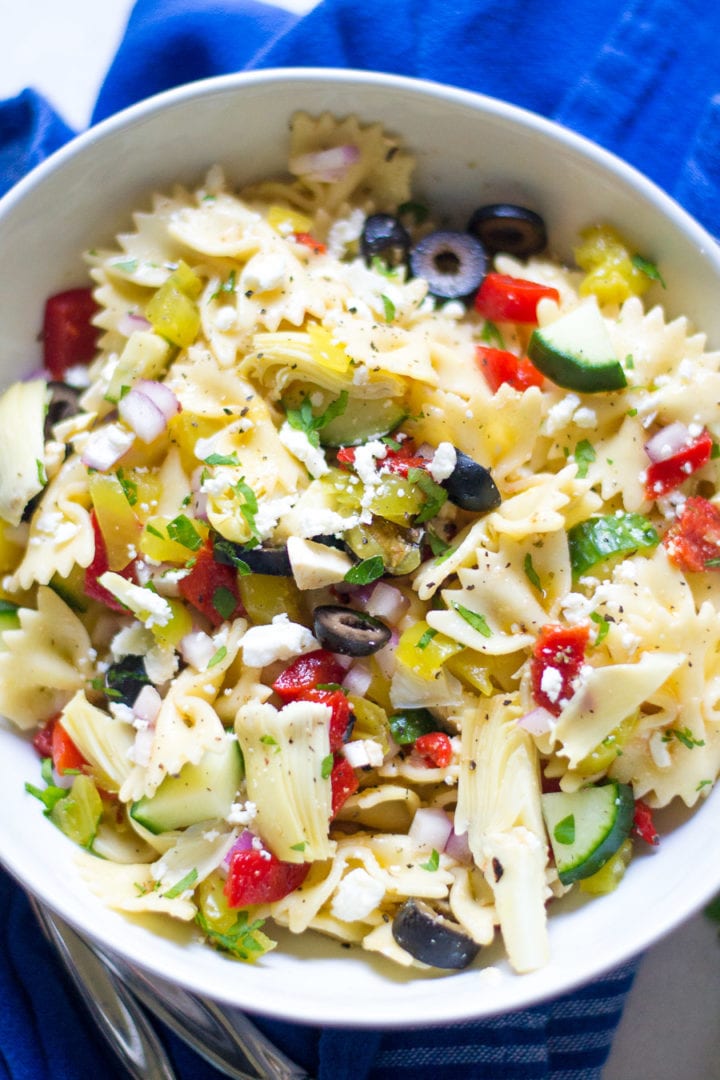 Boil any kind of noodle ya like. I used bowtie for this salad. Macaroni, rotini, cavatappi, or fusilli would all work well in pasta salad.
I didn't use any tomatoes in this recipe. As you all know, my husband does not like tomatoes like cherry or grape varieties. He avoids any tomato that will shoot seeds in his mouth.
I chopped up some cucumber, roasted red peppers, red onion, artichoke hearts, black olives, banana pepper rings and tossed them with noodles, feta cheese, and the vinaigrette. Greek pasta salad is full of veggies so you won't feel too guilty about all the carbs.
I never feel guilty about carbs, but that's just me.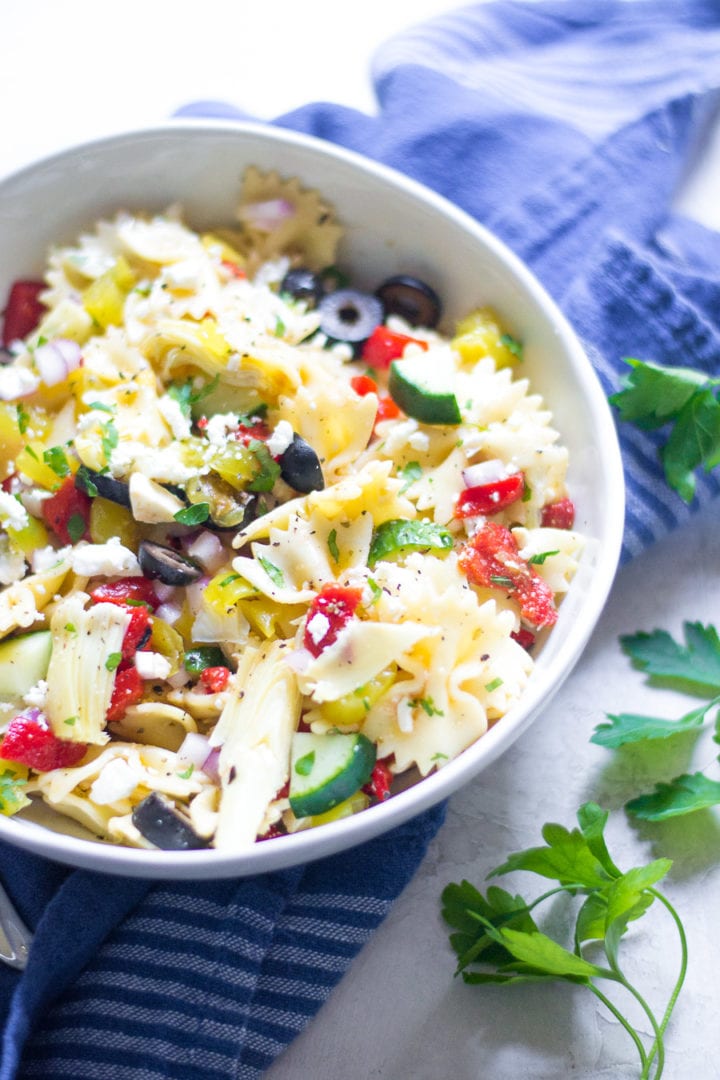 Happy backyard BBQ-ing!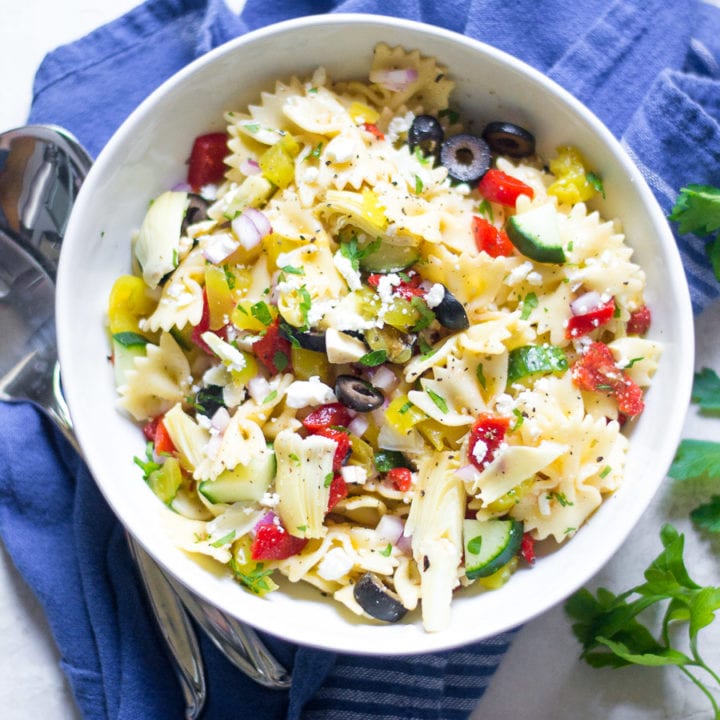 Greek Pasta Salad
Bowtie pasta along with roasted red pepper, cucumber, artichoke hearts, banana peppers, black olives, and feta cheese in a red wine vinaigrette.
Ingredients
10 oz farfalle pasta
2 tbsp red wine vinegar
2 tbsp lemon juice
1/3 cup extra virgin olive oil
1/2 tsp salt
1/2 tsp dried oregano
1/4 tsp black pepper
1/2 cup diced roasted red pepper
1/2 cup diced cucumber
1/4 cup sliced black olives
1/4 cup chopped sliced banana peppers or pepperoncini
1/4 cup chopped artichoke hearts
1/2 cup crumbled feta cheese
fresh chopped flat leaf parsley for garnish
Instructions
Bring a large pot of heavily salted water to a boil. Add noodles and cook according to the packaging. Drain pasta and set off to the side.
In a small mixing bowl or mason jar with a lid, whisk together vinegar, lemon juice, oregano, salt, pepper, and olive oil.
Mix the noodles and the vegetables and feta together. Add 1/2 of the mixed vinaigrette to the pasta salad. Toss to combine. Add more vinaigrette if needed. Top with parsley and chill in the fridge until ready to serve.
Recommended Products
As an Amazon Associate and member of other affiliate programs, I earn from qualifying purchases.