Everything you love about a shrimp boil; shrimp, potatoes, corn, red onion, & sausage on a skewer. Grilled shrimp boil skewers are seasoned with Old Bay, Tajin, & other easy to find spices and then grilled to perfection.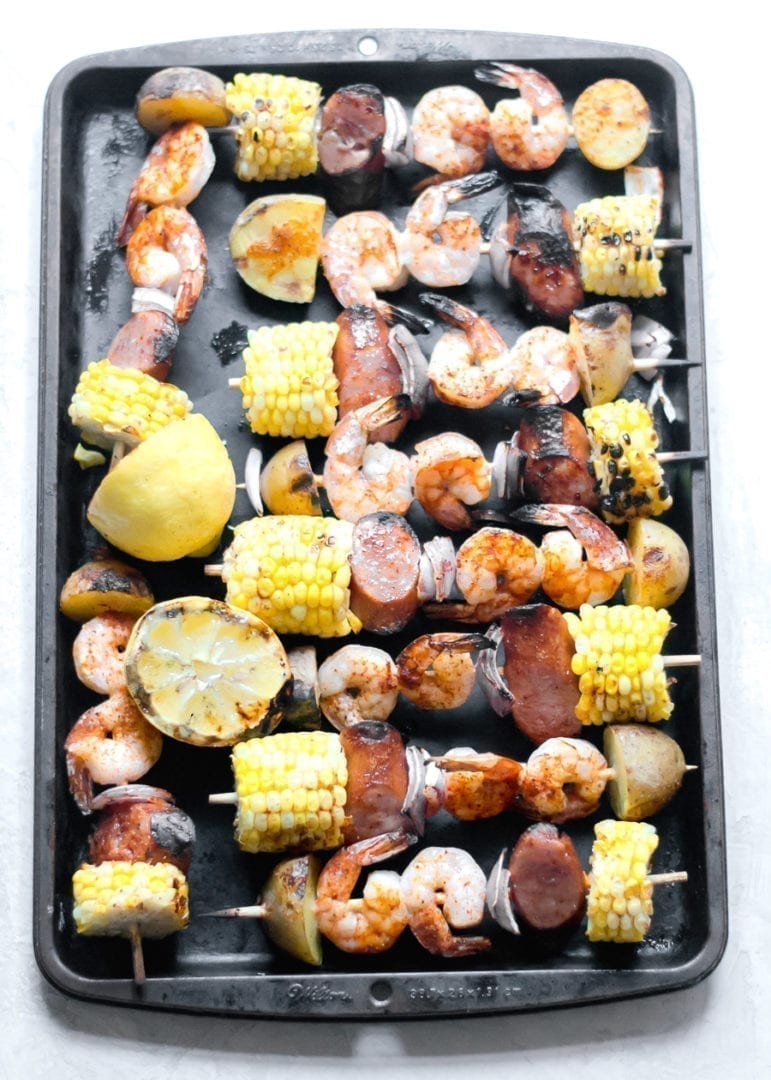 I love a good shrimp boil. In facet it became a summer staple in our house. The shrimp and corn obtain so much flavor from the spices and cooking liquid.
It ended up being one of my most favorite recipes my Instant Pot cookbook.
These versions are by no means better than a classic shrimp boil. I have even made the oven version of a sheetpan shrimp boil.
The flavors and ingredients translate well to all sorts of cooking methods.
If you are not familiar with a shrimp boil or a low-country boil, lemme tell you all about it.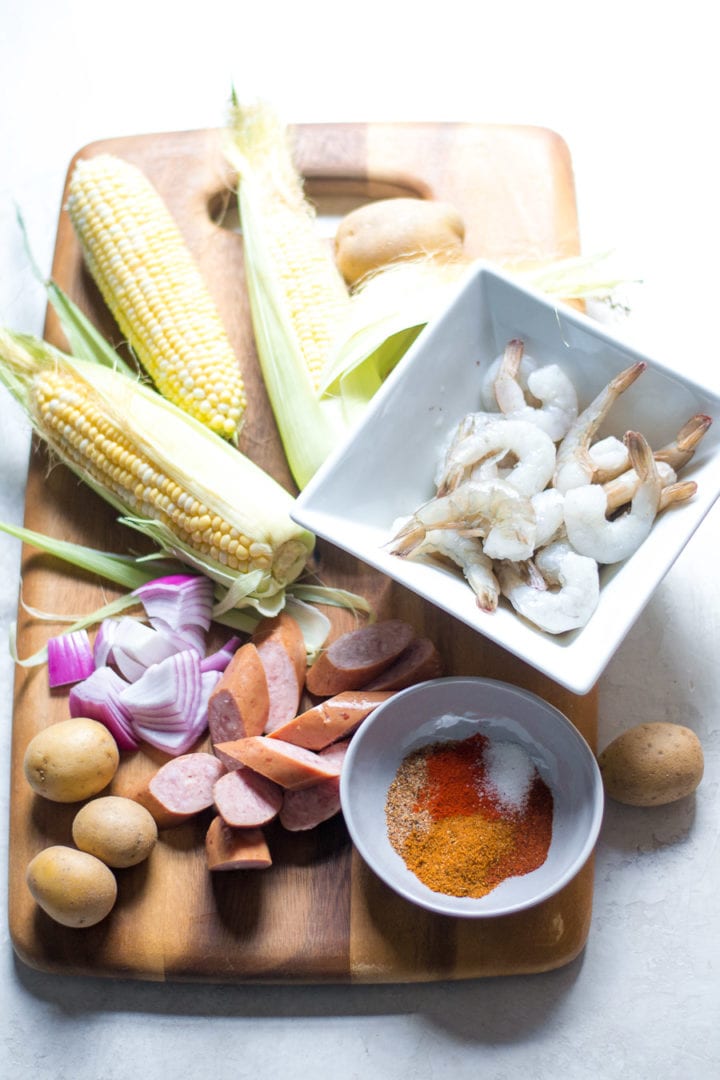 You toss a bunch of shell on shrimp, cobs of corn, sausage, and potatoes into a large pot. Cover it with water. If you wanna be different you can use some beer or stock in addition to water for extra flavor. Add in Old Bay seasoning or one of those handy dandy shrimp boil seasoning sachets and then boil away until everything is tender and cooked through.
I like the idea of grilled shrimp boil skewers because you can parboil your corn and potatoes earlier in the day or even the day before you plan on grilling.
Soak your wooden skewers so they don't burn and then assemble the skewers as needed.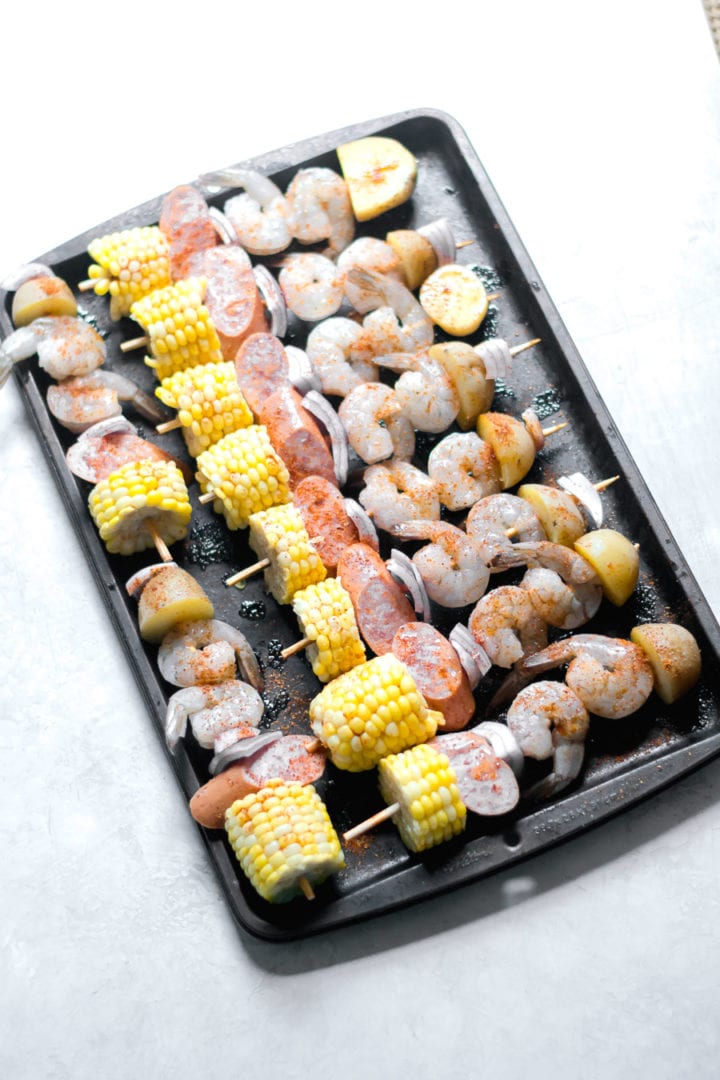 Shrimp and sausage cook pretty quickly on the grill so you want the potatoes and corn to be relatively cooked through as well to maintain a uniform cooking time.
The seasoning blend is a little different than the traditional use of only Old Bay.
I like to season the skewers with a mix of Old Bay, Tajin, cayenne, smoked paprika, garlic powder, onion powder, salt, and pepper. A little sprinkle of seasoning will do ya.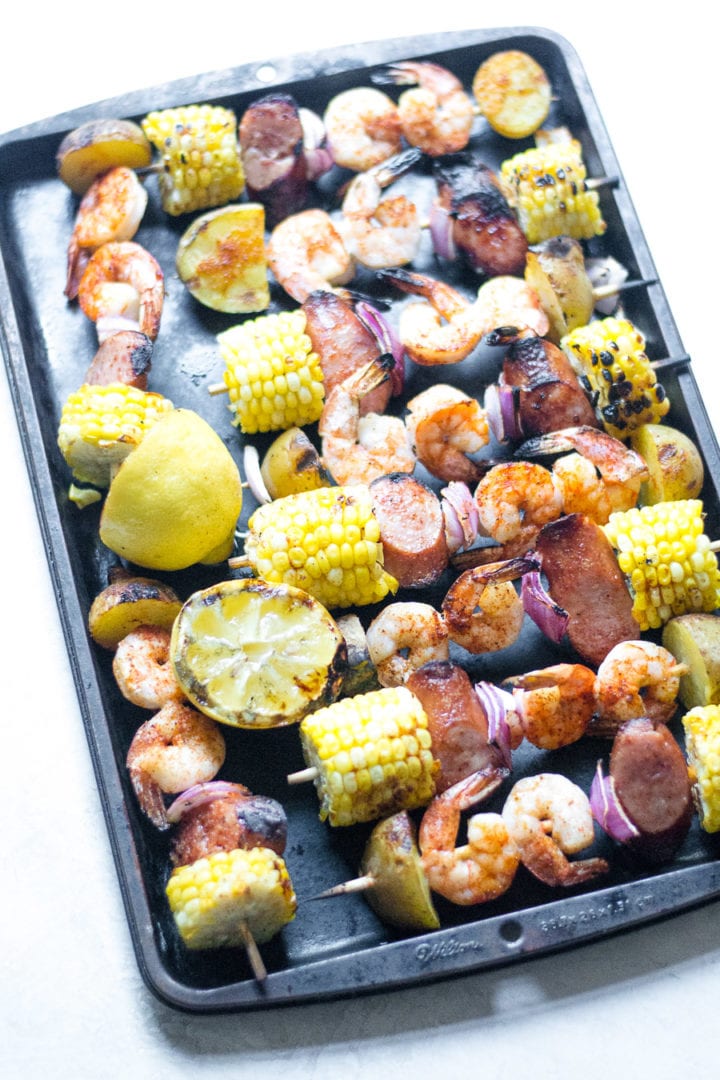 Top the grilled skewers with some fresh lemon juice and you are good to go!
Another great thing about these skewers is your whole meal is basically on a stick! No need for additional side dishes!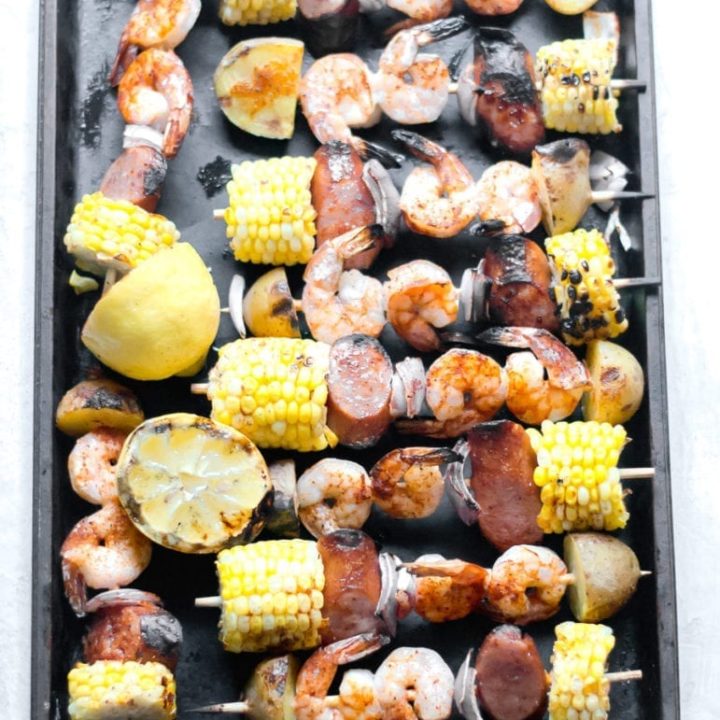 Grilled Shrimp Boil Skewers
Yield: 12-16 skewers

Prep Time: 15 minutes

Cook Time: 20 minutes

Total Time: 35 minutes

Slightly spicy, grilled skewers filled with fresh corn, shrimp, potatoes, onion, and sausage.
Ingredients
3 cobs of shucked corn, cut into 1 inch pieces
6 Yukon Gold potatoes, each cut into 4 pieces
6oz Polish Kielbasa*, cut into 1/2 inch pieces
1/2 red onion, cut into 1 inch pieces
16oz frozen and thawed peel on, deveined raw shrimp
1 tbsp olive oil
1 tbsp Old Bay Seasoning
1 tsp Tajin
1/2 tsp salt
1 tsp Cayenne
1/4 tsp black pepper
1/4 tsp onion powder
1/4 tsp garlic powder
1/2 tsp smoked paprika
fresh lemon juice
Instructions
Bring a large pot of water to a rolling boil. Add the cut corn and cut potatoes. Boil for about 7-10 minutes until the potatoes are slightly fork tender. Keep in mind they will finish cooking all the way through on the grill. Once par-cooked, drain and leave in the pot until assembly time. Or refrigerate covered in the fridge until grilling time.
Soak your wooden skewers for at least 2 hours before grilling, but for best results, soak them in a shallow pan of water overnight.
In a small bowl, mix together the Old Bay, Tajin, salt, pepper, onion powder, garlic powder, and cayenne.
Heat your gas grill, all grates on medium while you assemble the skewers. The temp should be between 375-400 F when you go to grill.
Skewer the corn, sausage, shrimp, onion, and potato. I try to do more than one shrimp, 2-4 per skewer, and one potato quarter, corn, sausage, and onion piece.
Once assembled, drizzle olive oil over each skewer. Season each skewer with a big pinch of the seasoning blend on each side. Refrigerate until ready to grill.
Grill the skewers over medium for about 5 minutes per side. You want to get a good char on everything but especially the sausage.
Drizzle finished skewers with some fresh lemon juice and eat right away.
Notes
*Andouille sausage or turkey Kielbasa or even no sausage at all would still be great with this recipe. Use what you prefer or have on hand.
Recommended Products
As an Amazon Associate and member of other affiliate programs, I earn from qualifying purchases.