Cucumber, feta, and tomato salad is perfect as a BBQ or Greek night side dish. Made with cucumber, tomato, onion, feta, and a light vinaigrette.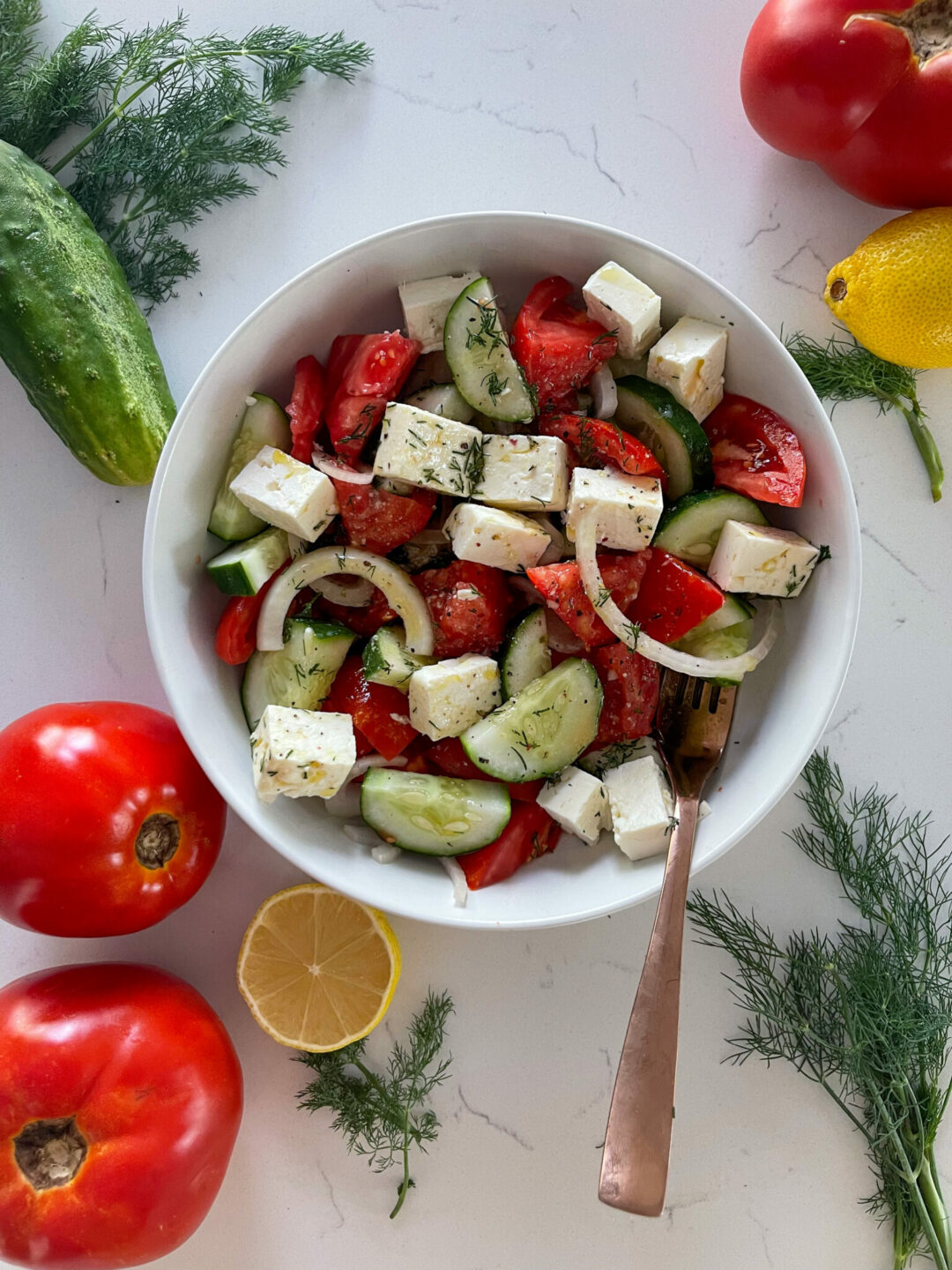 Hold on! It's not quite pumpkin and apple season yet.
The gardens are still spitting out the final fruits of the season.
So, a last summery recipe for you all today.
This cucumber, feta, and tomato salad has been on our table for years.
I honestly believed I had posted it to the blog a while ago.
My apologies.
Doing this for ten years makes things start top blend together sometimes.
Here is what you will need for this recipe:
cucumber
tomato
yellow onion
feta cheese
salt & pepper
lemon juice
olive oil
red wine vinegar
dijon mustard
fresh dill (optional)
This salad is so light and easy to make.
You are going to cut the tomato, cucumber, and feta into bite-sized chunks.
Cut the onion into the thinnest slivers your knife can manage or use a mandolin.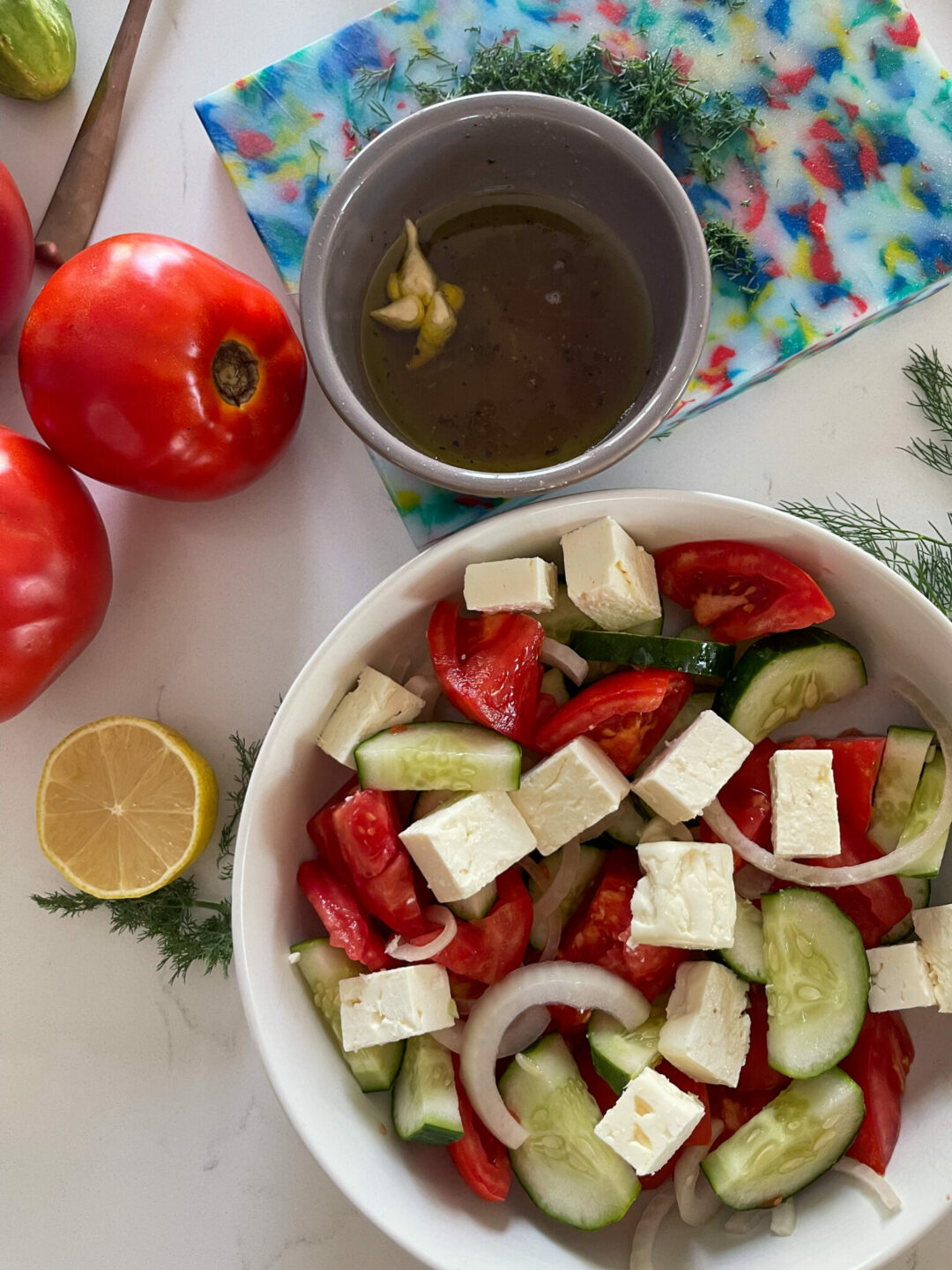 The vinaigrette is made with extra-virgin olive oil, dijon mustard, red wine vinegar, lemon juice, salt, and pepper.
Whisk that all together and adjust the salt and pepper to your taste.
I like to garnish the salad with fresh dill or parsley.
It adds another level of fresh flavor.
Clearly, if you don't have dill or parsley, the red wine vinegar, lemon juice, and dijon pack enough of a punch.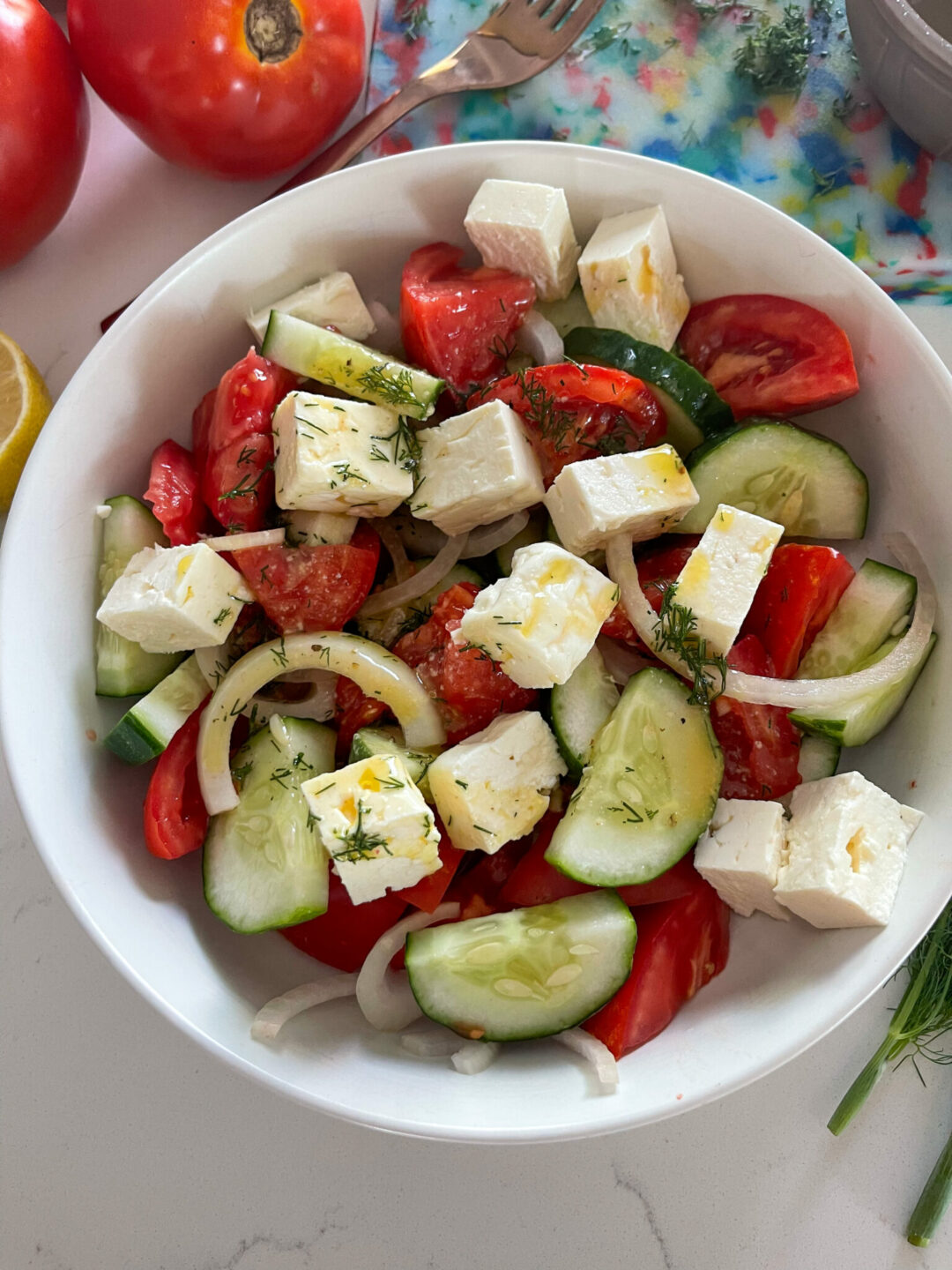 It makes a great side dish for Greek chicken or steak.
I love to pile this salad, tzatziki sauce, olives, and sliced Greek chicken on to a soft pita. It's the perfect end of summer meal.
Cucumber, feta, and tomato salad is also a fresh and easy dish to bring to a party.
Enjoy the last remnants of summer while they are at theair peak.
Make this salad and let me know what you serve alongside.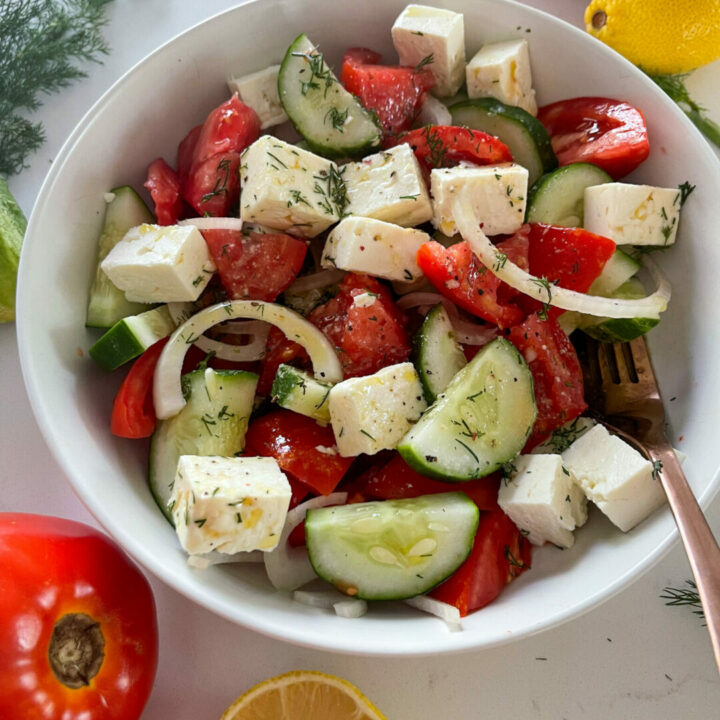 Cucumber, Feta, and Tomato Salad
Yield: Serves 4

Prep Time: 10 minutes

Total Time: 10 minutes

A fresh cucumber, tomato, and feta salad with yellow onion and an easy lemon vinaigrette.
Ingredients
2 medium cucumbers, sliced into half moon pieces
2 large tomatoes, core removed and cut into chunks
16 oz feta, cut into cubes
1/4 cup slivered yellow onions
1/3 cup extra-virgin olive oil
1 teaspoon red wine vinegar
1 teaspoon fresh lemon juice
1/2 tsp dijon mustard
salt and pepper
fresh dill or parsley as garnish
Instructions
Add the olive oil, red wine vinegar, dijon, lemon juice, salt, and pepper to a small mixing bowl. Whisk to combine.
Add the tomato, cucumber, feta, and onion to a serving bowl. Pour the vinaigrette over the salad. Mix to combine.
Top with a little more salt, pepper, and fresh dill or parsley if you are using them.
Notes
This recipe can be easily doubled for a larger crowd.
Recommended Products
As an Amazon Associate and member of other affiliate programs, I earn from qualifying purchases.