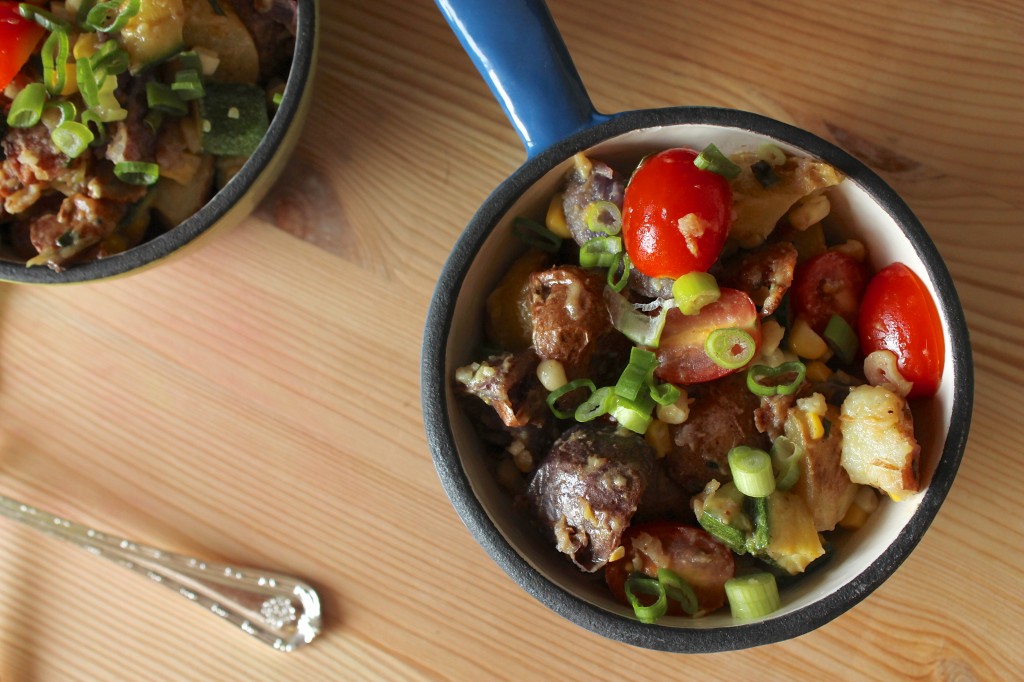 Since I am still coming back to Earth after the amazing weekend with friends in Key West, my dear friend Stephie has stepped in to give you all a wonderful summer BBQ/picnic recipe. She's so awesome like that!
Here's Stephie!
You wouldn't know it based on some of the weather we've been having in Chicago recently, but I hear rumor that in other places, summer is upon us. Summer, and consequently cookout and picnic season.
I think it is a fairly standard rule that one cannot have a barbeque/cookout/picnic without potato salad. I'm pretty certain that a lack of potato salad is grounds for arrest by the Summer Cookout Police.
Yes, the Summer Cookout Police are just as much a real thing as the Christmas Police, who come to get you if you leave your Christmas decorations up much past New Years.
Moving on…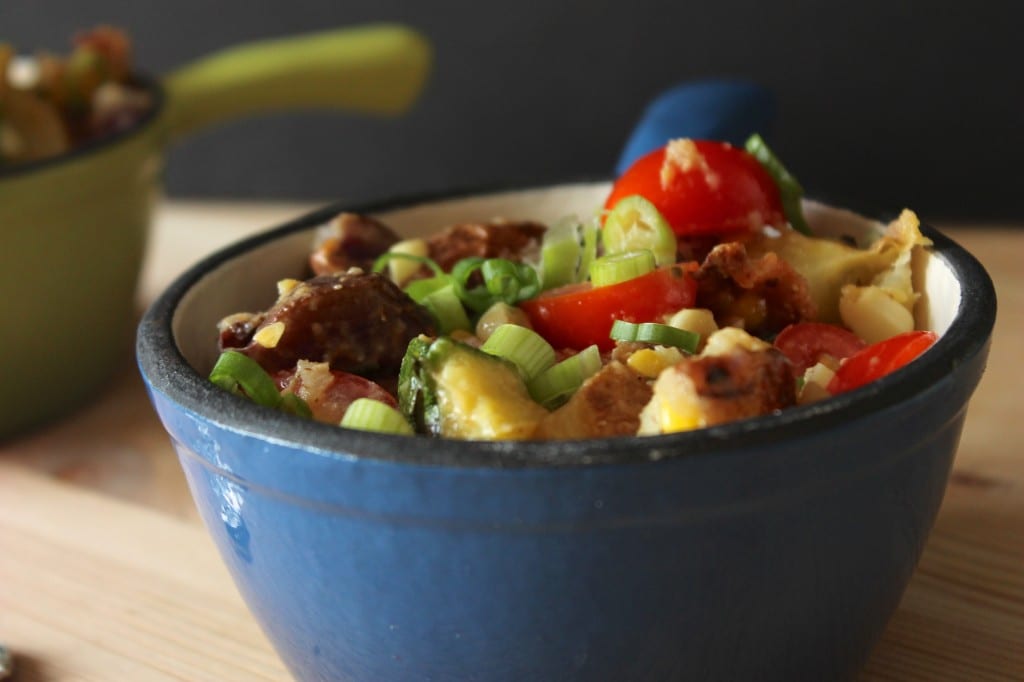 The one problem with most potato salads, however, is the dressing. Now, I love a mayonnaise-based potato salad, but I know that not everyone feels this way. And to top it off, mayo-based salads can be a real danger-zone in the summer heat.
This potato salad has absolutely no mayo in it. In fact, the dressing is primarily Dijon mustard, red wine vinegar…and bacon drippings.
Yep, you read that correctly. I put bacon drippings in this dressing. Please, please don't replace that with straight olive oil. A little bacon fat in your potato salad is not going to hurt you in the long run, and it really does wonders to round out the flavor of the salad.
Unless you're a vegetarian. Then I suppose you can leave out the bacon…but I'll still be a little bit sad.
Another great thing about this salad? In addition to the potatoes, it's chockablock full of summer vegetables. Roasted zucchini, crunchy corn, juicy cherry tomatoes…this is a salad that everyone is going to love.
Picnic perfect, if you ask me.
Roasted Potato Salad
Ingredients
1

cup

fresh corn kernels

cooked

2

pounds

fingerling potatoes

cut into 1-inch pieces

3

slices

thick-cut bacon

1

cup

diced zucchini

2

tablespoons

chopped chives

2

tablespoons

red wine vinegar

1

tablespoon

Dijon mustard

1

tablespoon

spicy brown mustard

3

sliced scallions

divided

1

cup

cherry tomatoes

halved

Olive oil

Salt and pepper
Instructions
Preheat oven to 425 degrees.

Drizzle the zucchini with a small amount of olive oil and toss to coat. Set aside.

Place the potatoes on a sheet pan. Drizzle with about 1 tablespoon of olive oil, season with a sprinkle of salt, and toss to coat. Bake for 15 minutes, then remove pan from oven. Add the zucchini to the pan, tossing to combine with the potatoes. Return to oven and bake for an additional 15 minutes.

Meanwhile, cook bacon in a skillet over high heat until crispy. Remove bacon to a paper towel to drain, and reserve the bacon drippings, adding enough olive oil to make ¼ cup.

In a small bowl, whisk together the chives, vinegar, and mustards. Slowly drizzle in the bacon drippings, whisking continuously. Season with a heavy pinch of salt and several grinds of black pepper.

Once the potatoes and zucchini finish roasting, remove from oven and place in a large bowl. Add the dressing and toss to coat. Add the corn, tomatoes, and 2 of the sliced scallions, and stir to combine. Reserve the last scallion for garnish when serving.

Serve warm or chill for several hours before serving to allow the flavors to meld.