Instant Pot cilantro lime quinoa is my most favorite, hands-off recipe. One to one ratio of water to quinoa cooks in the Instant Pot. Add lime zest, juice, and cilantro.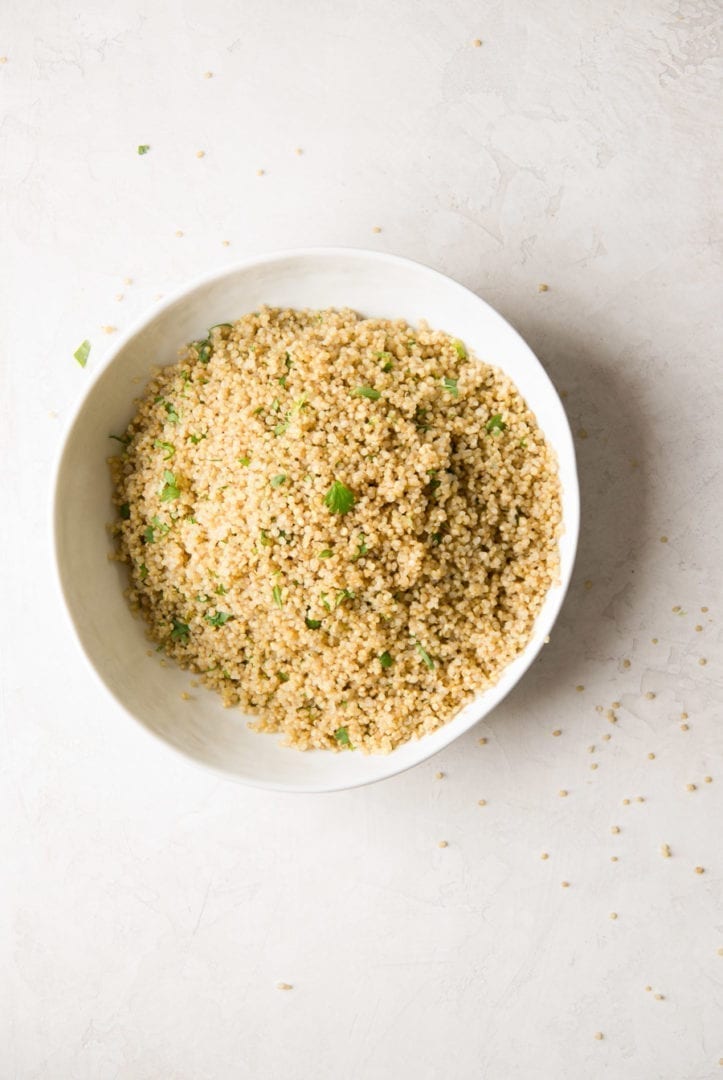 I love Chipotle's cilantro lime rice. A long time ago, back in the dark ages of the blog, I decided to switch it up a bit and use quinoa.
This was back when quinoa was first a craze and people didn't really know how to say it.
Mike still actually has slip ups with the word.
Or he thinks it is couscous.
You think he would know by now being married to a cookbook author and blogger for almost 10 years.
Regardless, the original recipe for blackened chicken and cilantro lime quinoa is still one of my most popular recipes.
It may have brought some of you here to the blog all those years ago.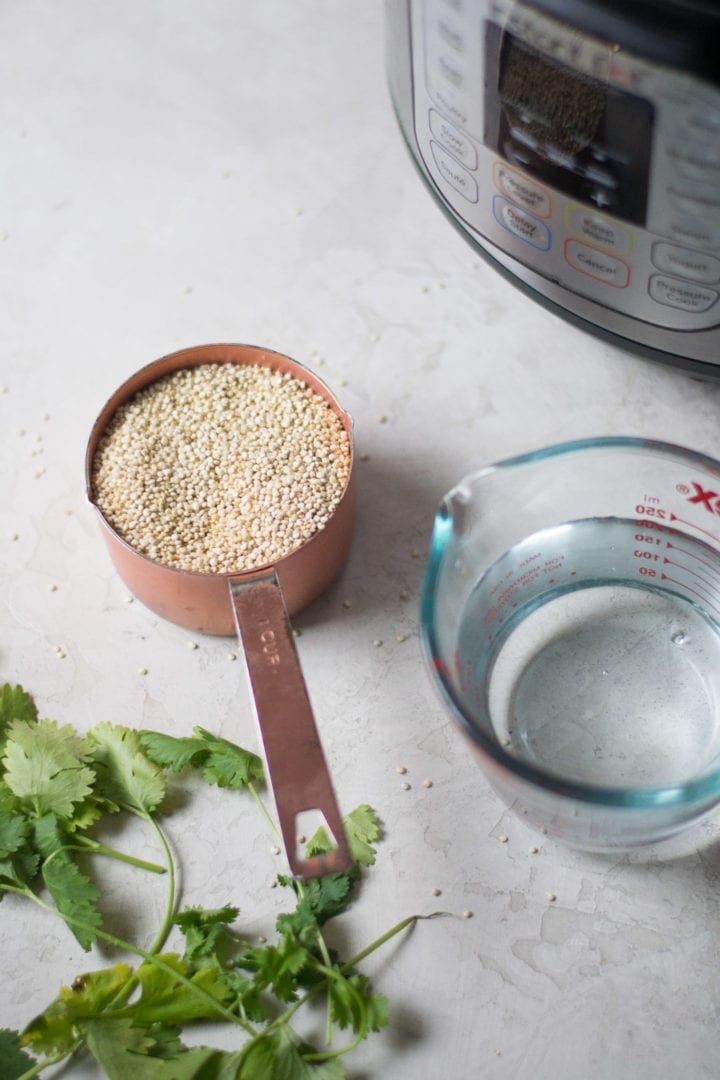 PS thanks for sticking around.
These days, I love to throw stuff into the Instant Pot and forget about it as opposed to throwing it into a pot to boil.
I always forget about it and then either burn it or head a weird crackling noise which is the sound of the pot overflowing because I forgot about it.
Instant Pot cilantro lime quinoa = FOOLPROOF!
It is so easy.
One cup of quinoa (any color will do) to one cup of water. A teeny drizzle of oil and a pinch of salt.
Set that pot to 1 minute on high pressure.
Then you let the pot naturally release pressure for 15 minutes.
Remove the lid. Add the cilantro, lime zest, and lime juice.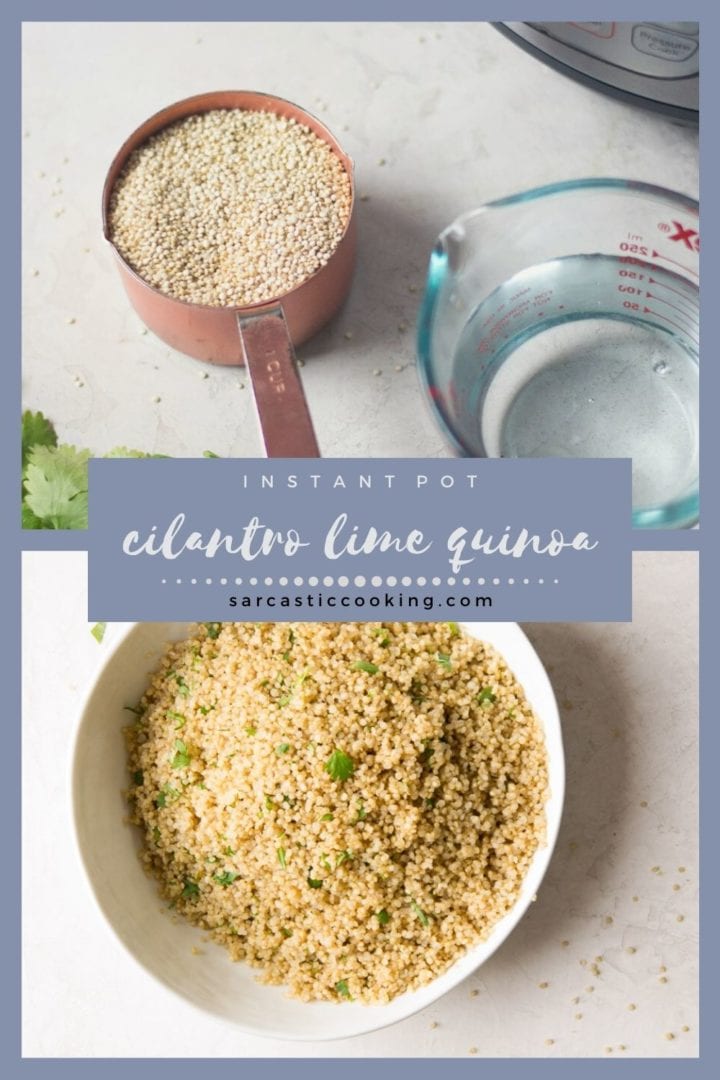 Fluff with a fork and you are good to go!
A quick note about the recipe. It can be easily doubled. Just remember that even when you make 2 cups of quinoa, you do not need to double the cook time.
The cook time stays the same.
Cilantro lime quinoa is my favorite thing to use in burrito bowls or as an add in for a salad.
I also love to serve it with blackened fish or chicken.
This is a super easy recipe you will be making all the dang time!
Trust me.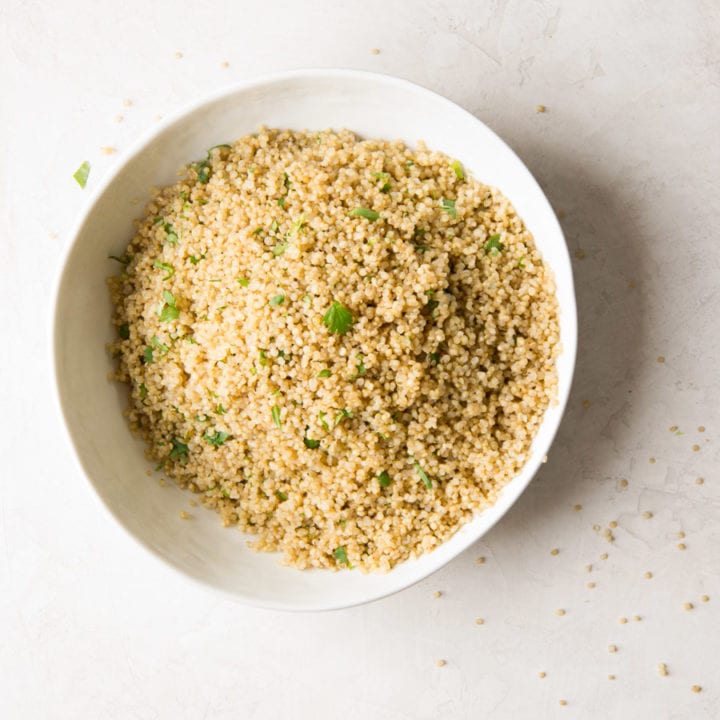 Instant Pot Cilantro Lime Quinoa
Cilantro lime quinoa made almost hands off in the Instant Pot in well under 20 minutes.
Ingredients
1 cup quinoa
1 cup water
1/2 tsp avocado oil or extra virgin olive oil
pinch of kosher or sea salt
1/4 cup chopped fresh cilantro
zest and juice from 1 lime
Instructions
Add the quinoa, oil, water, and salt to the Instant Pot. Mix to combine.
Cover and secure the lid. Set the Instant Pot to High Pressure for 1 minutes.
When the timer sounds, allow the pressure to naturally release for 15 minutes.
Release any residual pressure. Remove the lid.
Add the lime juice and zest to the Instant Pot. Use a fork to fluff everything together. Add more slat or a pinch of black pepper if needed.
Notes
If you do not like cilantro you can substitute lemon and fresh parsley as a tasty alternative.
REMEMBER: This recipe is always a 1:1 ratio. If you want to make let's say 2 cups of quinoa use 2 cups of water but keep the cooking time THE SAME!
Recommended Products
As an Amazon Associate and member of other affiliate programs, I earn from qualifying purchases.