Easy meatless mushroom bolognese is made using a lot of mushrooms along with a few other tomato sauce staples that provide a lot of flavor. A great sauce for meat lovers and veggie lovers alike!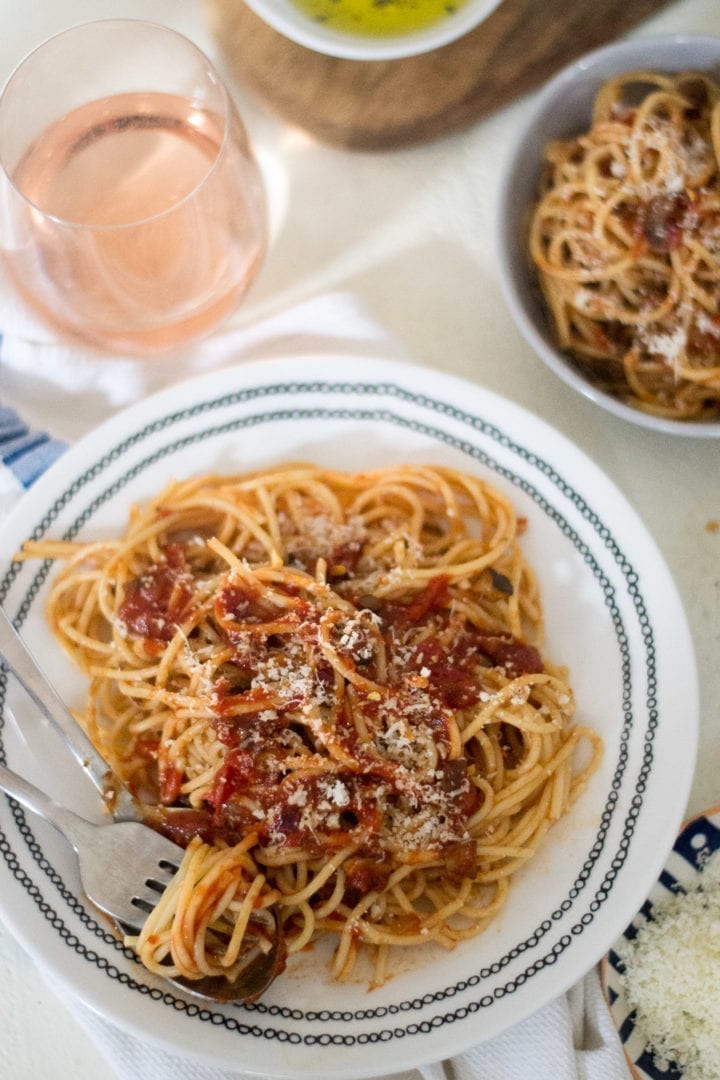 Mike and I have found ourselves amidst the Covid 15 so to speak.
I keep telling myself that if the worst thing I get right now is a few extra L-B's, then I should count myself lucky.
We are trying to eat a tad healthier. Cook more plant based meals, cut back on portions sizes, cut back on drinking and snacking.
It is so hard to be an adult!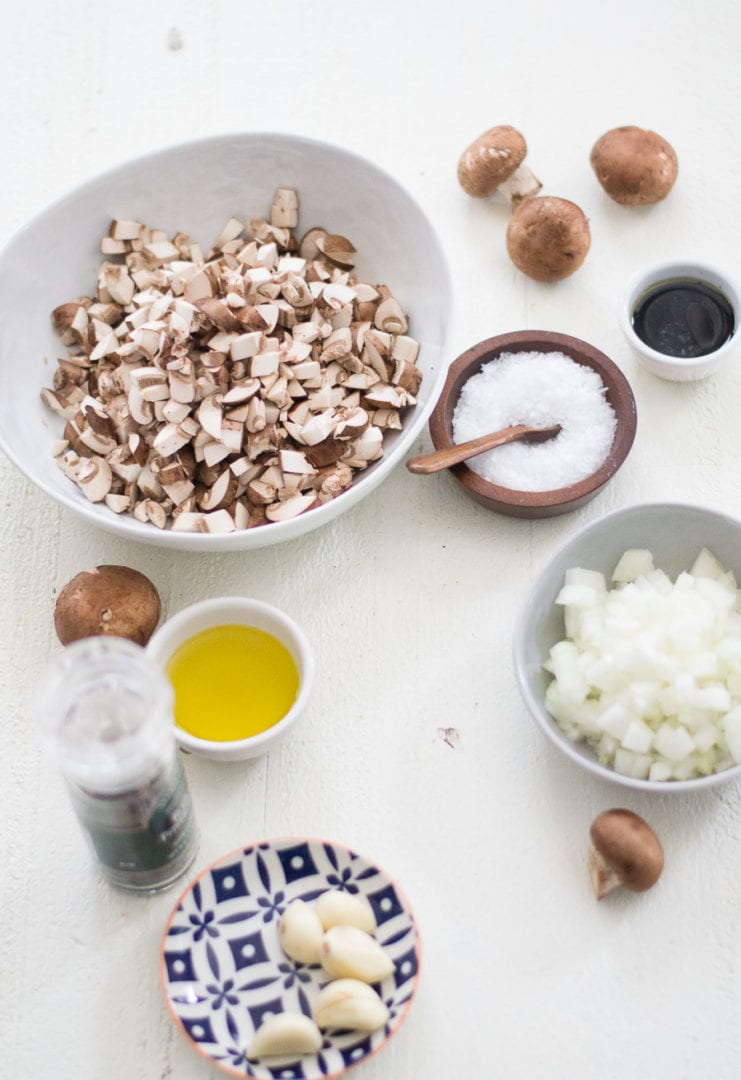 My parents used to make sure that even if we didn't like the vegetable side at dinners growing up, (cough, lima beans, cough, I will never like you) we at least had a side salad with a simple vinaigrette to allow for some healthy content.
As you know, Mike hates tomatoes and lettuce so salad as a side isn't his favorite thing.
Mike responds well to plant based sauces or toppings as opposed to zucchini noodles so this recipe really worked for us.
If you don't want to spend the time mincing all the onions and mushrooms, I recommend tossing them into your food processor and giving them a whir until they are diced.
Chopping veggies along with baking sourdough are my therapy these days.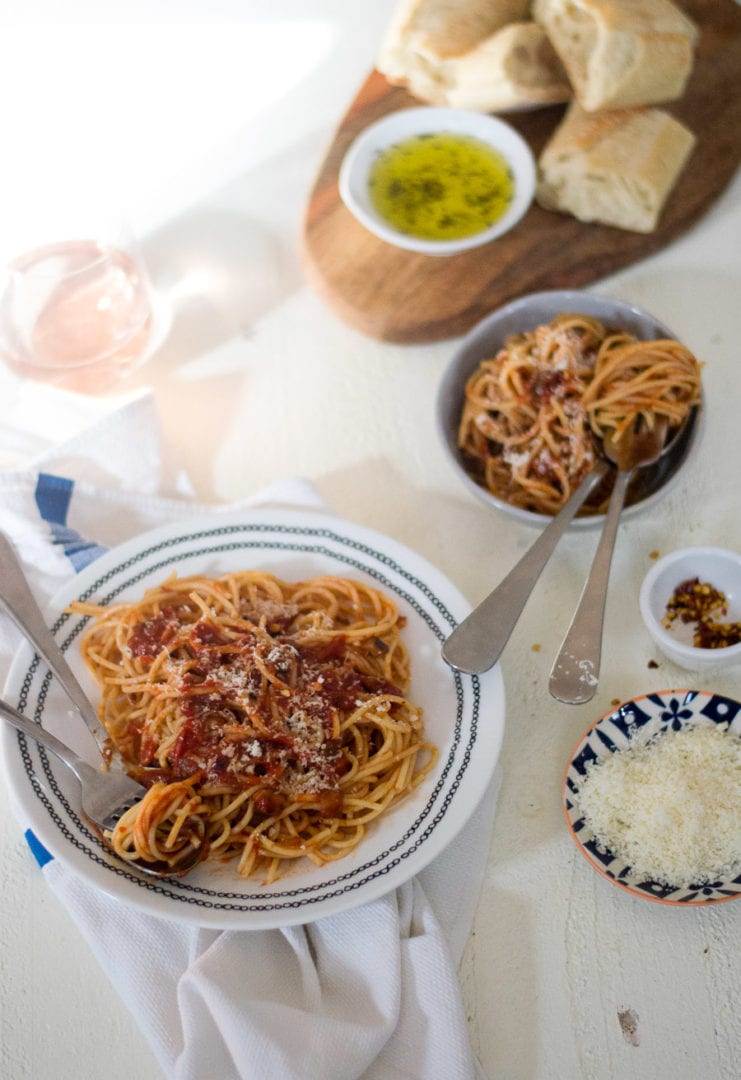 To each their own.
The recipe for easy meatless mushroom bolognese starts with a lot of diced mushrooms. You can use regular old button mushrooms if you can't find baby bella.
Then for a boost of umami flavor I added in balsamic vinegar, Worcestershire sauce, and lots of garlic.
Once all that cooks down, add in the seasonings, veggies stock, and crushed tomatoes.
While the sauce comes together and thickens up, boil whatever noodles you desire.
Any noodle works with this recipe.
I could eat this sauce by itself with just a hunk of crusty bread.
Mike went back for seconds so I think we have a veggie-based winner here!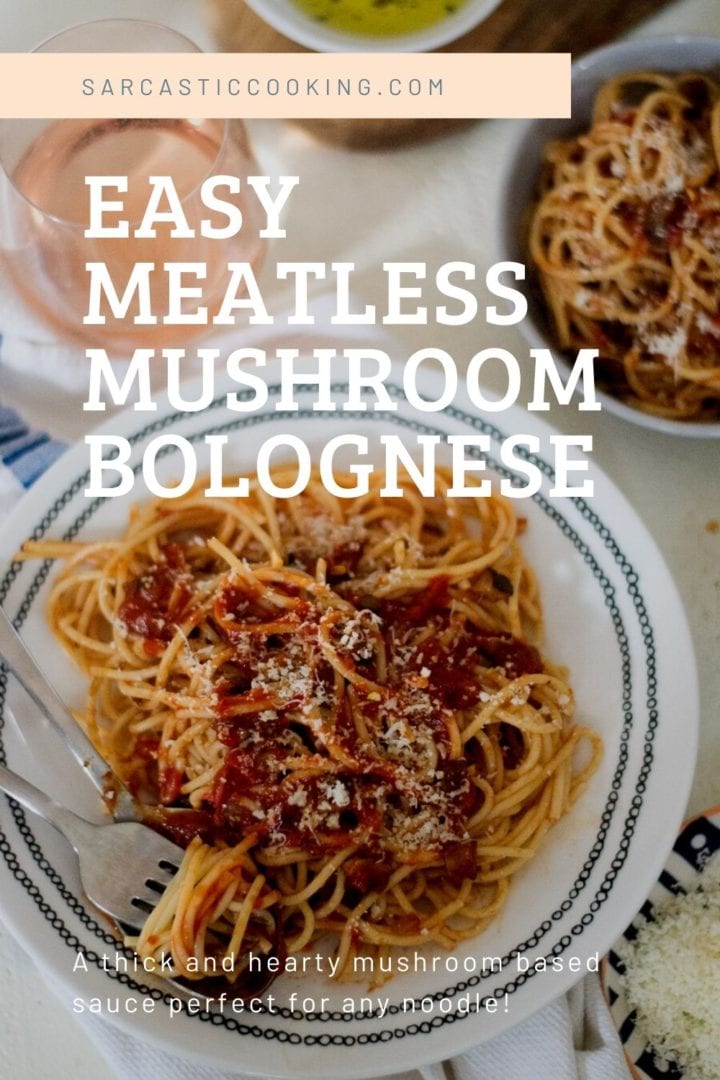 Not that seconds is helping out Covid 15 but you gotta start somewhere.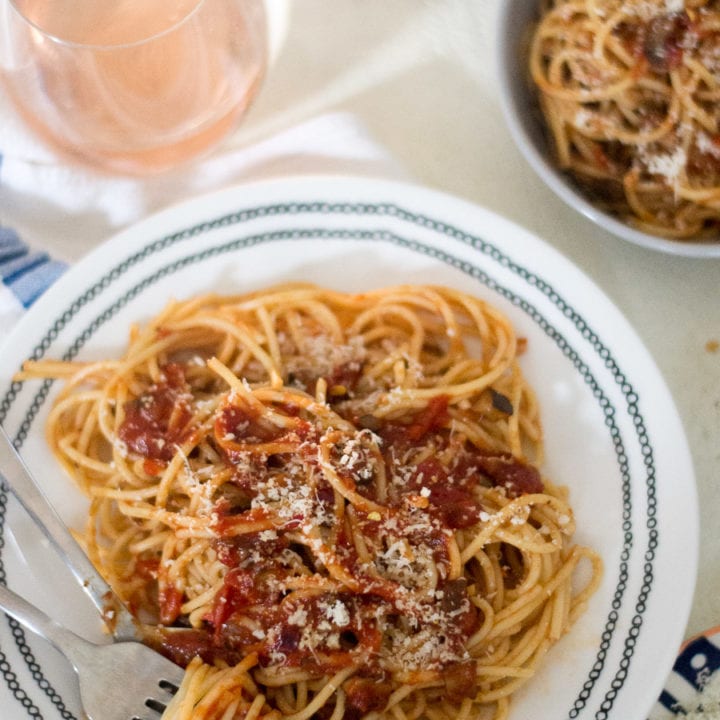 Easy Meatless Mushroom Bolognese
Thick and hearty mushroom based pasta sauce packed with lots of umami flavor.
Ingredients
1/4 cup extra virgin olive oil
8oz Baby Bella Mushrooms or Button Mushrooms, stems removed and diced
1 small yellow onion, diced
5 garlic cloves, minced
2 tbsp balsamic vinegar
1 tsp Worcestershire*
1/2 tsp Crushed Red Pepper Flakes
1 tsp salt, plus more to taste if needed
1/4 tsp black pepper
1/2 tsp dried oregano
1, 24 oz can crushed tomatoes
1/2 cup vegetable stock
Instructions
Heat olive oil in a large pot or Dutch oven over a medium/high flame. Once the oil is shimmering, add the mushrooms. Sauté for about 10 minutes stirring every once in a while to evenly caramelize.
After 10 minutes, add the onion. Cook for 5 more minutes.
Mix in the garlic, balsamic, Worcestershire, crushed red pepper, salt, pepper, and oregano. Reduce the heat to medium/low. Cook for 5 minutes.
Add in the tomatoes and stock. Mix to combine.
Cover partly with a lid and simmer for 10-15 minutes. Add more salt and pepper to taste.
While the sauce simmers cook up your favorite pasta.
Notes
*If you are looking to make this completely meat free and vegan, look for a vegan Worcestershire sauce because most on the market contain fish sauce. Or if you can't find a vegan option, just add a little soy sauce or skip all together.
Recommended Products
As an Amazon Associate and member of other affiliate programs, I earn from qualifying purchases.