Quick pickled red onions are my favorite topping for everything from tacos to avocado toast. It is super easy to learn how to make them. This recipe makes two batches with the same jar of pickling liquid.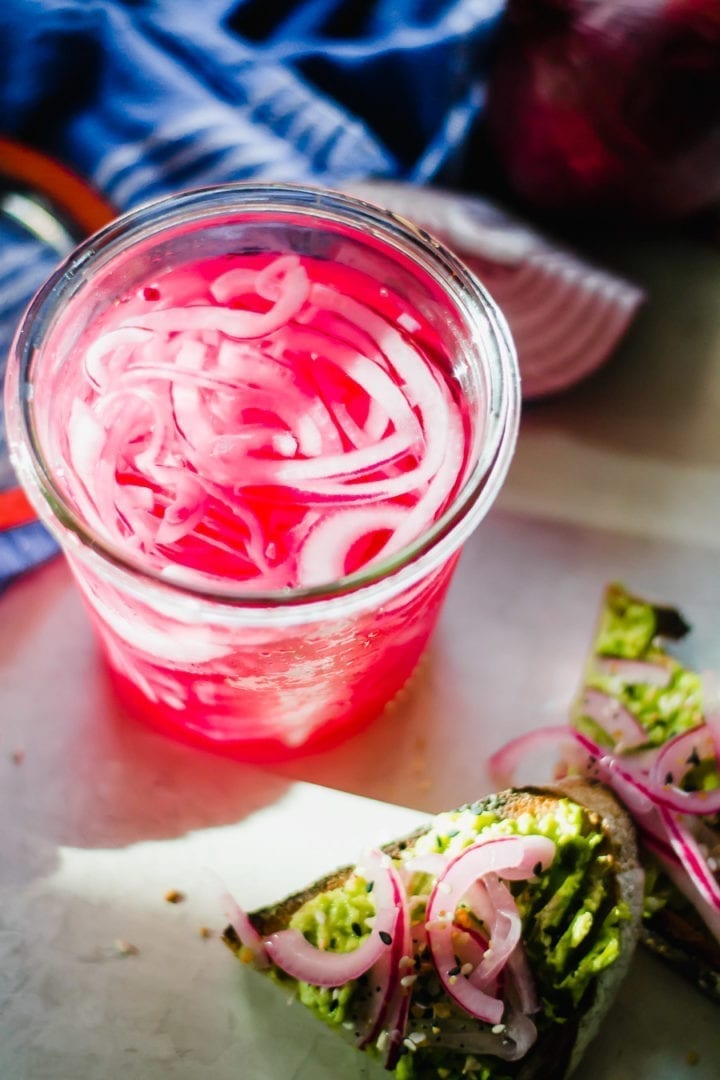 My favorite breakfast every single day of the week aside from weekends is a jammy egg and a slice of sourdough with smashed avocado and pickled red onions.
You normally see these breakfast posts every morning on social media.
If it ain't broke, don't fix it.
Am I right?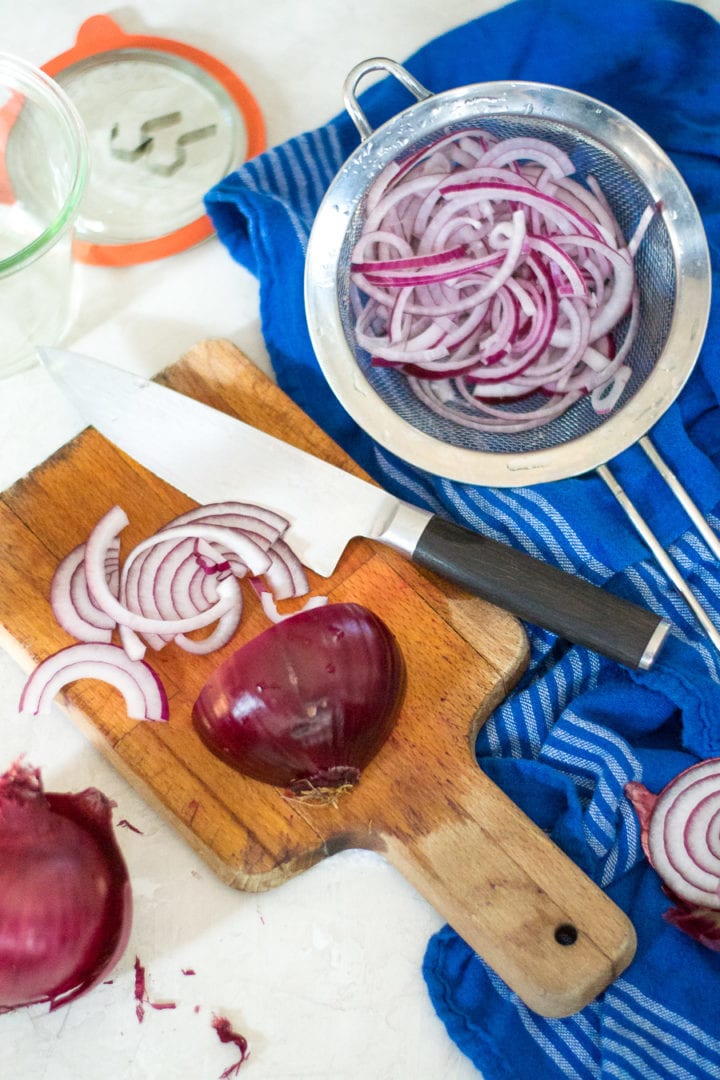 I get a lot of questions about the quick pickled red onions. How to make them? Is it hard to do? How long does it take?
I decided to take all these questions and do a post all about a quick pickled red onions how to.
First thing first, make sure your knife is super sharp.
It helps to slice through the onions quickly and reduce the amount of tear-inducing fumes released.
I learned that helpful trick from Phoebe and it definitely helps!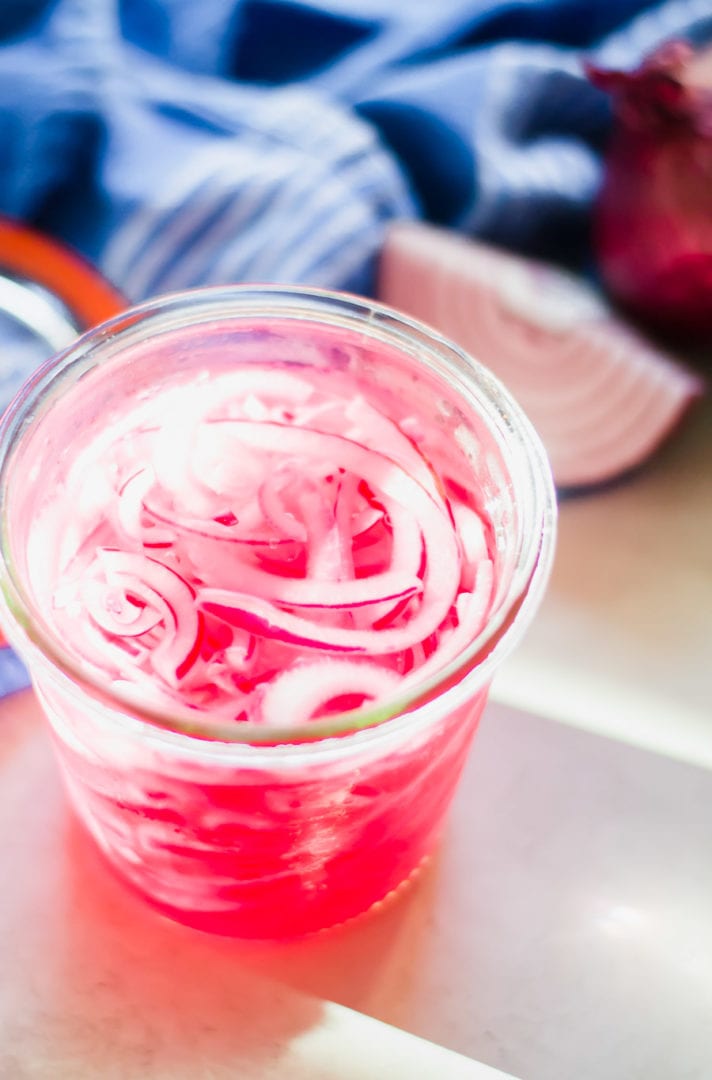 Secondly, get yourself a fine mesh strainer. Once you slice the onions, add them to the strainer, and run hot tap water over them for about 5 minutes.
While the onions break down a little, gather your vinegar and jar with a lid.
I like to use either white wine vinegar or champagne vinegar.
Add 1/4 cup of the vinegar to a wide mouth 16 ounce jar.
Squeeze the onions in the strainer and then add them to the jar. Top with water.
Cover with the lid and refrigerate for about 12-24 hours.
You should be good to go!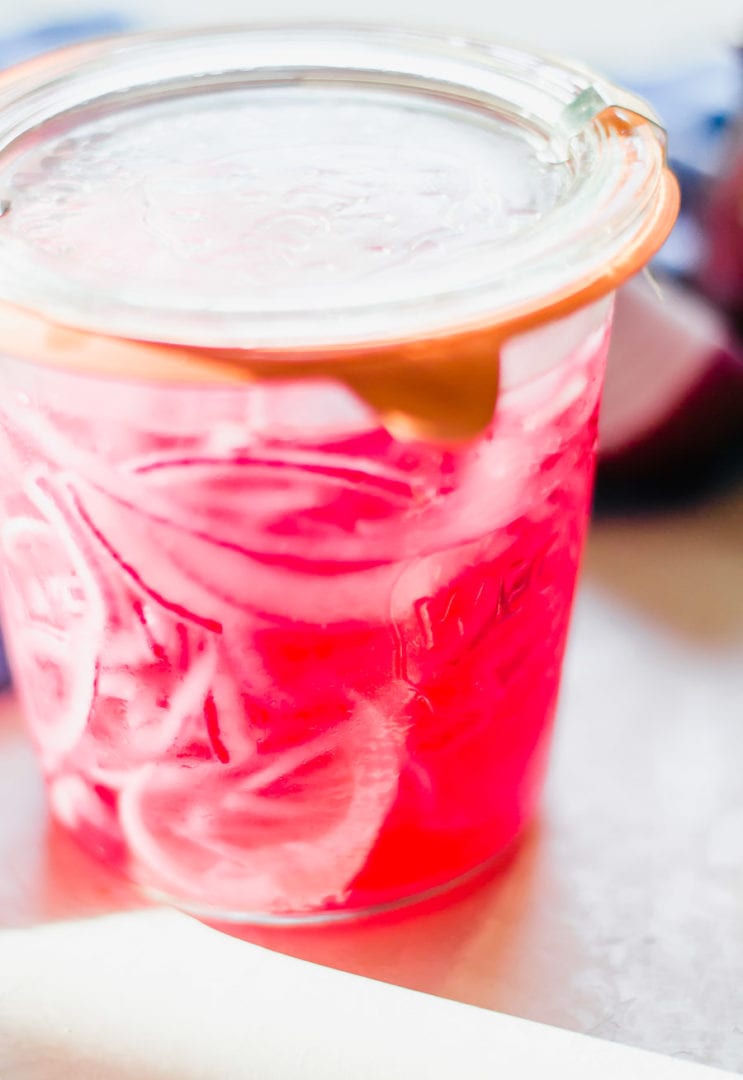 The great thing about this recipe and method is that once you run out of onions, you can slice more onions and reuse the pickling liquid a second time.
After the second use of the liquid, you will need to discard the pickling liquid and start over.
I hope you enjoyed this quick how to post.
Pickled red onions are going to be your new favorite taco, salad, sandwich, hot dog, and avocado toast topping too!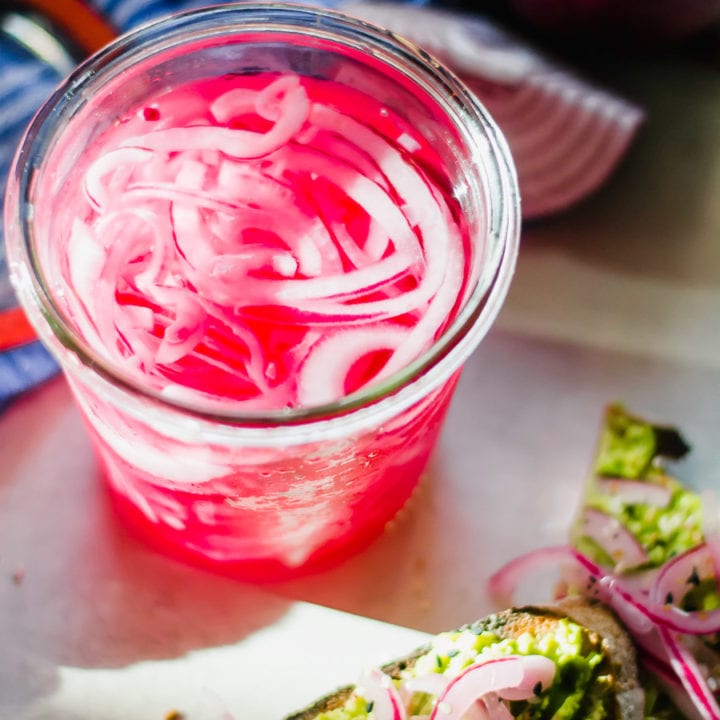 Quick Pickled Red Onions How To
Yield: 1, 16oz Jar

Prep Time: 10 minutes

Cook Time: 12 hours

Total Time: 12 hours 10 minutes

All you need are three ingredients to make these super easy, quick pickled red onions.
Ingredients
1 red onion, peeled and thinly sliced
1/4 cup white wine vinegar or champagne vinegar
water
Instructions
Peel a medium red onion. Slice it in half through the root side. Place the cut side down and slice the onion into thin 1/2 moon shapes.
Add the sliced onion to a fine mesh strainer. Run under hot water for 5 minutes, squeezing and tossing the onions every few seconds.
Add the vinegar to a 16oz wide-mouth jar with a lid.
Squeeze the onions and add them to the vinegar. Cover with water. Press the onions down gently to ensure they are all submerged. Cover with lid. Give it a gentle shake to combine the vinegar and water.
Refrigerate the onions for 12 hours. 24 hours is best but after 12 hours you can start to use them.
Notes
After you finish the first jar of pickled red onions do not discard thew liquid. Complete steps 1-2, 4-5 and just add them to the liquid already in the jar.
Recommended Products
As an Amazon Associate and member of other affiliate programs, I earn from qualifying purchases.