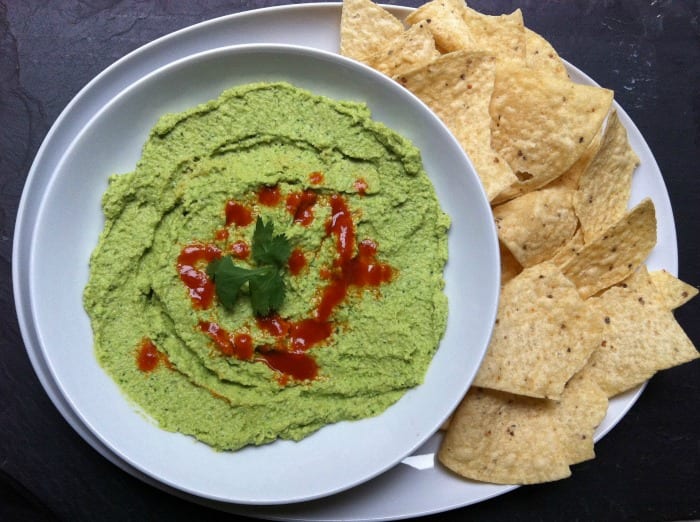 So, I know I said I was back and all that. But, that is only kind of true. I was back and now I am in (hopefully) sunny Key West celebrating the wedding of two of my close friends. I promise next Wednesday, back to blogging as usual. For the time being I have a few good friends who are willing to step in and ease your hunger for new recipes. First up is Julia. Take it away!
Hi Everyone! My name is Julia and I am visiting from A Cedar Spoon.
I am honored to be posting on Sarcastic Cooking, a blog I love to follow, especially for Stefanie's humor and creative recipes.  In this world of the Internet you usually don't get to meet those people you interact with over the computer.  Last August when I began blogging I came across Sarcastic Cooking and began following along and commenting on Stefanie's wonderful recipes.  Somewhere along the way we realized our worlds were very small and I actually worked down the street from where Stefanie lives.  Small world, right?
Recently I was lucky enough to meet Stefanie and Stephie (from Eat Your Heart Out) at a local Mexican restaurant.  It was so much fun to meet in person and get to know them better.
So now to the reason you are here! Today I am sharing with you Edamame Avocado Hummus.  The marriage of two of my favorite snacks—avocado and edamame.   It is versatile—can be used as an appetizer at a party with chips or pita chips, as a spread on a sandwich or a quick snack with carrots.  I added sriracha to give it a little spice but feel free to modify that depending on your taste buds.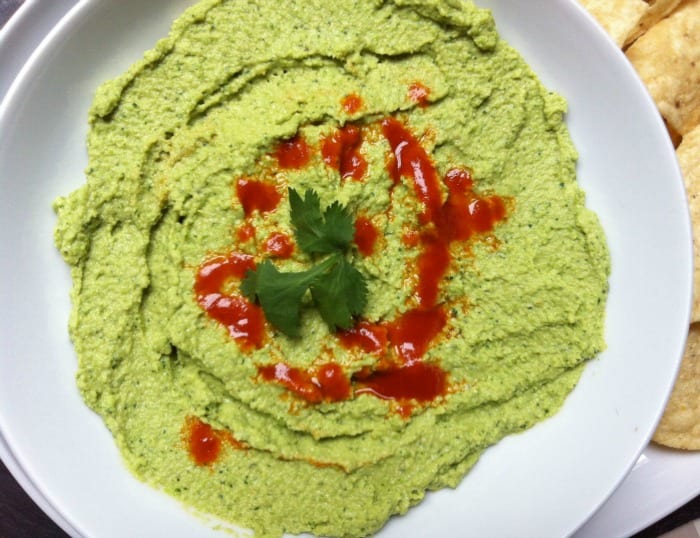 This recipe is really easy to make and basically involves cooking your edamame and then throwing everything in a food processor. Perfect for those busy summer days.  Oh, and it's very healthy so feel free to eat the whole bowl! 😉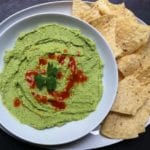 Edamame Avocado Hummus
Ingredients
10

minute prep

5

minute cook time

Serves 4-5

1

cup

of edamame

shelled

½

avocado

diced

½

cup

cilantro

1

lime

juiced

1

tsp

Siraracha

more for garnish

¼

cup

non-fat plain Greek yogurt

1

tsp

salt

½

tsp

pepper

¼

cup

cold water

2

Tbsp

extra virgin olive oil
Instructions
Heat water in a small pot until it comes to a boil. Add edamame and cook for five minutes.

Drain and add to a food processor.

Add avocado, cilantro, lime juice, Siraracha, Greek yogurt, salt and pepper and blend until it begins to get smooth. Use a spatula to wipe the sides down.

With the food processor running slowly add the olive oil and then the water until you reach a smooth consistency.

Serve with chips, pita chips, vegetables or on a sandwich.