Need a quick last minute appetizer? Grab some puff pastry, butter, and some everything bagel seasoning to make these easy everything bagel twists. Serve them alongside some cheese and fruit for an easy appetizer.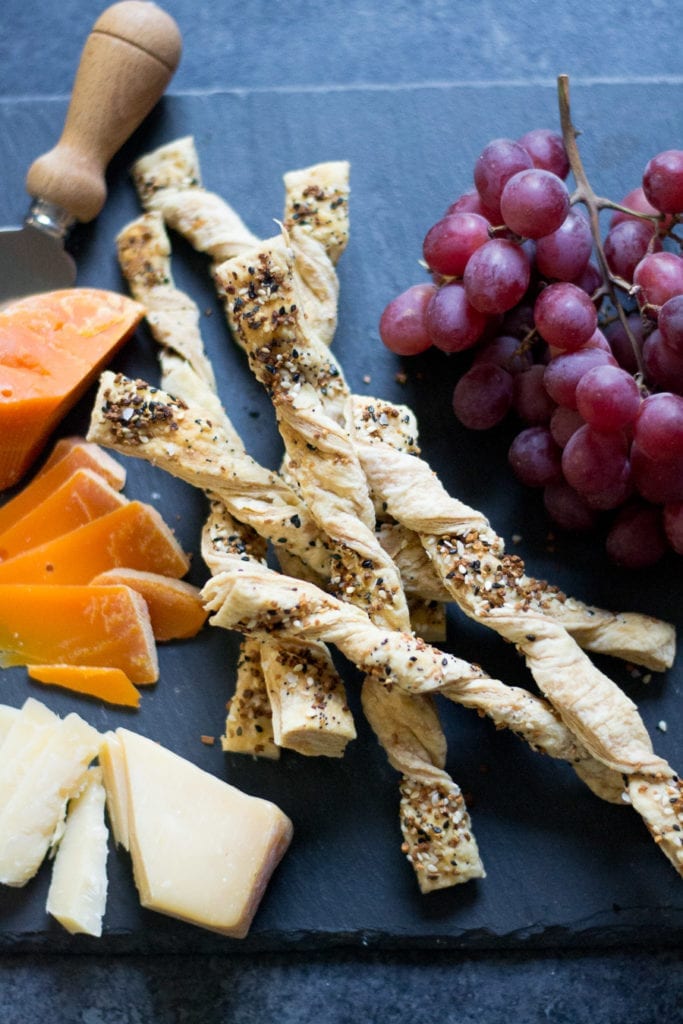 By now, a few days pre-Thanksgiving, you should have the entire menu planned out. You most likely know which side dishes, potatoes, and of course what sort of turkey you're making for Thanksgiving. I would have a hard time narrowing down side dishes.
That's why I don't do Thanksgiving. I go to Thanksgiving.
The one thing you may still be struggling to figure out is the appetizer and snack situation.
Should you even serve a snack? Will it fill everybody up too much before the main event?
I say it's better to offer a snack or light appetizer if only to occupy people so you can focus on getting dinner out and on the table.
Some of my favorite, easy go to appetizers that can be thrown together at the last minute are a little snack board or cheese board. You can do a big seasonal fall cheese board. You could throw out some pre-sliced cheese, hard salami, pepperoni, dried apricots, and homemade dill pickles.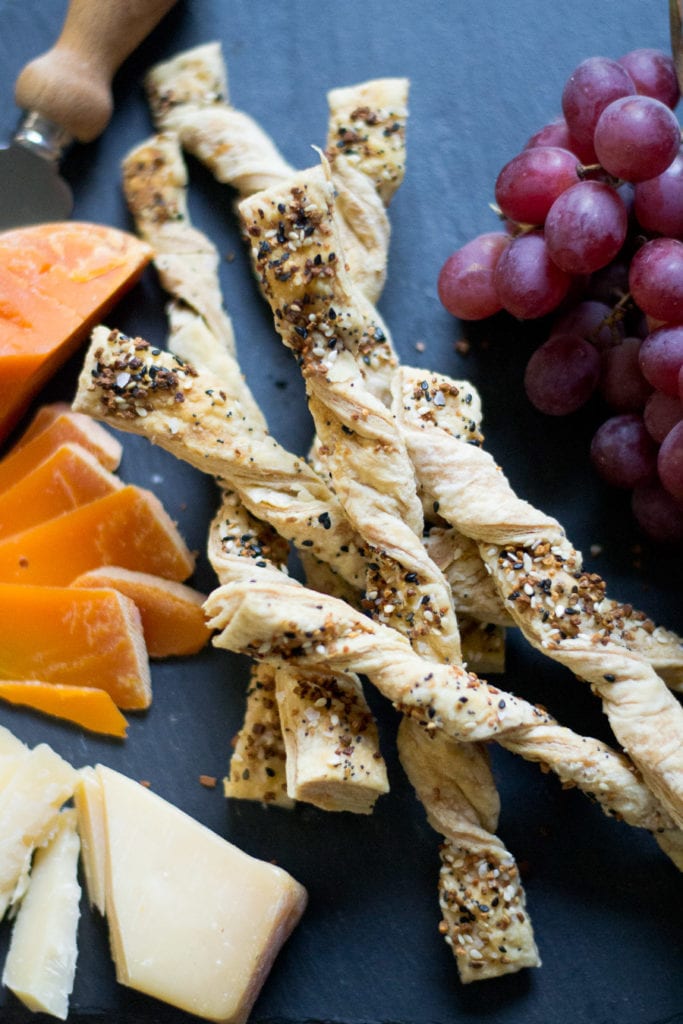 It doesn't have to be too crazy.
I know when you see these bloggers doing full-table cheese boards, it can seem a little overwhelming and hard to bring to fruition.
It doesn't have to be that way. Pick a cheese, fruit, spread, pickle, and a cracker. That's the easiest scenario.
My cracker or straw or twist… Whatever you call it is these easy everything bagel twists are made with three ingredients! They bake up really quickly so you can do them the day before or wait until the last minute.
Store-bought puff pastry lightly coated in melted butter, topped with everything bagel seasoning, and then twisted and baked until crisp. They look way fancier and more complicated than reality.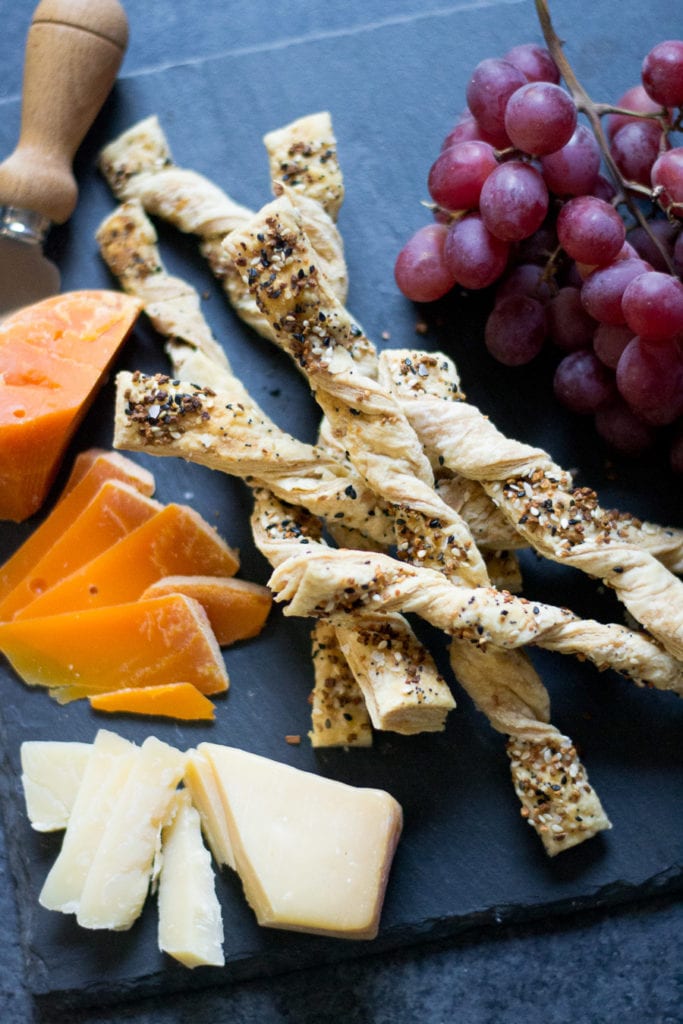 Another great last minute appetizer is a cheese ball. The cheeseball would be great with these crackers or just some good ol' Ritz thrown out next to it.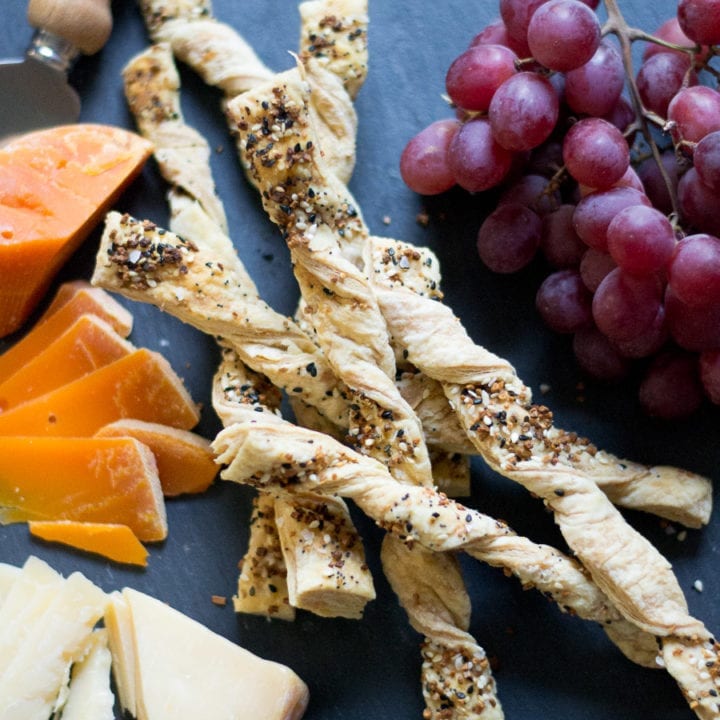 Easy Everything Bagel Twists
Puff pastry coated in butter and everything bagel seasoning is twisted and baked until crisp.
Ingredients
Everything Bagel Seasoning
1 Sheet Frozen Puff Pastry
2 tbsp unsalted butter, melted
Instructions
Preheat the oven to 350 degrees F. Line a large baking sheet with parchment paper or a silicone baking mat.
Allow the puff pastry sheet to slightly thaw for a few minutes, enough so you can unroll it without it cracking.
Brush the sheet of puff pastry with butter in one even thin layer. If you don't use all the butter that is ok.
Sprinkle generously with everything bagel seasoning.
Use a pizza cutter to cut the sheet width wise into 12 even strips. Twist the strips sort of like a party streamer and then transfer to the prepared baking sheet.
Bake for 8-10 minutes until golden.
Store in a sealed container or bag at room temperature for 3 days.