White wine pumpkin pie sangria is perfect for the holidays. It combines white wine, bourbon, pumpkin, and spices to make a festive drink.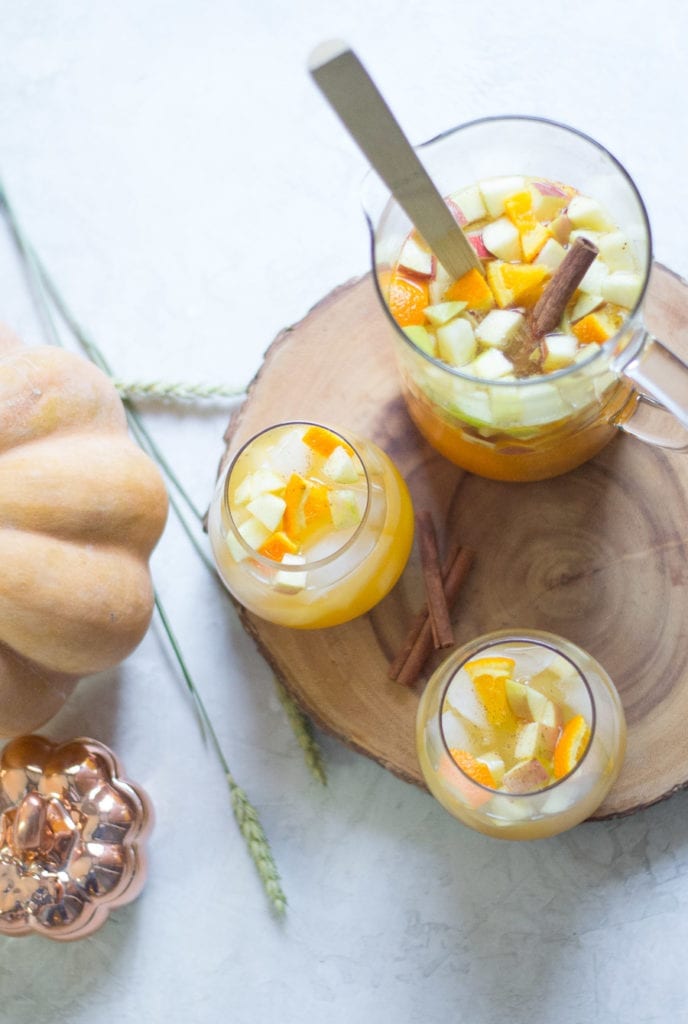 Are you over my bombardment of Thanksgiving Day recipes yet? I hope not because I have a few more for you this week. We are kicking things off with a cute and festive little drinky poo. You are going to love this combination of flavors.
It's just the right balance of sweetness and spices and not too boozy.
Generally speaking, I am not a pumpkin pie fan, however, pumpkin in drinks I can get down with! Pumpkin spice sweet cream cold brew from Starbucks was my favorite seasonal coffee drink this year. It definitely beats out the classic PSL.
Sorry for getting distracted by other pumpkin drinks. Let's get to this one!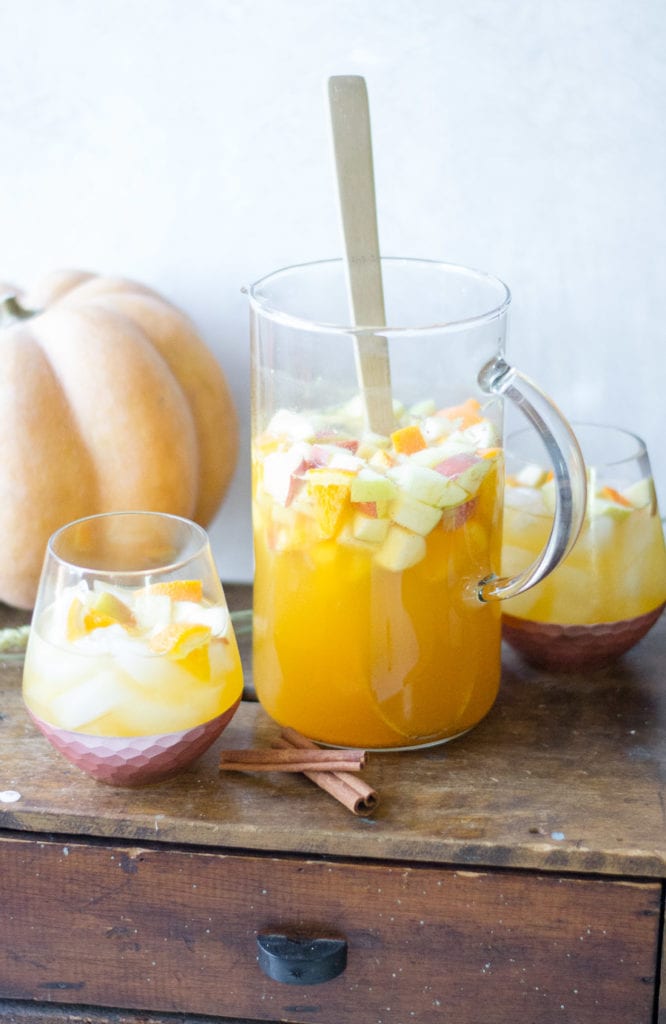 White wine pumpkin pie sangria is so easy to throw together at the last minute. Mix a bottle of sauvignon blanc with some pumpkin puree, bourbon, maple syrup, cinnamon, nutmeg, orange juice, and a can of your favorite LaCroix. Throw in some chopped seasonal apples and a few orange slices. It is good to go!
The color is so pretty and perfect served over ice. If you want to be a little extra fancy, the glasses can be rimmed with brown sugar or some vanilla sugar for an extra little touch. I didn't do it but totally wish I did after I took these photos.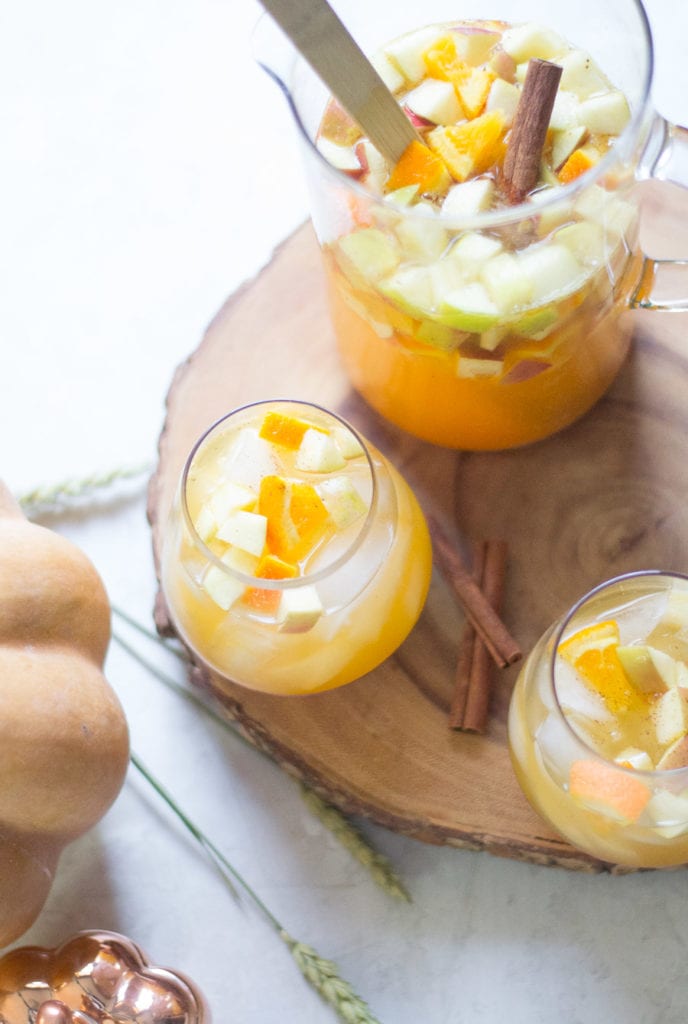 Sangria is always great to offer at parties or gatherings. It can serve plenty of people and looks pretty out on the table. I also recommend setting up a little fall cheese board situation right next to this pretty pitcher of white wine pumpkin pie sangria.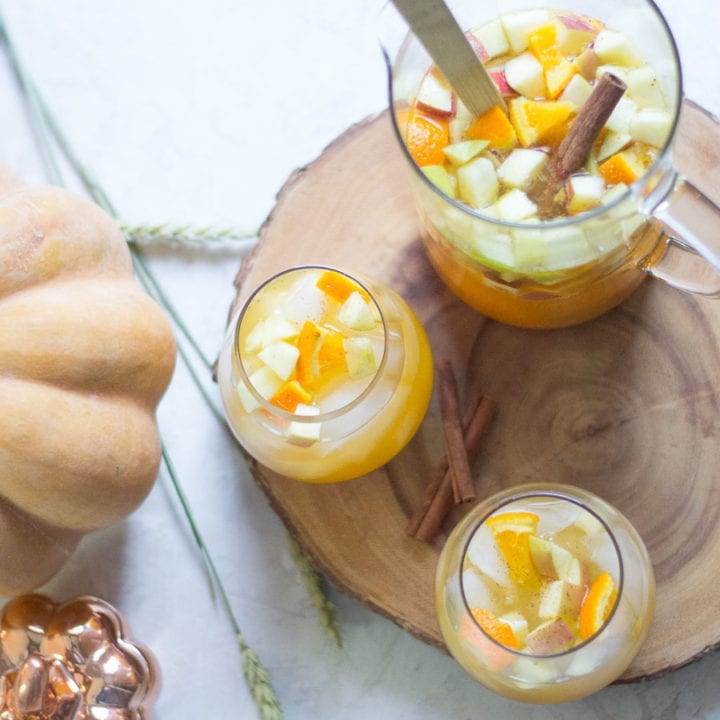 Pumpkin Pie Sangria
Yield:
Serves 4-6, Makes 1 Pitcher
White wine pumpkin pie sangria combines pumpkin puree, bourbon, maple syrup, orange juice, sparkling water, cinnamon, & nutmeg for a truly crowd-pleasing fall drink.
Ingredients
1 heaping tbsp pumpkin puree
1/4 cup bourbon
1/4 cup maple syrup
8 oz sparkling water, plain or orange
1, 750mL bottle of white wine like Sauvignon Blanc
1/4 tsp ground cinnamon
1/4 tsp ground nutmeg
juice from 1/2 an orange
2 apples, seeded and diced
1/2 orange, sliced
Instructions
Add the pumpkin puree, bourbon, maple syrup, water, wine, cinnamon, nutmeg, and orange juice to a large pitcher. Mix to combine.
Add the fruit to the pitcher. Stir and chill until ready to serve. Chill for at least an hour and up to 12 hours in advance.
Serve the sangria over ice.
Notes
If you make this ahead of time, the pumpkin and spices can settle so be sure to give it a good stir before pouring each time. I leave a wooden spoon in the pitcher so people sort of get the hint to stir.