Relationships with in-laws can be tricky. It is a balance of knowing what to say and how to act or what to hold inside and vent to your husband about later. Not that I have any reason to do that, just sayin, maybe some of you out there do.
Two summers ago, I was headed out on my first family vacation with my soon-to-be husband's family. Even though I totally could not ask for better in-laws, I was still nervous about an entire week away with them in the Wisconsin Dells.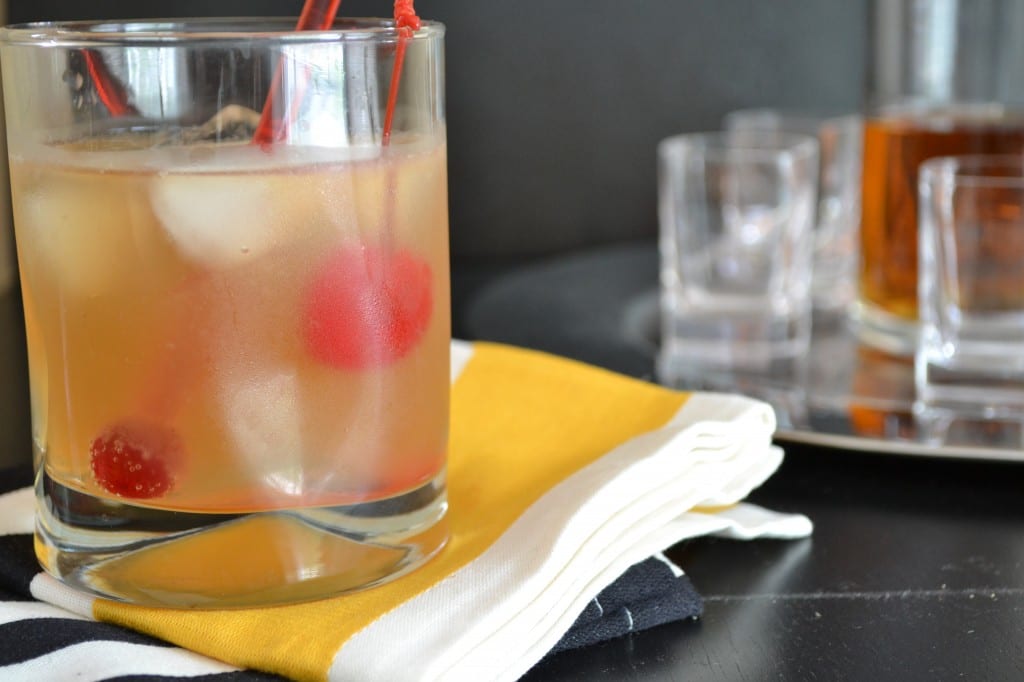 Mike and I drove up a little later than everybody else. Once we got over the Illinois and Wisconsin border, we stopped at a liquor store to pick up a few staples Mike's family had forgotten.
Did you know that in Wisconsin they sell cheese in liquor stores? Me neither! That is why, when I walked into the store and saw cheddar cheese curds for sale, I was like, "What the what??? Heck Yeaaaaaahhhhh!" And then all of my nerves were momentarily calmed.
We headed back to the room to get settled. Little did I know, but Mike and I had picked up all of the Old Fashioned ingredients during our visit to the cheese and liquor store. I have never had an Old Fashioned before, but this was, and still is, his family's nightly Wisconsin Dells tradition. They all sit around the fire and play games while drinking Old Fashioneds. After tasting the surprisingly fruity concoction, I was all in!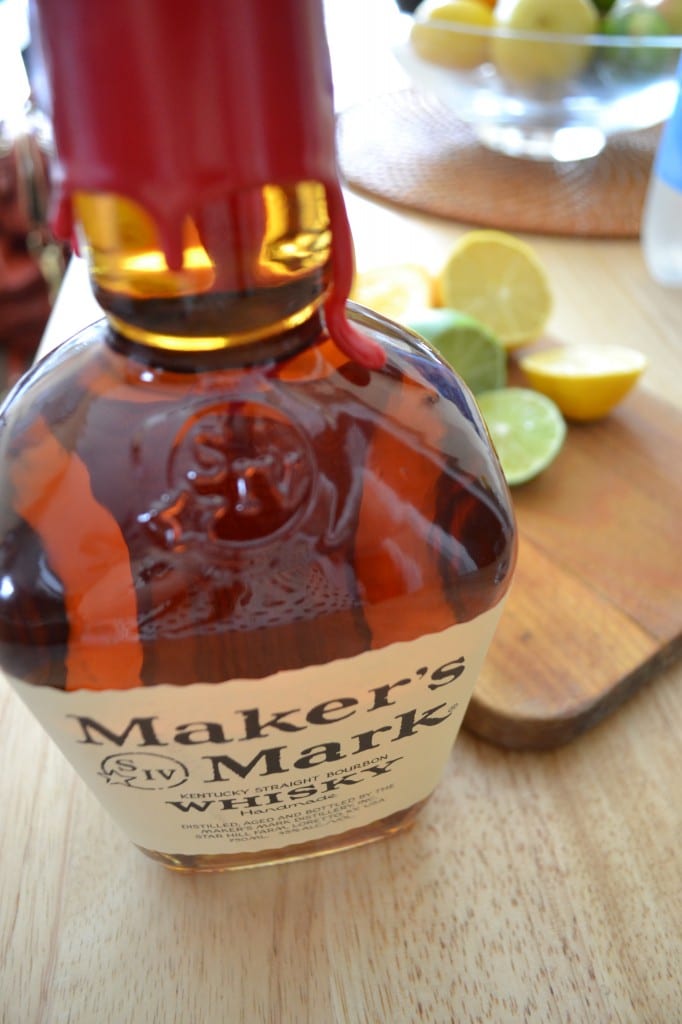 We had a great few days of lying out by the pool and then cooking dinner together. A few days into the trip we had headed into the downtown area. We visited the candy shoppes (that's how they spell it up there) and little knick knack stores. While inside one of the candy shoppes, Mike and I bought our niece Kate a candy necklace after her strong suggestion to do so.
After that night was when I really felt a strong bond start to form between me and my niece. The next day we played in the pool and then before we went to sleep, I was holding her in my arms and she straight up licked me—right up the side of my face. I was trying to hide my disgust, when Beth, Mike's sister, said "Awwww! Kate only licks people she really likes. That was a big lick, she must really like you!"
I felt like the Grinch for a second. How could I think thoughts of disgust about my sweet Cindy Lou Who niece? My heart grew five sizes bigger that day.
Then the next day, a terrible storm passed through. It was thunder storming all day. I was kind of grumpy about this fact, not gunna lie. I showered, did my hair, and refused to go out into the rain storm.
Mike, his sisters, and their husbands were going to weather the storm and head to the hot tub with a box of wine. I was not having it. I showered and I didn't want to do it again and then re-do my hair for dinner. I know it sounds dumb, but I truly hate showering. (We can get into that weird fact about me another time).
While Mike, his sisters, and their husbands were out at the hot tub and I was back in the room reading, this feeling came over me. I thought, "Why are you in here alone, dummy?" It was a simple thought, but that was all it took. I immediately shimmied into my swimsuit and bolted out the door into the rain.
My perfect hair was instantly ruined, but I ran around the corner of the hotel and as soon as I saw Mike, his sisters, and their husbands cheering, I knew this was the right thing to do. Even though I was soaked and looked like a fool, it was one of the best memories ever! Turns out all those nerves were for nothing.
Now, every time I drink an Old Fashioned, I think of the Dells. I think about becoming closer with Mike's family. I think about Kate licking me on the face. I think about all the laughs we had while being the only craze-o's out in the hot tub during a thunderstorm and I look forward to the next trip and the next great memories I will come away with.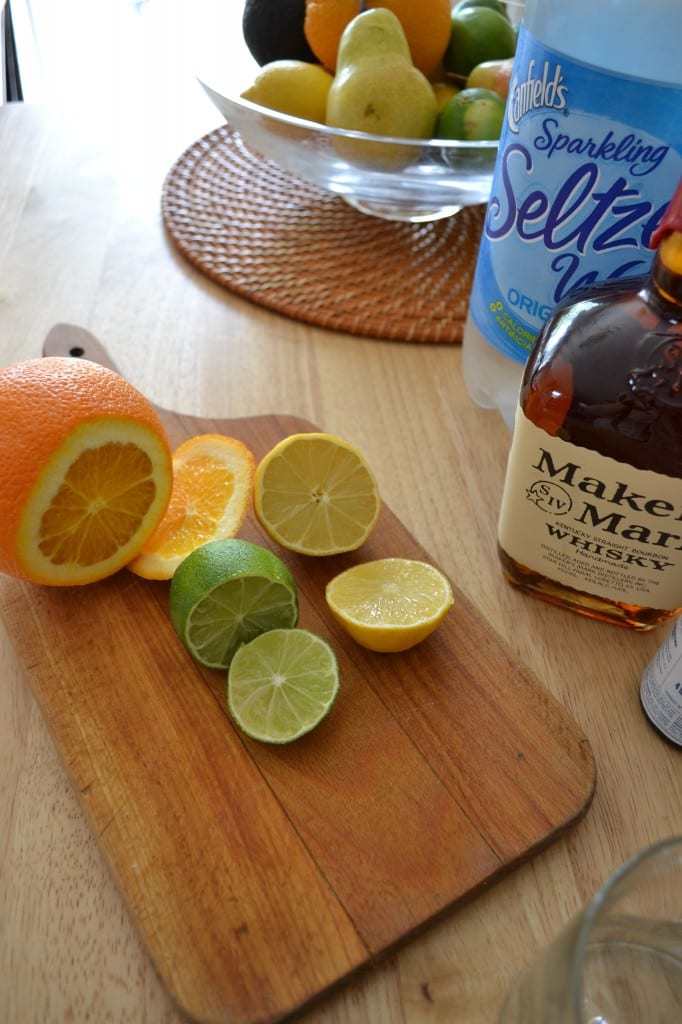 Ingredients (Makes 1 Cocktail)
2 ½ Ounces Whiskey (Makers Mark or Canadian Club)
1 Ounce Fresh Squeezed Orange Juice
1 Ounce Fresh Squeezed Lime Juice
1 Ounce Fresh Squeezed Lemon Juice
3 Ounces Club Soda
A Few Drops Bitters
Four or Five Ice Cubes
A Maraschino Cherry for Garnish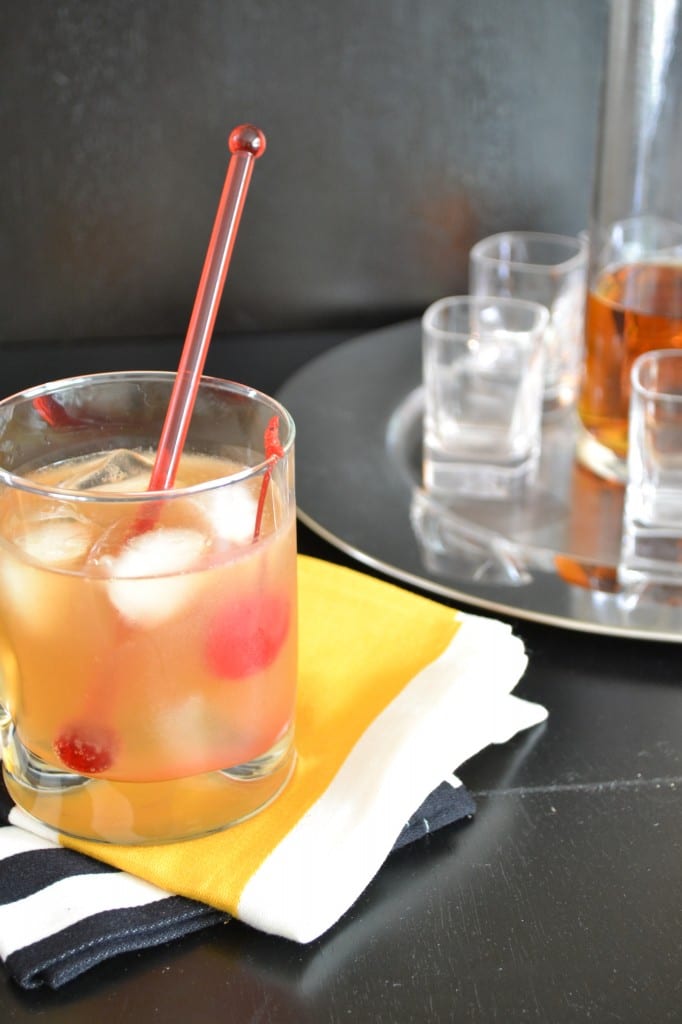 Super simple; combine whiskey, orange juice, lime juice, lemon juice, club soda, and bitters in an old fashioned or highball glass. Stir to combine. Add Ice, the cherry, and bam! You're done and ready to go make some memories!