Mango sunrise cocktail has all the beautiful colors of a sunrise and all the tropical flavors of Hawaii. The cocktail is made with Somrus mango cream liquor, rum, grenadine, lime juice, and mango nectar. The Somrus Mango Cream Liqueur is whipped together with egg whites which adds a frothy almost milkshake like flavor when everything is mixed together.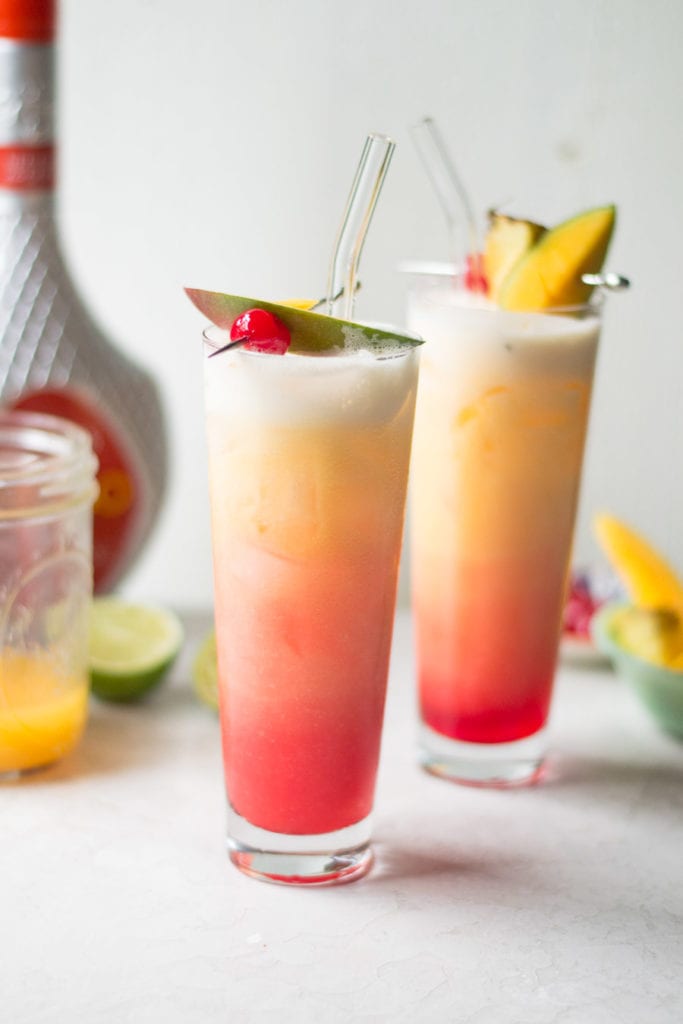 Disclaimer: This is a sponsored post. I was paid by Somrus to craft specialty cocktails and recipes using their product. All opinions and wording in this post are entirely my own.
Hawaii. It's right up there with Italy on my bucket list. Ever since I can remember I have always wanted to visit the islands. I might have to make a sojourn to my parent's house and check my junior high diaries for confirmation on that.
This summer seems to be the time in people of my certain age's life for them to visit Hawaii. Three different bloggers have gone, our friends went, and lastly my sister-in-law and her husband are heading there TODAY.
Jealous much?
No. Not me. Maybe only like 25% jealous. Fear not, I'll get there one day.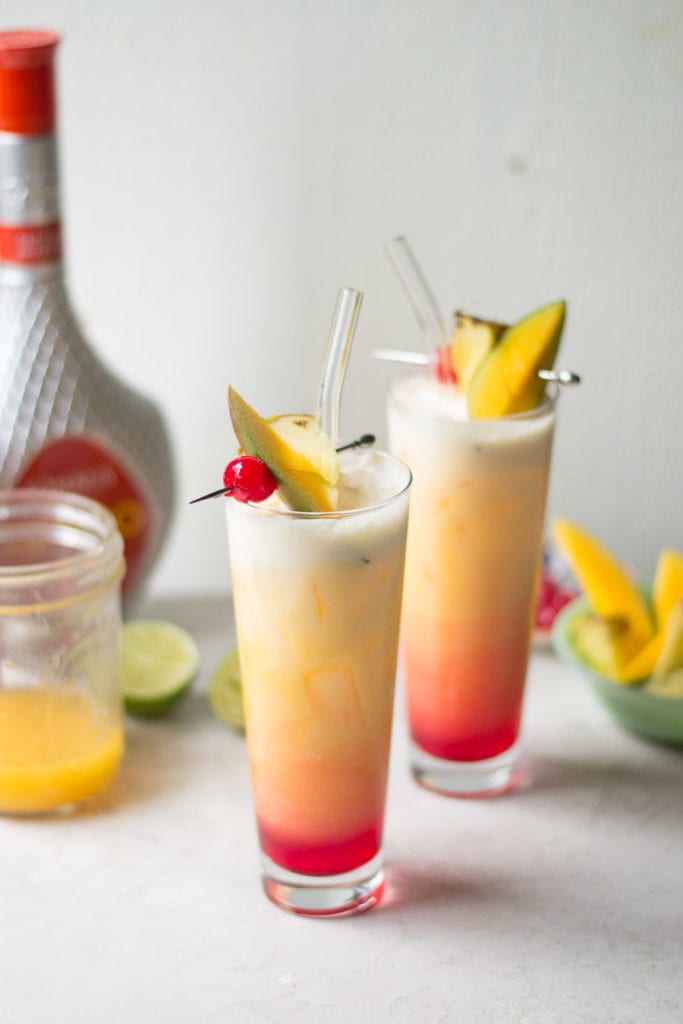 In the meantime, I was given a few bottles of this mango liqueur from Somrus. I was shocked at how light and easy this liqueur tastes. It's so fruity and smooth you could drink it straight over ice. I sipped it and was like whoa, Hawaii in a glass! My brain started thinking of all the tiki kind of cocktails I wanted to make.
You guys know I am a beer loving girl. I am not a whip up a cocktail on the weekend kind of girl, mainly because I am lazy.
Sometimes I wanna just be like Jason Segel in Forgetting Sarah Marshall and bust out my blender and try all the fruity cocktails. "I'm on Sex and the City. Hey Miranda. I'm Samantha…" You guys know the scene. It's amazing.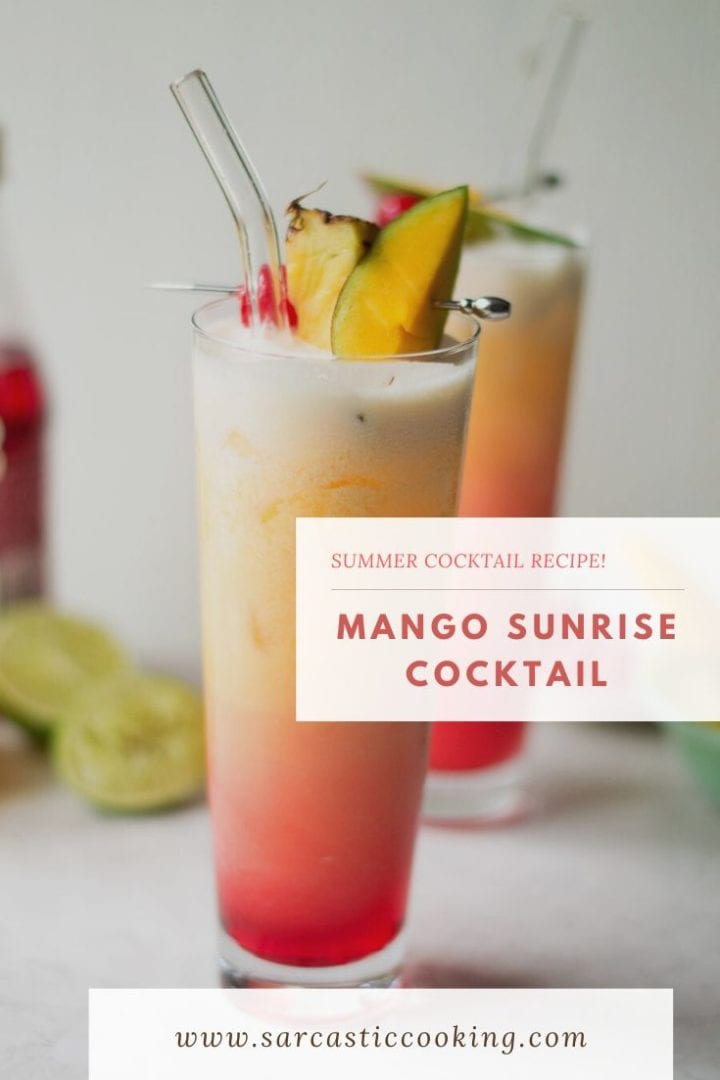 You know what else is amazing? This cocktail. The mango sunrise cocktail starts with a base of grenadine, then mango nectar with lime juice and rum. On top of that is the key to this recipe.
Egg whites are whipped together with Somrus Mango Liqueur to add a thick almost milkshake like quality to this drink when you mix it all together. It totally has that old craft tiki drink quality. You are going to love these.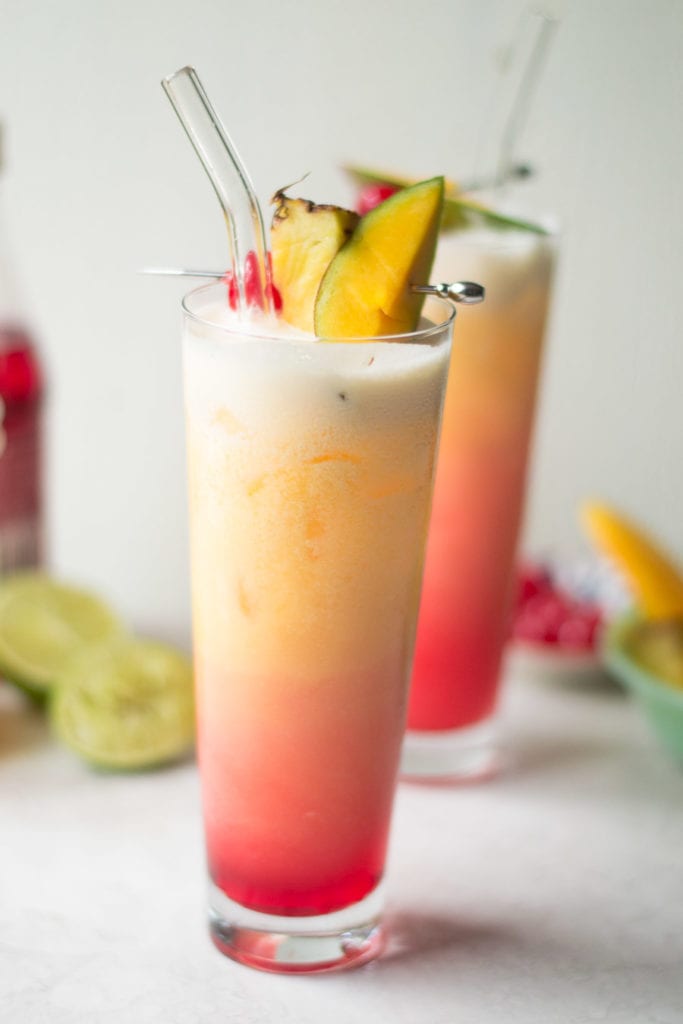 Take a quick trip to Binny's and grab bottle of Somrus Mango Cream Liqueur. Mix up a few mango sunrise cocktails and pretend you're in Hawaii for an afternoon.
Mango Sunrise Cocktail
Mango sunrise cocktail is layered grenadine, mango nectar, rum, lime juice, and a whipped egg white foam with Somrus Mango Cream Liqueur.
Ingredients
2oz Grenadine
2oz Light Rum
Juice of 1/2 a lime
8oz mango nectar/juice
2 egg whites
1.5oz Somrus Mango Cream Liqueur
Mango slices, pineapple wedges, and maraschino cherries for garnish
Instructions
Pour 1oz of grenadine into the bottom of two Collins glasses. Fill the entire glass with ice.
In a separate glass or pitcher, mix together the rum, lime juice, and mango nectar. Pour the mixture on top of the ice and grenadine.
Add egg whites and Somrus to a measuring cup. Use a milk frother or an immersion blender and whip the liquor and whites together for 3 minutes until they become very foamy.
Pour the foam on top of each cocktail. Use a straw and gently stir to combine. The colors will blend slightly.
Garnish with mango slice, pineapple wedge, and cherry.
Recommended Products
As an Amazon Associate and member of other affiliate programs, I earn from qualifying purchases.