When trying to come up with something truly great that doesn't cost a lot of money to give our mom for mother's day, a conversation worth repeating to all of you ensued between myself and my two brothers, Nick and Zack.
Z: You know what I think about all the time?
S: Hahaha! Don't even tell me. The water balloon incident!
Z: Yeah, what a great mom moment.
N: I can't believe the water balloon made it that far without breaking!
S: Why did we all think of that one random memory?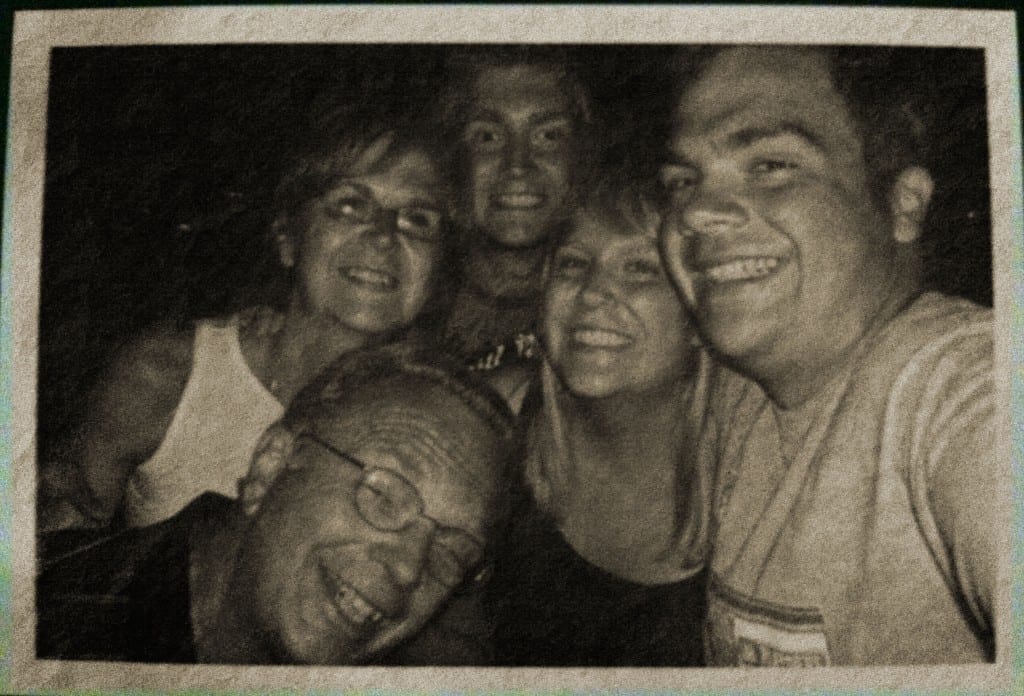 The summer before my brothers and I moved out of the house after college, we sometimes got bored and reverted to childish games, like water balloon fights just between the three of us or assembling a dangerous slip-n-slide through the bumpy yard. During a particular water balloon fight, we had this great idea to try and hit our mom with a water balloon. Our mom was working in the garden, about 30 yards away from the tree. We had one last balloon. Nick carefully calculated the distance, and while our poor unsuspecting mother was bending over gardening, the balloon hit her square in the back. I can still vividly remember the sound, and I'm sure she can too.
For a second we were silent, just waiting and watching her reaction. Our mom was such a good sport, as always. She slightly shook the water off and made some sort of noise of annoyance and then said, "It's so cold." Once we saw we were safe, we kids were cracking up. I swear I peed in my pants a little.
Through our collective reasoning, we determined that the reason this weird moment and memory of our mom sticks in our heads is that it was one of the last times we were all together under one roof.  We were all getting along, we were all laughing. Our mom made it very clear from a young age that even though we all may fight, family should always be there for each other. So, even though it was at our mom's expense, I think she wasn't mad because we were all together and getting along.
Don't worry, Mom. We will all always be there for one another.
N: Remember when we were hiking in Arizona and I was up on that rock ahead of all of you slowpokes?
S: Yeah. And remember what almost happened to you?
Z: You got a little too close to an eagle or hawk's nest and that eagle swooped out threatening to attack you.
(Collective Laughter)
S: Remember who was the one rushing to try and save you and not laughing their ass off at you?
N: Mom. Thanks guys, I see how it is.
Z: Mom tried to get to Nick but it was so hot and very steep so instead she started yelling at me! "Get up there Zack! Save my baby!"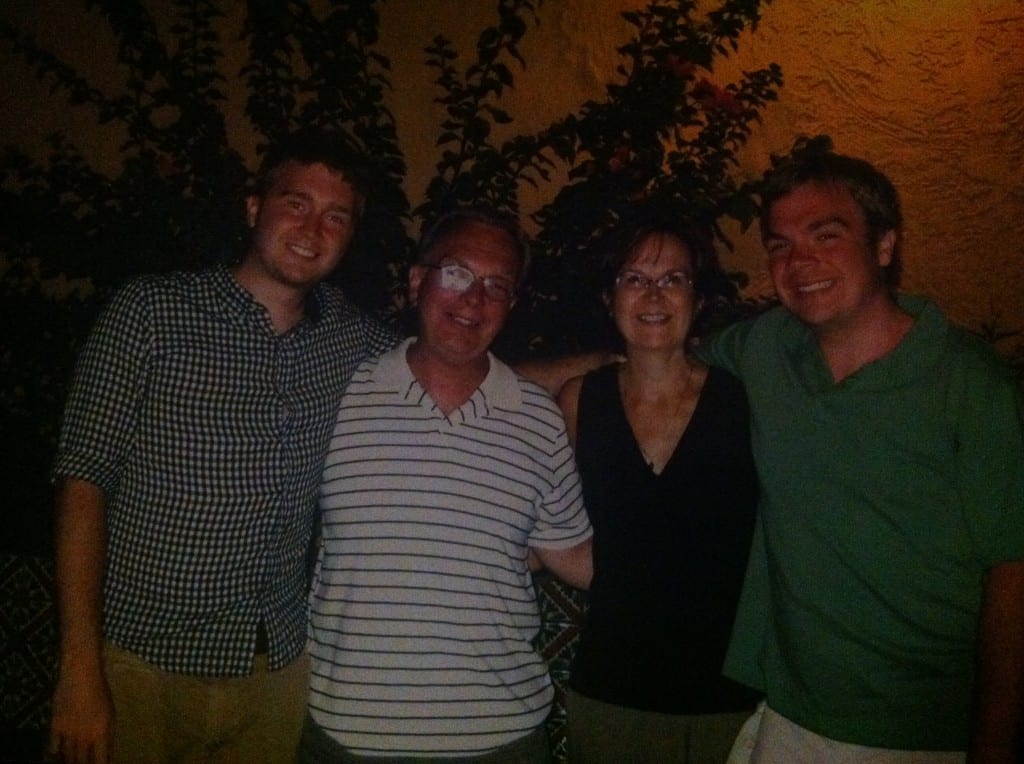 Needless to say the hawk did not attack Nick, but if it did, it had my Mom to answer to! Trust me, you do not want to be on the receiving end of one of her angry faces or God forbid the threat of the wooden spoon. Even though we have seriously pushed her buttons and made so many frustrating life choices through the years, our mom has and will always be there for us.
S: If I put this up on the blog, what would you guys want to say to Mom?
Z: Mom, I have had a lot of ups and downs while looking for teaching jobs this past year. Thank you for always listening and giving advice, even if I don't want to hear it.
S: Real nice Zack.
Z: Shut up, I have more. Mom, I appreciate everything you say and do for me and for all of us.
S: That's it?
Z: Ummm… Thanks for coming to all of my baseball games, supporting, cheering me on, and for not being the mom with the cowbell. Sorry about the water balloon. Love you, Special K.
S: Nick, what about you?
N: Even though I have a very head strong nature…thank you for always wanting the best for us and always watching out for me throughout my entire life. I love you very much.
So, now it is my turn, I guess.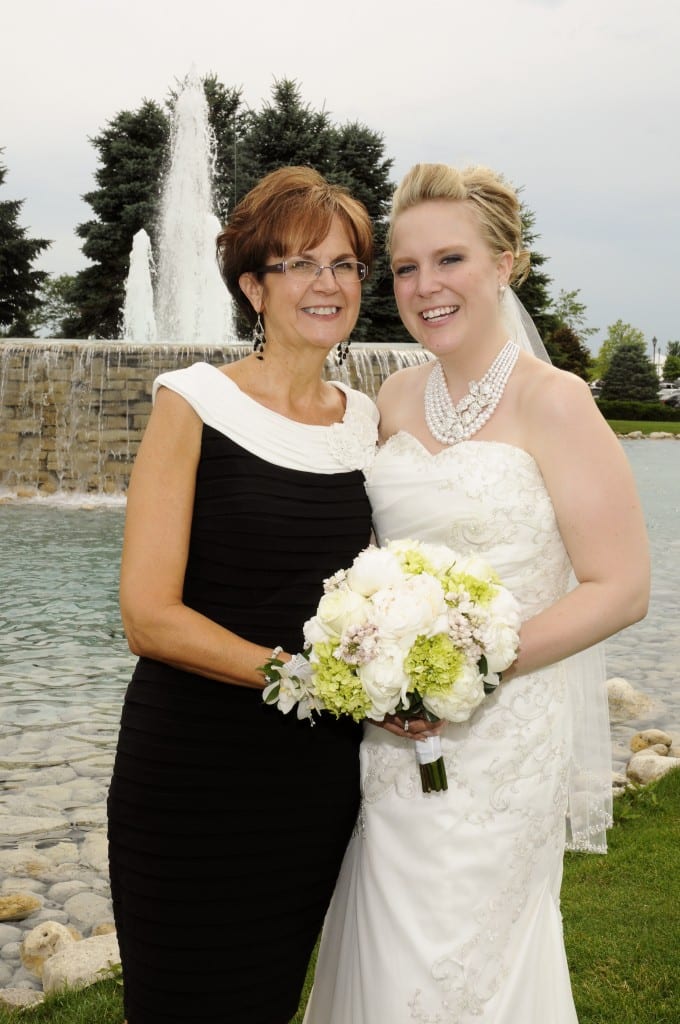 Mom, thanks for always supporting me. When I said I was starting this blog, even though you had no idea what a blog was or how this was going to turn into anything, you still tell everybody to read my writing every day and you let me raid your kitchen for any last minute cooking supplies.
Even though we all may not be pharmacists as you would have liked (or at least as financially stable as you would hope), I think you did a pretty damn good job raising us to be caring, understanding, and dependable adults. You are not only our mom but you are our friend… who just happens to be annoyingly right most of the time…
And also, you owe me big time because Nick and Zack wanted me to put a particularly unflattering picture of you making your mad face at us in Arizona and I told them that that would be mean. So, I'll add it to your tab.
Love you mom!
Ingredients (Makes 2, 6" inch Round Frittatas)
4 Ounces Cream Cheese
2 Tablespoons Greek Yogurt
2 Teaspoons Lemon Juice
1 Tablespoon Fresh Grated Horseradish
1 Teaspoon Fresh Dill, chopped
4 Ounces Smoked Salmon, coarsely chopped
1 Tablespoon Red Onion, diced
1 Tablespoon Capers, drained, rinsed, and chopped
6 Eggs
½ Teaspoon Salt
¼ Teaspoon Pepper
1 Cup Skim Milk (2% or 1% would be ok too)
Preheat the oven to 375 degrees F.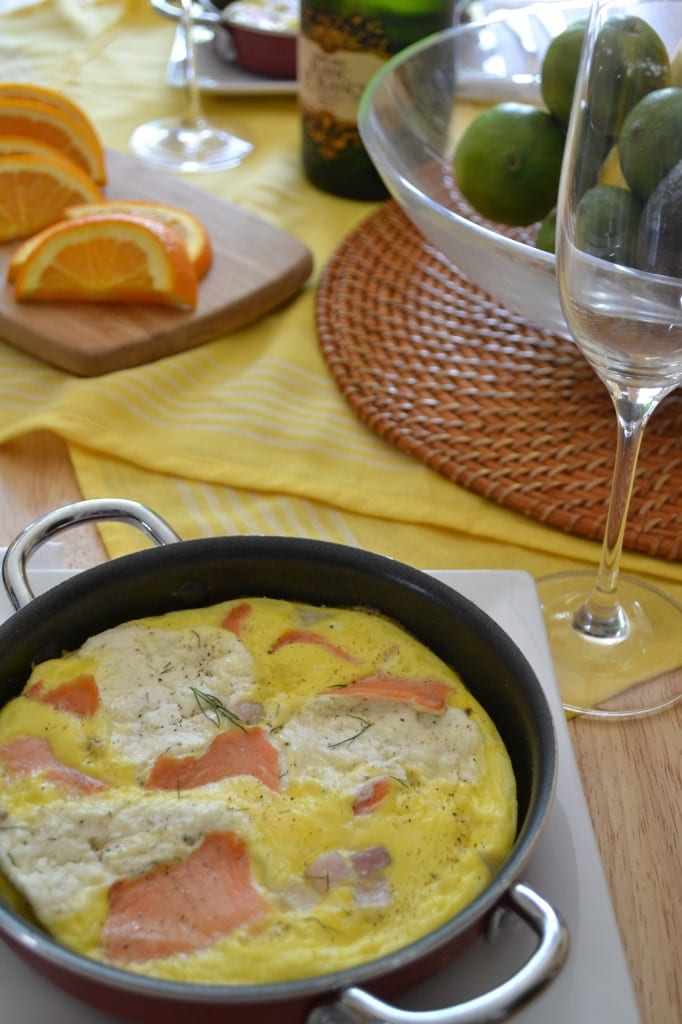 Combine the cream cheese, Greek yogurt, lemon juice, horseradish, and dill in a food processor. Puree until smooth and creamy.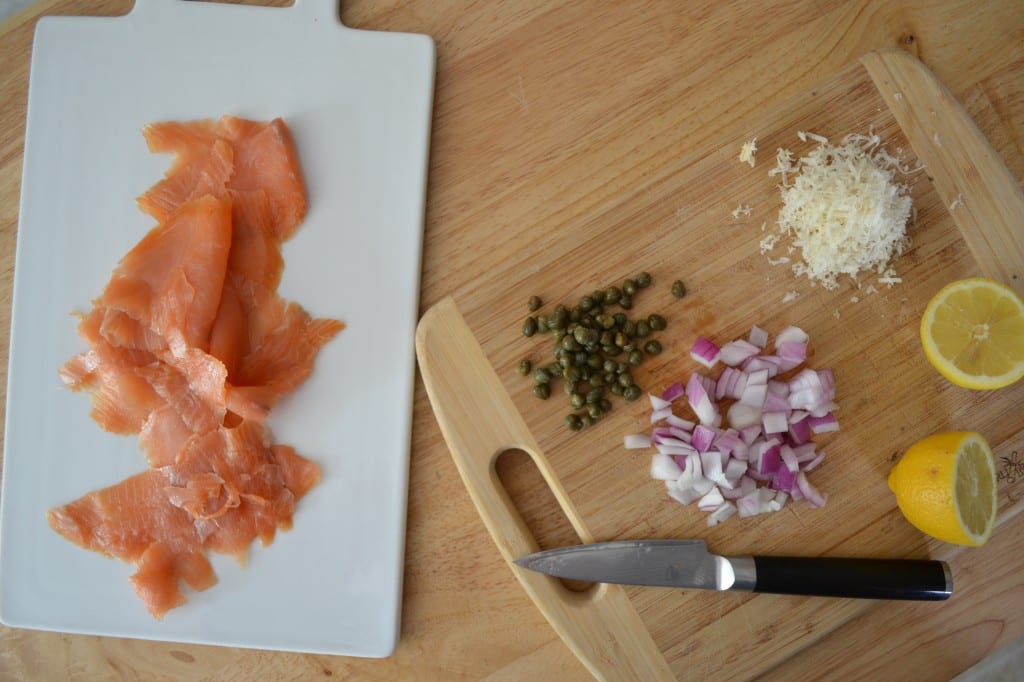 Whisk the eggs together with the milk, salt, and pepper in a medium mixing bowl. Add half of the egg mixture to each oven safe dish.
Place half of the diced capers and diced red onions into each dish. Gently arrange half of the chopped smoked salmon into each dish, having some of the pieces poke out of the egg mixture. Then place little teaspoon or tablespoon sized dollops of the cream cheese mixture through each frittata.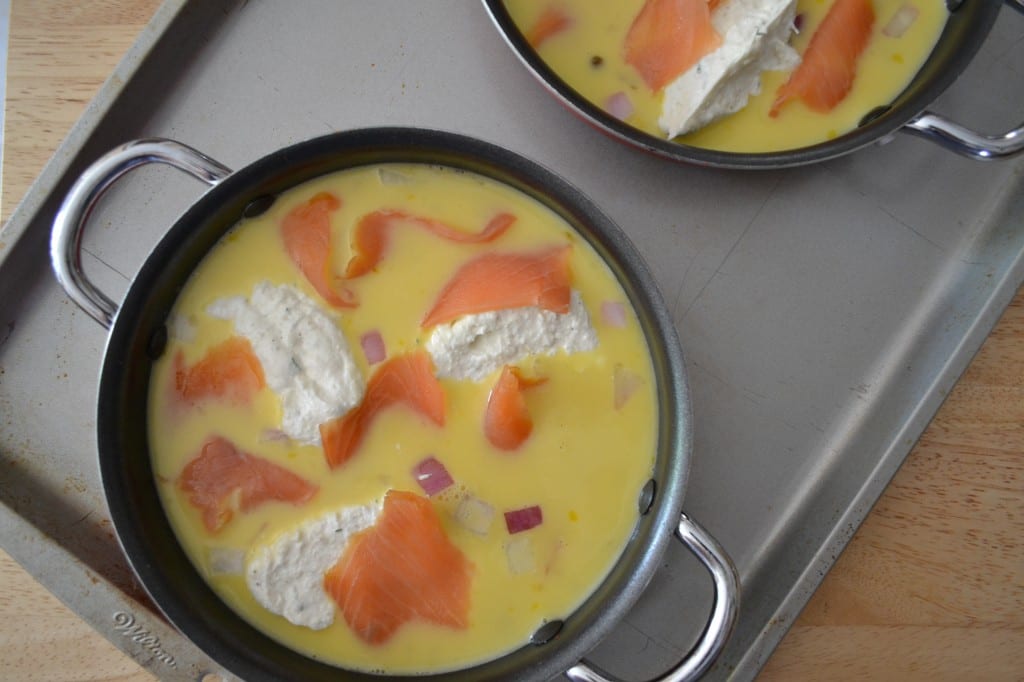 Place the frittatas in the oven and bake for twenty minutes. The frittatas will be light and fluffy. You don't have to flip the frittatas over and out of the pan; you can serve them right in the cute little dishes, less to clean up.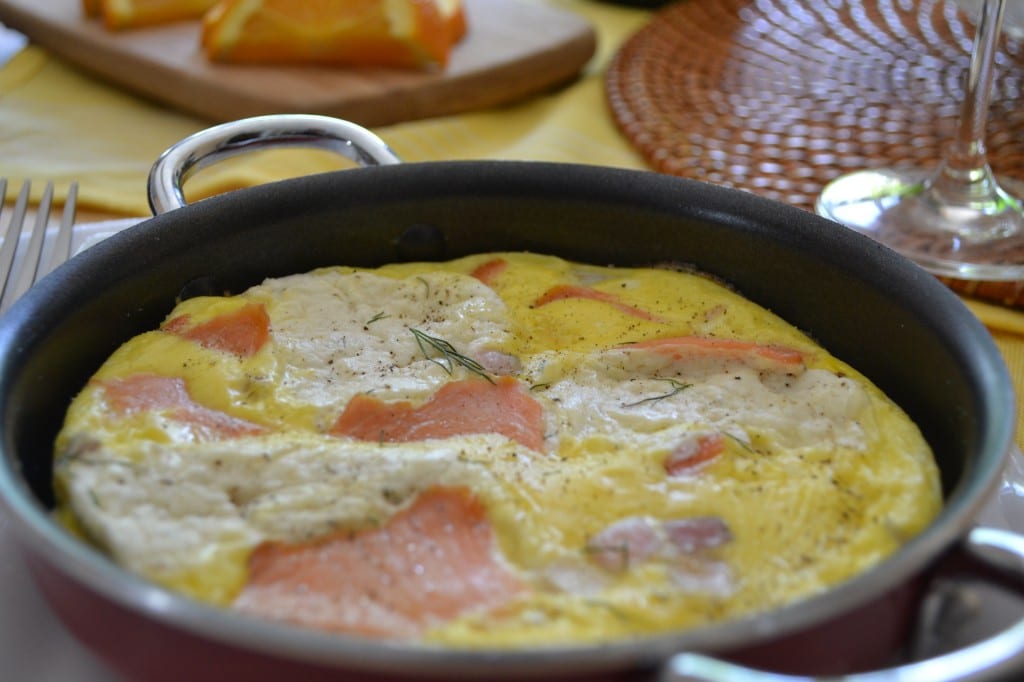 These frittatas will be sure to please any mom on Mother's day, and don't forget to have some mimosas on hand!
Recipe inspired by Tracy from Shutterbean and her Smoked Salmon Cream Cheese
Related posts: