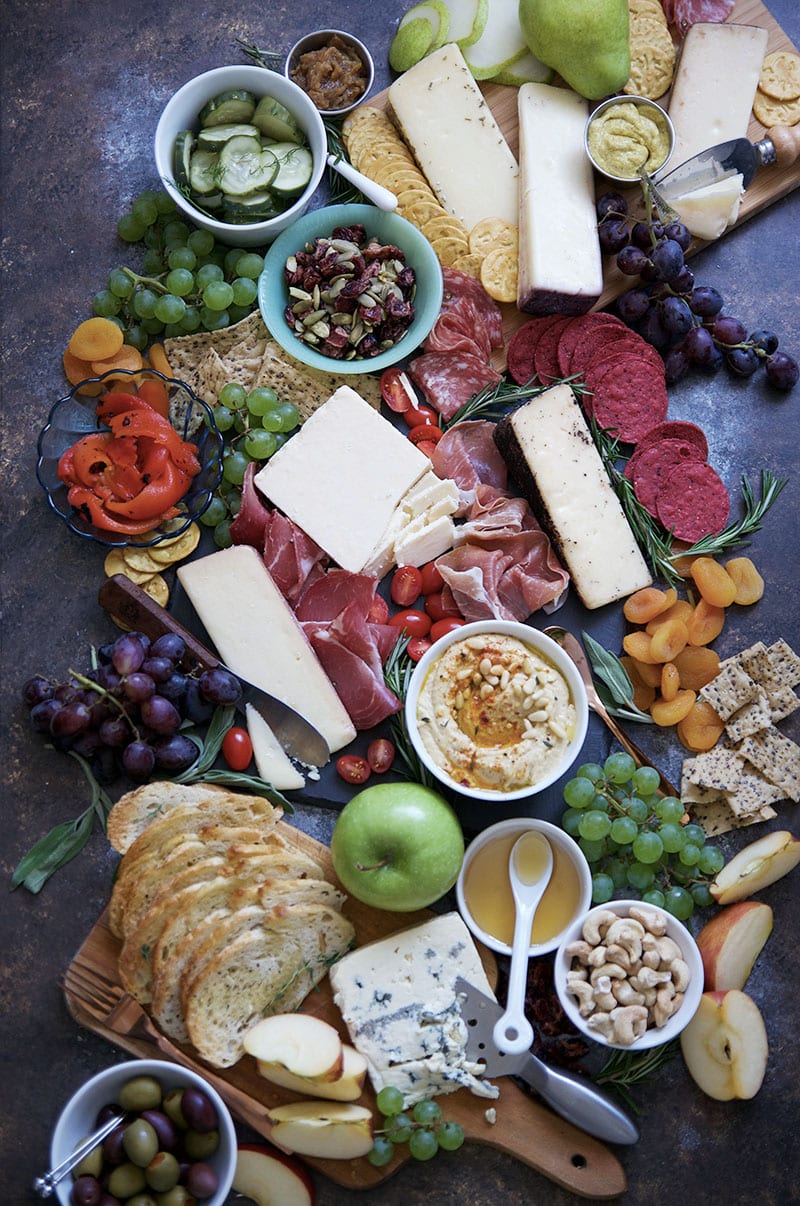 Disclaimer: This is a sponsored post. I was given product to create my own cheese board and taste test ahead of time. Although I was paid in cheese, the opinions and ideas expressed below are solely my own. Stick with me though, there is a pretty sweet giveaway below.
So, how is it not cool for kids to eat snacks for a meal when cheese board/ meat and cheese trays/ charceuterie boards exist? I mean, isn't this just fancy adult snacking? If you really wanna de-fancify this, you could call it an adult Lunchable. For reals. I am by no means knocking the art of the cheese board. I am merely just pointing out a funny double standard amongst us adults.
Don't worry, I won't tell the kiddies.
Last month I became a member of the #SartoriSociety. I got shipped tons of beautiful and flavorful Wisconsin cheeses. I remember getting the email asking if I was interested. I believe my exact totally not professional response was, "Duh. Have you read my About Me page?" The great thing that happens in this blogging world is that sometimes when you actually tag brands you yourself buy in real life on Instagram, the brands actually reach out to you. Case in point. Lucky me!
Today I wanted to do a little break down of the process of building a fall inspired cheese board. I mean, anybody can post a pretty picture, but if I can't help you through the artistic process, then what good am I? First off, I think Martha Stewart said something like "something old, something, new, and something blue" is the general rule of thumb for picking your cheeses. I like to also think of who is eating it. I have one corner that is specifically for Mike. He has his spicy soppressata aka spicy salami, pretzel crackers, spicy mustard, and Sartori Reserve Rosemary and Olive Oil Asiago. He would be happy with that. But then I threw in a little onion jam. Oktoberfest is still going on, after all.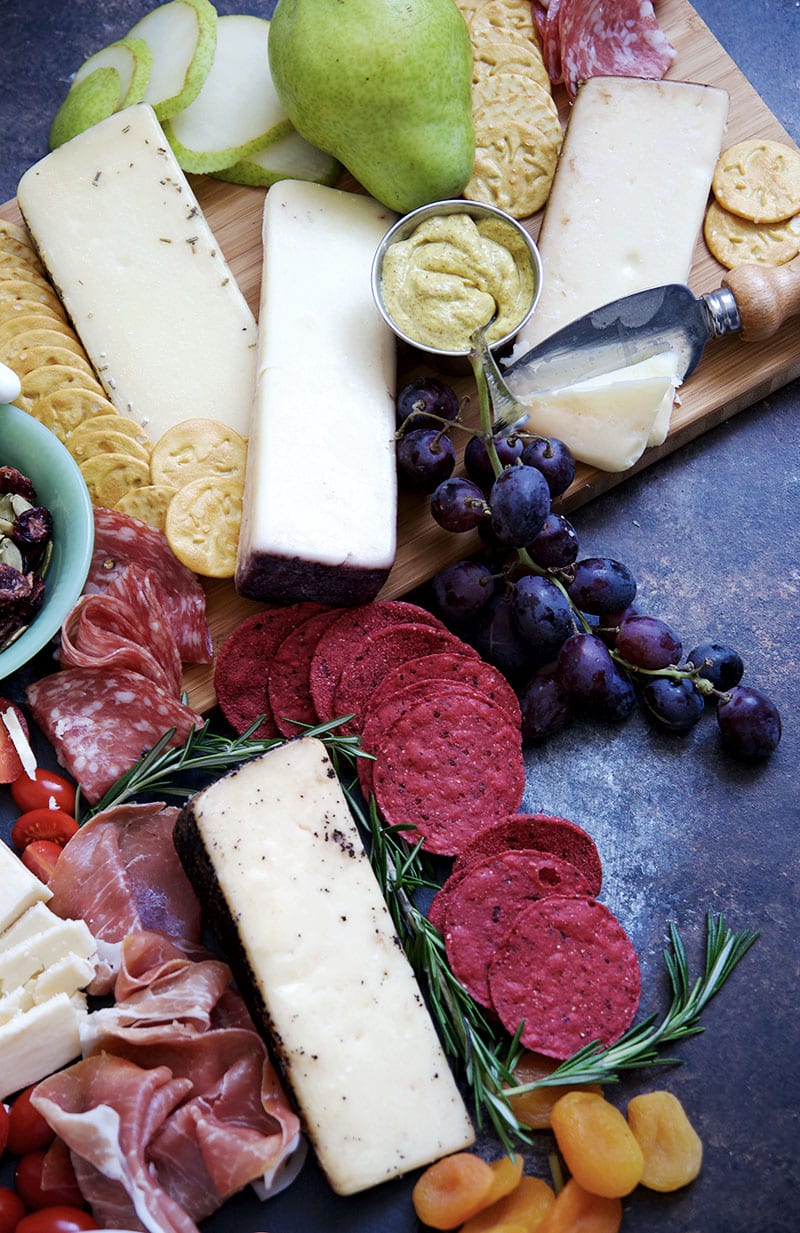 In the center is a classic prosciutto, capicola, cheese, cracker, and grape situation. It pairs perfectly with the fruity and creamy Montamoré Cheese. My favorite cheese board item is dried apricots–a huge hit with adults and kids alike, and wow, does it pop with the cheese. I even dress up a little store bought hummus with a drizzle of olive oil and a dusting of paprika. The more options the better.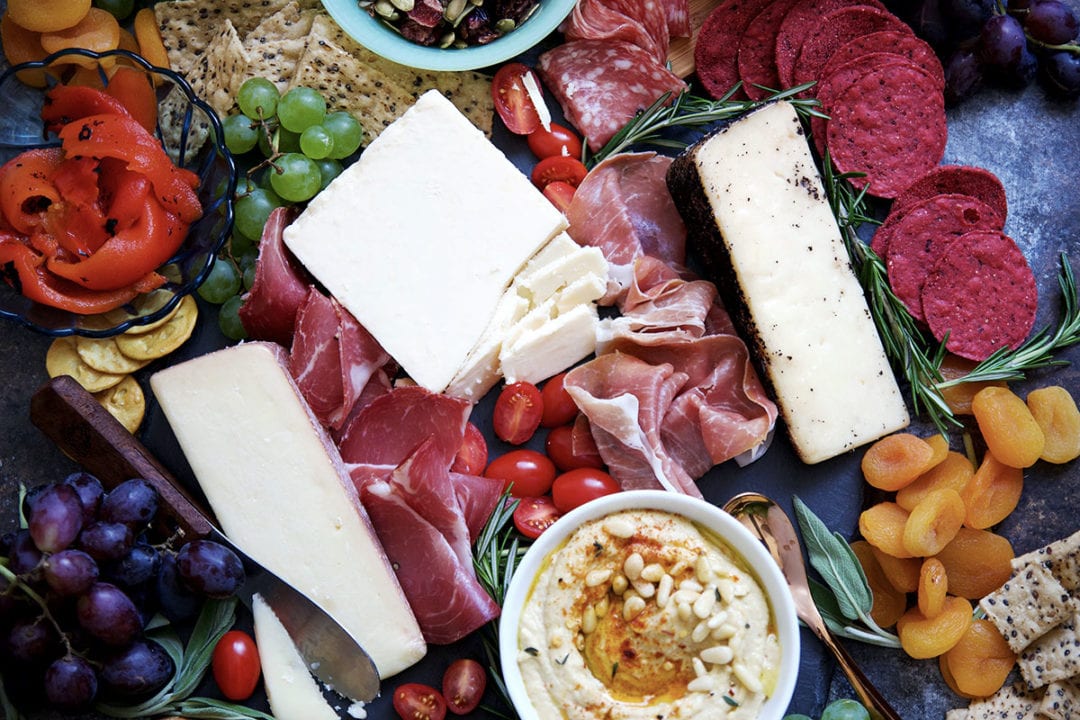 At the very bottom, I made a little crostini, fresh sliced apple, honey and the mother of all Gorgonzola cheese combo. If you don't want to worry about slicing apples or having them turn brown, sub in a little apple butter. It is still totally seasonal and super easy to find this time of year.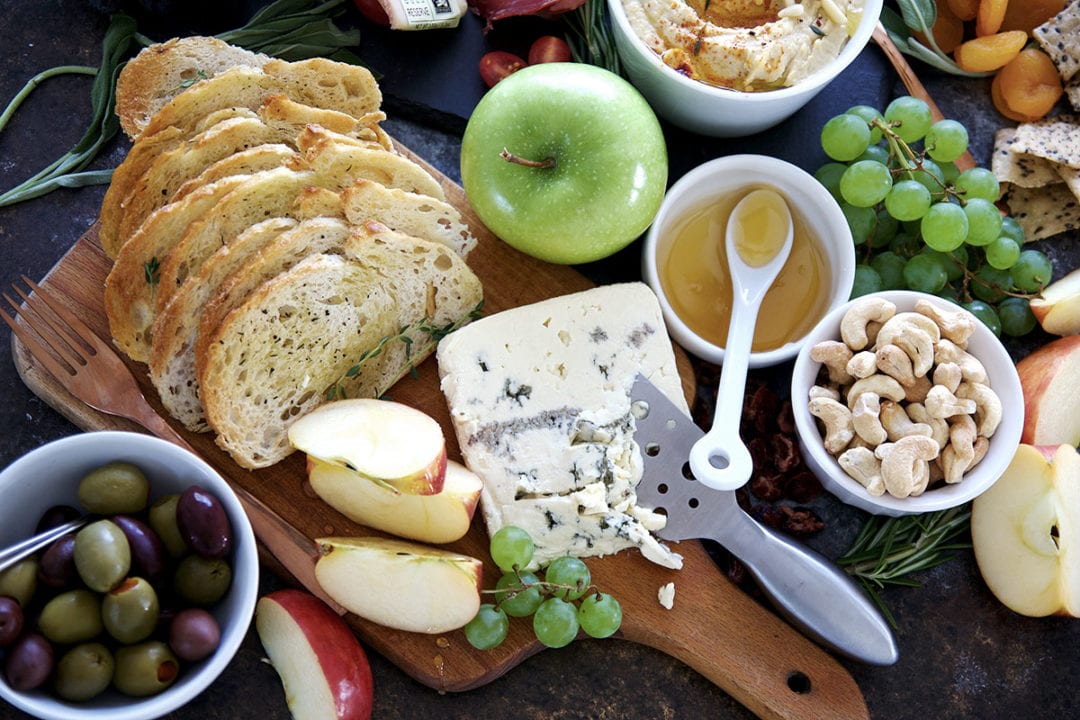 Use whatever crackers and olives or pickles or roasted red peppers you have on hand or that you really like. Lord knows the left overs will not go to waste. And when thinking of fall inspired things, stick to figs, pears, persimmons, apples, pumpkin seeds, cranberries, and apple butters. You can even throw in little pumpkins if you are looking to add a little color to certain corners. Another way to add color is through chips, crackers, and lots of fresh sprigs of herbs.
On the other hand, you totally don't need to go as extreme as I did with this giant cheese board. Pick three cheeses and build around them. That's really all it comes down to–adult fancy snacking.
GIVEAWAY IS CLOSED.
Now to the giveaway!
Sartori is giving away all 14 wedges of their Reserve cheese line along with some surprise cheese board goodies to one of you lucky followers. Head over to Instagram to enter and read the official rules. I will tell you that once you enter there, you can comment below for an extra entry, by telling me "What is your favorite type of cheese?" 
Good luck and happy apping.