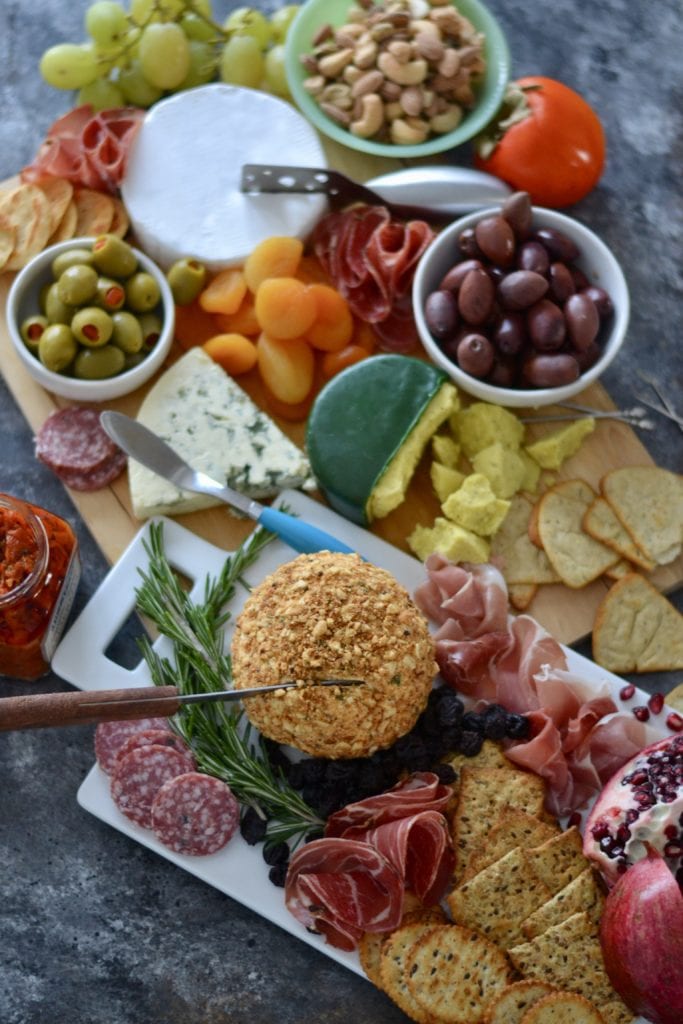 Wait! Don't run away screaming! This recipe is not as complicated as the title leads you to believe. Come baaaaack! OK. Sit down. Pour yourself an adult beverage of your choosing. Take a deep breath, get your notepad out, and your party planning pants on! Let's do this.
If I can make this ahead of time along with a cake from scratch AND host 30 some people (mostly wild children) in my house for an event, then so can you, my friend!
Yeah you heard right. 30 some people. Wait. It gets more stressful. 17 children under the age of 8 in my house. The adults have been outnumbered my friends! Lemme just say the opening the birthday presents part of the party was as if I was attacked by piranhas. And when I say piranhas, I mean the cutest and sweetest piranhas around!!!
As nerve wracking as preparing to host can be, I found that if I did little by little every day the week of the party, then the morning of, I wouldn't be a total chicken with my head cut off. To say I was 100% cool, calm, and collected would be a huge exaggeration. I am keeping it real. Remember when I said I made cakes. Well, I made like multi-layer cakes. I used marzipan to form little tomatoes and lettuce for the burger cakes. It was my first time ever dealing with marzipan. I was very scared. After 5 years of blogging and baking, I still feel unsure of my ability in the baking department.
#realtalk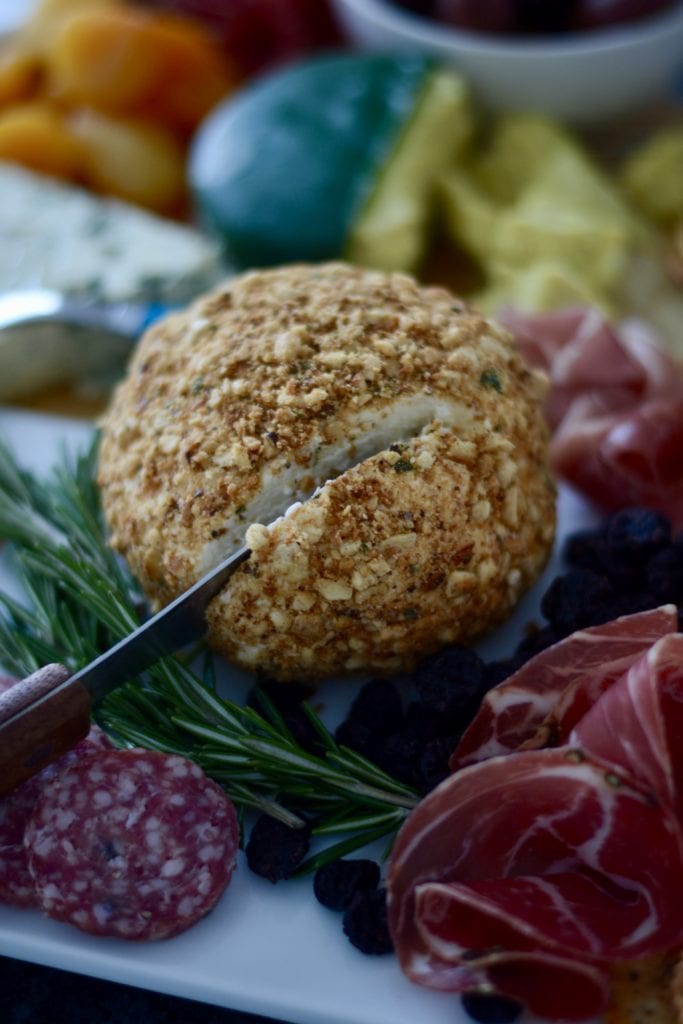 Anyway, I definitely freaked out about seating arrangements and table placement as I looked down at my died green hands and sticking to the counter-not the right shade of green marzipan. So, yeah.
At least I had my cheese board and cheese ball together ahead of time!
Thanks to the good people at Back to Nature and Mambo Sprouts, I had a ton of crackers and nuts in my possession. Which, as you know, are not as important as the cheese, but still an intricate part of a good cheese board.
I made the cheeseball the night before. I browned up a little butter, crisped up fresh sage leaves, and then toasted some ground Back to Nature Jumbo Cashews and cracker crumbs. Then in the food processor, I mixed together three types of cheese. You roll it in a ball and then chill then roll it in the cooled crumbs. TA-DA! Easy peasy!
Then just to be the hostess with the mostest, I threw some meats and other cheeses along with a whole bunch of Back to Nature Stoneground Wheat and Flax Seeded Flat Bread Crackers. I am glad that I munched on the plate as I was arranging because by the time I got to it, everything was devoured! But, that is the sign of a good cheeseball/cheese board!
Note: I was compensated for coming up with a recipe featuring Back to Nature products. Reviewing products I love keeps this blog running. Thank you for allowing me to bring you things that I use on the regular. As always, all opinions are 100% my own.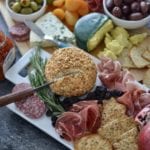 Sage-Brown Butter, cashew, & Cracker Coated Cheeseball
A smooth and creamy cheeseball coated in toasted brown butter and sage infused cashew and cracker crumbs. Perfect for any party appetizer!
Prep Time
1
hour
15
minutes
Total Time
1
hour
12
minutes
Ingredients
4

Ounces

Softened Cream Cheese

4

Ounces

Goat Cheese

6

Ounces

Sharp Cheddar Cheese

grated

1

Cup

Back to Nature Organic Stoneground Wheat Crackers

1/2

Cup

Back to Nature Jumbo Cashews

2

Tablespoons

Unsalted Butter

6

Fresh Sage Leaves

Pinch

of Salt and Black Pepper
Instructions
Combine the cream cheese, goat cheese, and grated cheddar in a food processor. Puree and pulse, scraping down the sides as needed, until the cheese mixture becomes smooth. This process takes about 5 minutes.

Transfer the cheese mixture to a piece of plastic wrap. Wrap the plastic tightly around the cheese ball. Use your hands to form the cheese into a ball. Place the covered cheeseball int he fridge.

Clean the food processor out. Add the crackers and cashews. Pulse until finely chopped.

Add the butter to a medium skillet, Heat over medium heat, until the butter starts to brown. About 2 minutes. Add the sage. Flip the sage leaves after about 1-2 minutes, once it starts to get dark and crisp. Cook another minute. Transfer the sage to a paper towel or plate using tongs. Once cooled, finely chop the sage.

Turn the heat to low, add the cashew and cracker crumb mixture to the skillet. Use a spatula to evenly coat the crumbs in the butter. Cook until deeply browned and toasted. Season with salt and pepper.

Turn the heat off and add in the chopped sage. Mix to combine.

Transfer the cracker mixture to a large plate. Remove cheeseball from fridge. Unwrap the plastic and gently roll and press the ball into the crumbs until evenly coated. Wrap in new plastic wrap and chill for at least an hour, but for best results overnight.
Holiday Cheese Board
A well balanced cheese board featuring a cheeseball, blue cheese, cheddar, and brie along with meats and crackers makes the perfect holiday party centerpiece!
Ingredients
4

Ounces

Blue Cheese

8

Ounces

Cheddar Cheese

13

Ounces

Brie Cheese

sliced

6

Ounces

Dried Apricots

4

Ounces

Dried Blueberries/Cranberries

Pomegranate Seeds

3

Ounces

Capocollo

3

Ounces

Prosciutto

6

Ounces

Spicy Salami

sliced

9

Ounces

Back to Nature Cashew

Almond, Pistachio Mix

Back to Nature Organic Stoneground Wheat Crackers

Back to Nature Flax Seeded Flat Bread Crackers

Green Olives

Kalamata Olives

Persimmon Slices

Sage-Brown Butter

Cashew, & Cracker Coated Cheeseball (recipe above)
Instructions
Slice cheeses if so desired and then arrange all the ingredients on a large platter.

Be sure to leave room for slicing or crumbling of cheeses and cheeseball.

Feel free to add some jams, mustards, or honey along with a bruschetta dip or small pickles. The cheeseboard is very accepting!