Homemade spicy giardiniera is a combination of vegetables, olives, and hoy peppers lightly pickled and then stored in a mix of pickling liquid and olive oil. It is perfect on top of pizza, sausage, hot dogs, beef sandwiches, or even mixed into salads and pasta.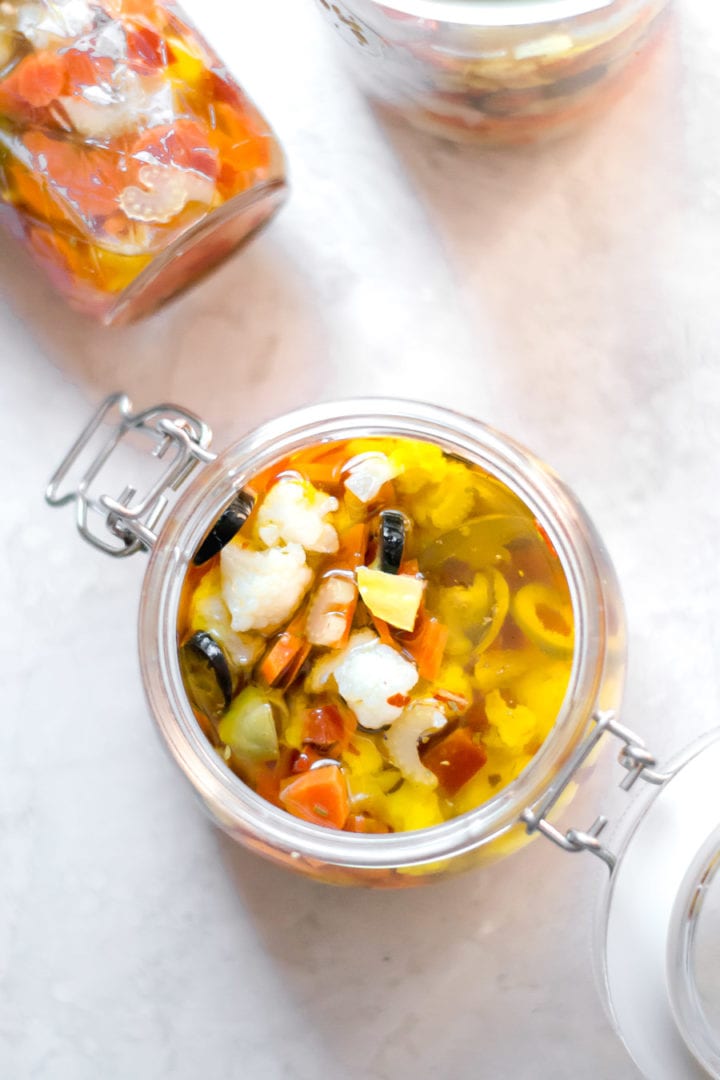 Giardiniera is a relish like topping that is near and dear to us Chicago-adjacent folk.
Some like it spicy. Some don't like olives in the mix.
It is basically as subjective as a Chicagoan's preference in pizza; deep dish or otherwise.
There is one thing you need to understand about this recipe.
I am not Italian so don't compare this to some authentic, homemade spicy giardiniera your uncle Sal makes in his basement next to his jugs of home-brewed wine.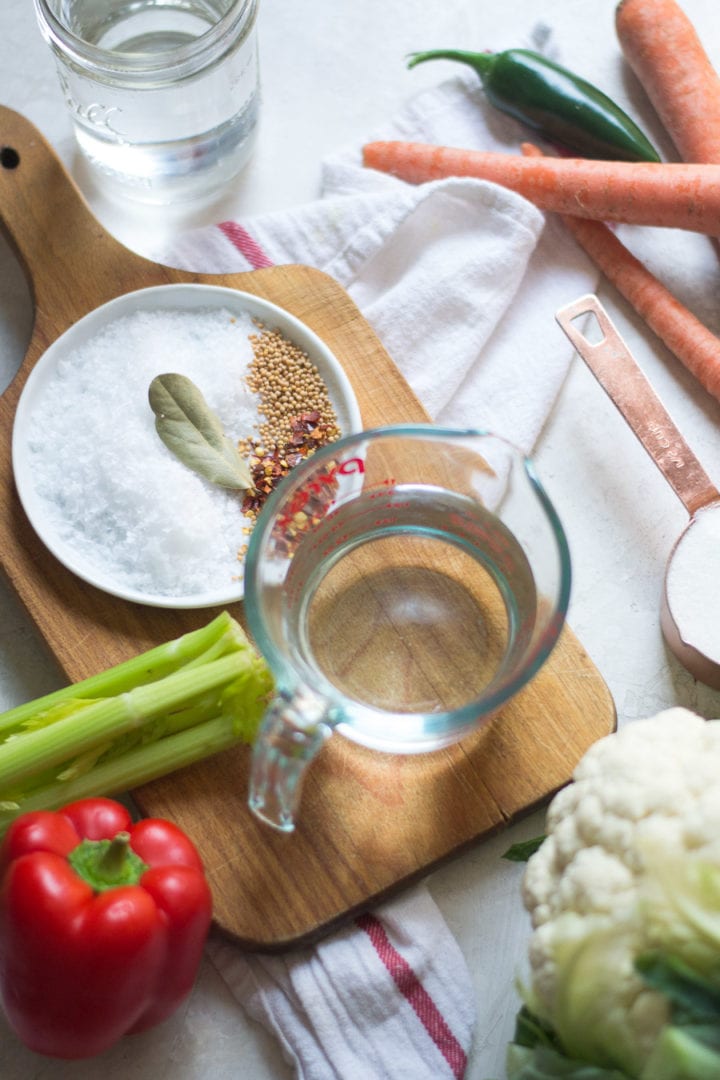 This is my take on my favorite pizza and Italian sausage/ bratwurst topping.
Plus, my Dad said it tasted great, ok!?!?!
I slaved over my stove, in a cloud of vinegar scented fumes two different times to bring you this recipe.
The first rendition used broccoli instead of cauliflower. It worked, but it wasn't my favorite.
It was a tad stinky too.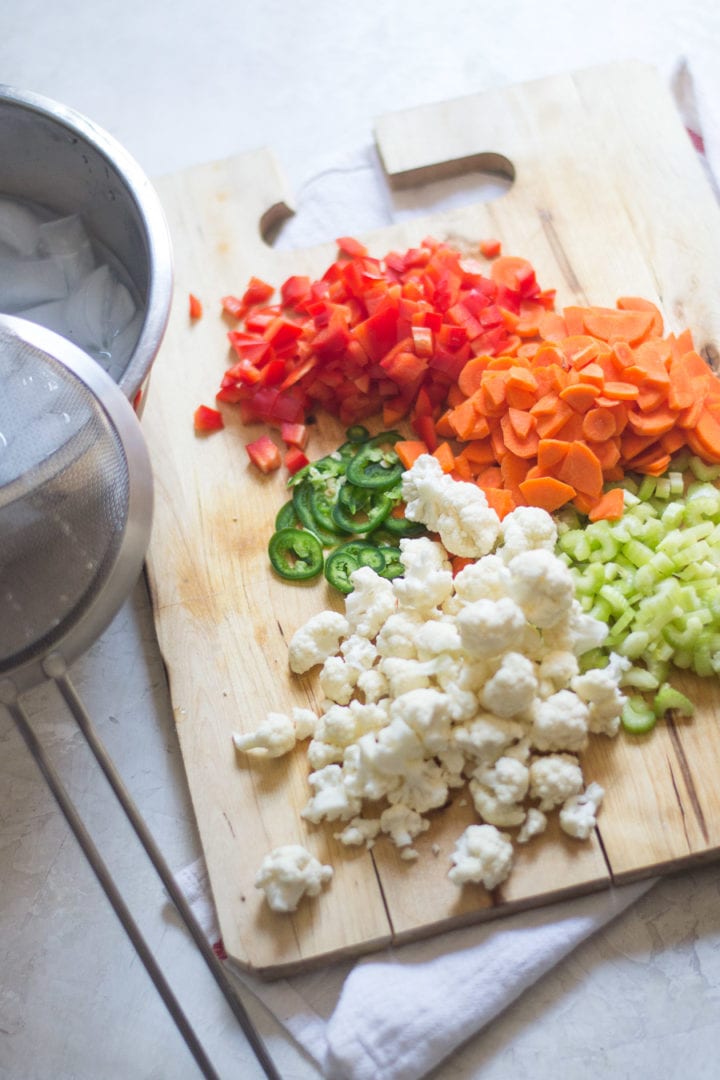 Cauliflower was the missing link. It has a crunch that just holds up better than broccoli.
I used a mix of red bell pepper, cauliflower, celery, carrots, banana peppers, jalapeño peppers, black olives, and green olives.
Boil a pickling liquid made from mustard seeds, bay leaf, red pepper flakes, sugar, salt, white vinegar, and water. Let that cool while you do all the chopping.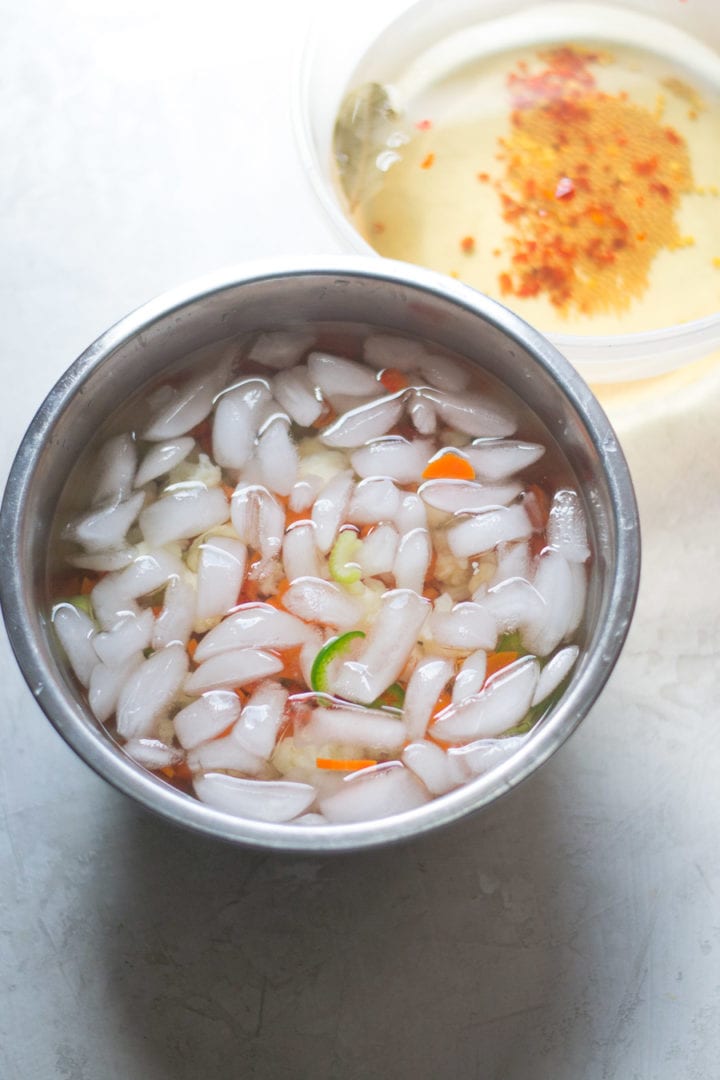 Then you have to parboil the veggies for just about three minutes. It takes a little of the edge off and helps them absorb the flavor more.
It is a process people. Bear with me.
Transfer the veggies into an ice bath and then plop them into the pickling liquid to chill in the fridge, covered overnight.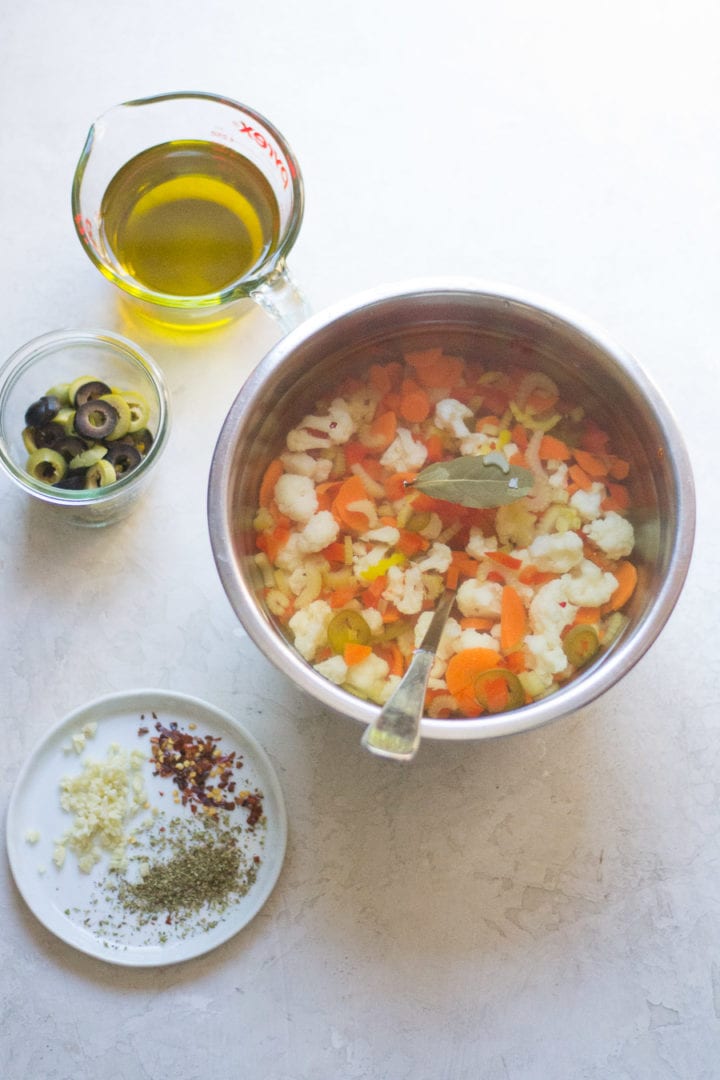 The next day, pack the veggies and olives into jars with a little of the pickling liquid, fresh garlic, oregano, more red pepper flakes, and then top with extra-virgin olive oil.
Beware, you will snack on all the pickled veggie while packing them into jars.
I call this recipe homemade spicy giardiniera, but feel free to scale back the crushed red pepper flakes in the jarring/canning process.
There is enough residual heat from the pickling liquid.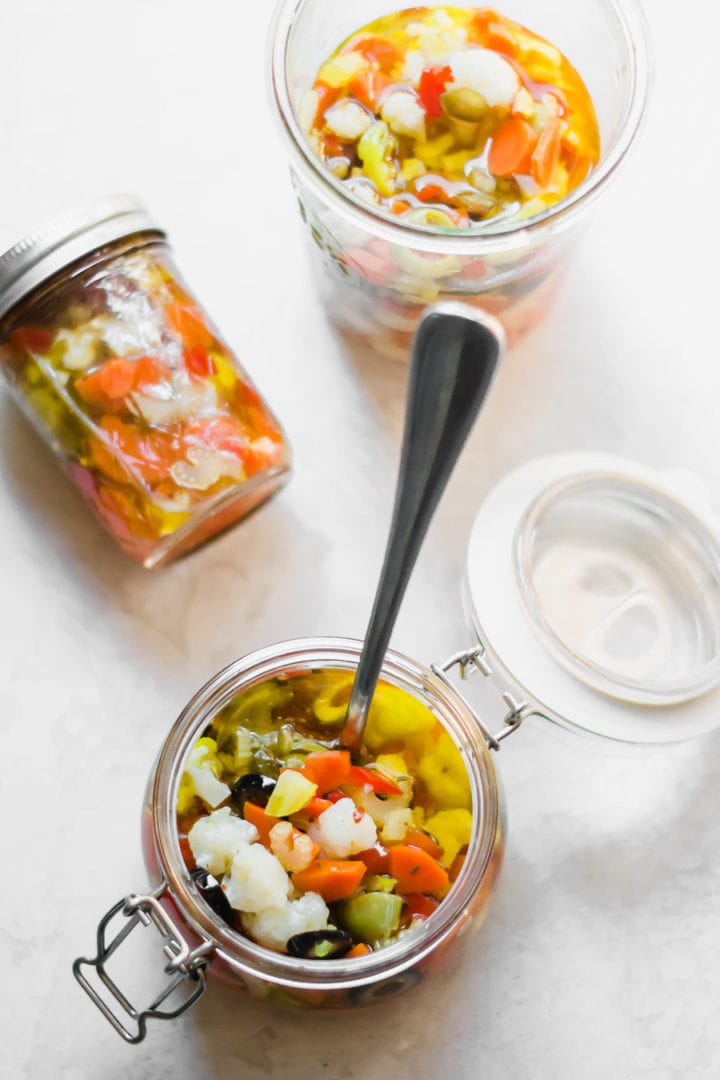 Phew!
There you have it folks! Like I said, it is a process, but your friends, family, and neighbors will thank you for the gift of a spicy jar that keeps on giving.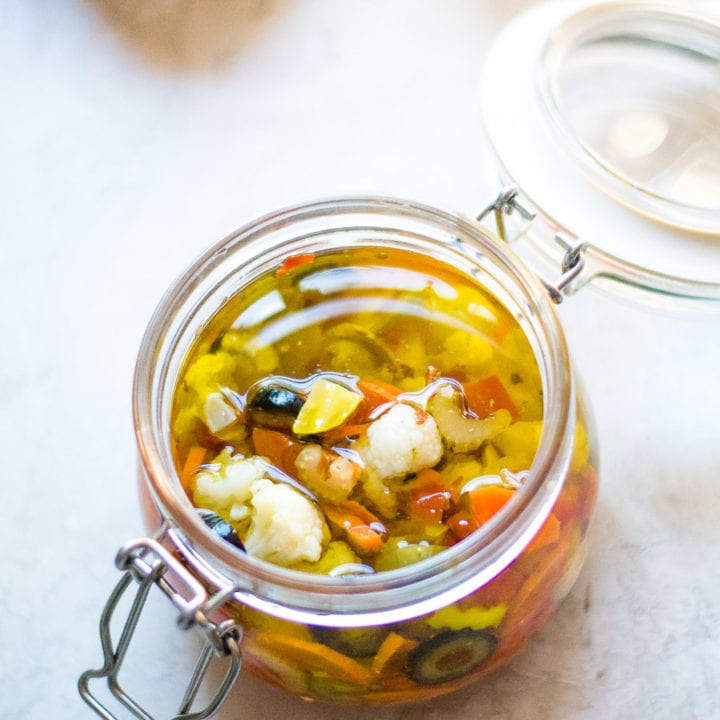 Homemade Spicy Giardiniera
Yield: 3-4, 16oz Jars

Prep Time: 12 hours 15 minutes

Cook Time: 10 minutes

Total Time: 12 hours 25 minutes

Lightly pickled, spicy vegetables, peppers, and olives perfect as a topping for pizza, burgers, brats, hot dogs, or just about anything!
Ingredients
PICKLING LIQUID:
2 cups white distilled vinegar
3 cups water
1/2 cup granulated sugar
5 tbsp kosher or sea salt
2 tsp mustard seeds
1 tsp crushed red pepper flakes
1 dried bay leaf
GIARDINIERA VEGGIES:
3/4 head of cauliflower, broken into small pieces
3 celery stalks, thinly sliced
1 red bell pepper, diced
1 jalapeño or serrano pepper, thinly sliced
3 carrots, peeled and thinly sliced or diced
3/4 cup sliced black olives and green olives
1/2 cup chopped pickled banana peppers
PACKING INGREDINETS:
1 cup extra-virgin olive oil
reserved pickling liquid
1 garlic clove, minced
1 tsp dried oregano
1/2 tsp crushed red pepper flakes
Instructions
Add all the pickling liquid to a pot and bring to a boil. Whisk until the sugar and salt are dissolved. Bring to a simmer. Simmer for 5 minutes. Remove from heat and allow to cool.
Chop and prepare all the vegetables.
Bring a large pot of water to a boil. Drop the carrots, cauliflower, red pepper, jalapeño, and celery into the boiling water. Blanch the vegetables for about 3 minutes.
Prepare a large bowl filled with ice and cold water. Transfer the boiled vegetables to the ice bath using a slotted spoon or fine mesh strainer.
Pour the cooled pickling liquid into a heatproof bowl with a lid. Add the cooled vegetables along with the banana peppers to the pickling liquid. Cover with lid and chill in the fridge overnight.
The next day set out 3-4, 16oz mason jars and lids. Add a little of the chopped garlic, dried oregano, and crushed red pepper flakes to the bottom each jar.
Transfer the pickled veggies into the jars using a slotted spoon. Add equal amounts of olives to each jar.
Add about 1/4-1/3 cup pickling liquid to each jar. Top with olive oil. Seal the lid. Shake to combine. Store in the fridge for up to a month.
Allow the jars to sit at room temperature for at least 15 minutes before serving.
Recommended Products
As an Amazon Associate and member of other affiliate programs, I earn from qualifying purchases.