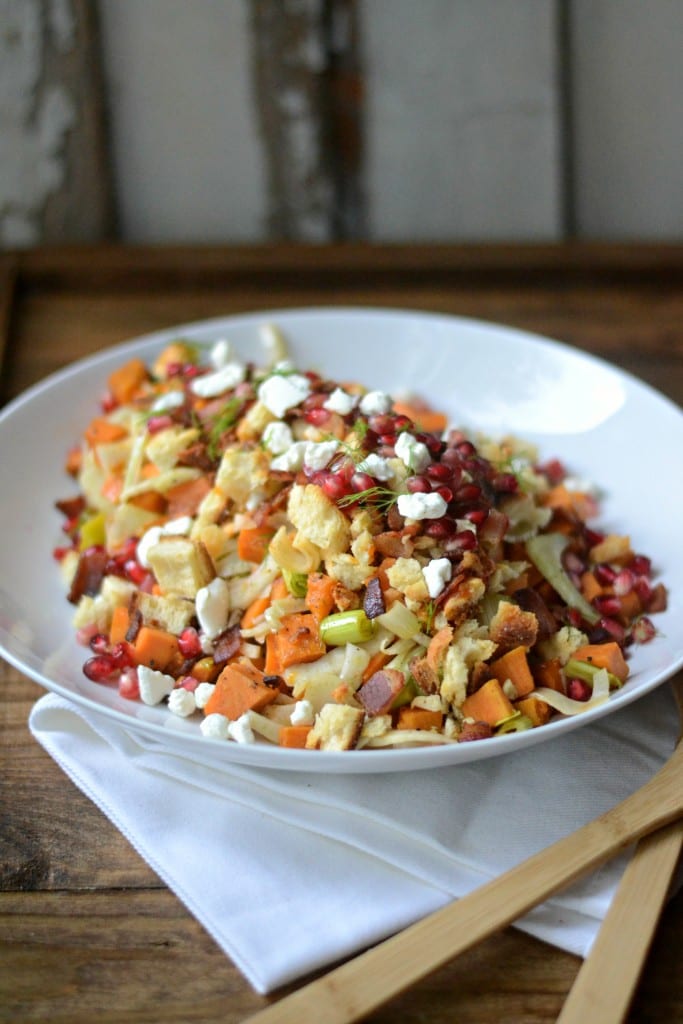 Well. It is confession time people. I know most of you have just moved on from Halloween and have maybe started planning your Thanksgiving dinner menu. I have given a teeny thought to Thanksgiving. I mean enough thought to make this warm salad and plan a giveaway for you guys. I also might bring a dessert to my in-laws dinner. My normal go-to is this cheesecake pie. But, seriously, that is all the thought about Thanksgiving I have done.
My confession my friends is that I did it. I bit the bullet. I had Mike bring up all the Christmas decorations from the basement over the weekend. As of Saturday night, yes that would be the 7th of November, my house was fully decked out for Christmas.
The stockings are hung above the ol' yule log displaying television with care. Holiday pillows on every single couch and chair. Ah. It feels good to admit the truth to you guys!
I could totally say the decorations are up because I am in full on nesting mode with almost a month to go before baby boy number two arrives, but that might be only a half truth. I could also blame it on being depressed and trapped in the house for almost two weeks with various members of my family battling the flu or a hacking cold. But, once again, only half of the truth.
I just love Christmas! I love the way my house feels and looks with little twinkling lights and garlands everywhere. I have never been a big Thanksgiving lover. I could skip turkey all together. I mean isn't it all about the sides anyway? I can't imbibe in fancy fall beverages or even overeat because there is little stretch room with this giant baby in there.
Do you guys think I am totally nuts?
Hey! I thought this was a safe space!!! If you can't share you craziness with your friends, who can you share it with?
Well, for all you people who follow the rules of a calendar and are into this whole Thanksgiving biz, I have a treat for you. A group of 25 bloggers got together to bring you 25 individual Thanksgiving recipes along with 25 different items valued at $50 or more to giveaway!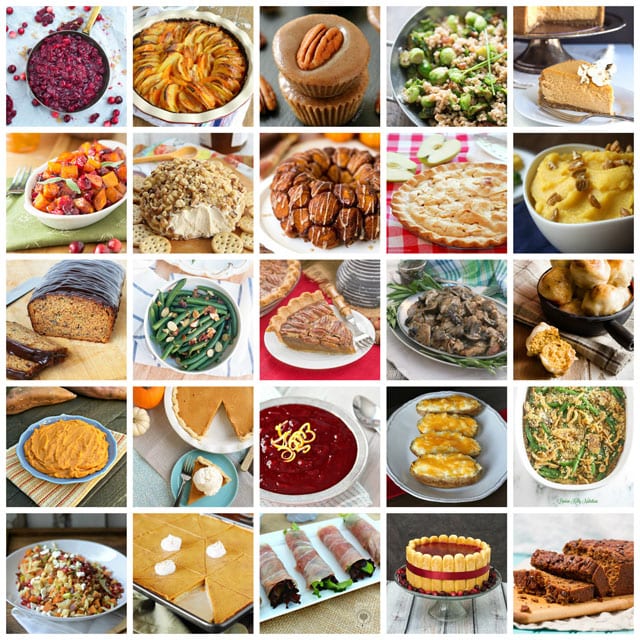 Please, please, take a little spin around the web to check out my fellow bloggers' hard work:
Homemade Orange Cider Cranberry Sauce via The Snappy Gourmet
Cheesy Garlic Herb Potatoes and Squash via Sugar Dish Me
5-Ingredient Pecan Pie Fudge via Texanerin Baking
Brussels Sprouts and Farro Salad via Lemons for Lulu
Sweet Potato Cheesecake via Cookie Dough and Oven Mitt
Roasted Butternut Squash and Cranberry Side Dish via Cooking on the Front Burner
Fig and Goat Cheese Ball via Eat. Drink. Love.
Overnight Pumpkin Monkey Bread via Barbara Bakes
Classic Apple Pie via Comfortable Domestic
Acorn Squash Puree via Daily Appetite
Pumpkin Banana Bread via Java Cupcake
Green Beans with Almonds and Bacon via From Valerie's Kitchen
Classic Pecan Pie via That Skinny Chick Can Bake
Turkey Tenderloins with Mushroom Shallot Tarragon Gravy via All Roads Lead to the Kitchen
Sweet Potato Casserole Donut Holes via Cupcake Project
Maple Mashed Sweet Potatoes via Chocolate Slopes
Triple Spice Pumpkin Buttermilk Pie via Frugal Foodie Mama
Homemade Cranberry Sauce via The Adventure Bite
Twice Baked Potatoes via My Gluten Free Kitchen
Green Bean Quinoa Casserole via Lauren Kelly Nutrition
Pumpkin Slab Pie via The Kitchen is My Playground
Prosciutto Wrapped Parmesan Pears & Greens via The Complete Savorist
Cranberry Apple Charlotte via The Redhead Baker
Pumpkin Ricotta Chocolate Chip Bread via Ari's Menu
Giveaway CLOSED!
Ok, now on to the good stuff. The stuff you have been waiting for, the giveaway! I am giving away one $50 Amazon gift card to one lucky reader. I like to think this will help with your holiday related purchases. In order to be entered in this giveaway, please leave a comment below telling me about your favorite Thanksgiving dish. It could be something you make yourself and are totally proud of or something somebody else makes that you dream about all year long. Also, for every social media share, you get an additional entry. Just be sure to come back and leave a link to the share/post in a separate comment as well. The giveaway is open until November 29th 11:59 pm EST.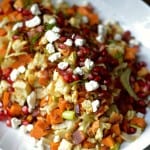 Warm Sweet Potato, Bacon, and Leek Salad with Cheddar Biscuit Breadcrumbs
It is kind of like a salad and stuffing hybrid. Warm sweet potatoes, leeks, and crispy bacon mixed with fennel, pomegranate arils, and goat cheese. Then coated in a light citrus vinaigrette. Topped off with crispy cheddar biscuit breadcrumbs.
Total Time
1
hour
5
minutes
Ingredients
3

Strips of Bacon

chopped

4

Sweet Potatoes

peeled and cubed

Salt

Pepper

1/2

Teaspoon

Smoked Paprika

1 1/2

Bulbs of Fennel

halved and thinly shaved

1

Tablespoon

Red Wine Vinegar

1

Tablespoon

Water

1

Tablespoon

Freshly Squeezed Orange Juice

1

Teaspoon

Olive Oil

1

Teaspoon

Honey

Pinch

of Salt and Pepper

Dash of Cinnamon

2

Leeks

halved length-wise, cleaned, and white/light green chopped

2

Cheddar Biscuits

3/4

Cup

Pomegranate Arils

Goat Cheese Crumbles

optional
Instructions
Preheat the oven to 350 degrees F.

Heat a large cast iron skillet over medium/high heat. Add the chopped bacon and cook until crisp, about 10 minutes. Remove the crisp bacon with a slotted spoon and set on a paper towel to drain off to the side.

Turn the heat down to low. Add the sweet potatoes. Season with salt, pepper, and paprika. Stir to evenly coat. Cover with lid and let cook for 25-30 minutes, stirring occasionally.

While the sweet potatoes cook, add the vinegar, water, orange juice, olive oil, honey, salt, pepper, and cinnamon to a large mixing bowl. Whisk to combine. Add the fennel to the bowl and let it sit to sort of soften and pickle a bit.

Once the sweet potatoes are tender, add the leeks to the pan. Cook for 7 minutes until just tender.

Give the biscuits a rough chop. Add them to a food processor and pulse until small, pea-sized bits remain. Add the breadcrumbs to a baking sheet and toast for 10-15 minutes until lightly golden.

Now to assemble the salad. Add the sweet potatoes and leeks to the bowl with the fennel. Give it a good stir to make sure the vinaigrette coats all the ingredients. Transfer the mixture to a serving platter. Top with the bacon, breadcrumbs, pomegranate arils, and goat cheese if using.