Grilled goat cheese stuffed mushrooms are an easy side dish or entree. Quickly toss the portobello with balsamic vinegar, olive oil, salt, and pepper. Then grill and stuff with your favorite marinara and a bit of goat cheese.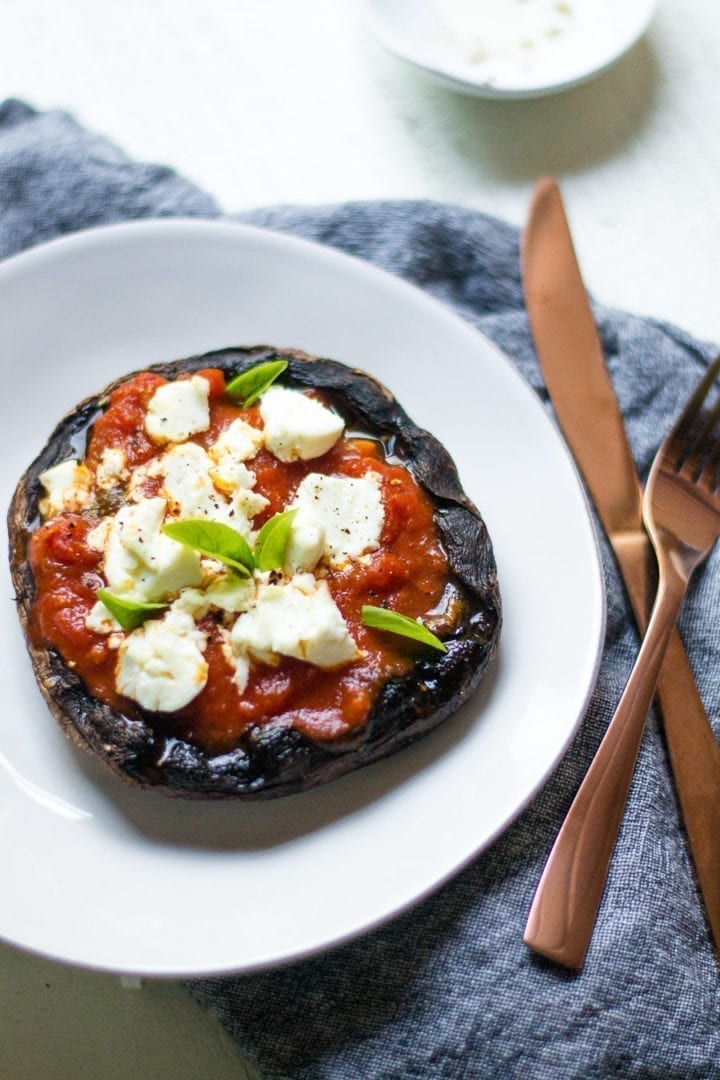 Let me introduce you to the dish I have been grilling up at least once a week for the entirety of the summer.
Actually, I started out grilling these stuffed mushrooms with sautéed spinach and bread crumb coated goat cheese on top.
Then I got lazy. Lazier and lazier I guess.
This dish is barely a recipe. That is probably why I make it so often.
Take your big old portobello mushroom and drizzle a little olive oil, balsamic vinegar, salt and pepper on top. Grill that baby over a high heat for about 5 minutes, flip, and grill for 3 more minutes.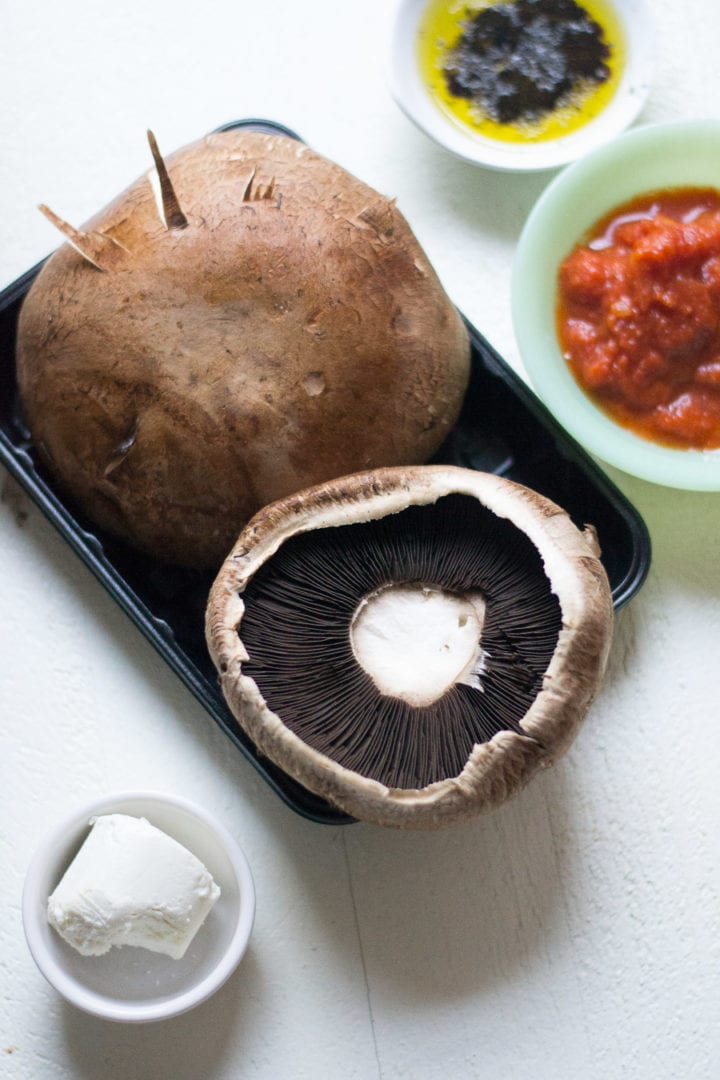 Bring your shrooms inside. Fill each portobello with a little of your favorite tomato sauce or marinara.
Top with little crumbles of goat cheese.
Put the mushrooms back on the grill, cover, and just wait for that cheese to get melty and creamy.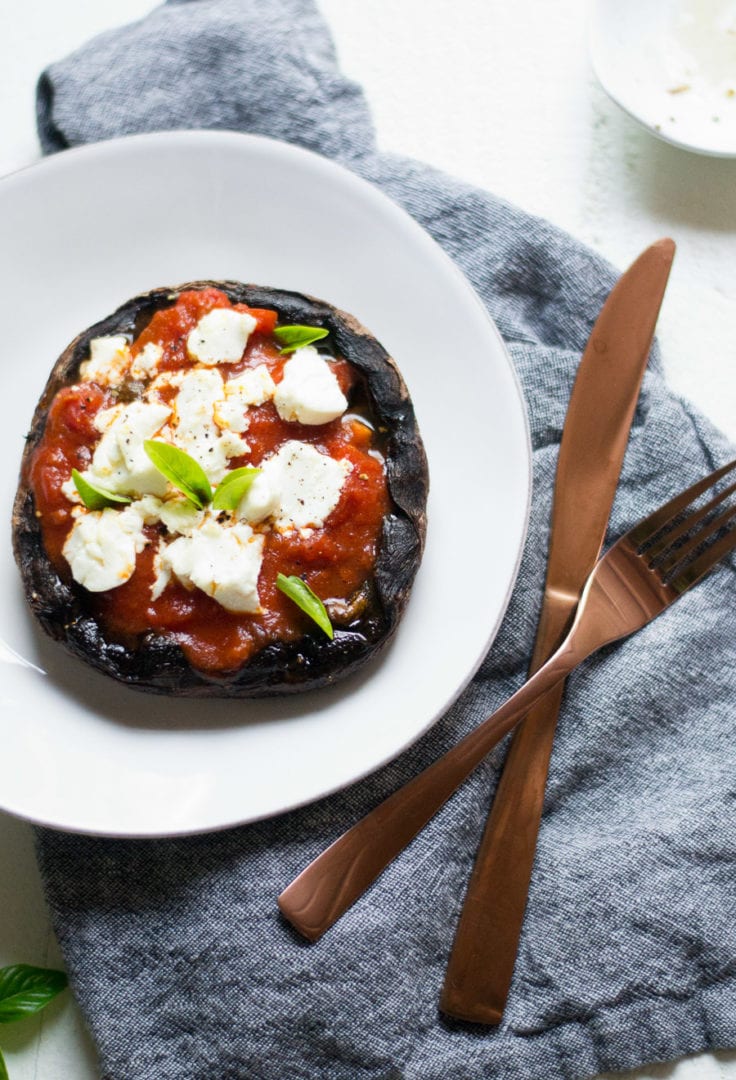 I like to ship off a few leaves of fresh basil to be fancy.
All you need is a little sprinkle of salt and red pepper flakes or regular old pepper to finish it off.
We have eaten these on their own, over some noodles, or on the side of a grilled burger or piece of chicken.
Grilled goat cheese stuffed mushrooms sound fancy but, you will see, they will be so easy, you'll be making them once a week in no time!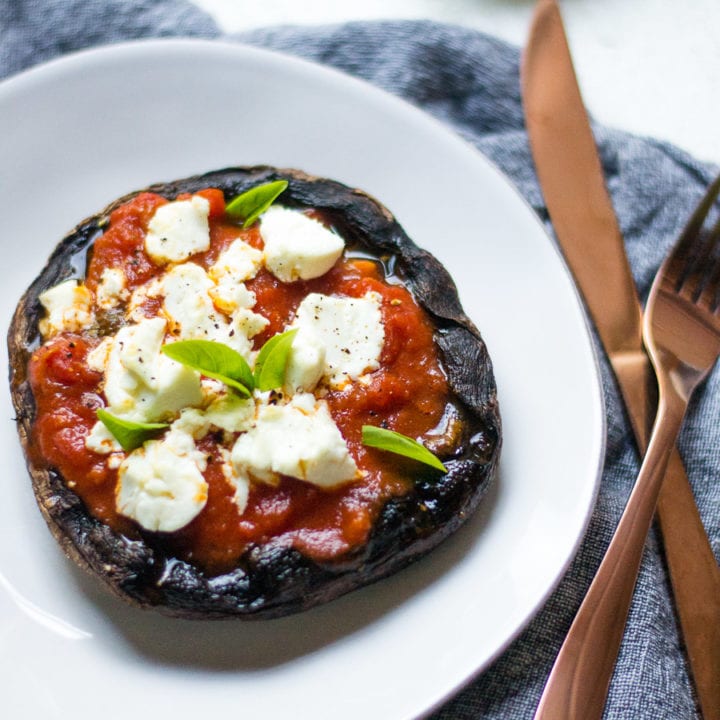 Grilled Goat Cheese Stuffed Mushrooms
Yield: 2-4

Prep Time: 5 minutes

Cook Time: 13 minutes

Total Time: 18 minutes

Grilled mushrooms stuffed with marinara and goat cheese.
Ingredients
4 large portobello mushrooms
4 tbsp extra-virgin olive oil
4 tsp balsamic vinegar
1/2 tsp salt
1/4 tsp pepper
1 cup jarred marinara sauce
4 oz goat cheese
Instructions
Preheat your gas grill to high, about 450 degrees F.
Add the mushrooms to a large plate. Remove the stems of each mushroom. drizzle each mushroom with olive oil and balsamic. Use your hands to rub it all around the mushrooms. Sprinkle with salt and pepper.
Grill the mushrooms gill side down first for about 5 minutes.
Flip and grill for three more minutes. Drain off some of the liquid after 3 minutes. Transfer back to plate and bring inside to stuff.
Add about 1/4 a cup of sauce to each mushroom and about 1 oz of goat cheese crumbles to the top of each mushroom.
Return mushrooms to the grill. Grill covered for another 3-4 minutes until the cheese is hot and creamy.
Notes
You can also make these under a broiler on high if grilling isn't an option. Same cook times apply.
Recommended Products
As an Amazon Associate and member of other affiliate programs, I earn from qualifying purchases.