Rotini noodles tossed with burst tomatoes, garlic, red pepper flakes, and olive oil make the best base for this tomato lovers pasta salad. Toss in some sliced black olives, capers, and sun-dried tomato for a burst of acidity. Even tomato haters will like this flavorful pasta salad.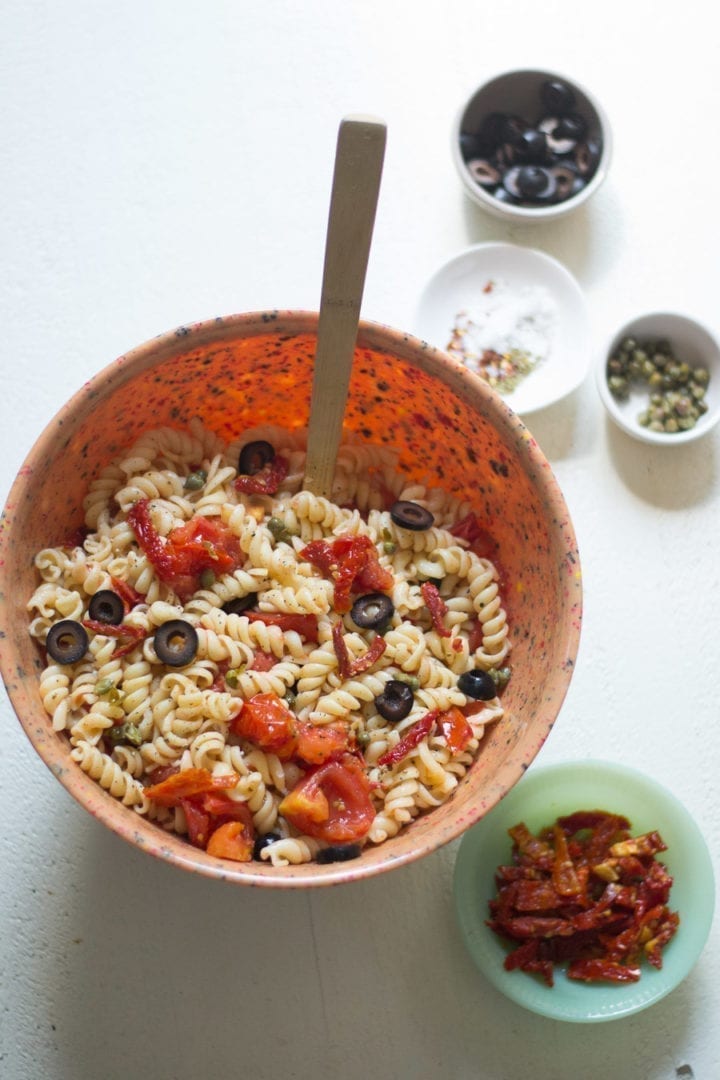 I know a lot of tomato haters. I am actually married to one.
The number one complaint against the tomato is the seedy, juicy inside.
Tomato haters despise the bursting of a tomato once you bite into it.
Cook a tomato down and turn it into the pasta salad dressing and they have not a complaint!
Pasta salad in the summer in my family is known for big chunks of raw, ripe tomatoes.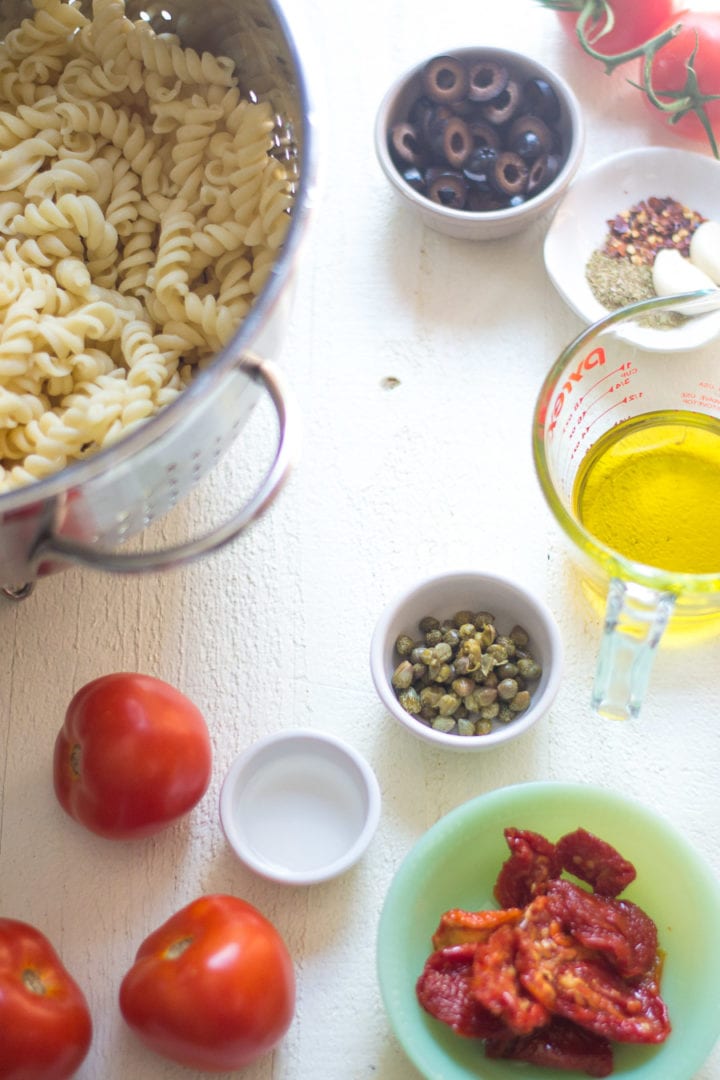 Pass me the pasta salad and the ripe tomato-laden Caprese salad. (Mike is dry heaving off screen while reading that sentence).
Pasta salad can be kind of bland too.
Tomato lovers pasta salad is bursting with flavor! Mainly thanks to the burst tomatoes. Cue the ba dum tss after that punchline.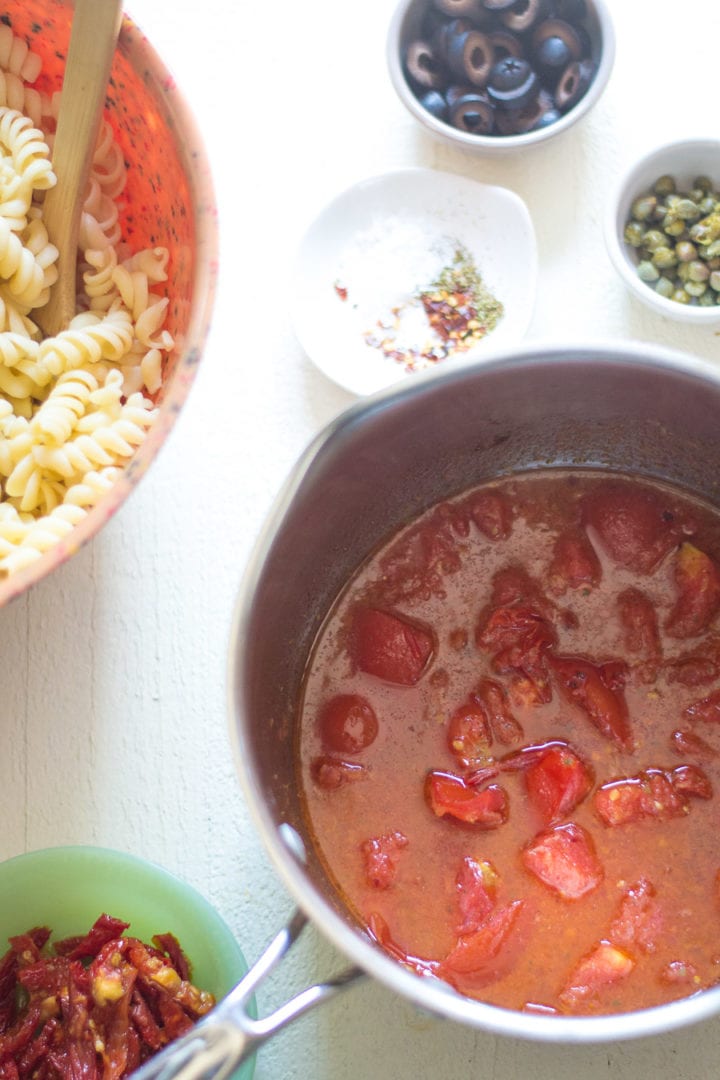 Tomatoes are cooked down with olive oil, lots of garlic, and crushed red pepper flakes. It makes a spicy foundation.
Toss all that juicy flavor with the noodles. I know it looks like a lot of liquid, but trust me.
Think of it as tomato vinaigrette.
Mix in a little white wine vinegar, dried oregano, salt, black olives, juliened sun-dried tomatoes, and capers. It is going to brighten the salad, add acidity, and make it not feel like a cooked pasta dish.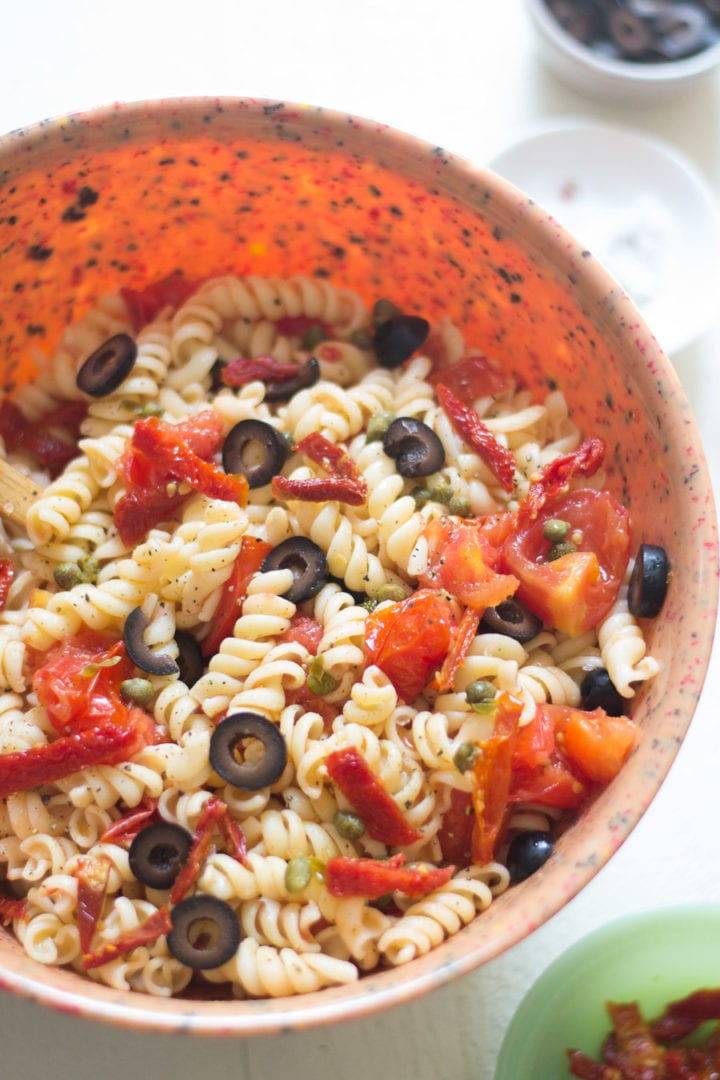 The cooking down of the tomatoes takes as long as it takes the noodles to cook. You can mix in the tomatoes while they are warm and just let the whole pasta salad sit at room temperature.
I love, love, love this pasta salad.
I think some fresh arugula or basil would also be a fine addition to the pasta salad if you wanted to bulk it up a bit for a crowd.
A little grated Parmesan cheese on top for a finish, green container stuff or the good stuff, is a nice touch too.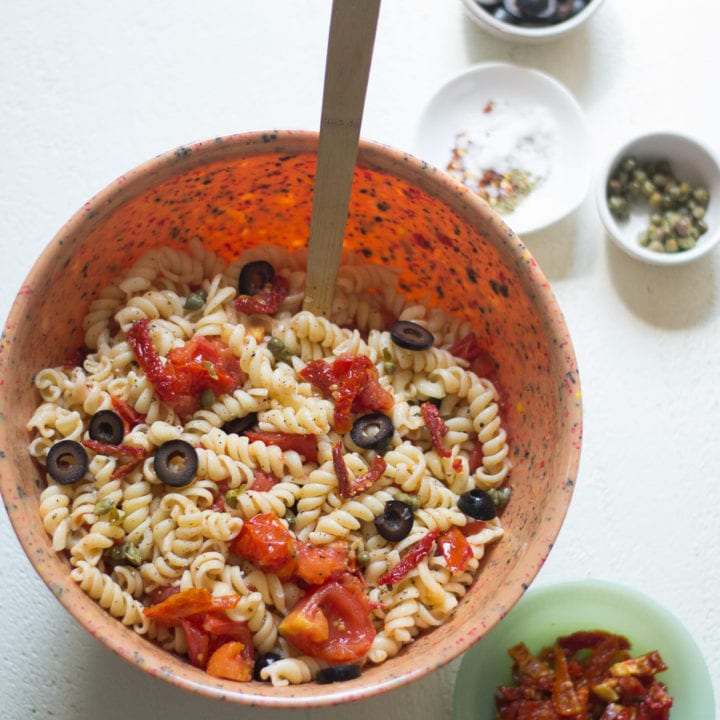 Tomato Lovers Pasta Salad
Yield: Serves 4-6

Prep Time: 10 minutes

Cook Time: 15 minutes

Total Time: 25 minutes

Rotini noodles tossed with a warm chili-garlic tomato vinaigrette, black olives, capers, and sun-dried tomatoes make up this epic tomato lovers pasta salad.
Ingredients
1/3 cup extra-virgin olive oil
5 roma tomatoes, cut into eighths
2 garlic cloves, minced or grated
1/2 tsp red pepper flakes
16oz rotini noodles
1 tbsp white wine vinegar
1-2 tsp salt
1 tsp dried oregano
3/4 cup sliced black olives
1/2 cup juliened sun-dried tomatoes
1/2 cup capers
Instructions
Bring a large pot of salted water to a boil. Once the water is boiling cook the rotini noodles according to the packaging instructions. Drain once al dente and then set off to the side to cool.
In a deep pot cook the red pepper flakes, tomatoes, and oil over medium/high heat for 5-7 minutes. Cover with lid because the oil will splatter.
Once the tomatoes start to breakdown, add the garlic along with a pinch of salt. Cook for 3 more minutes. Use a wooden spoon to break apart some of the tomato chunks. You don't want a sauce, just smaller bite-sized pieces.
Add the thyme and cook for one more minute. Set the tomato pot off to the side to cool for about 5 minutes.
Add the noodles to a large serving bowl/mixing bowl. Use a large spoon to transfer the tomatoes and liquid into the noodles. Add the vinegar. Mix well to combine. Add salt and pepper to taste.
Stir in the olives, capers, and sun-dried tomatoes.
Sprinkle the pasta salad with a little bit of grated Parmesan cheese as an optional garnish.
Recommended Products
As an Amazon Associate and member of other affiliate programs, I earn from qualifying purchases.