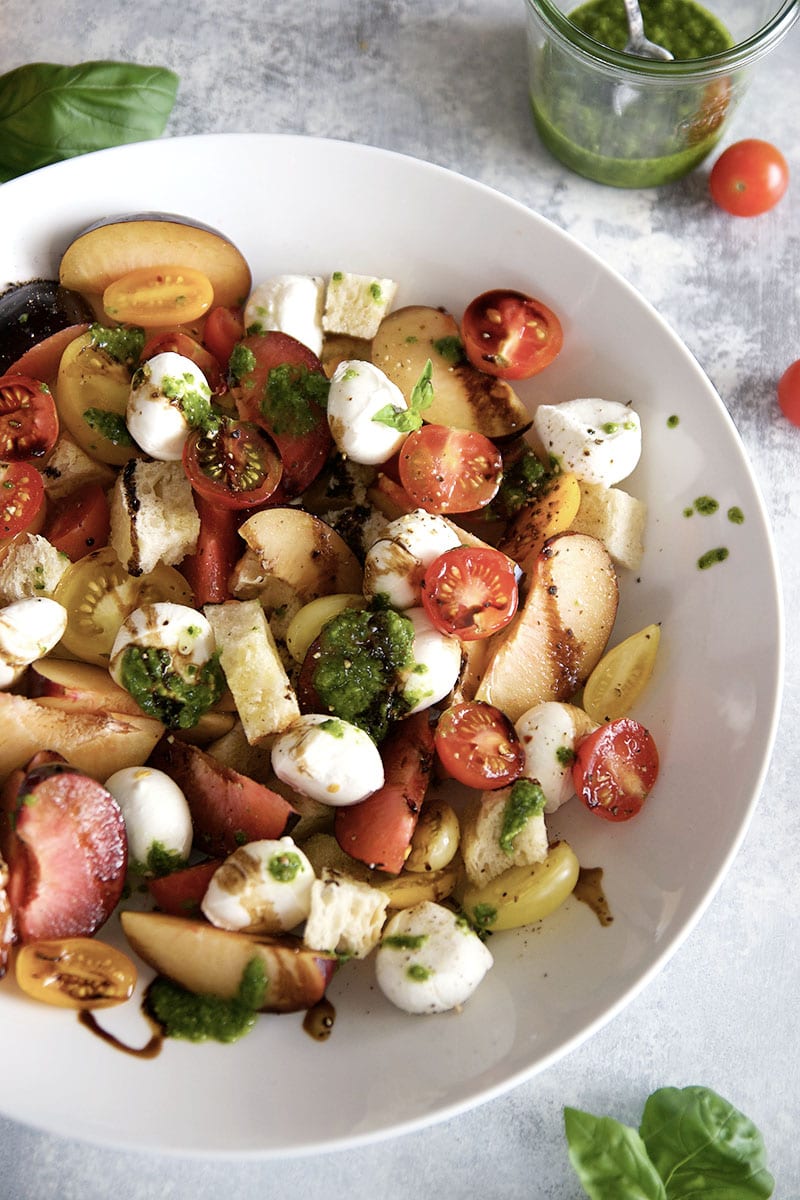 I hope everybody had a nice long weekend. I hope you all had today off from laboring. I feel like I seriously got nothing accomplished this weekend. Wait, scratch that. I added to the height of my laundry pile and the amount of toys scattered round my floor. Needless to say, I have a lot of catch up to play today.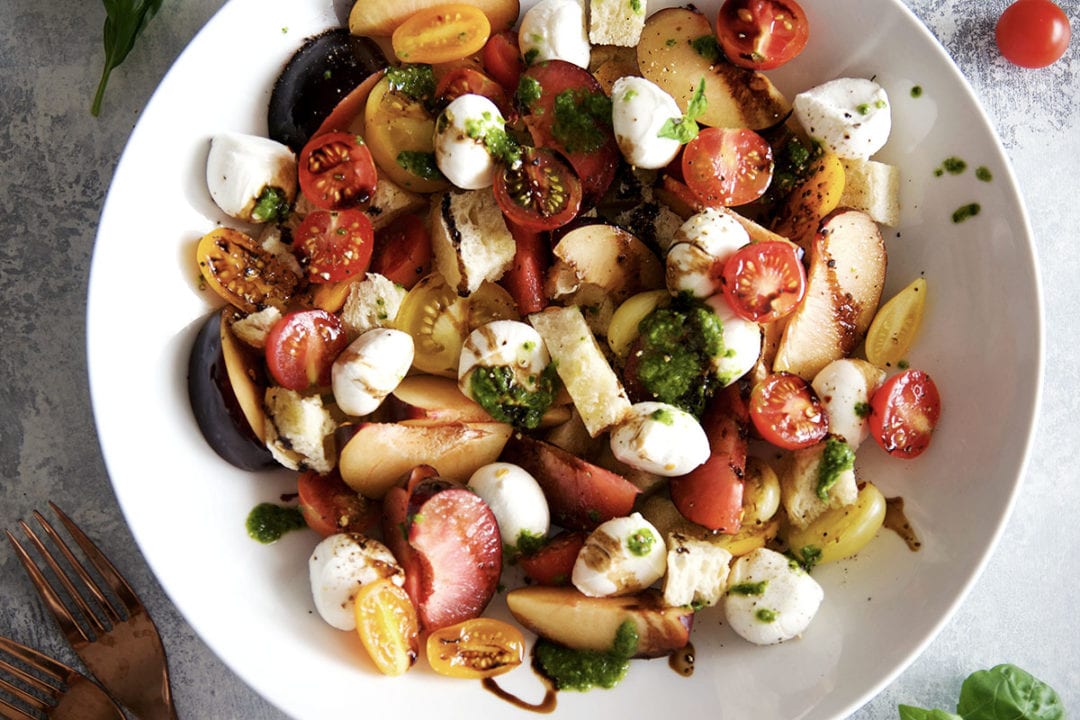 I posted this fly by the seat of my pants recipe to my Instagram yesterday and was surprised with the amount of recipe requests. Go figure, the one recipe I don't have on my site. So, today, I used you guys as an excuse to do the following:
Eat more cheese.
Ignore my laundry a little longer.
Step ever so gingerly over all the toys.
Let's be honest though. Cleaning toys while kids are still awake is really pointless. It just draws their attention to what you are doing and then the second you fill the box with every car, they dump it out again. I really am just saving myself the frustration.
And then there is the laundry.
There is always laundry so I am not too worried about this one.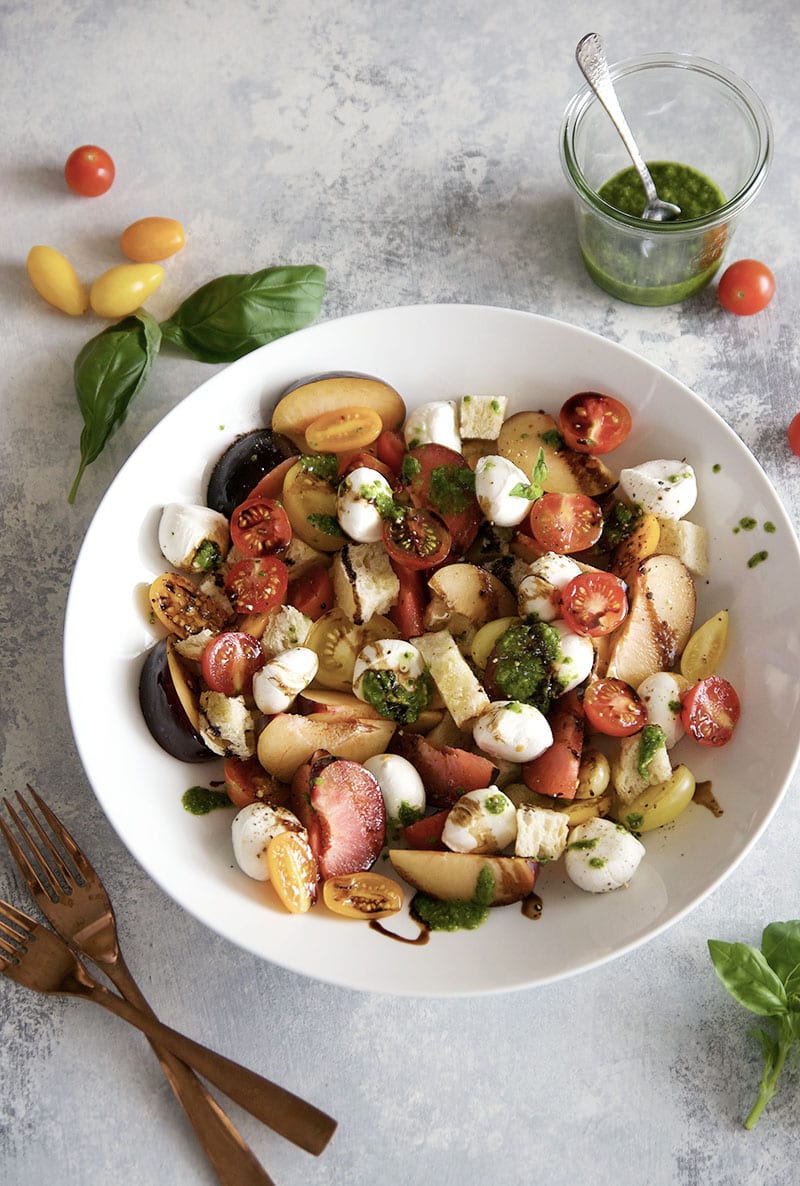 Oh, and finally, the cheese. As I told you guys before, I recently found out that dairy kills my face. I cut out dairy for a month and had the best skin ever. Aside from that random chin zit I get every time it is that time of the month. Sorry if that was TMI.
But, I started adding in cheese a little at a time. Hmm, skin is still pretty clear. Ok, bring on more cheese. Oops, a few break outs. Then I started thinking well, what's one more zit? And now we are back to square one.
In a way this is like a final (for now) hurrah with these beautiful fresh mozzarella balls and, also, a final goodbye to the beautiful stone fruit season. Hit your stores quick and stock up on plums. They are cash money right now.
Ugh, no more using you guys as an excuse. Gotta go get my house in order.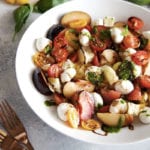 Plum Caprese Panzanella with Basil Vinaigrette
Juicy and sweet plums bring a bold new flavor to a classic caprese panzanella salad with a basil vinaigrette.
Ingredients
For the Basil Vinaigrette:
1

Cup

Tightly Packed Fresh Basil Leaves

stems removed

1/2

Shallot

diced

1

Garlic Clove

chopped

1

Tablespoon

Apple Cider Vinegar

1/3

Cup

Extra Virgin Olive Oil

Small Pinch of Crushed Red Pepper Flakes

1/2

Teaspoon

Salt

1/4

Teaspoon

Freshly Ground Black Pepper
For the Salad:
2

Cups

Cubed Ciabatta Bread

12

Ounces

Mini Heirloom Tomatoes

sliced in half

2

Ripe Plums

pits removed and sliced into 8 wedges

8

Ounces

Fresh Mozzarella Bocconcini

Salt and Pepper

Drizzle of Light Olive Oil

Drizzle of balsamic Syrup
Instructions
Preheat the oven to 350 degrees F. Add cubes of bread to a small baking sheet. Drizzle with a small amount of olive oil and season with salt and pepper. Toss to evenly coat.

While the oven preheats, make the vinaigrette. Add basil, shallot, and garlic to a food processor. Pulse until very finely minced. Add in the vinegar, salt, pepper, crushed red pepper, and olive oil. Puree until smooth and combined, about 2-3 minutes.

Add the bread cubes to the oven. Turn the oven off. Let the bread just dry out for about 20 minutes. If you want to go the route of store-bought croutons to save time, that's ok. They will just be more crunchy than these homemade ones.

Add the toasted bread cubes, tomatoes, plums and bocconcini to a large salad bowl/plate. Arrange as you see fit.

Drizzle little dollops of the basil vinaigrette on top of the salad, about 3-4 teaspoons.

Finish salad off with a big drizzle of light olive oil, balsamic syrup, and a good seasoning of salt and freshly ground black pepper.

Best eaten the day of at room temperature.