Broccoli, mushroom, and tomato pasta is an easy dish to throw together in under 30 minutes. Lots of lemon, olive oil, and garlic coat a veggie packed pasta.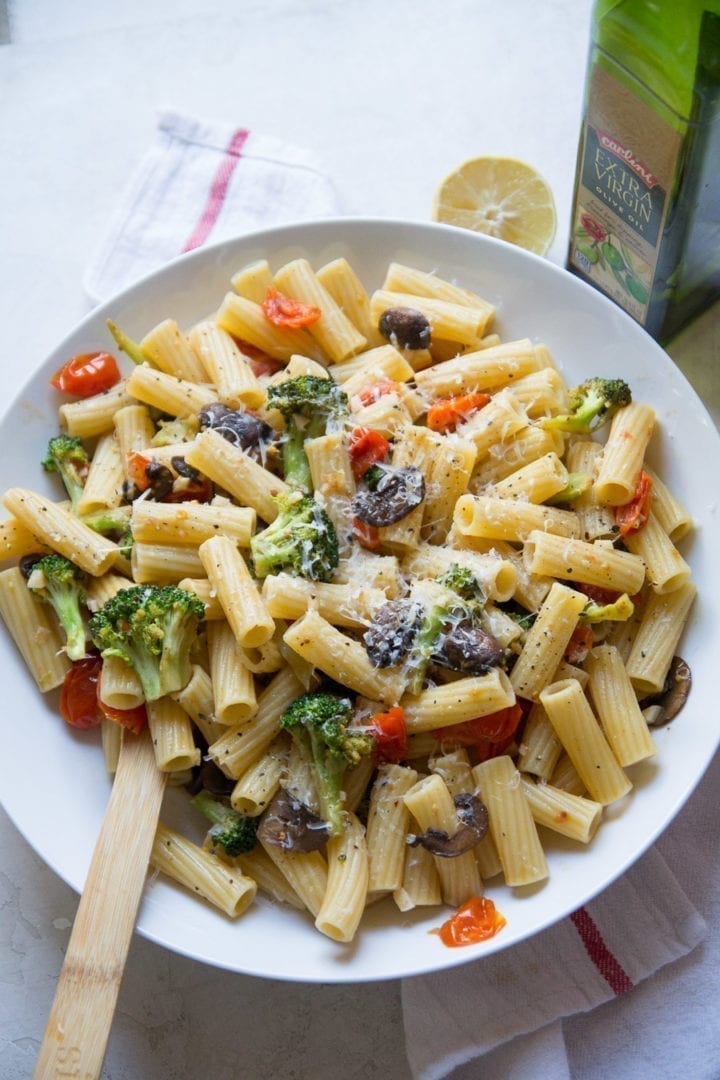 This meal originally started out as a clean out the fridge meal.
Half a pint of mushrooms and some broccoli looking sorta sad in the corner of my fridge… I can work with this!
It ended up being so good, I made it again.
And again.
Then I knew I had to share it with you guys.
Think of my spicy lemon shrimp pasta.
It's like that minus the shrimp and adding in mushrooms and broccoli.
In my opinion, you don't always need a tomato based sauce for pasta.
I love this dish because it is just veggies sautéed in olive oil with lots of minced garlic and fresh lemon juice.
First, caramelize the mushrooms.
Then add in the broccoli, tomatoes, crushed red pepper, and lots of garlic.
Let that cook over low until the tomatoes burst.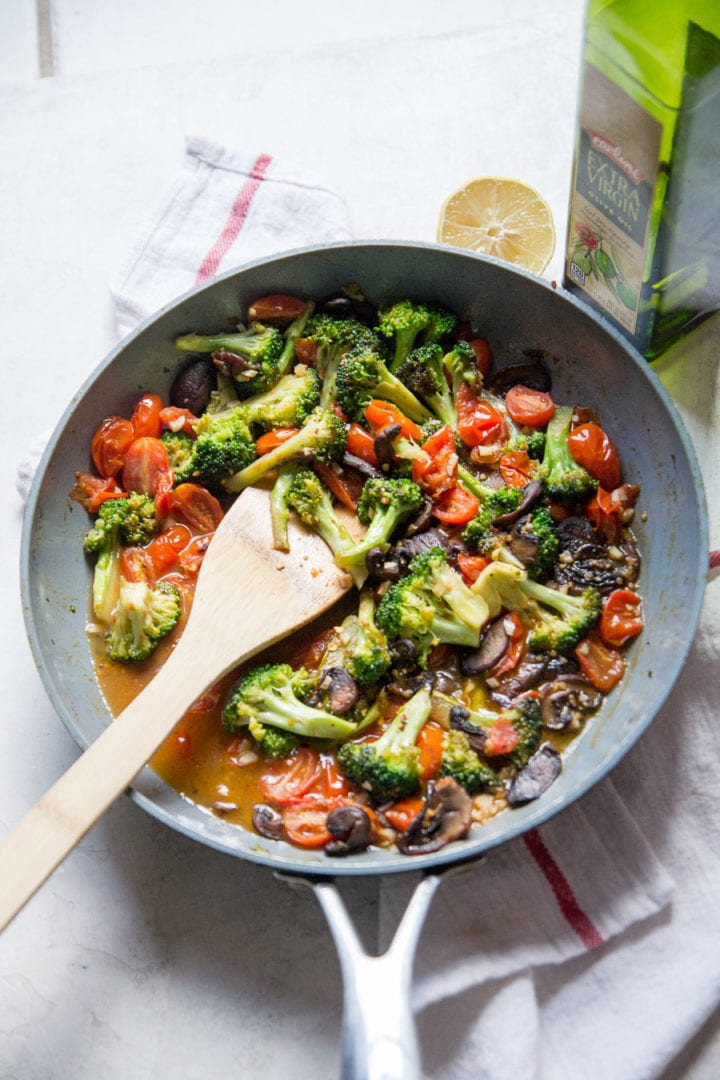 I add a little pasta cooking liquid to make it saucy.
Once the pasta is ready, mix it with all the veggies and then top it with juice from 1 lemon.
I have even eaten this dish cold.
Leftover broccoli, mushroom, and tomato pasta makes for like a cooler, fancier pasta salad.
Feel free to swap out whatever noodle you have on hand. I am particular about the tube-shaped pastas for this dish, but spaghetti or linguine would work too!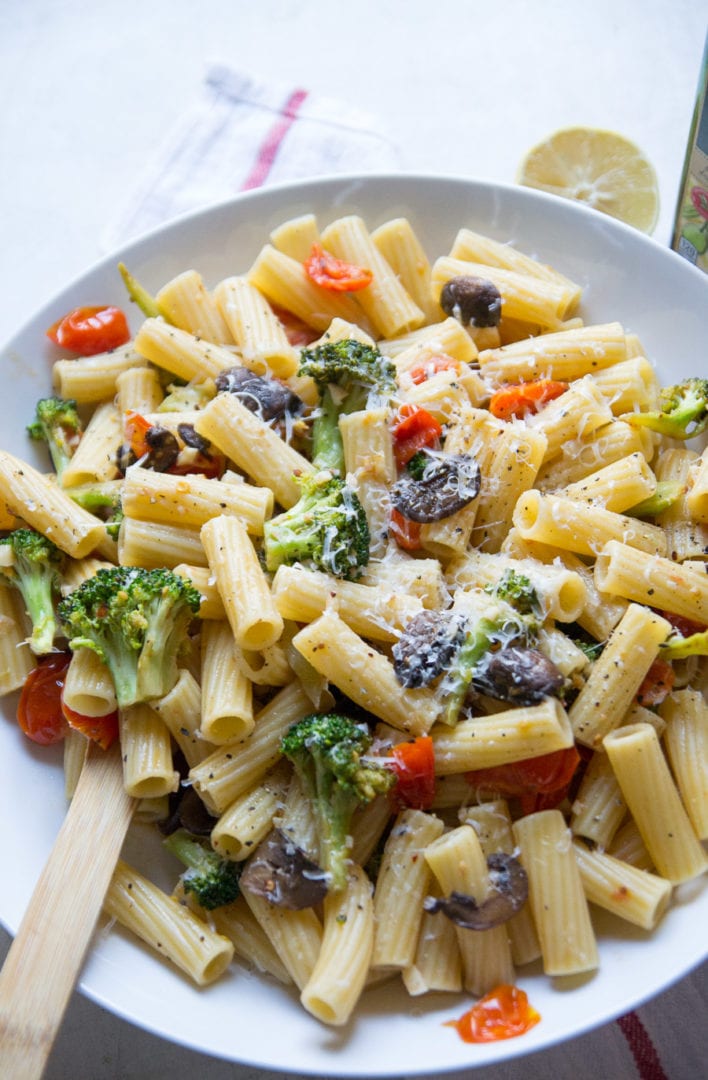 If you are looking for another recipe to use up tomatoes, try this butter tomato pasta.
I also love to make a stir fry or broccoli cheddar soup with dying broccoli.
Mushrooms that look a little questionable also make for a delicious tomato-based pasta sauce.
I hope I have you a little weeknight dinner inspo for all that dying produce.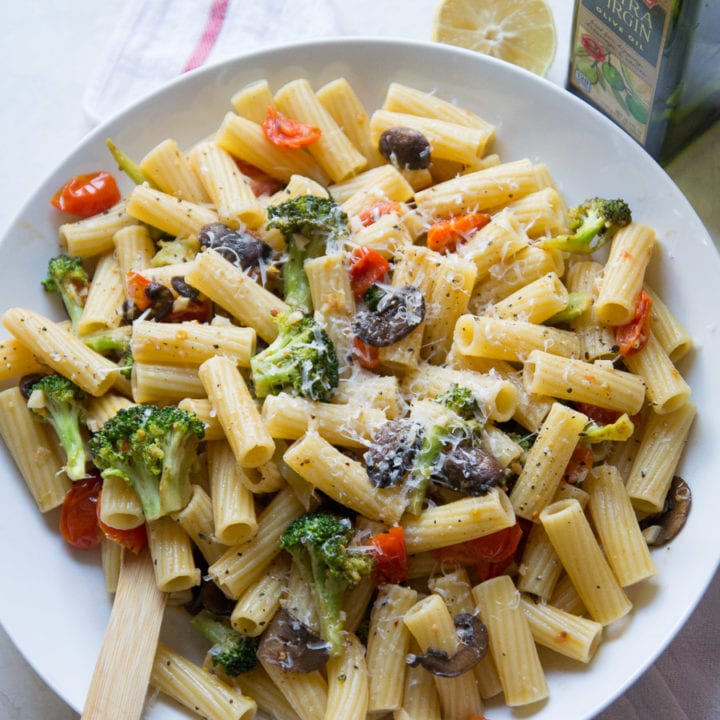 Broccoli, Mushroom, and Tomato Pasta
Yield: Serves 4

Prep Time: 7 minutes

Cook Time: 15 minutes

Total Time: 22 minutes

Lemony, garlic sauce coated rigatoni, broccoli, mushroom, and tomato pasta dish.
Ingredients
3 tbsp extra-virgin olive oil
4oz Baby Bella mushrooms, stems removed and sliced
1 1/2 cups fresh cut broccoli florets
1 cup grape tomatoes, cut in half
3 garlic cloves, minced
1/2 tsp - 1/4 tsp crushed red pepper flakes
10 oz Rigatoni Pasta
1/2 cup reserved pasta cooking liquid
juice from 1 lemon
salt to taste
Instructions
Bring a large pot of salted water to a boil. Add the pasta and cook according to the packaging instructions.
Heat 2 tbsp extra virgin olive oil in a large skillet over medium/high heat. Once shimmering, add the mushrooms. Cook for about 7-9 minutes. Season with a pinch of salt once golden.
Reduce the heat to medium/low. Add the broccoli and tomatoes. Mix in the remaining tbsp of olive oil, garlic, and crushed red pepper. Mix to combine. Cover with a lid and cook for about 7 minutes.
Once the pasta is cooked, add it to the pan with the veggies. Mix a little of the pasta water into the dish along with the juice of one lemon.
Season with salt and more crushed red pepper if needed.
Recommended Products
As an Amazon Associate and member of other affiliate programs, I earn from qualifying purchases.