DISCLAIMER: This is a sponsored post paid for by Somrus Mango Liqueur. I was compensated for my time, photography, and recipe creation. All opinions are as always 100% my own. Thank you for allowing me to feature a product I truly enjoy. It helps to keep this blog running.
Mango milkshake IPA Popsicle's are the best way to get that at home milkshake IPA fix. Frozen mango chunks blended with your favorite IPA and Somrus Mango Cream Liqueur are poured into popsicle molds and frozen to create the perfect cool end of summer treat.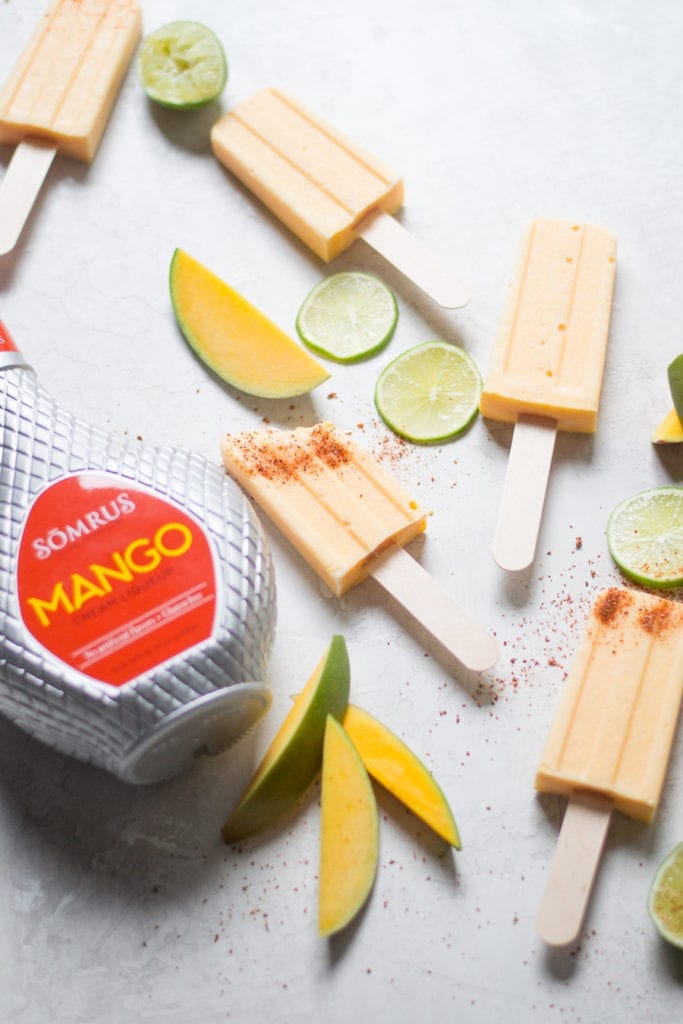 NEWSFLASH!!! Summer isn't over yet, people! Let's make all the boozy popsicles while we still can. Just remember to keep them separate from the kiddie stash. I cannot be held accountable for any mix ups.
This is my second sponsored post for Somrus Mango Cream Liqueur. Remember that beautiful Hawaiian Mango Sunrise Cocktail? That sure was delish. Get ready for another flavor powerhouse with some booze to kick.
Creamy dreamy mango liqueur blended with your favorite IPA and some frozen mango chunks makes for one amazing frozen treat at the end of the day.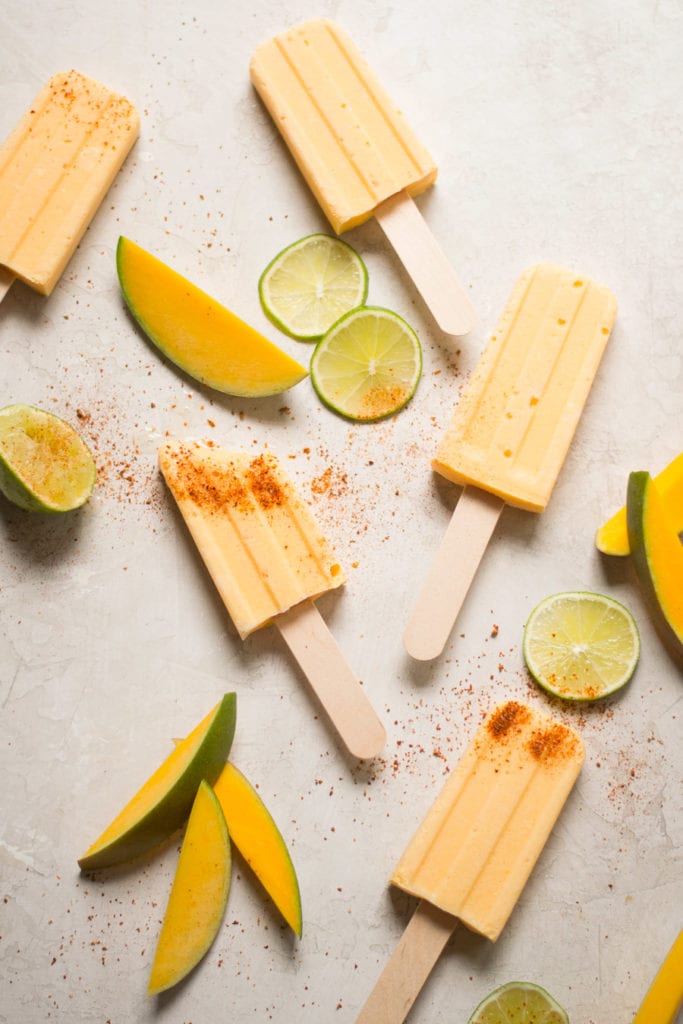 These milkshake IPA's are all the rage in the craft beer scene right now. A 4-pack can cost you anywhere from $16 to $20. This is an easy way to replicate all the flavors at home in dessert form. I know you guys already have some leftover Somrus from that Binny's trip you made last time I featured them. That means this recipe will be easy peasy!
I highly recommend a lighter IPA: nothing too bitter for this recipe. I did test this out as a boozy milkshake too. It does the job as well if you don't feel like waiting for popsicles to freeze.
Mango milkshake IPA popsicle's only require three ingredients: a blender, and a popsicle mold. You'd be lazy NOT to make them. Kick back with a frozen treat and think back on all you accomplished and enjoyed this summer.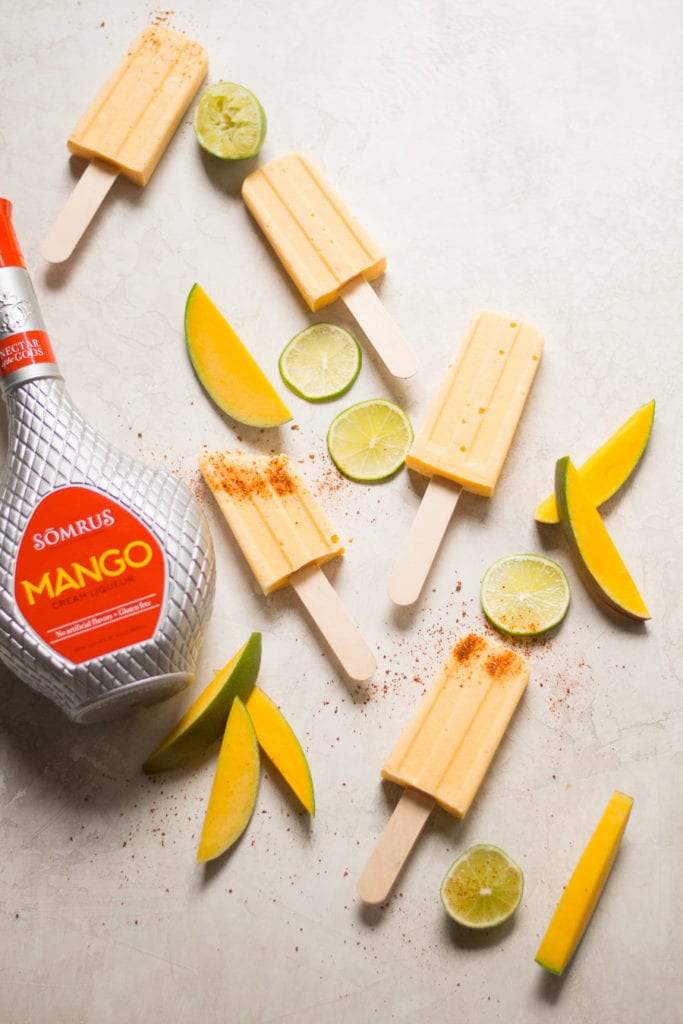 You deserve it!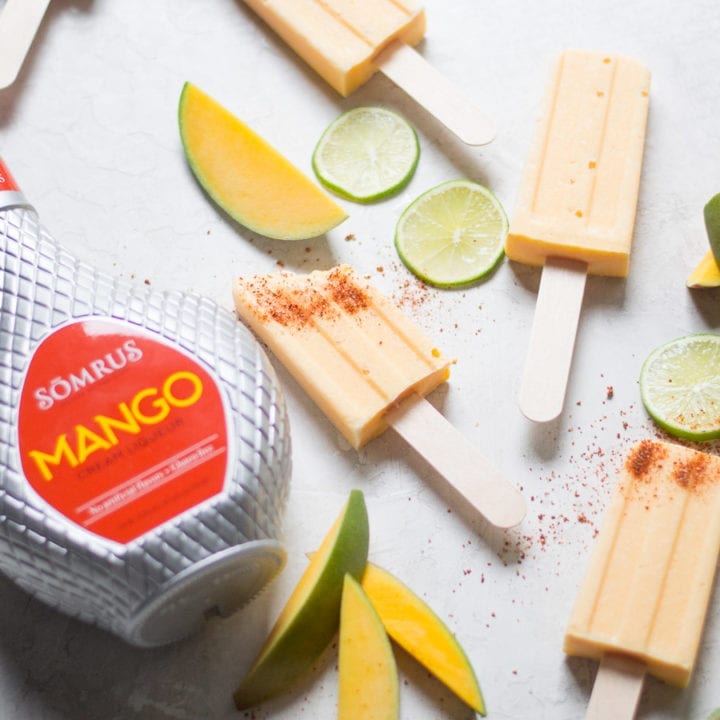 Mango Milkshake IPA Popsicle's
Additional Time:
12 hours
Total Time:
12 hours
10 minutes
Sweet and creamy mango milkshake IPA popsicle's combine Somrus Mango Cream Liqueur, frozen mango chunks, and your favorite IPA into a boozy treat.
Ingredients
1/2 cup Somrus Mango Cream Liqueur
3/4 Cup IPA
2 cups frozen mango chunks
Instructions
Combine all the ingredients in a blender.
Press puree. Puree until smooth.
Pour the contents equally into 8 popsicle molds. Insert popsicle sticks. Freeze in the freezer overnight.
Notes
Serve with a squeeze of lime juice and a dash of chili lime or Tajin seasoning for a little kick.
Recommended Products
As an Amazon Associate and member of other affiliate programs, I earn from qualifying purchases.