Apricot and pear slaw combines pears, dried apricots, shredded Brussles sprouts, cabbage and almonds in a dijon vinaigrette. Serve alongside a pulled pork sandwich or on it's own this fall.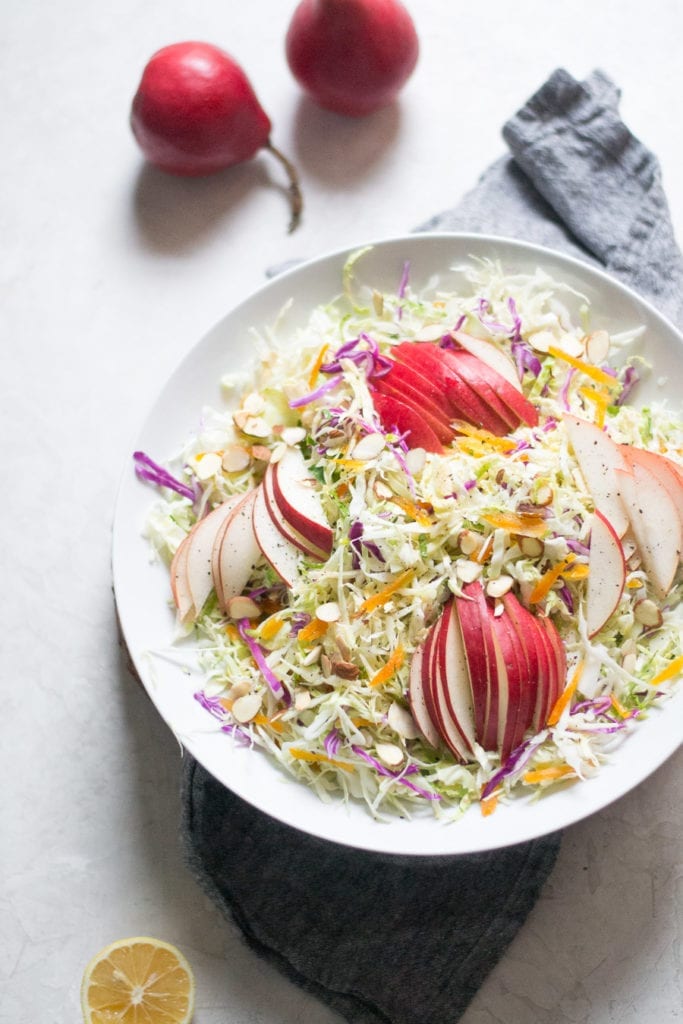 Phew! Let's take a breather from all things typical Thanksgiving like potatoes, potatoes, and potatoes. We need to lighten things up today with a little apricot and pear slaw. This is the kind of salad you mix up and end up eating 3/4 of it directly from the mixing bowl before your husband even has a chance to taste it.
Not that I speak from experience.
Also, not that Mike would complain about another missed opportunity to eat more cabbage and Brussels sprouts. I'm just trying to keep him healthy, people.
My idea with this slaw was a way to highlight the sweet red pears of fall. Since apricots aren't in season anymore, I used dried apricots to add a little bit of extra sweetness. The fruit adds a lot to the salad so you don't need to add any sugar to the vinaigrette to make this slaw balanced.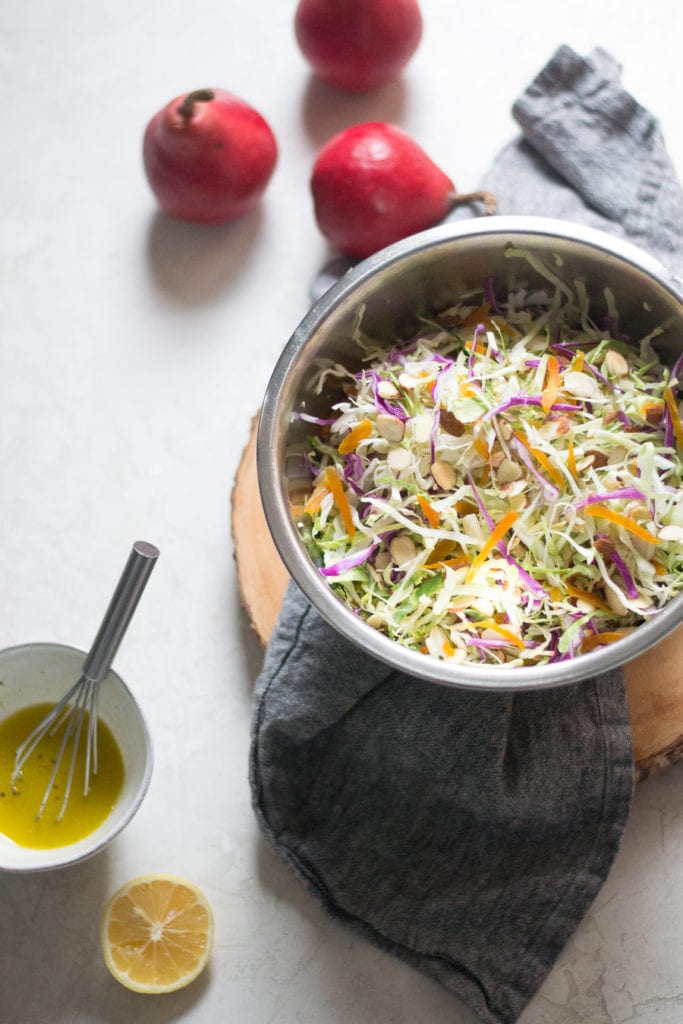 Use either a red crimson pear or a Red D'Anjou pear for this salad. Not only does it add the perfect contrasting color combination, the flavors are out of this world. I found my pears at the local grocery store. They are readily available.
I used a few large Brussels sprouts instead of buying pre-shredded sprouts. It adds a little time to the recipe to shred them, so if you want to save on time, buy the pre-shredded. Toasting the almonds is definitely optional. I liked the crisper texture but again, to save time, skip it.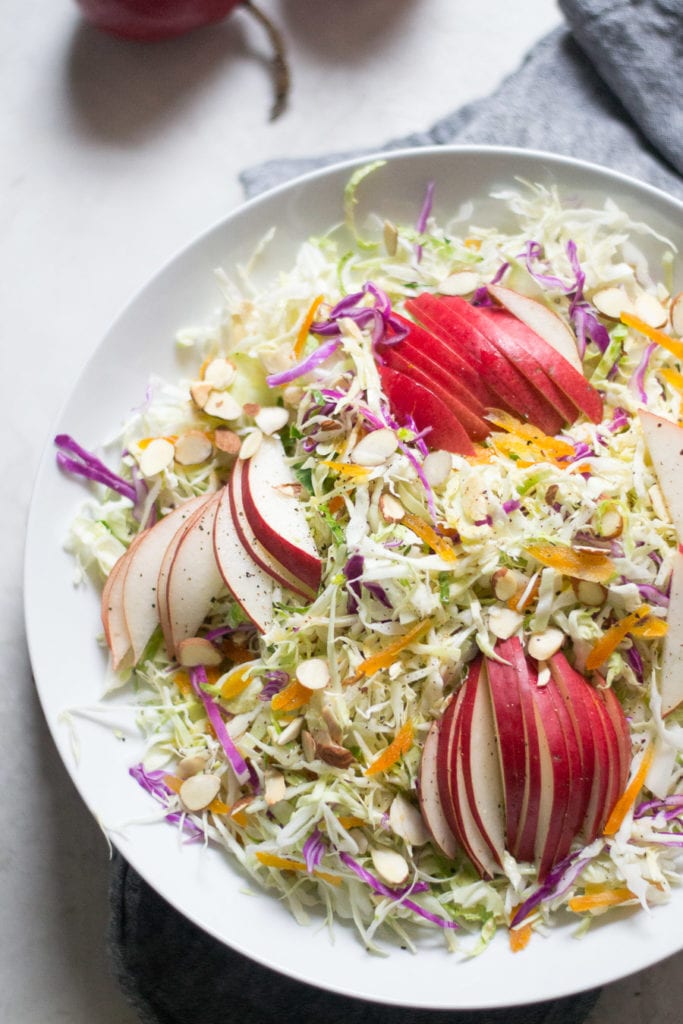 This slaw could totally be at your Thanksgiving table because she is so dang pretty. However, this recipe would also be 100% acceptable alongside a little buffalo pulled chicken or pulled pork sandwich. As long as the season is still fall, there is no wrong way to eat/serve this salad!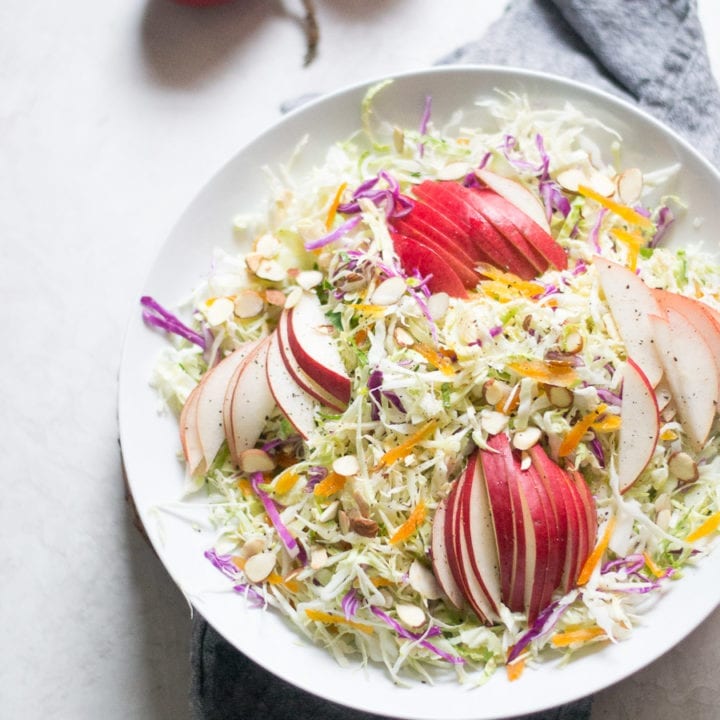 Apricot and Pear Slaw
Cabbage, red pears, dried apricots, Brussels sprouts, and almonds tossed together ina simple dijon vinaigrette makes for a perfect slaw.
Ingredients
4 tbsp extra-virgin olive oil
1 tbsp apple cider vinegar
2 tsp lemon juice
1/2 tsp Dijon Mustard
1/2 tsp salt
1/4 tsp black pepper
1/2 -3/4 (15-20oz) large head of green cabbage, core removed and shredded
1/2 cup shredded purple cabbage
1/4 cup dried apricots, cut into thin matchsticks
4 large Brussels sprouts, shredded
1 red pear, thinly sliced
2 oz sliced almonds
Instructions
In a small bowl, whisk together the olive oil, vinegar, lemon juice, mustard, salt, and pepper. Set off to the side.
To quickly and thinly shred the cabbage and Brussels sprouts, I highly recommend using a mandolin set to the middle setting. Or you can buy pre-shredded to save time.
Add the cabbages, apricots, and Brussels sprouts to a large mixing bowl. Toss to combine with about 1/2 the vinaigrette.
Refrigerate until ready to serve (no longer than 6-8 hours) and then top with the almonds and pears. Drizzle remaining vinaigrette over the slaw.
Recommended Products
As an Amazon Associate and member of other affiliate programs, I earn from qualifying purchases.