Brown butter, cocoa, chili acorn squash is the perfect slightly spicy and sweet side dish. Acorn squash is seasoned with a blend of almost molé-like flavors. This seasoning goes great on any fall squash.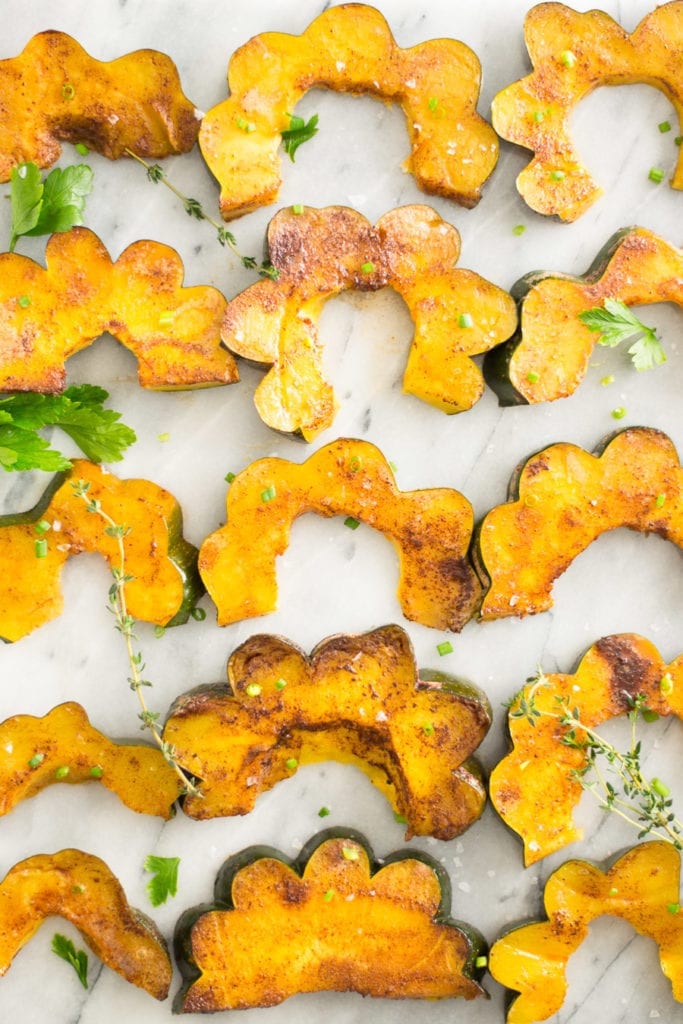 I don't eat enough squash this time of year. I definitely try to max out of leafy greens like kale and Brussels sprouts, but squashes get pushed to the wayside. Luckily, I found the magic elixer of flavors to add to any sort of squash to take it to the next level.
Now I won't be fumbling and trying to incorporate a sautéed delicata squash or a butternut squash puree into all the things. All you need is a little bit of brown butter, cocoa powder, and chili powder. The flavor combination is like a DIY minimalist mole sauce.
It works really well with acorn squash.
I say that brown butter, cocoa, & chili acorn squash is the best combo of squash and seasonings only because you don't have to peel them! Just slice, scoop, slice again, season, and then roast or steam. The spice with the cocoa powder is an amazing, warm seasonal combination.
In my first book, Quick Prep Cooking with Your Instant Pot, I included a recipe for this squash. You quickly steam the squash and then sauté it in brown butter. You can easily roast the acorn squash first and then drizzle with brown butter at the end too. Both methods are easy and produce the same delicious results.
I included both methods below for your reference since I know some of you still aren't on the Instant Pot bandwagon.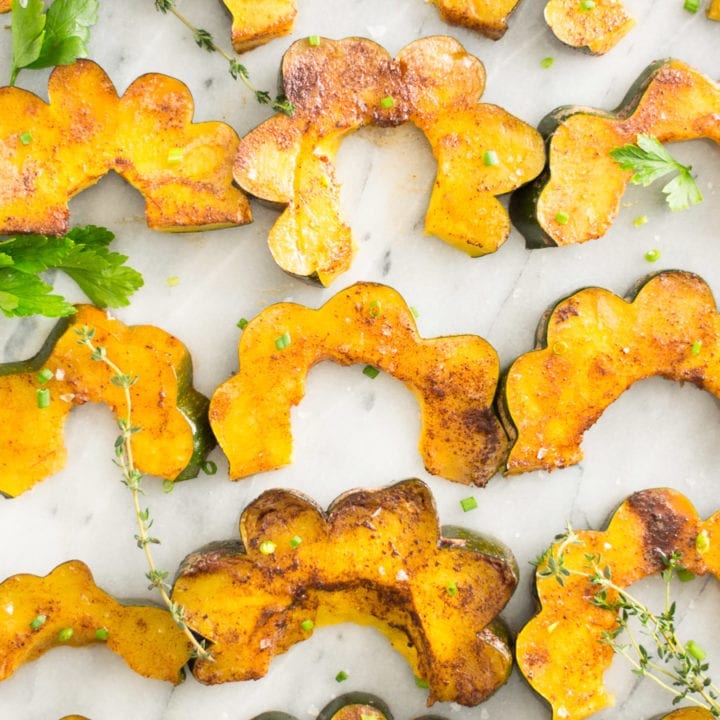 Brown Butter, Cocoa, & Chili Acorn Squash
Tender acorn squash coated in a combination of spicy chili powder, slightly sweet cocoa powder, and brown butter makes a perfect seasonal side dish.
Ingredients
1 medium acorn squash
1 cup water, for the Instant Pot method
1 tbsp avocado oil, for the oven method
1/4 cup unsalted butter
1/2 tsp dark unsweetened cocoa powder
1 tsp chili powder
1/2 tsp salt
1/4 tsp black pepper
Instructions
Prepare the acorn squash by slicing down the middle from top to bottom. Use a spoon to scoop out the seeds and fibrous strands from the center. Slice each half into 1/2 moon, 1/3" thick slices.
INSTANT POT METHOD: Place the steam trivet in the bottom of the Instant Pot along with the cup of water. Arrange the squash on top of the trivet. Secure the lid with the steam vent sealed. Press High Pressure and adjust the time until the display reads 2 minutes. Quick release the pressure when the timer sounds. Remove the lid and use tongs to remove squash. Transfer to a plate and season with salt, pepper, cocoa, and chili. Empty liquid from Instant Pot. Press Sauté and once the display reads hot, add the squash in batches and cook for 7 minutes, flipping halfway through until browned and cooked.
OVEN METHOD: Preheat the oven to 400 degrees F. arrange squash on a medium/large cookie sheet. Drizzle with olive oil, toss to coat. season with the cocoa powder, chili powder, salt, and pepper. Roast for 15-20 minutes, flipping halfway through until fork tender. while the squash roasts, add the butter to a small sauce pan and cook over medium heat for about 5 minutes until the butter browns. once the squash is roasted, remove baking sheet from the oven and drizzle brown butter on top of squash.
Serve right away.
Recommended Products
As an Amazon Associate and member of other affiliate programs, I earn from qualifying purchases.