Easy fancy scalloped potatoes are the perfect mix of creamy and crunchy. The thinly sliced potatoes are cooked in a creamy cheese sauce standing on their sides so the tops get extra crispy.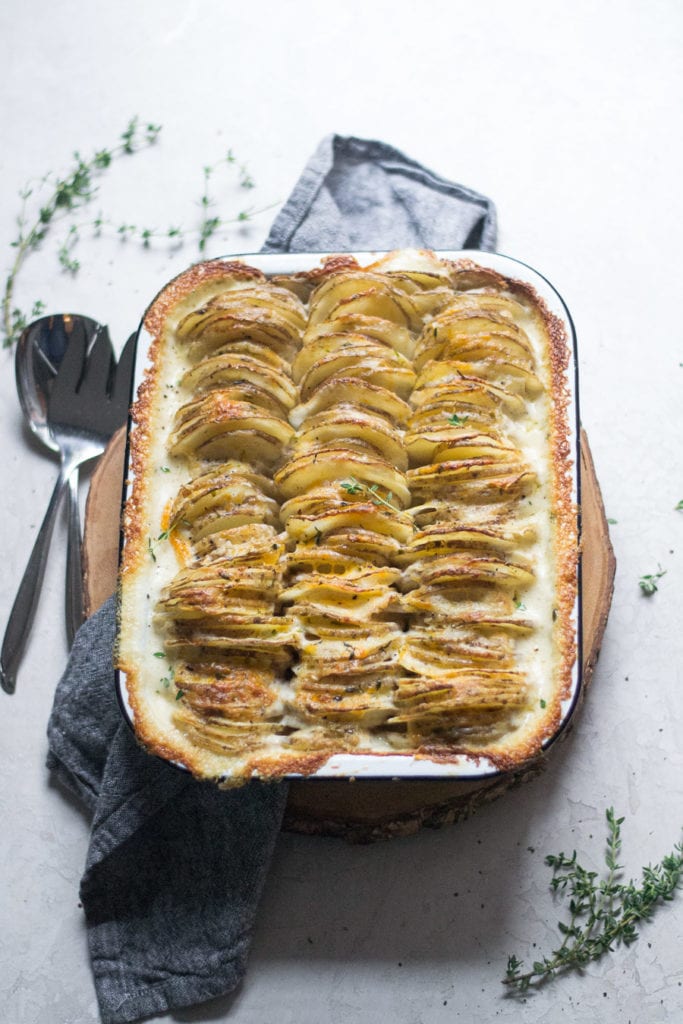 This recipe combined with a re-shoot of my Mom's refrigerator overnight mashed potato recipe is the reason I ate potatoes for lunch for about a week straight. Not only did I cook all the potatoes; I cooked up a stuffing recipe as well. I was on top of my holiday recipes this year. Unfortunately I didn't plan to cook a turkey or pot roast.
It was just sides for us.
I actually prefer Thanksgiving sides to the turkey anyway.
There is more variety.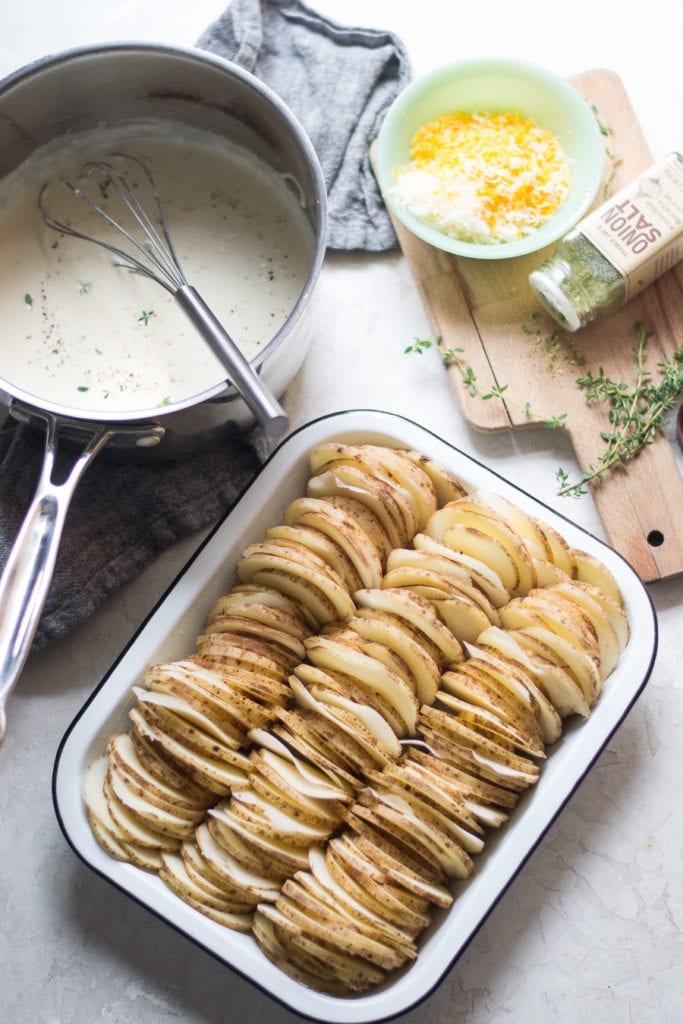 Let the carnivores fight it out over who gets the last of the white/dark meat and go ham on the sides—that's my holiday dinner motto.
The idea for this recipe came from one of my favorite side dishes, hassleback potatoes. A potato is sliced 3/4 of the way down, like an accordion, baked, and stuffed with cheese or butter and veggies. The tops of the potatoes get nice and crispy while the lower half of the potato stays fluffy and creamy.
Easy fancy scalloped potatoes are cooked under the same premise. Arrange the thinly sliced potatoes on their sides, coat in cheese sauce, and then bake. They look super fancy and taste even better than the regular standard scalloped potatoes you might be used to.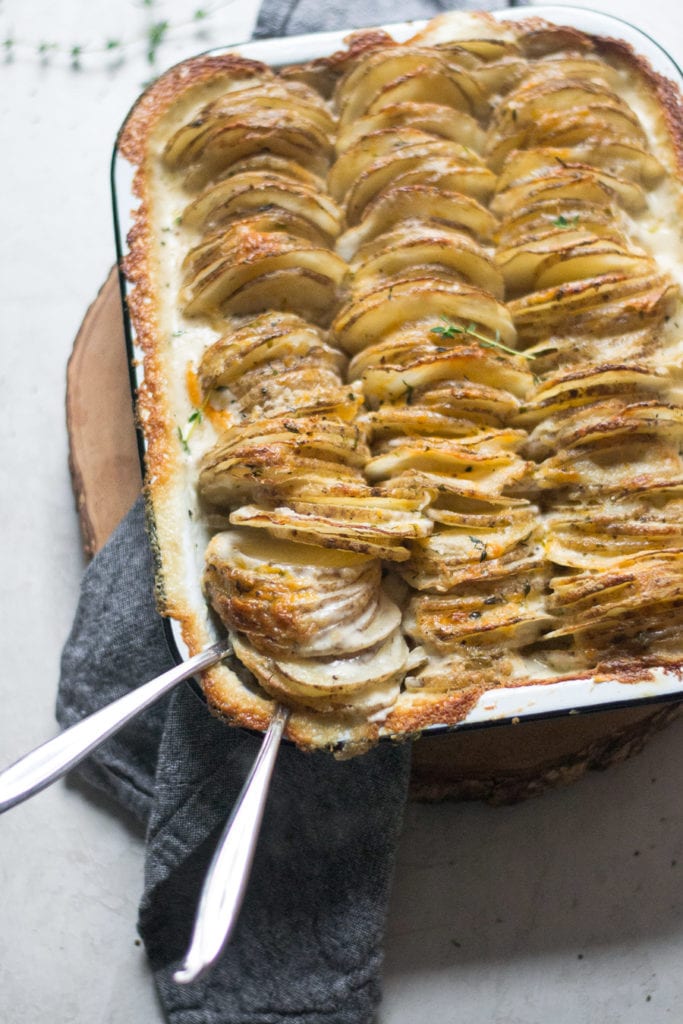 My Thanksgiving isn't complete without my favorite mashed potatoes. However, I would be willing to skip them for a year with a plate of easy fancy scalloped potatoes in front of me.
Sorry mom.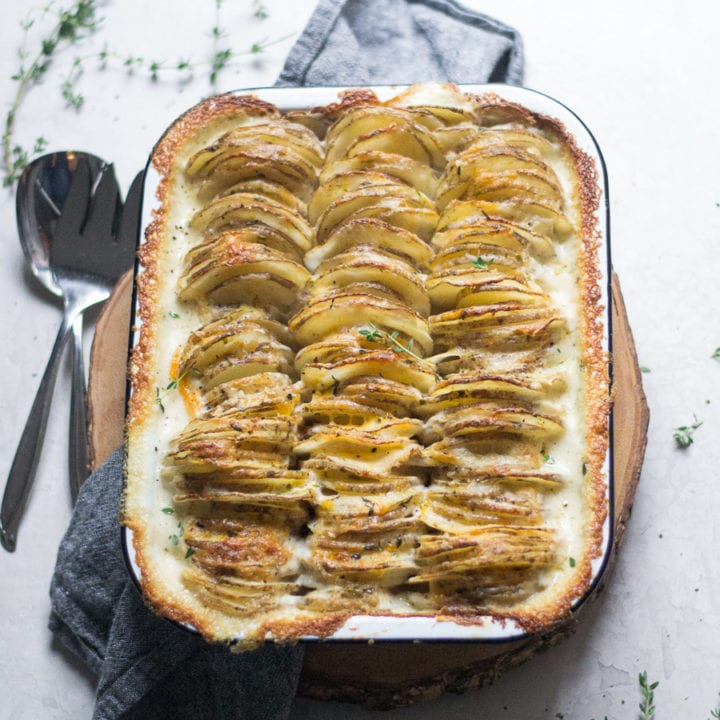 Easy Fancy Scalloped Potatoes
Total Time:
1 hour
10 minutes
Scalloped potatoes arranged on their sides cooked in a creamy cheese sauce so the tops get extra crispy while the bottom of the potatoes stay fluffy.
Ingredients
SAUCE:
3 tbsp unsalted butter
1/4 cup all-purpose flour
1 cup vegetable/chicken stock
1 1/4 cups heavy cream
1 tsp salt
1/4 tsp ground mustard
1/4 tsp garlic powder
1/4 tsp black pepper
1/2 tsp fresh thyme leaves
POTATOES:
4lb Russet potatoes, thinly sliced width-wise
unsalted butter, for greasing the pan
1/4 cup grated parmesan cheese
1/4 cup grated white cheddar
1/2 tsp onion salt
pinch of fresh thyme leaves, for garnish
Instructions
Preheat the oven to 400 degrees F. Grease a 9x13" baking dish and set off to the side.
Wash the potatoes. Use a mandolin set to the middle setting to thinly and quickly slice the potatoes, Set off to the side between a few paper towels or kitchen towels to slightly drain.
Melt butter in a saucepan over medium heat. Add flour and whisk to combine.
Once the flour and roux have cooked for 1-2 minutes, reduce the heat to low, whisk in the stock and cream along with the salt, mustard, garlic, and pepper. Mix and cook on low for 5-7 minutes until thickened.
Arrange the thinly sliced potatoes on their sides in three rows in the pan. Pour the sauce over the potatoes. Sprinkle with cheeses and onion salt. Cover dish with foil and bake covered for 25 minutes.
After 25 minutes, remove the dish from the oven, and remove the foil. Return the pan to the oven and bake uncovered for an additional 25-30 minutes until golden and crisp on top but fork tender in the sauce.
Sprinkle potatoes with a few fresh thyme leaves as garnish along with a little black pepper. Let cool for 5-10 minutes before serving.
Recommended Products
As an Amazon Associate and member of other affiliate programs, I earn from qualifying purchases.