Mac and cheese stuffed mushrooms topped with brown butter fried sage is an amazing handheld appetizer. Easy, cheesy mac and cheese baked inside baby bella mushrooms.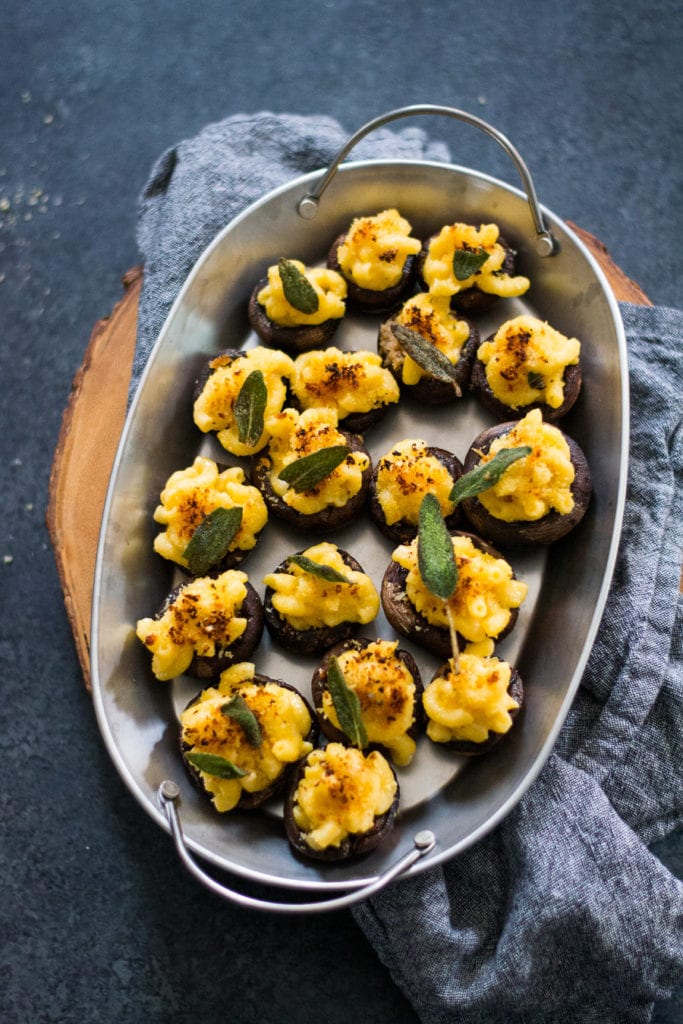 Alright, I guess I lied when I said this month wouldn't be all Thanksgiving recipes. Two days ago it was turkey and today is an appetizer or side. But in my defense it can be used any time of year as a side or an appetizer.
This is basically a healthy way to deliver a lot of mac and cheese to your face. You should welcome this recipe any time of year.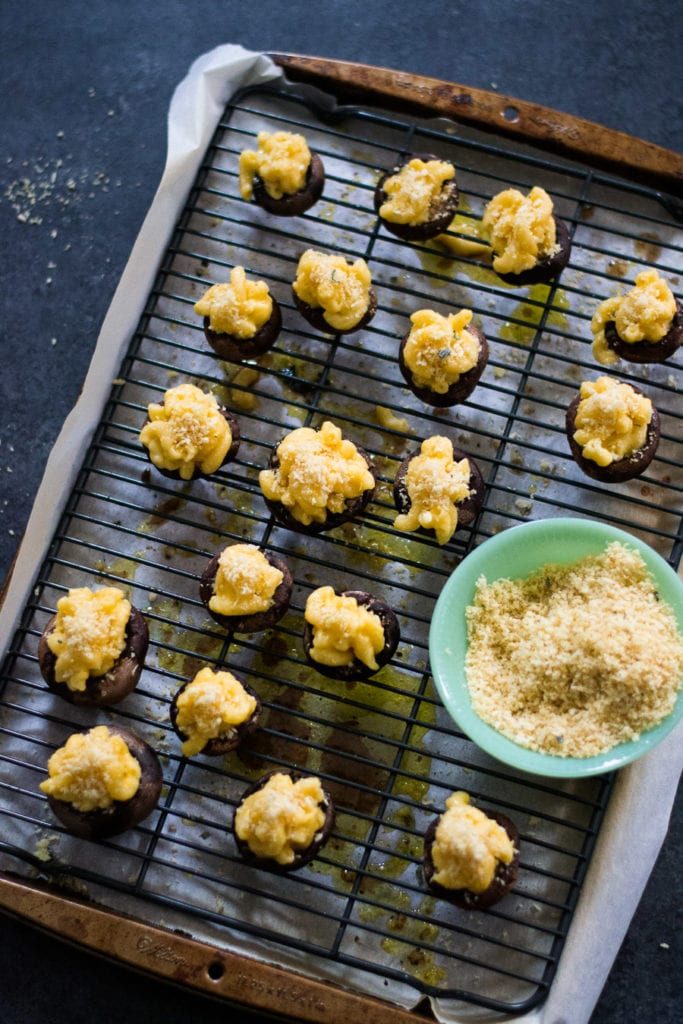 Mac and cheese stuffed mushrooms was inspired by one of my favorite grilled and stuffed mushroom recipes from the summer. Those mushrooms are way too big for an appetizer though.
This recipe starts with an easy, basic mac and cheese recipe. The mac and cheese is stuffed inside broiled baby bella mushrooms, topped with breadcrumbs, and a crispy piece of fried sage.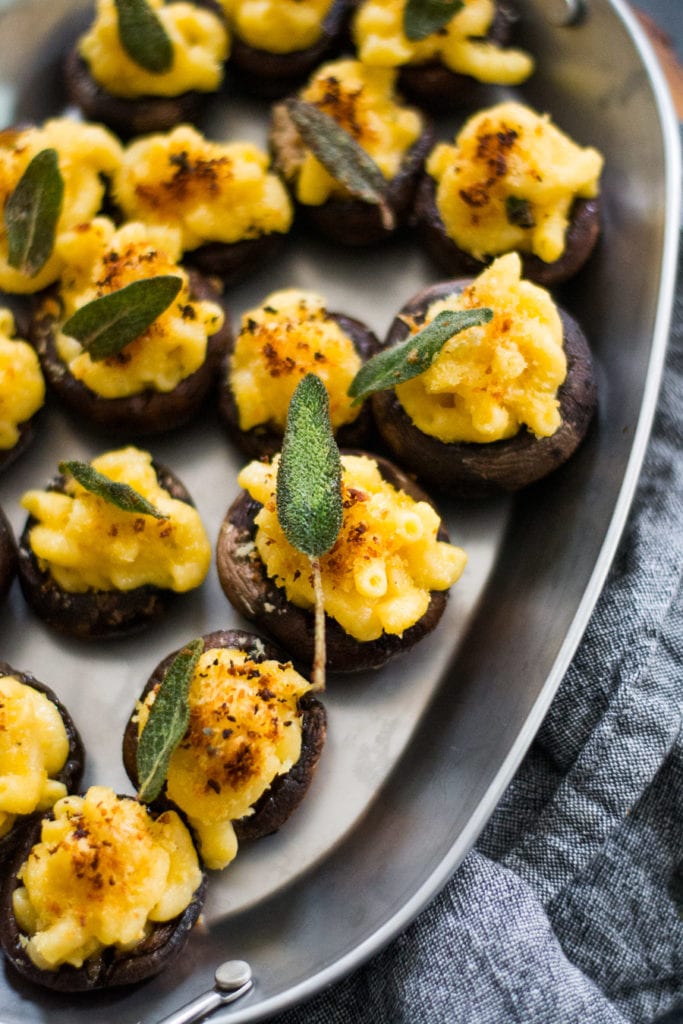 After you make the mac and cheese, the mushroom portion of the recipe of the recipe takes 10 minutes. This way you can make the mac and cheese the day or two before and then just add it to the mushrooms when you're in need of the appetizer.
The key to this recipe is that you can make it as needed when you have time.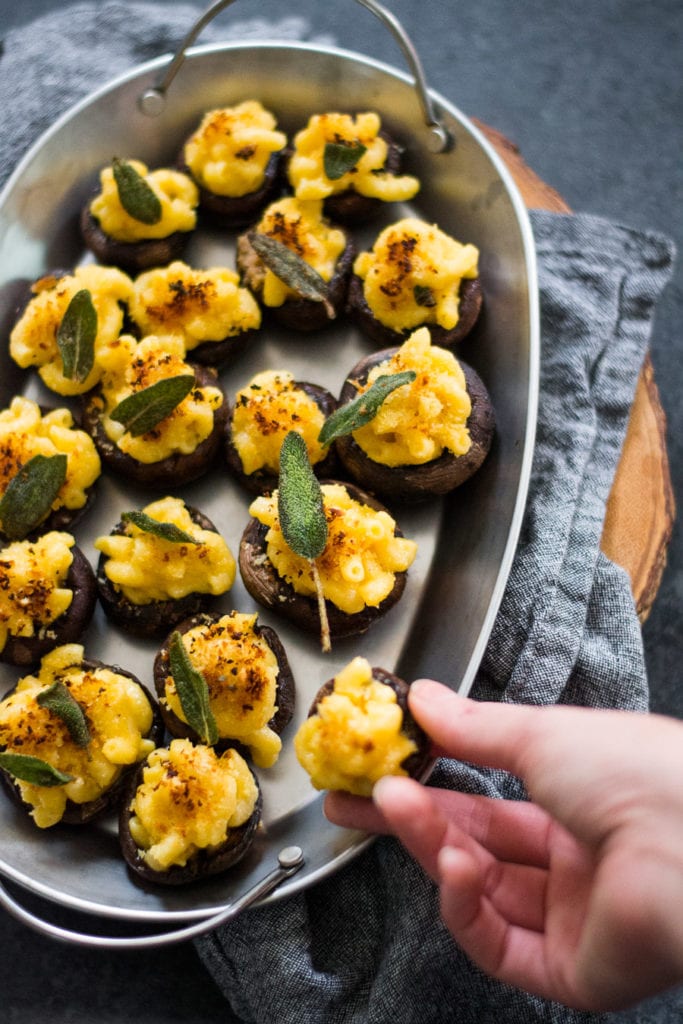 This way you can focus on getting ready to go to Thanksgiving dinner or getting other more important dishes like the turkey and mashed potatoes prepped.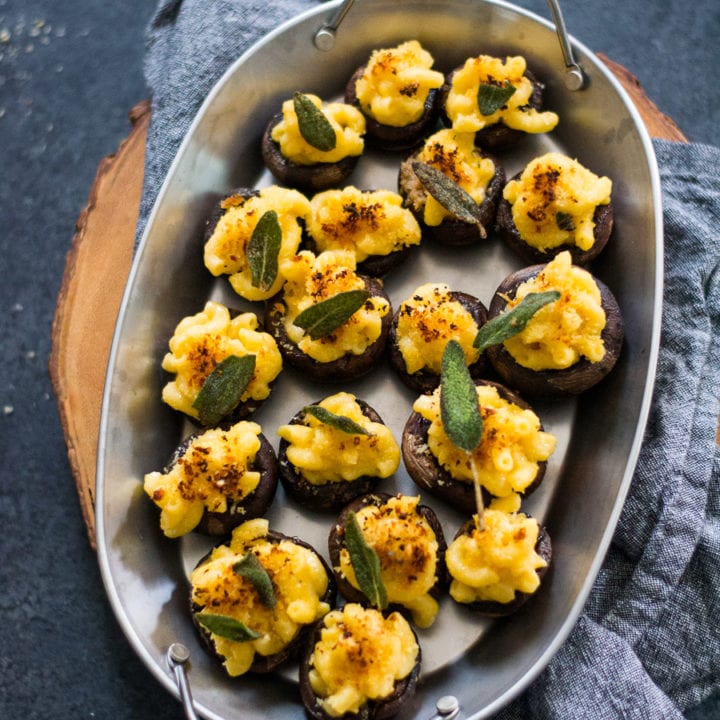 Mac and Cheese Stuffed Mushrooms
Creamy mac and cheese stuffed inside broiled baby bella mushrooms topped with breadcrumbs and fried sage.
Ingredients
2 cups dry macaroni noodles
4 1/2 tbsp unsalted butter, divided
2 tbsp all-purpose flour
1 1/4 cup heavy cream
1/4 tsp mustard powder
1/4 tsp garlic powder
1 tsp salt
1/4 cup shredded white cheddar
1 cup shredded sharp cheddar
1/4 cup grated parmesan
1 tbsp extra-virgin olive oil, plus more for mushrooms
1/2 cup panko breadcrumbs
16 oz baby bella mushrooms, wiped clean and stems removed
1 garlic clove, grated
12-16 fresh sage leaves
Instructions
Bring a large pot of salted water to a boil.Drop the macaroni noodles and cook according to the packages instructions until al dente. Drain pasta once cooked.
In the pot which you used for the noodles, add 2 1/2 tbsp butter and melt over a medium/low heat. Once melted, whisk in the flour.
Reduce heat to low, mix in the heavy cream, mustard, garlic, and salt. Cook for 2 minutes.
Increase the heat to medium again. Add the cheese and mix until melted.
Mix in the drained noodles. Remove pot from heat. At this point you can chill the macaroni in the fridge until the day you are making the appetizer or you can go directly to assembling the mushrooms.
Turn the oven broiler to high. Line a large baking sheet with a heatproof wire rack. Add mushrooms to the rack with the mushroom gill side up. Drizzle with olive oil. Broil for 4 minutes, remove and flip mushrooms. Broil for 4 more minutes.
Add 1 tbsp olive oil to a small bowl along with the garlic and panko. Use your fingers to mix everything together.
Stuff a heaping tbsp full of the macaroni and cheese into the gill side of each mushroom. Return the filled mushrooms to the wire rack lined sheet and sprinkle a generous amount of breadcrumbs over each filled mushroom.
Turn the broiler to low so the tops don't burn.
Broil the mushrooms on low for 3-5 minutes until the tops are golden.
While the mushrooms broil, add butter to a small skillet over medium heat. Once the butter starts to turn light golden, add the sage leaves and fry for 1-2 minutes. Remove crisp leaves and transfer them to a paper towel off to the side.
Once the mushrooms are done, top each with a fried sage leaf as a garnish.
Notes
If you are making the mac and cheese a day or two before you make the mushrooms, you might want to either microwave it or heat it slightly on the stove for a few minutes so it warms quicker under the broiler.