Take 5 blondies are delicious cookies bars filled with chocolate chips, peanuts, peanut butter, caramel, and pretzels. It is your favorite candy in the form of a blondie.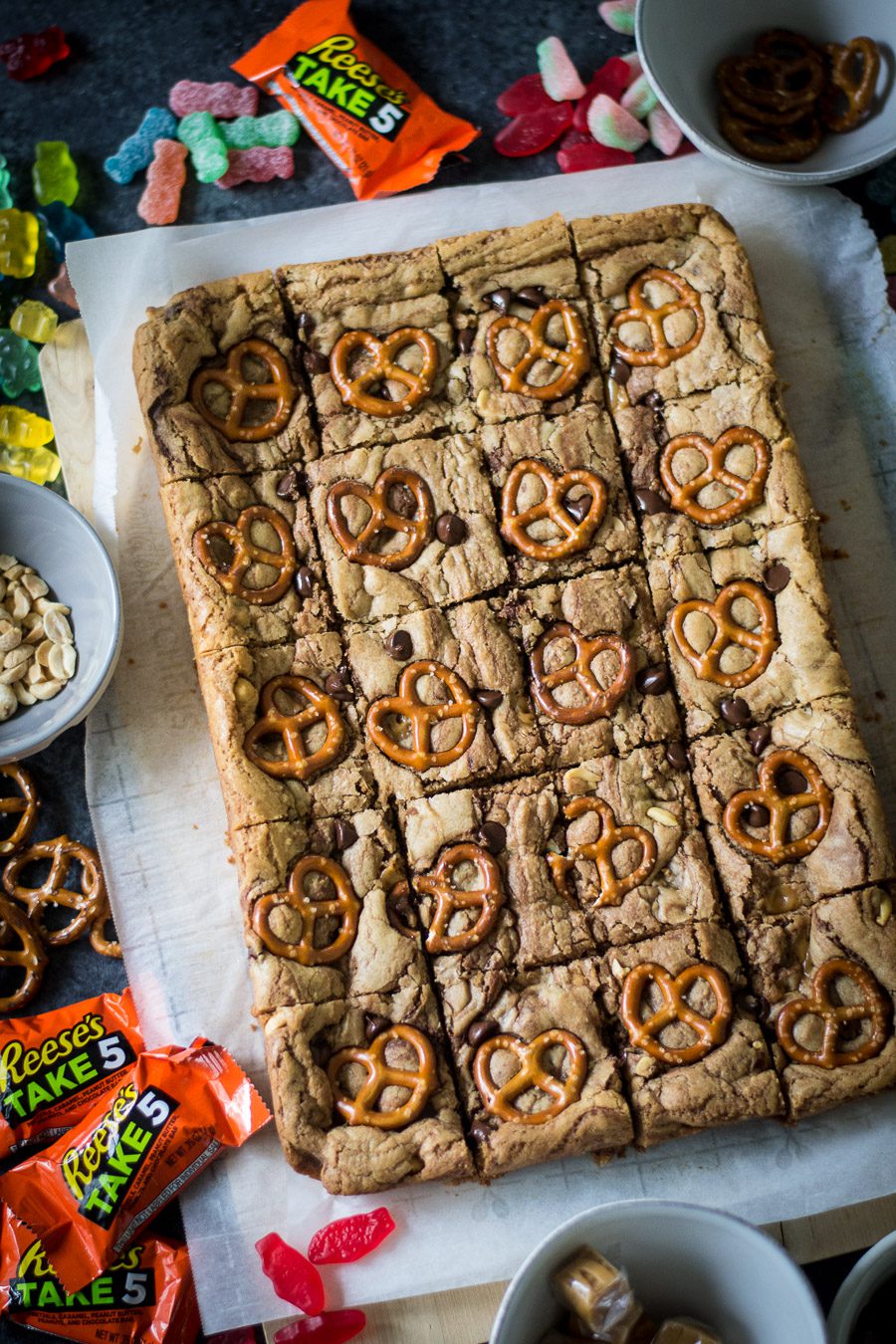 Halloween is right around the corner.
This year the boys will be Pokemon and Mike and I will be the evil Team Rocket.
Minus the wigs.
I couldn't talk Mike into wearing pink and blue wigs.
There is one thing I did talk him into doing/admitting though.
Let me set the stage before I tell you what that thing is.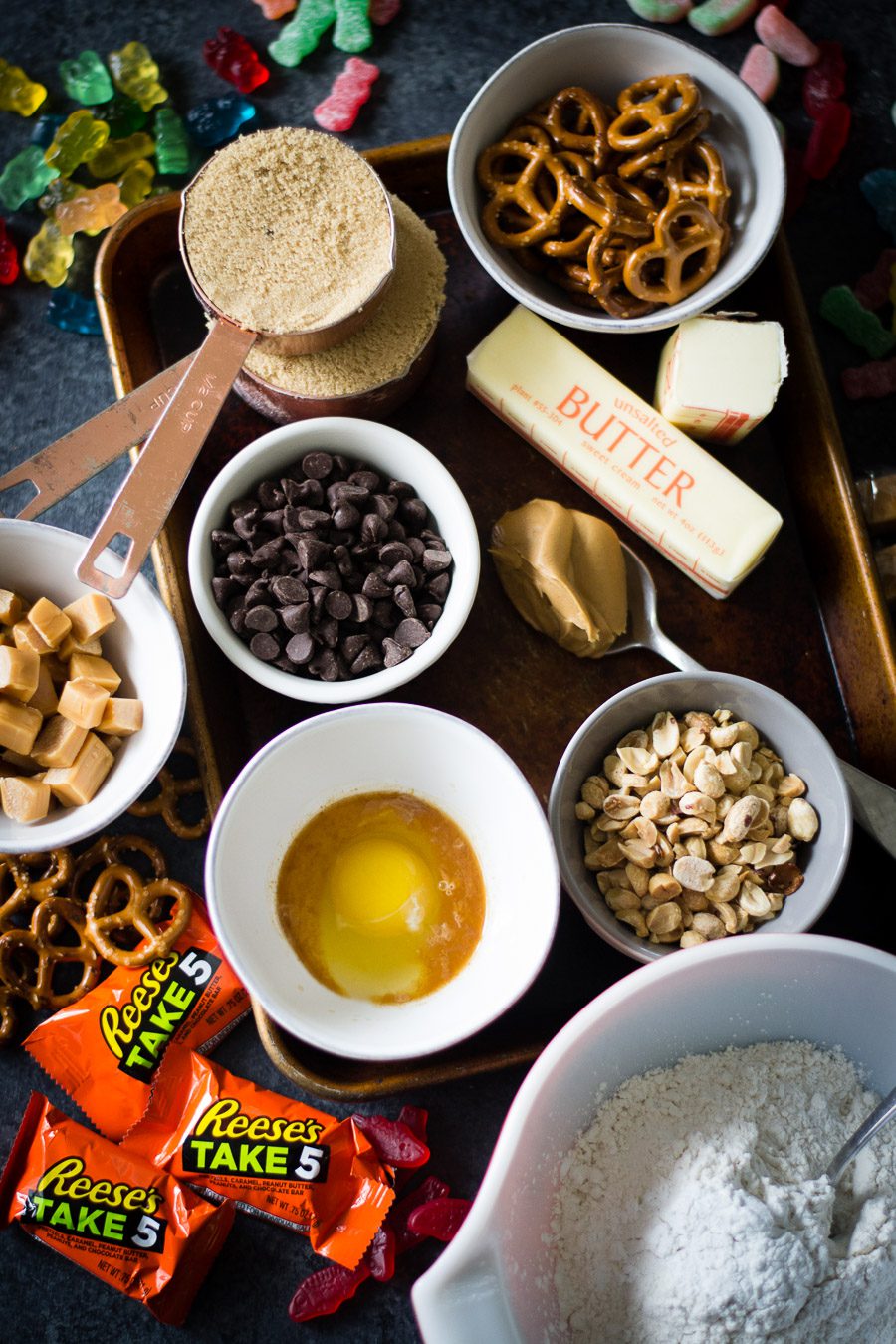 I have always love the combination of salty and sweet.
Mike has been adamantly team anti-salty-and-sweet.
He will not enjoy my Mom's homemade pretzel Jell-O and not even come near a chocolate covered pretzel.
Two Halloweens' ago, I discovered the candy bar Take 5.
It was like a beautiful, movie montage, kind of moment when I took a bite.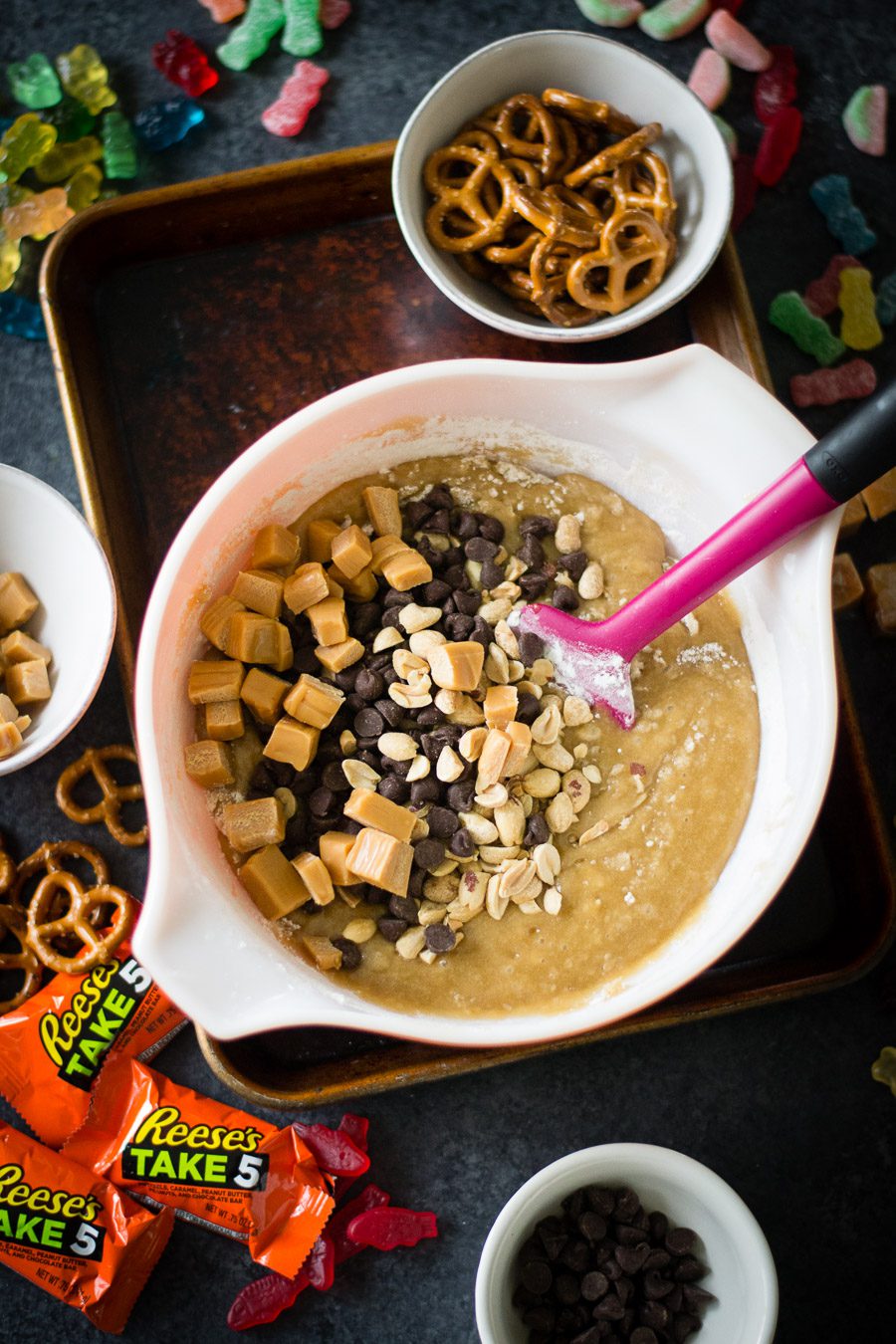 What's so great about a Take 5?
Chocolate
Caramel
Peanuts
Peanut Butter
Pretzel
I enjoyed the glory of these bars for 2 years.
I had two years before Mike decided he now likes this salty sweet candy.
I regret trying to get him on my salty-sweet team.
Now, I have to share all the Take 5 bars.
As I slowly watched my Take 5 supply dwindle away, I decided I need to take action.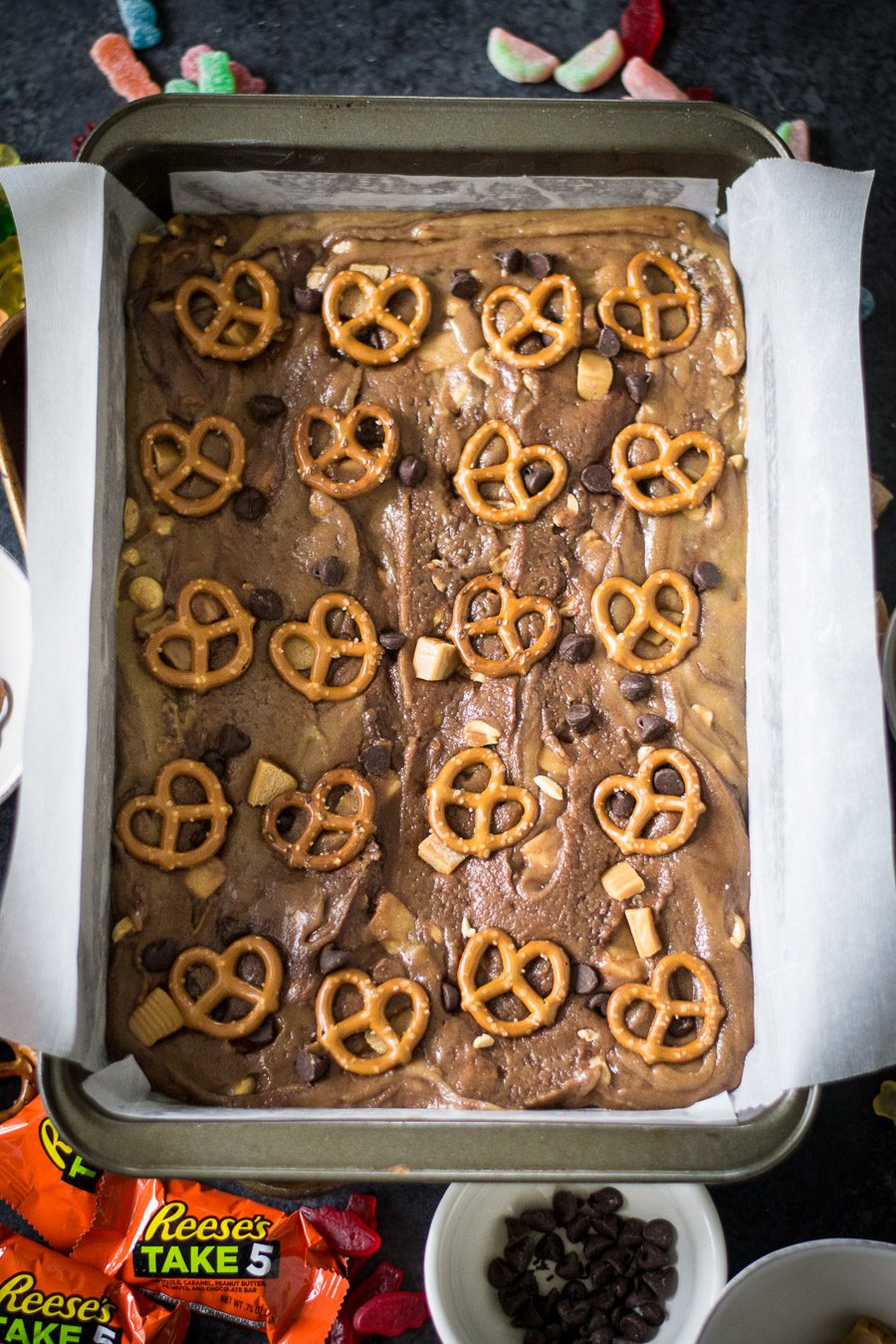 I created the Take 5 Blondies out of necessity.
Then I hid them from Mike and gave some to my friends.
The base of these blondies is a cookie bar that has little ribbons of melty chocolate and peanut butter throughout them.
You only need a wooden spoon/rubber spatula, two mixing bowls, one small saucepan, and a 9×13-inch pan to make them!
Ok maybe a whisk or a fork, too.
Melt the butter with the sugar and salt. Mix in the peanut butter.
Once cooled, add in the egg and vanilla.
Add the dry into the wet. Stir to combine.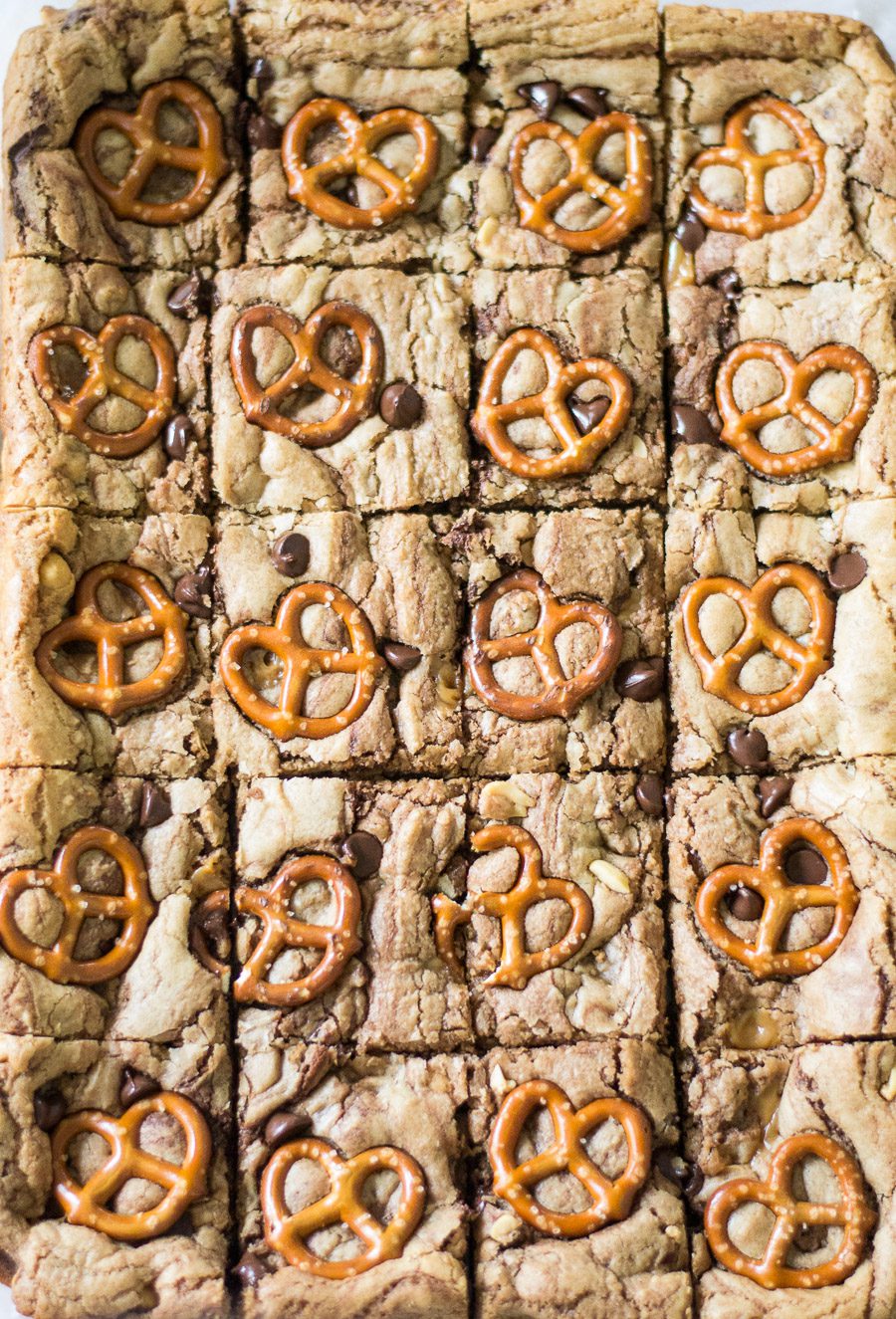 It is time to add the chocolate, peanuts, and caramel when most of the flour has been incorporated.
Line the baking dish with parchment and then quickly add the batter to the pan.
The longer you wait, the more the chocolate melts. We don't want the blondies to turn into brownies.
Last but not least, add a few of the chocolate chips and caramel to the top of the bars and then press in the pretzels.
Bake until a wooden toothpick comes out clean.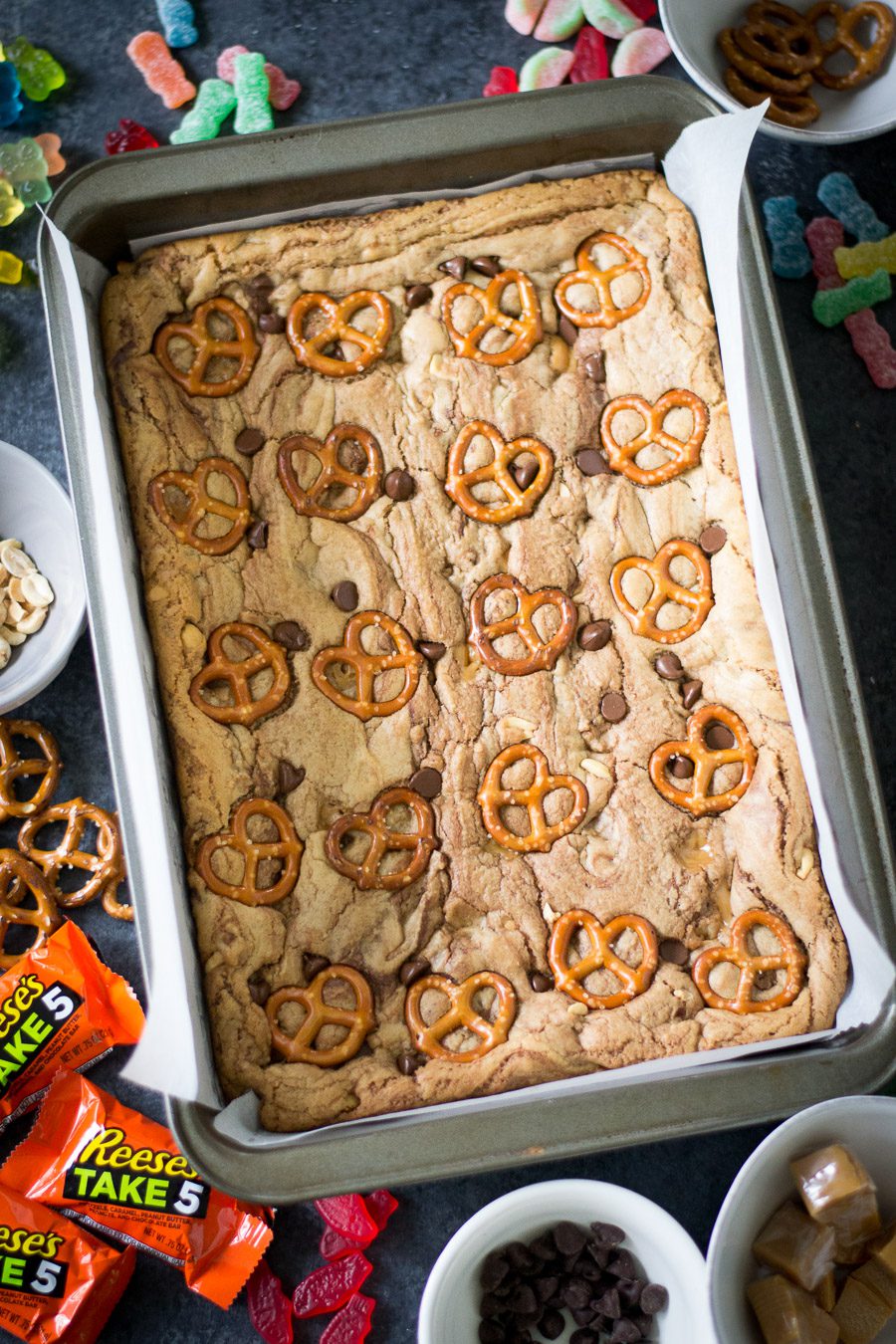 Baking Take 5 Blondies is the best kind of home potpourri.
Let the bars cool completely before cutting.
I like to store them in a bag or cookie jar at room temperature.
That way they stay soft and the caramel won't crack your tooth.
I really hope that you guys bake up a batch of these bars.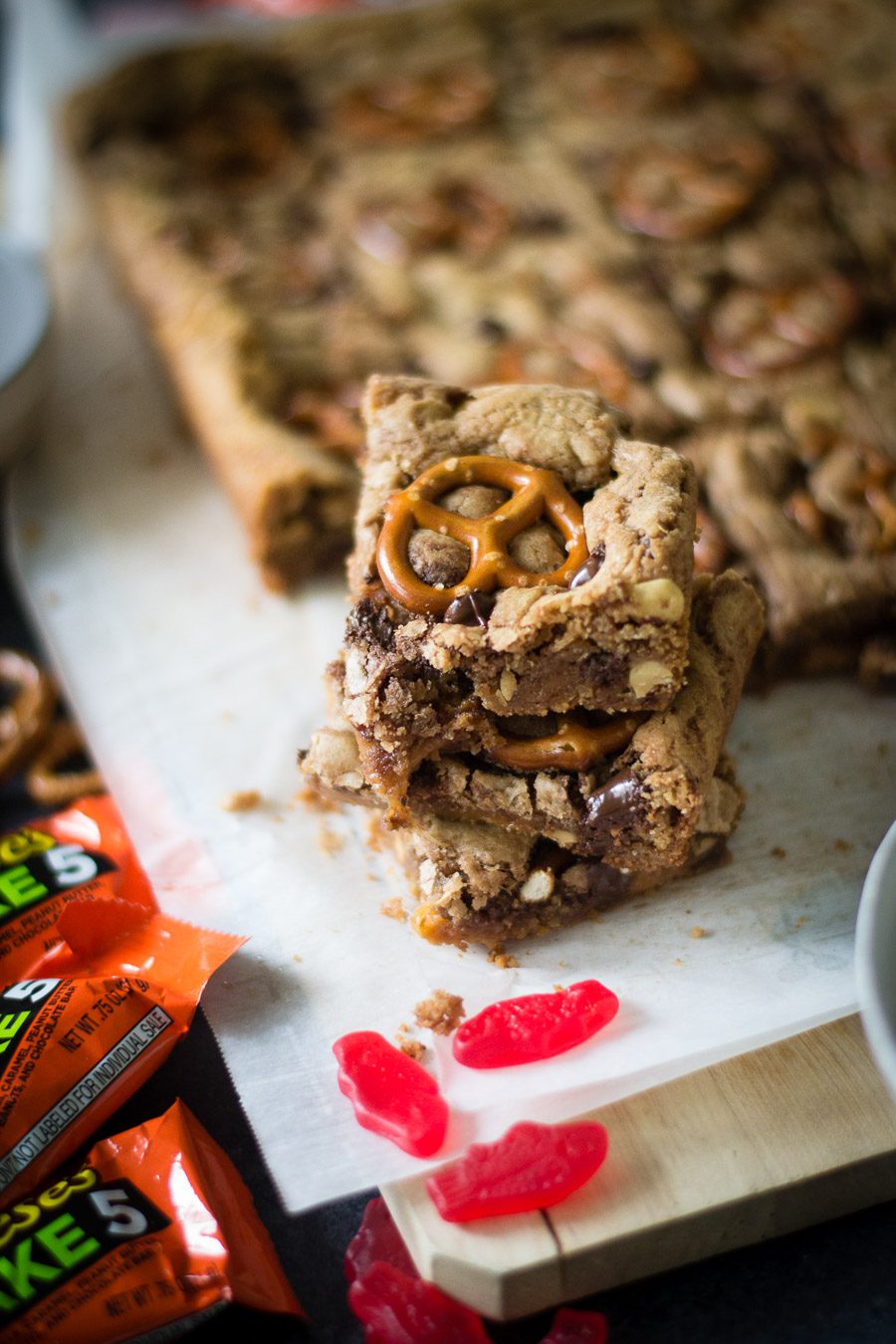 Let the greatest Halloween candy of all time be present in blondies form all year long.
I am not a very skilled candy maker, but this homemade Take 5 bar recipe makes me want to try.
Happy Halloween!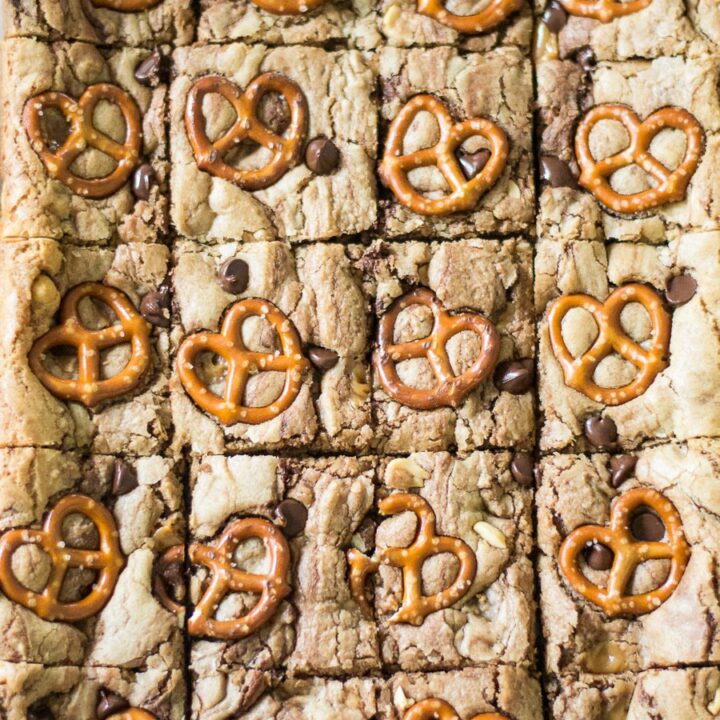 Take 5 Blondies
Yield: 16-20 Bars

Prep Time: 10 minutes

Cook Time: 30 minutes

Total Time: 40 minutes

Blondie cookie bars with ribbons of chocolate and peanut butter, filled with caramel, chocolate chips, peanuts, and pretzels.
Ingredients
1 1/2 cups all-purpose flour
1 1/2 tsp baking powder
12 tbsp unsalted butter, cold
1 1/2 cups packed light brown sugar
1/4 tsp salt
2 heaping tbsp creamy peanut butter
1 large egg
1 1/2tsp pure vanilla extract
3/4 cup semi-sweet chocolate chips
1/2 cup chopped salted roasted peanuts
1/2 cup chopped caramel baking pieces
20 mini pretzels
Instructions
Preheat the oven to 350F. Butter and line a 9x13-inch pan with parchment paper.
Add the butter, salt, peanut butter, and brown sugar to a small sauce pan over medium heat. Mix until the butter is fully melted and combined with the sugar. Transfer to a large heatproof mixing bowl and set off to the side. Let the wet ingredients cool and come to room temp slightly.
Chop your peanuts. Unwrap the caramels and give them a rough chop until you have about 1/2 cup.
Once the butter and sugar has cooled slightly, whisk in the egg and vanilla.
Add the flour and baking powder to a mixing bowl. Mix with a fork or whisk until combined. Add the dry ingredients into the wet. Mix until almost all the flour is incorporated.
Fold in almost all the peanuts, caramel, and chocolate chips RESERVING about 1 teaspoon of each to place on top of the bars.
Transfer the batter to the prepared pan. Top with remaining peanuts, chocolate chips, and caramel. Press the pretzels into the top of the batter, making sure to space the pretzels out so they are about 1 pretzel per square.
Bake the blondies for 20-24 minutes until golden on the edges and a wooden toothpick inserted into the center comes out clean.
Let the blondies cool in the pan for 10 minutes then transfer to a cutting board or wire rack to fully cool. Once cooled, cut into squares.
Recommended Products
As an Amazon Associate and member of other affiliate programs, I earn from qualifying purchases.