White bean and kale tomato soup is a filling and healthy winter soup. The same flavors of a classic minestrone with a little twist. A base of tomato paste, canned diced tomatoes, and vegetable stock make the perfect compliment to the beans and kale.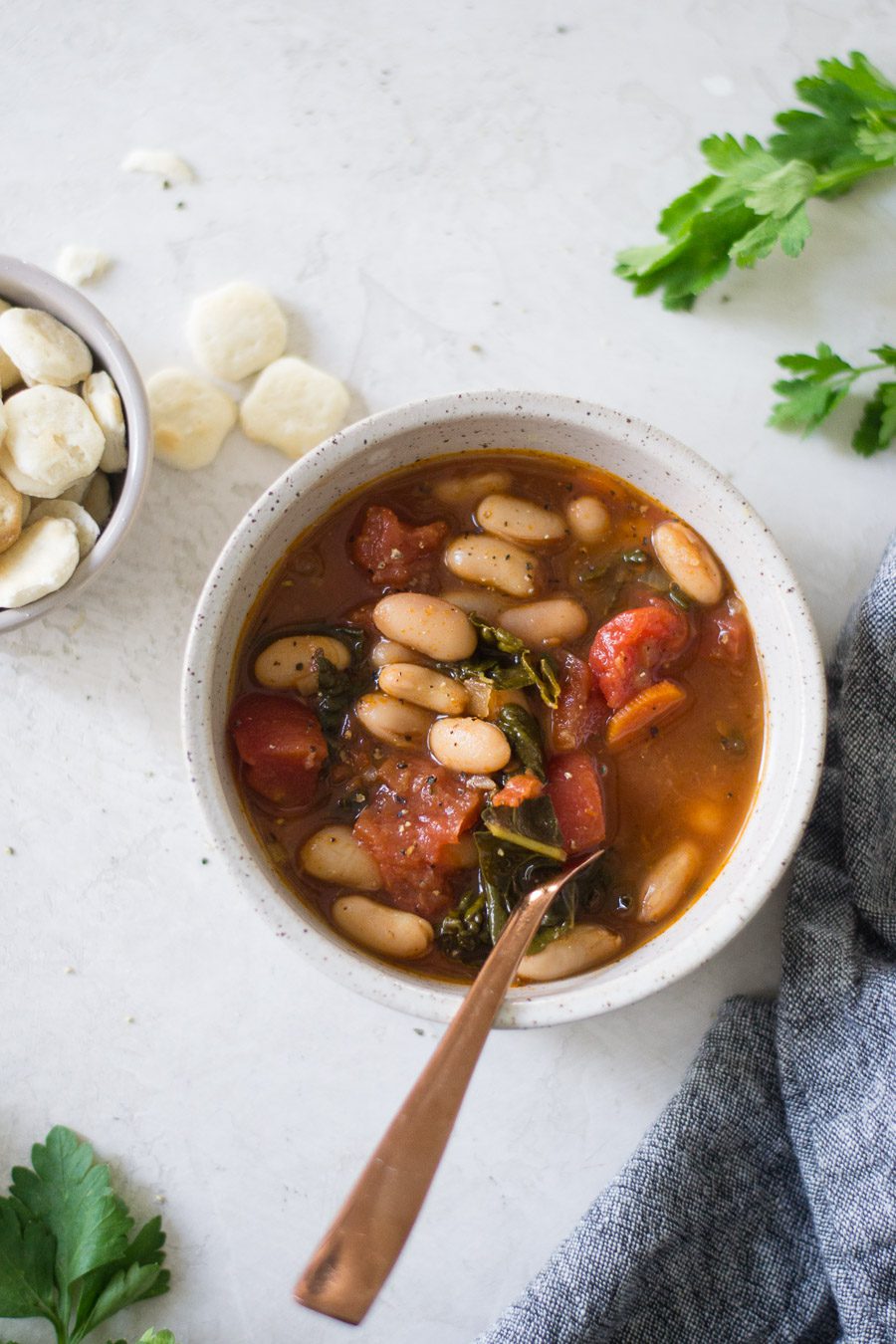 I will not decorate for Christmas.
I will not decorate for Christmas.
At least for another week! Ha!
We are actually doing a little Fall retreat to the Upper Peninsula of Michigan.
It means I still have to stay in that cozy fall spirit and not switch over to winter and Christmas hibernation.
You better believe I will be packing up some coffee making things, sourdough, biscuits, and this soup.
White bean and kale tomato soup is the perfect, cozy cabin in the woods kind of soup.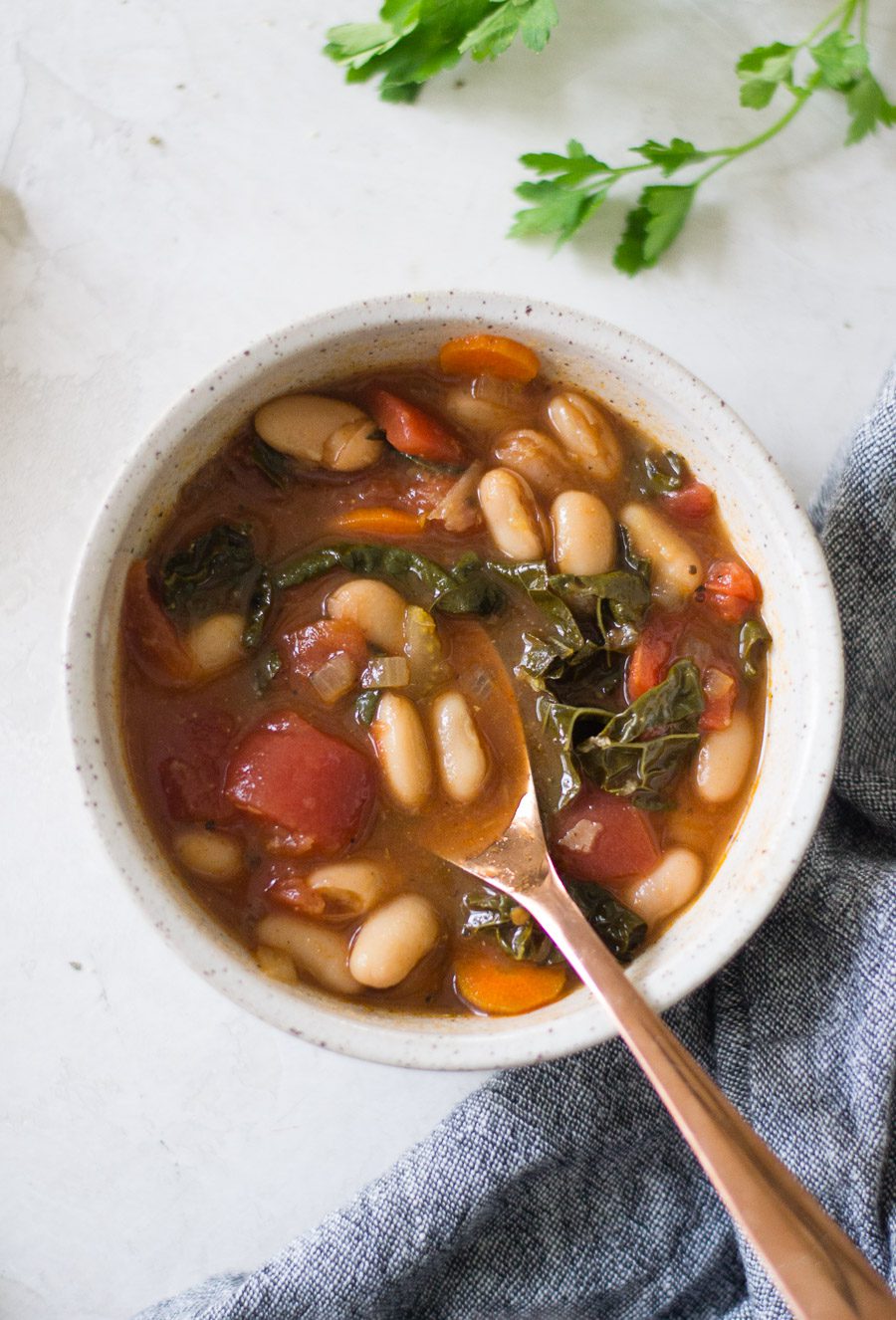 The soup starts almost like a minestrone.
Sauté carrots, onion, and celery to start.
We are going to add in some garlic, crushed red pepper flakes, and dried oregano.
It is going to smell lovely!
Once that starts to caramelize, we add in some tomato paste and a little bit of Worcestershire sauce.
To keep the soup vegan, if that's your jam, use some soy sauce for that same umami flavor.
Then we add in our broth and tomatoes.
Mix in the kale and beans and let the soup simmer away until the greens and dark and tender.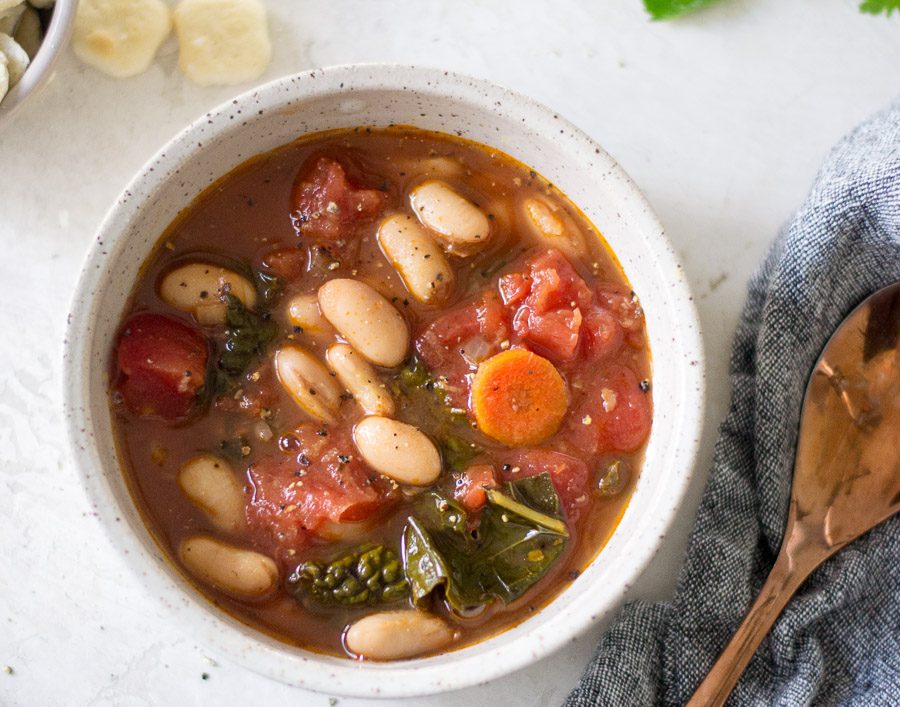 It is that easy!
I told you it is sort of like Minestrone but minus the noodles and the parmesan cheese rind.
Serve the soup up with some crusty bread or some oyster crackers.
I have added some nutritional yeast to the top of my soup for a vegan, cheesy flavor.
You can add some Parmesan cheese if you don't mind dairy.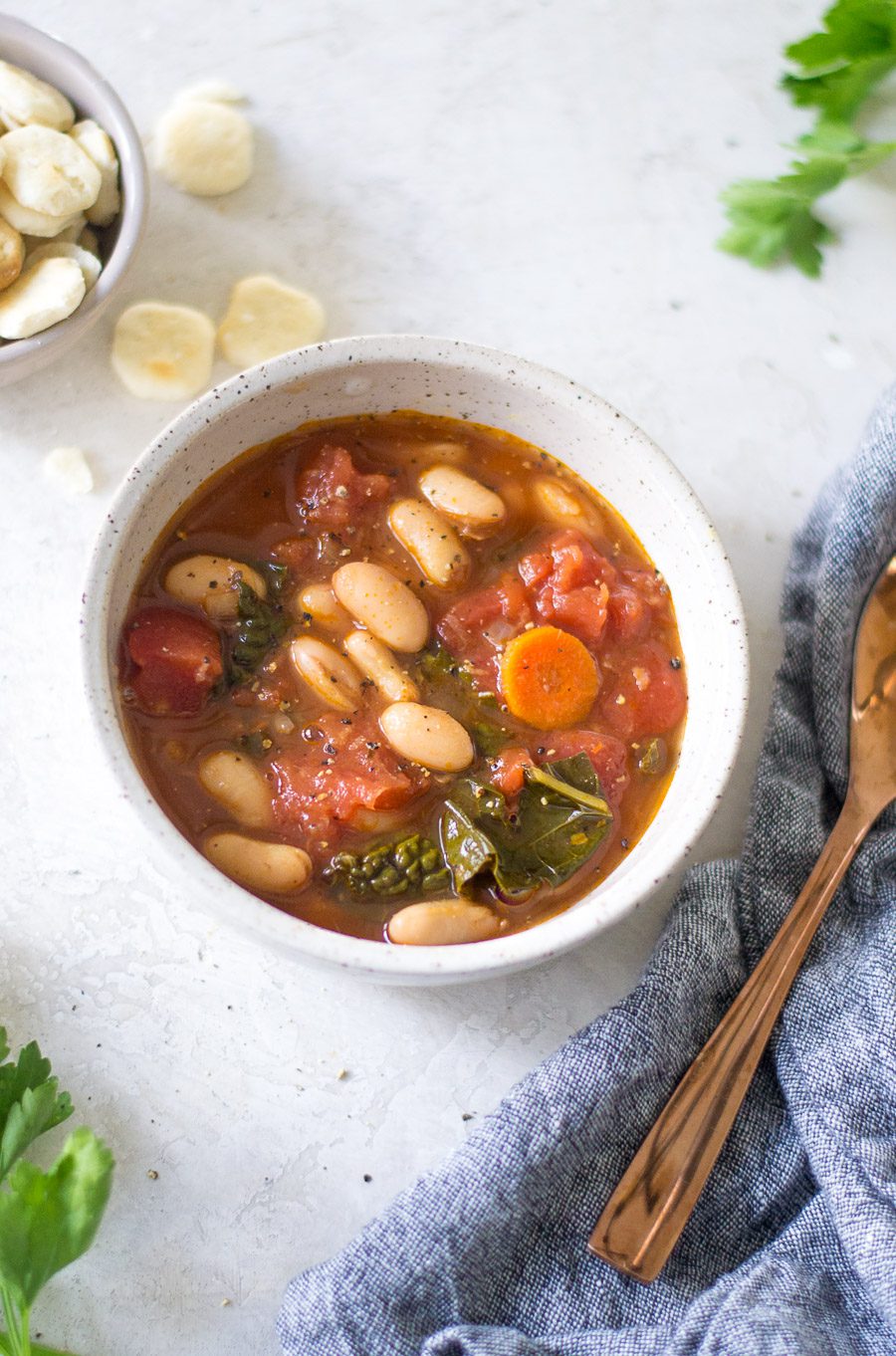 Looking for other delicious and cozy tomato soups?
Stay cozy my friends!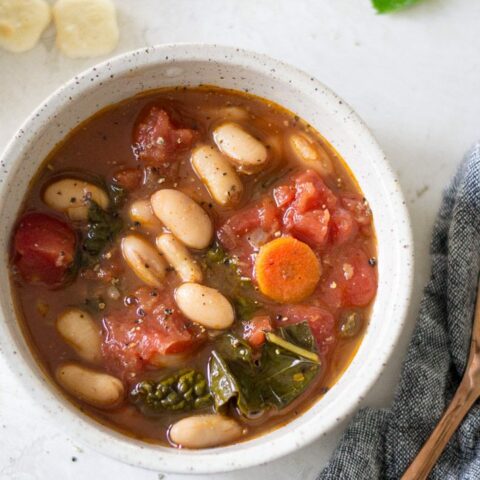 White Bean and Kale Tomato Soup
Yield: Serves 6

Prep Time: 10 minutes

Cook Time: 30 minutes

Total Time: 40 minutes

A hearty, dairy-free, vegetarian, vegetable and tomato soup with white beans and kale.
Ingredients
2 tbsp extra-virgin olive oil
1 carrot, peeled and sliced
1 celery stalk, diced
1/2 small yellow onion, diced
1/2- 1/4 tsp crushed red pepper flakes
1 tsp dried oregano
1 tsp salt
3 cloves garlic, grated
1/4 cup tomato paste
1 tbsp Worcestershire or Soy Sauce*
2, 14.5oz cans fire-roasted or regular canned diced tomatoes
24 oz Vegetable Stock
2, 14.5oz Canned White Beans, drained and rinsed
1 bunch (about 2 cups chopped) lacinato kale, stems removed
more salt and pepper, to taste
Instructions
Heat the olive oil in a large Dutch oven over medium heat. Once shimmering, add the carrot, celery, and onion. Sauté until tender and the onions are translucent. Mix in the crushed red pepper flakes, salt, and oregano.
Reduce the heat to medium/low. Add the garlic. Mix to combine. Cook for 1-2 minutes, until fragrant. Add tomato paste and mix to combine. Cook for about 4 minutes until the tomato paste starts to become a darker red. Add the Worcestershire or soy sauce. Mix to incorporate.
Mix in the diced tomatoes, stock, beans, and kale. Once the tomato paste is fully incorporated, cover with a lid. Bring to a simmer. Simmer for 20 minutes, until the kale is tender and a dark green.
Taste the soup, add more salt and pepper if needed.
Let the soup cool for 5 minutes before serving with oyster crackers or crusty bread.
Notes
*If you are vegan, to keep this soup vegan, use soy sauce instead of Worcestershire sauce.
Recommended Products
As an Amazon Associate and member of other affiliate programs, I earn from qualifying purchases.