Roasted garlic and Parmesan pasta combines the simplest ingredients to make one flavorful meal. Roasted garlic mixed with olive oil, pasta water, and Parmesan makes any kind of noodle amazing!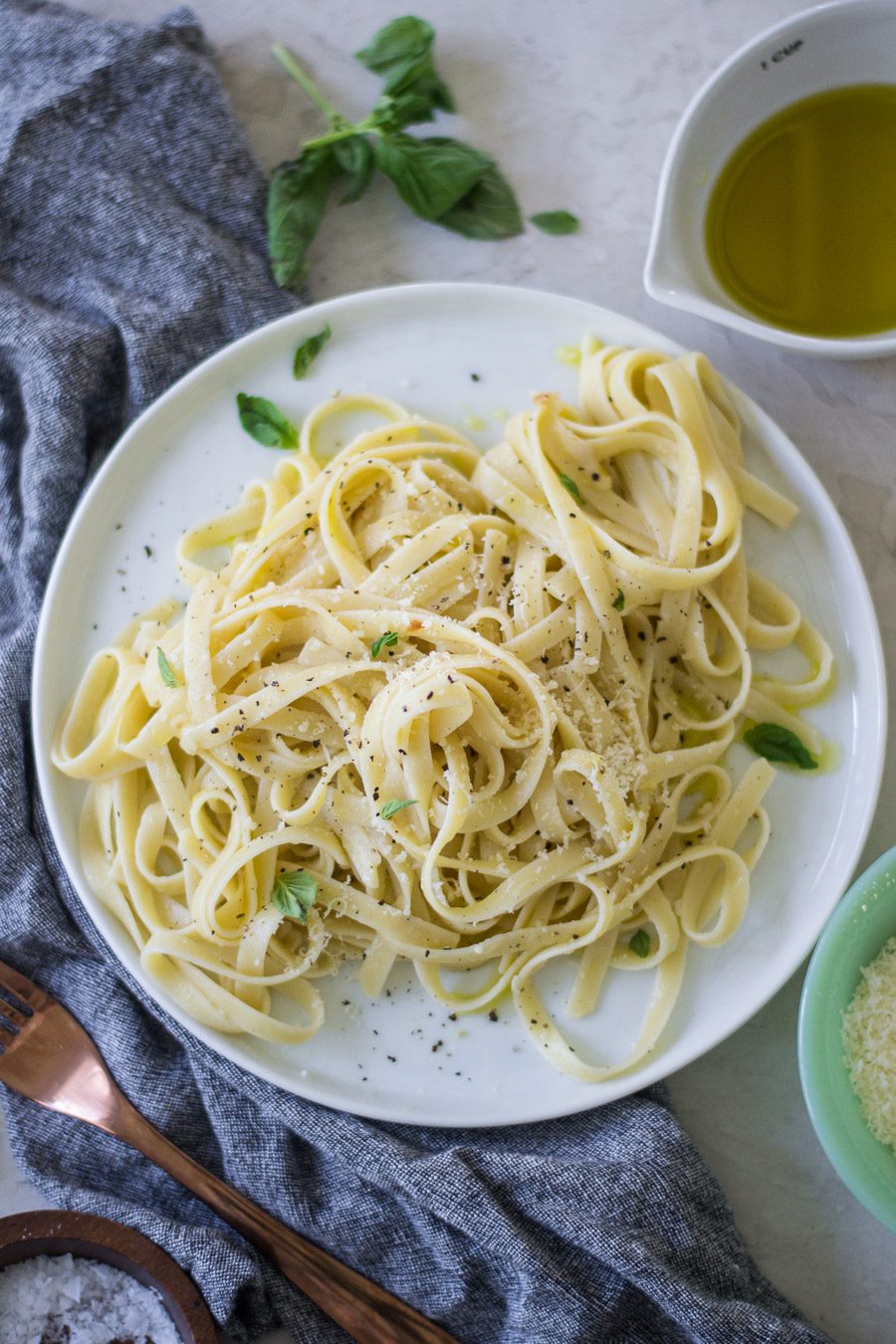 Get ready because the next few months it is all pasta or soups here!
I joke.
But also, seriously.
Winter hits and all I start to crave are soups or stews and big bowls of pasta.
Raise your hand if you're with me.
This pasta dish was made using fettuccine, because I like my noods thick.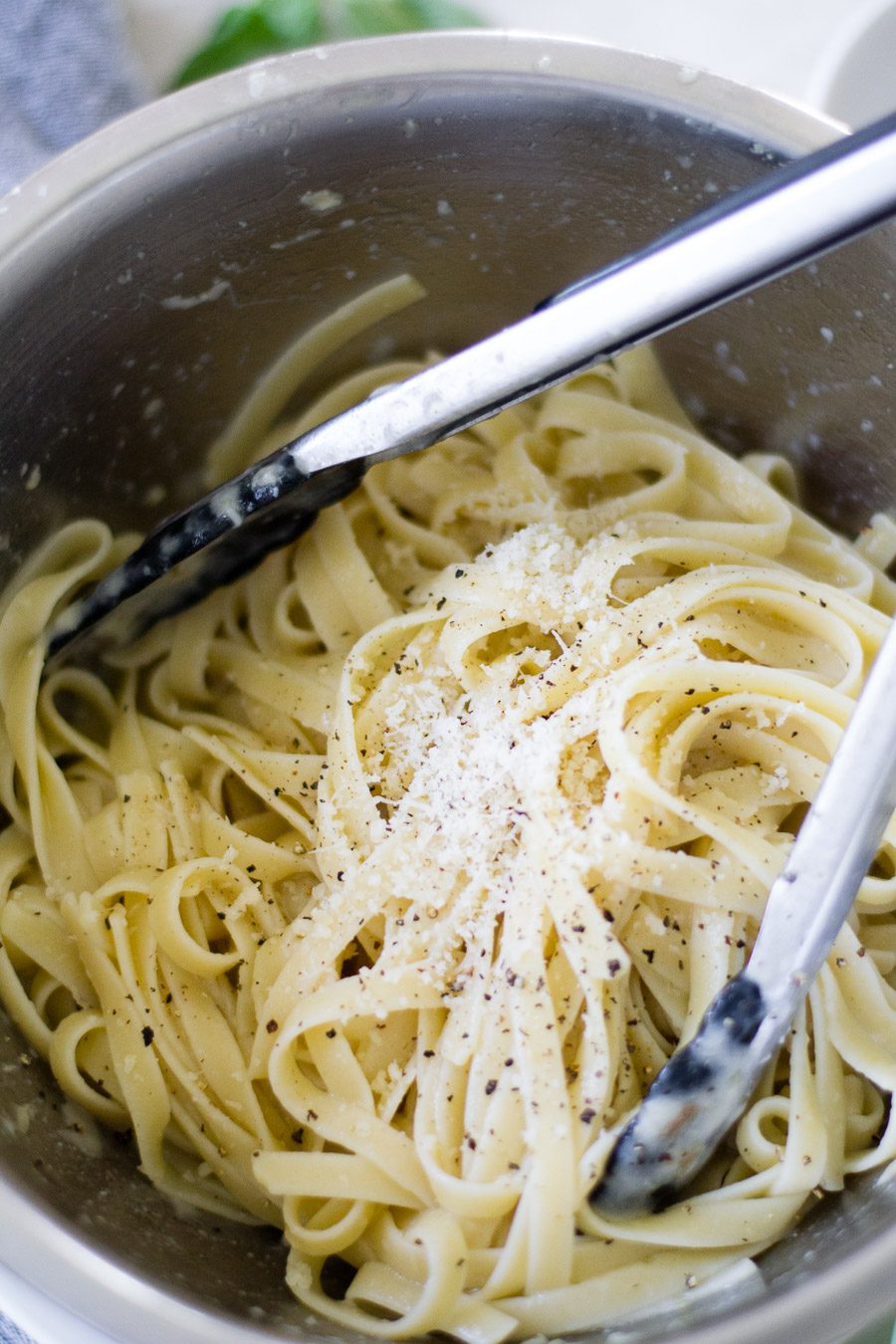 Andy and Mike and more angel hair or plain, old spaghetti kind of guys.
Both noodles work for this dish.
The whole recipe is built around a roasted bulb of garlic.
Some people out there are going to say, "Only 1 bulb?"
To them, I say, yes, but feel free to roast more than one.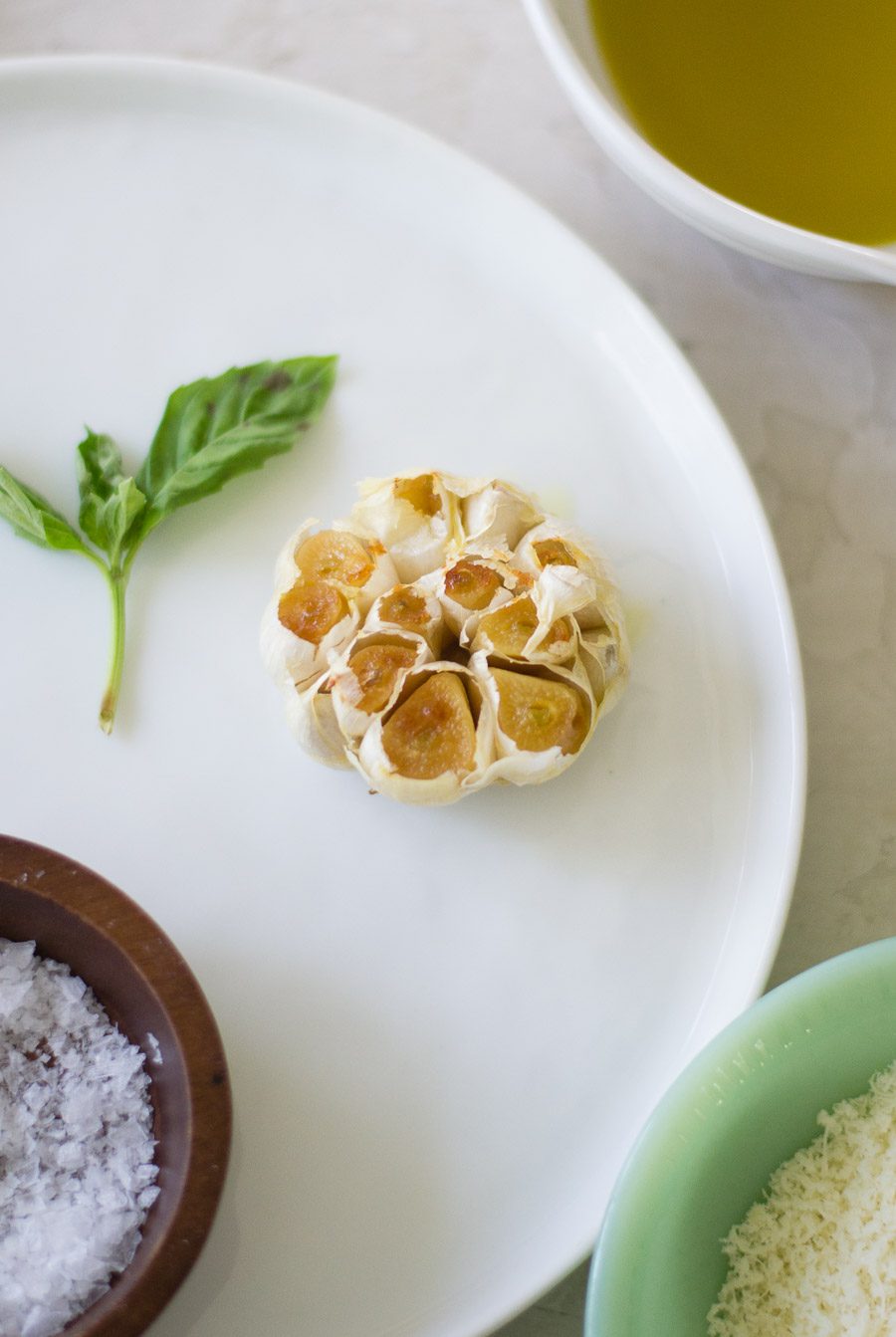 Roasted garlic can be added to soups, stews, vegetables, vinaigrettes, dips, garlic bread, mayo, or sandwiches.
It's uses are plentiful so it doesn't hurt to roast a few while you have the time.
The top of the bulb gets a good chop. Wrap it up in foil and coat in a little EVOO plus salt.
Roast the garlic until fragrant and golden brown.
Squishing the soft garlic out of the wrappers into the oil is a therapeutic experience.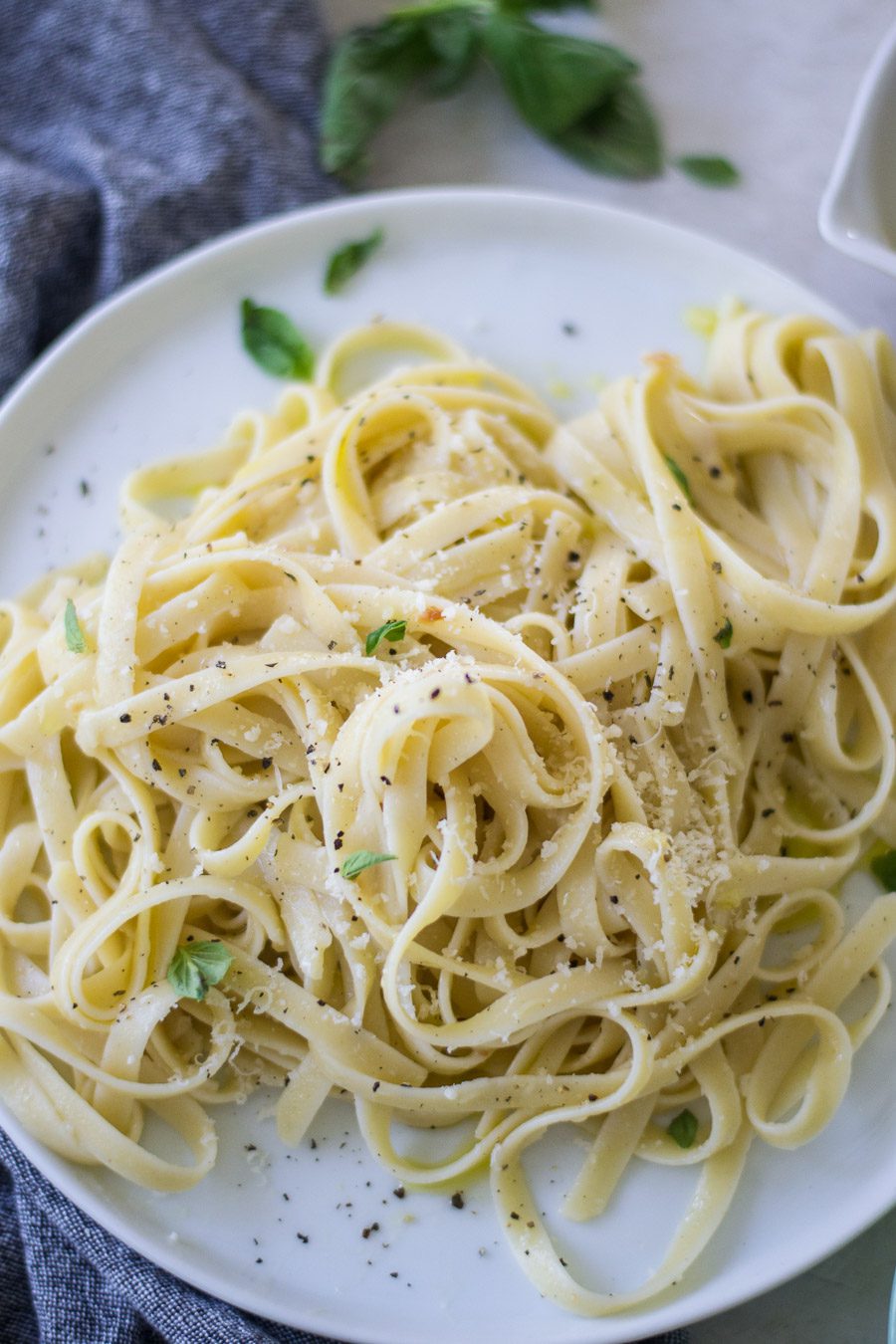 To make the pasta, add the roasted garlic to some EVOO, pasta water, salt, and pepper and then use the fork to mash it all together.
Once the pasta is done cooking, add a little pasta water along with all the cheese to a bowl.
Toss the noodles together with the garlic and cheese.
It will smell amazing and you will of course want to add more cheese and pepper.
It is like a spicy cousin to a traditional Cacio e Pepe.
This is the perfect Monday, don't have to think too hard about dinner, dinner.
Enjoy!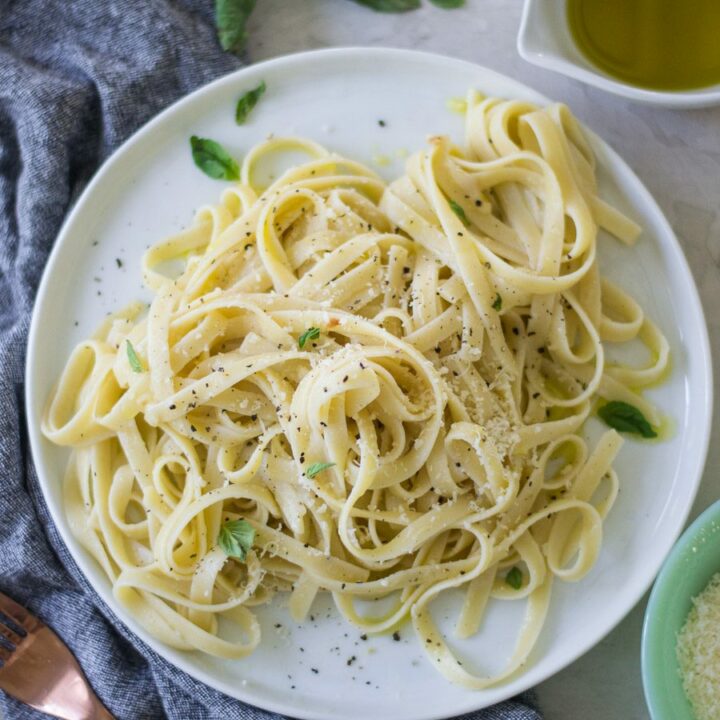 Roasted Garlic & Parmesan Pasta
Yield: Serves 4-6

Prep Time: 15 minutes

Cook Time: 35 minutes

Total Time: 50 minutes

Pasta of your choice tossed with roasted garlic, olive oil, pasta water, and grated Parmesan cheese.
Ingredients
1 bulb of garlic
1/2 cup extra-virgin olive oil, plus more for the garlic and finishing
salt and pepper, to taste
12 oz Fettuccine noodles, or any other long noodle
3/4 cup freshly grated Parmesan Cheese, plus more for topping
1/2 cup reserved pasta cooking liquid
Instructions
1. Preheat the oven to 400 degrees F. Slice off the top 1/4 of a whole bulb of garlic. Place the garlic cut side up on a small piece of foil. Pour a little extra virgin olive oil over the top. Add a sprinkle of salt. Close the foil around the garlic. Place on a baking sheet and bake until golden and fragrant, about 30-35 minutes.
2. Once the timer on the oven reads, 15 minutes remaining, bring a large pot of heavily salted water to a boil. Add noodles and cook accordingly, until al dente. Be sure to reserve 1/2 cup of the starchy/salty cooking liquid.

3. When the garlic is done roasted, remove from oven, and carefully unwrap the foil. Allow the garlic to cool for a few minutes until it is able to be handled.

4. Squeeze the garlic out of the skin and into a medium/large mixing bowl. Be sure to pick out any of the skins that get into the bowl. Use a fork to mash all the cloves into a paste.

5. Whisk together the garlic, olive oil, and a big pinch of salt in the mixing bowl. Add half the cheese and mix to combine.

6. Use tongs to transfer the cooked noodles from the water right into the mixing bowl. Add about half the reserved cooking liquid and the remaining cheese. Toss to combine until the cheese melts and makes a creamy sauce. You may need to add more liquid as the pasta absorbs the sauce during the tossing step. Add pepper and more salt to taste.

7. Top with more cheese, olive oil, and a little black pepper or crushed red pepper flakes.
Recommended Products
As an Amazon Associate and member of other affiliate programs, I earn from qualifying purchases.