Caesar salad spaghetti combines all the flavors of a homemade Caesar dressing in a Carbonara-style pasta dish. It's decadent, creamy, and super easy to make!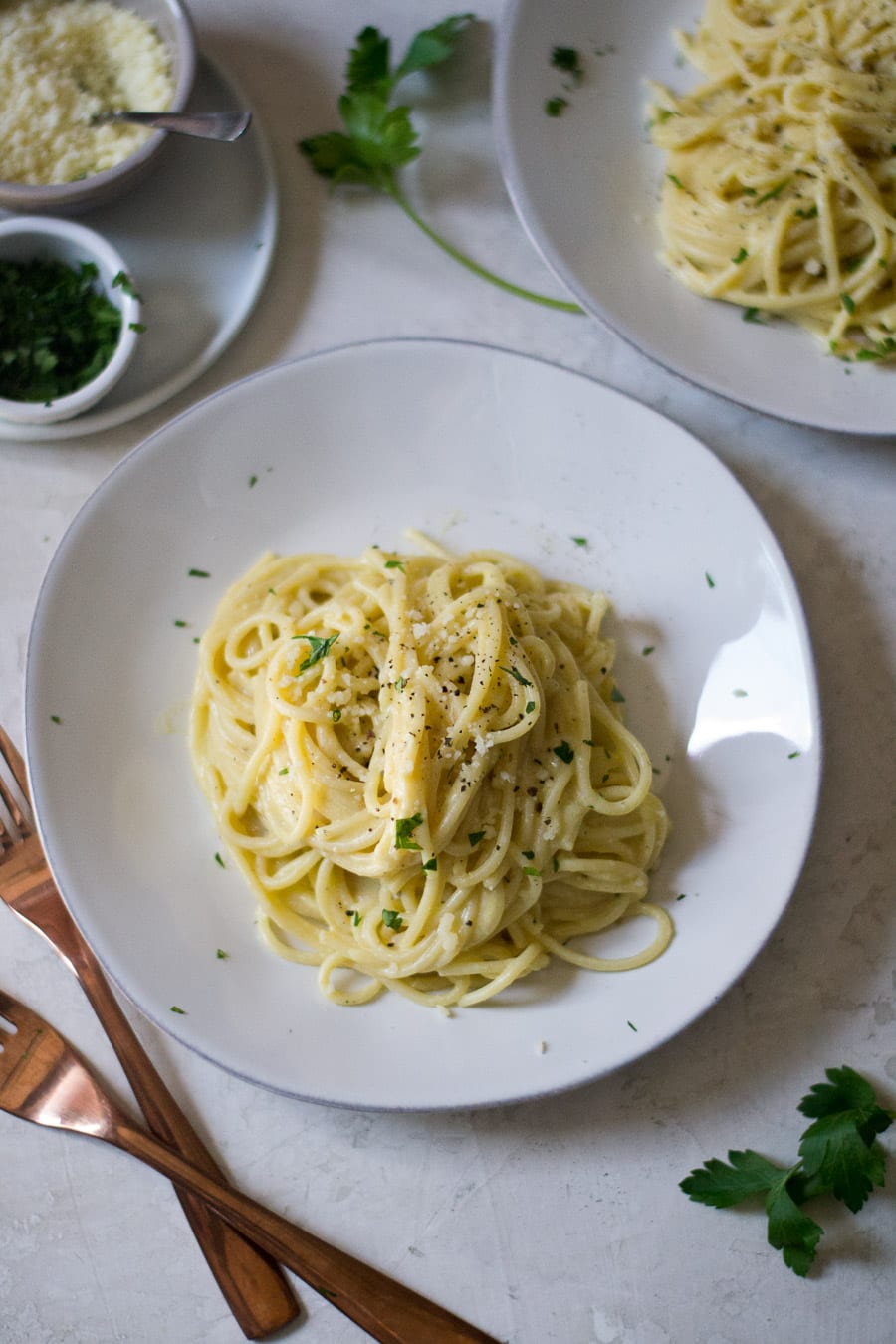 Think of this recipe of a mash up between a Caesar salad (minus the lettuce) and Spaghetti Carbonara.
Yes, there are egg yolks involved.
Don't be scared.
As you know, the egg yolks add to the creaminess and do cook through because of the warmth of the pasta and the pasta water.
Another scary ingredient for some of you, anchovies.
Again, don't be scared!
All it does is add a salty and briny taste.
I love a good Caesar salad. I have even morphed it into a chicken sandwich.
You need to make a Caesar salad dressing from scratch at home.
Go, right now, and do it!
Start with No Crumbs Left Whole30 Caesar dressing.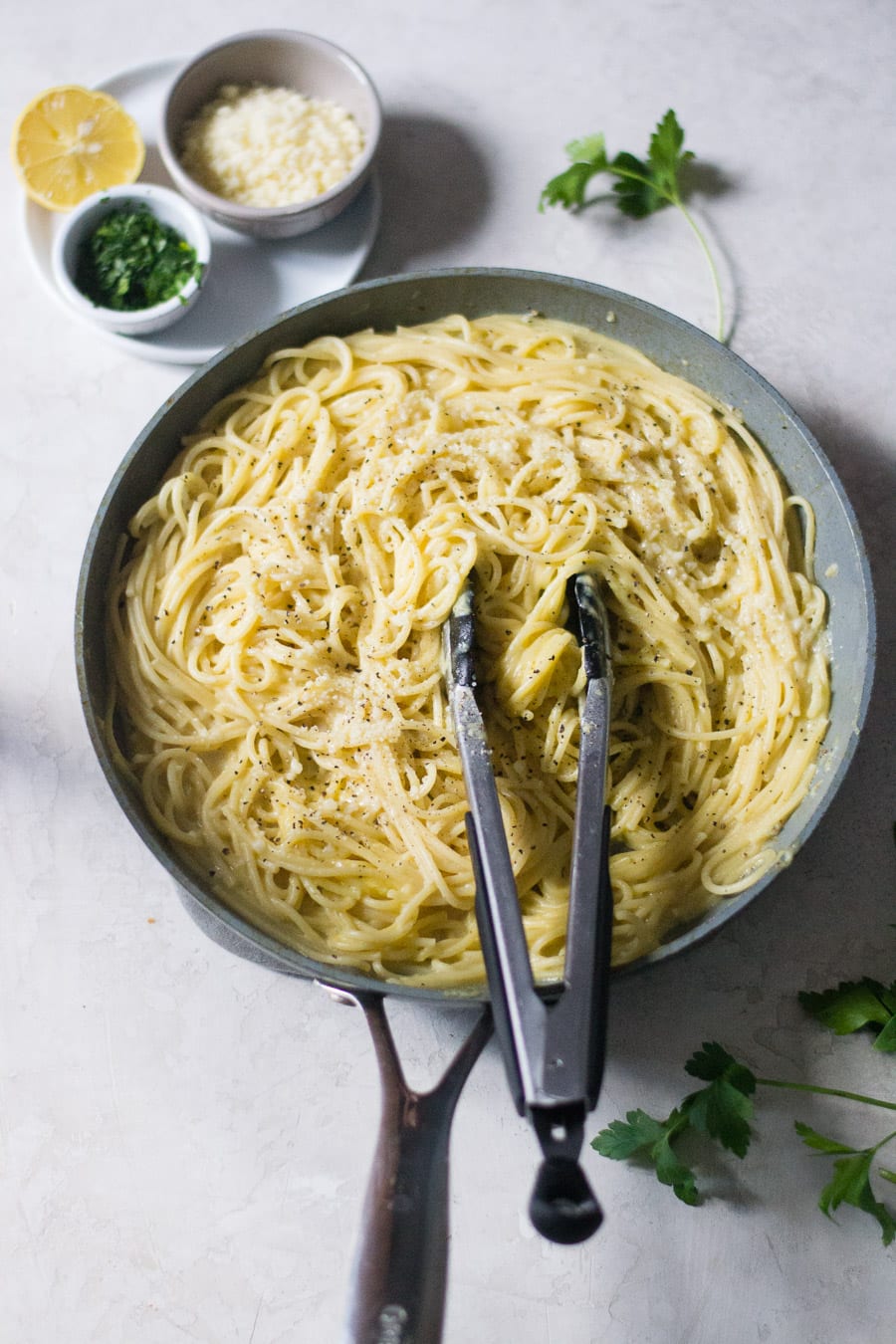 Caesar salad spaghetti is built around salty pasta water, grated Parmesan cheese, anchovies, Dijon mustard, garlic, lemon juice, and egg yolks.
It isn't a lot of ingredients.
Sauté the garlic, mustard, and anchovies in olive oil while your pasta water boils.
Mix in a cup of the pasta water along with the lemon juice and cheese.
Mix it good!
Use tongs to transfer the spaghetti to the pan. Toss to combine.
Remove the pan from heat and mix in the egg yolks.
You may need to add another cup or half cup of reserved pasta water to the sauce if it stiffens up too much.
I like to add more cheese, lots of black pepper, and fresh chopped parsley to the finished pasta.
This pasta is heavy.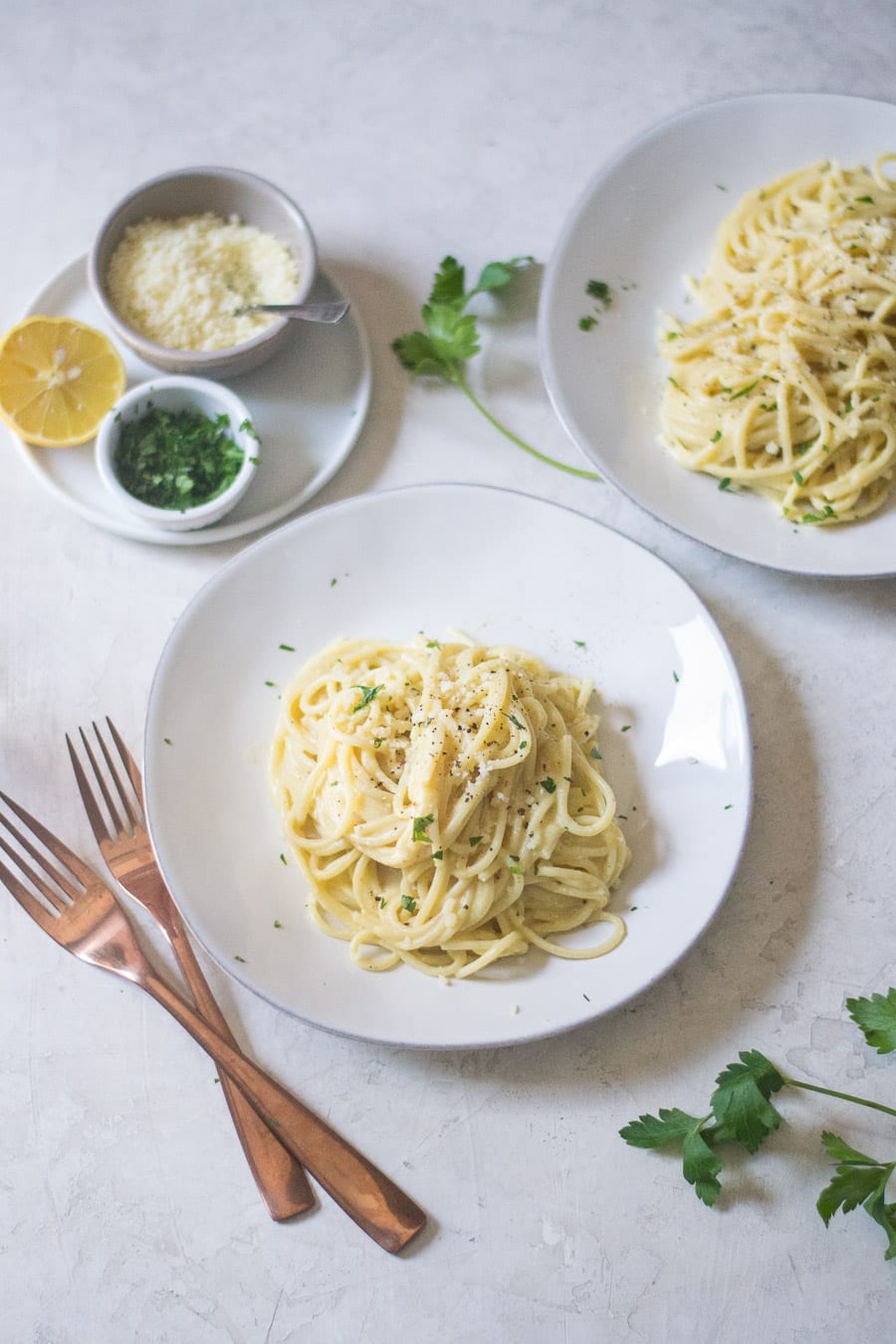 A small portion goes a long way.
You could serve it with grilled Romaine lettuce like my pasta muse Salty Seattle recommends in the original recipe from Pasta, Pretty Please.
I do have a vegan Caesar dressing recipe. I am not sure how it would be on pasta though.
Let me know if you try that out!
This recipe is a little bit of work for a big bang pay out.
Happy cooking!
Feel free to tag me on social media (@sarcasticcook or #sarcasticcooking) if you make this recipe or any of my other recipes.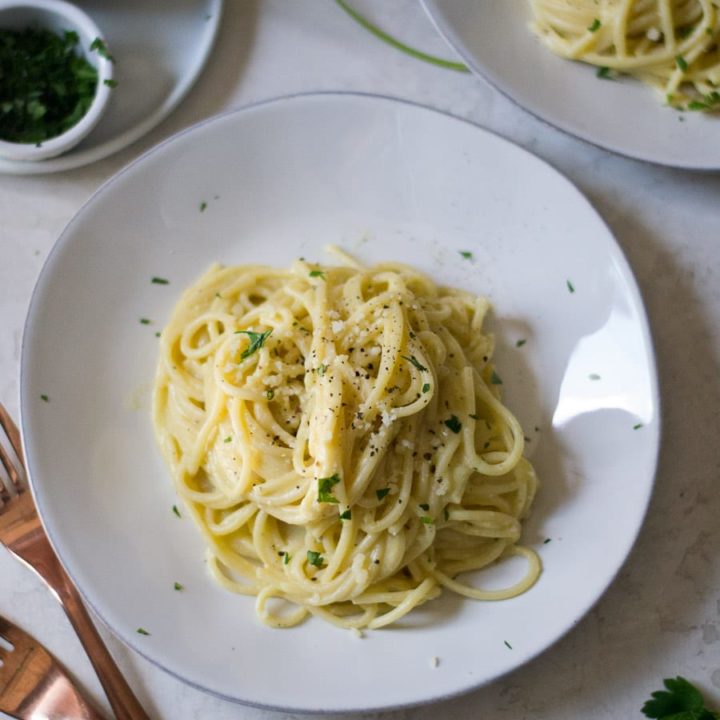 Caesar Salad Spaghetti
Yield: Serves 3-4

Prep Time: 10 minutes

Cook Time: 15 minutes

Total Time: 25 minutes

A decadent and creamy cross between Caesar dressing and a meat-free Carbonara style spaghetti.
Ingredients
10oz Dried Spaghetti
2 tbsp extra-virgin olive oil
3 - 4 garlic cloves, grated
1 tbsp Ground Dijon Mustard
2 anchovy filets or 1/3 tsp anchovy paste
1 tsp black pepper
2/3 cup grated Parmesan Cheese
3 egg yolks
Juice from 1 lemon
1 - 2 cups of reserved pasta water
Instructions
Bring a large pot of salted water to a boil. Add spaghetti and cook according to the packages instructions.
When the pasta has about 3-4 minutes of cook time remaining, start to heat the oil in a deep skillet ver a medium/low flame.
Add the garlic and anchovies. Use a spoon to smash and combine the two with the oil. Cook for about 2-3 minutes. Mix in the mustard. Reduce heat to a low flame.
DO NOT DRAIN YOUR PASTA! When the pasta is about ready, add a cup of pasta water to the skillet with the garlic. Whisk vigorously to combine. Add the lemon juice and 2/3 cup of cheese. Add a tiny pinch of salt and the pepper. Mix with a spoon until the cheese melts.
Use tongs to transfer the noodles into the skillet. Use the tongs to toss the pasta all around, evenly coating.
Remove the skillet from the heat. Add in the egg yolks. Mix with the tongs until the egg is evenly incorporated. If the sauce is a bit to stiff add another 1/2 - 3/4 cup of reserved pasta water.
Add more salt/pepper to taste.
Serve and enjoy right away. Top finished plates with more cheese and black pepper along with some freshly chopped fresh flat-leaf parsley.
Notes
You can reheat the leftovers in the microwave or in a skillet over low. Add either a bit of water or stock to the dish before heating. That should loosen the sauce up a bit.
Recommended Products
As an Amazon Associate and member of other affiliate programs, I earn from qualifying purchases.